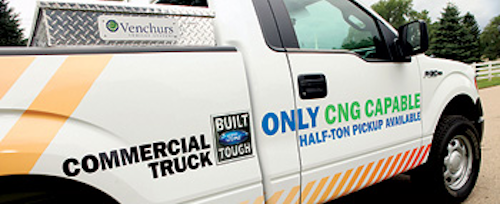 CNG Conversions for Ford F-150
Venchurs Vehicle Systems, a provider of CNG conversions for Ford Motor Co., will now offer compressed natural gas conversions for the 3.7L Ford F-150. Venchurs' expanding CNG portfolio as a Qualified Vehicle Modifier (QVM) for Ford already includes bi-fuel and dedicated conversions for the 6.2L Ford F-250 and F-350, and the 2.0L Transit Connect, and anticipates two new vehicles in 2014.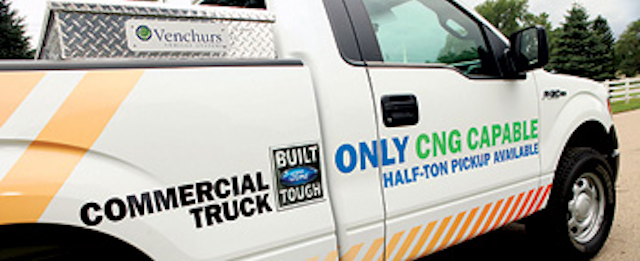 Venchurs will offer bi-fuel and dedicated options for the F-150, and will give customers the flexibility to choose from three GGE options: 12.8GGE, 17.8GGE or 23.5GGE. As with all Venchurs CNG products, the F-150 will maintain the original Ford warranty and can be financed through Ford credit. Venchurs will begin taking orders immediately, and will start converting as soon as the 2014 models start rolling off the assembly line.
Venchurs currently has ship-thru for the 6.2L F-250 and F-350, and anticipates having ship-thru for the F-150 in the fourth quarter of 2013. In addition to the CNG conversion, Venchurs offers its customers the option to add additional accessories, such as bumpers, wheels, tires, and brush guards at its supplementary upfit facility in Adrian, Mich.
Venchurs Vehicle Systems
CIRCLE 133 ON READER SERVICE CARD
---
Reflex LED minibar Line now Includes the Ultra-bright 5590
The latest addition to ECCO's Reflex LED minibar line is the ultra-bright 5590. This SAE Class I minibar takes 360 degree warning to the next level by combining reflective and TIR Optic modules to provide an intense focused warning signal to the front and rear, as well as wide-angle warning to the corners and sides of the vehicle. Available in various amber or clear configurations and with permanent or vacuum-magnet mounts, the 15-in. wide 5590 includes 18 flash patterns and sync capability.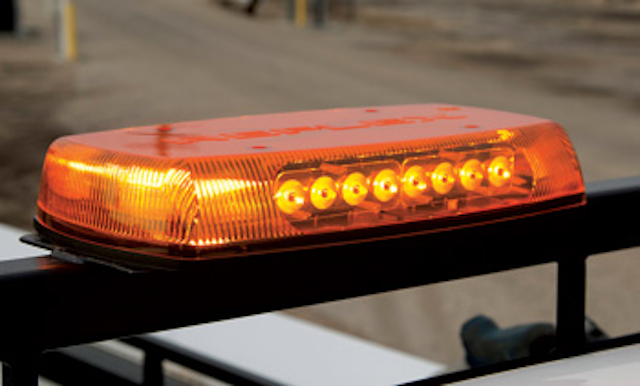 ECCO Group
CIRCLE NO 134 ON READER SERVICE CARD
---
XP200WJD Tier 4i Air Compressor Introduced
Doosan Portable Power is delivering a new power level in its air compressor lineup with the introduction of the Tier 4i-compliant XP200WJD. The model produces 200 cfm at 125 psig, making it useful for countless applications, including general construction, sandblasting, pneumatic tool operation and pipeline testing.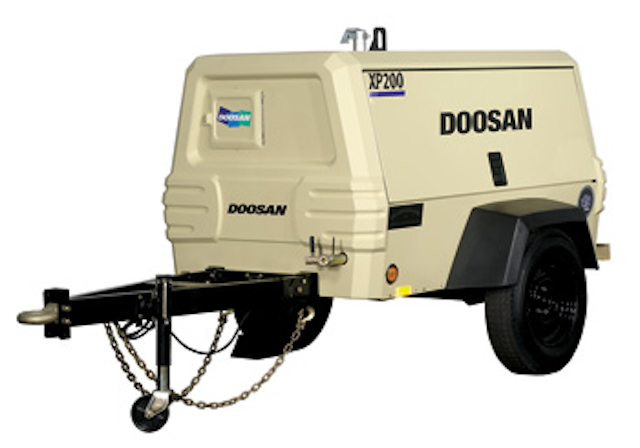 The XP200WJD maximizes jobsite productivity with an eight-hour runtime at 100 percent load. Dependable even in extreme temperatures, the model features a three-degree limited ambient temperature improvement, delivering reliable performance in conditions up to 118F.
Easy-to-access service points and simplified maintenance enhance machine lifetime. Pnuematic lift side doors provide easy access to service points-from hoses to filters and fuel tanks-while a rear panel simplifies heat exchanger cleaning. A spin-on oil separation system offers easy maintenance, while an engine and airend diagnostic module provides operators with at-a-glance maintenance and servicing information.
Doosan Portable Power
CIRCLE 135 ON READER SERVICE CARD
---
NEMA 4X ReelTuff Cord Reels Deliver Temporary Power to Corrosive Environments
KH Industries' ReelTuff Cord (RTF) retractable cord reels are NEMA 4X rated and suitable for corrosive environments. Used primarily outdoors, the RTF retractable cord reel is for mounting onto utility trucks and trailers for temporary industrial grade, jobsite power.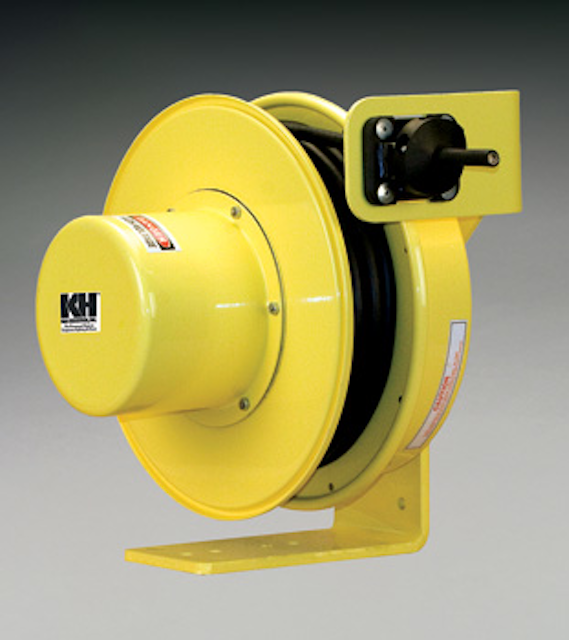 The RTF retractable cord reel has a 35-amp/600-volt rated slip with all steel construction, a 12-position adjustable guide arm, and an adjustable ball stop and ratchet. KH Industries stocks more than 20 models of RTF reels in addition to offering custom configurations to meet your application and need. RTF reels are made in the USA.
KH Industries
CIRCLE 136 ON READER SERVICE CARD
---
Zero-emissions Electric Vehicles
The only thing better than a zero emissions, fuel-efficient commercial truck is one with a fully customized, light-weight aluminum truck cap to keep tools and equipment organized and secure. For nearly five years, GreenGo Tek Inc. (GGT), based in Milford, Mich. and A.R.E. have made tough, earth-friendly vehicles available to commercial truck owners around the world.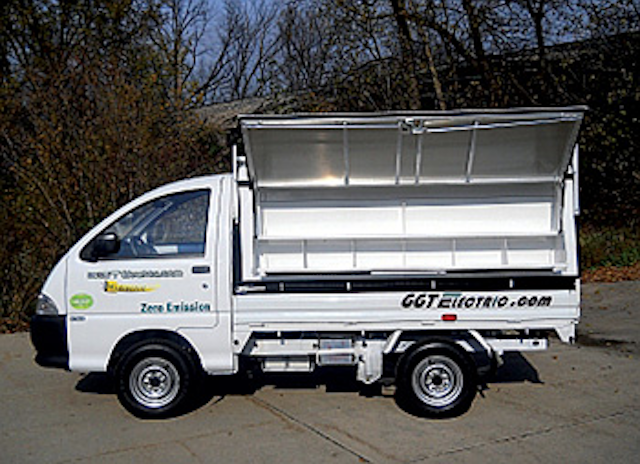 GGT specializes in delivering the best built, eco-friendly fleet vehicles that offer the latest advancements in full-electric technologies for vehicles of this class. Their electric trucks can be used to replace the Ford Ranger/Chevy S10-sized trucks, which both OEMs have discontinued. Operating quietly and cleanly, GGT vehicles cost 90 percent less to run than gas-powered vehicles.
Currently, GGT vehicles with A.R.E. custom Deluxe Commercial Units (DCUs) are in use commercially for Toyota Boshoku America, shuttling parts from building to building at Toyota's engineering facility in Novi, Mich.
A.R.E., a manufacturer of truck caps and tonneau covers, manufactures caps to fit almost any pick-up truck on the market today and offers custom DCUs for a variety of industries.
A.R.E.
CIRCLE 137 ON READER SERVICE CARD
---
Tier 4i Air Compressor Lineup Expanded With XHP1170WCU
Doosan Portable Power has expanded its Tier 4-interim air compressor lineup with the introduction of the XHP1170WCU. The Tier 4i-compliant air compressor offers a 6 percent increase in fuel economy over the Tier 3 high pressure model, on the same compact footprint, while delivering the reliable power required in drilling operations.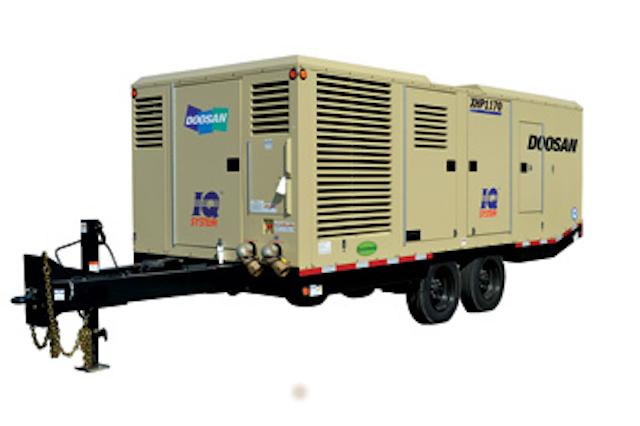 A new cooler design maximizes productivity in demanding jobsite conditions, providing easy maintenance while conserving fuel efficiency and power. The heat exchangers on the XHP1170WCU are designed in a single row for easy cleaning and come with a standard fuel cooler that prevents fuel heating.
The unit comes standard with dual pressure regulation, offering operators the ability to select two pressure settings through the flick of a switch-instantly expanding application compatibility and machine uptime. The XHP1170WCU is capable of delivering 250 psi or 365 psi.
Doosan Portable Power
CIRCLE 139 ON READER SERVICE CARD
---
HP915WCU T4i and XP1000WCU T4i Air Compressors Meet Productivity Needs
Two new Tier 4i air compressors have joined the Doosan Portable Power lineup, possessing enclosures that were redesigned from the ground up over previous models to further enhance productivity and reliability. These hard-working, heavy-duty air compressors are cited to now offer the best servicing capabilities in the industry, maximizing uptime in general construction, mining and abrasive blasting operations.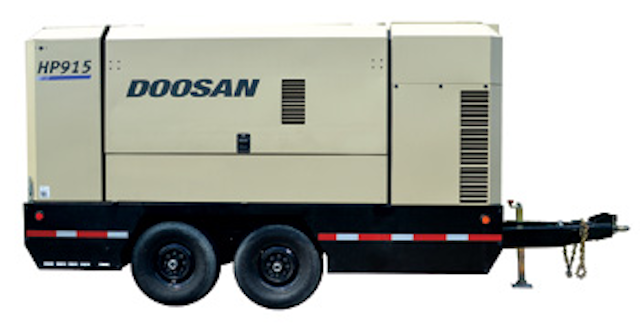 Maintenance is completed safely and efficiently on the HP915WCU and XP1000WCU units because the new enclosure design has resulted in the most accessible air compressor created, it's reported. Simple and safe access to all service components-from coolers to filters-is made possible by panels located on all sides of the machine. Located on each side of the compressors are two access doors-a pneumatic lift door and a drop-down door-that provide total service access to the interior compartment.
Doosan Portable Power
CIRCLE 138 ON READER SERVICE CARD
---
40 tm Articulating Crane for Utility Applications
The 40 tm articulating crane from Iowa Mold Tooling Co. Inc. (IMT) meets the needs of utility applications with high lift and reach capabilities, key safety features, a superior lift-to-weight ratio and minimized space requirements. The 40/275 crane provides a maximum lifting capacity of 19,026 lbs. at 14 ft., 5 in., and can be equipped with up to eight hydraulic extensions for a maximum horizontal reach of 69 ft., 11 in. Minimized dimensions and lower weight allow for additional truck configuration possibilities and increased payload.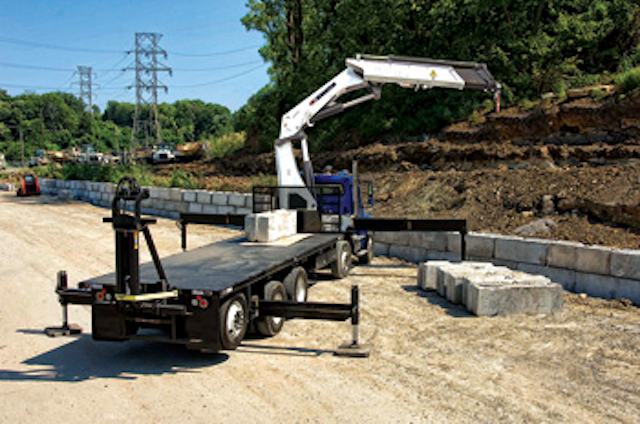 The 40/275 crane features a Dual Power Plus Link arm system (DL), which provides precise and regular movements in the entire working area while offering the high lifting capacities. Another feature is overbending, which offers greater flexibility when working through narrow passages and under overhead obstructions, the ability to lift maximum loads in all boom positions, and lower total height when the crane is stowed.
Iowa Mold Tooling Co. Inc. (IMT)
CIRCLE 140 ON READER SERVICE CARD
---
Interior Shelving Systems, Partitions, Accessories for Ram ProMaster Cargo Van
Masterack, a division of Leggett & Platt Commercial Vehicle Products, has released interior shelving systems, partitions and accessories for the new Ram ProMaster cargo van. Masterack's durable shelving systems for the ProMaster include steel racks and bins packages for each of the vehicles' many wheelbase and roof height configurations.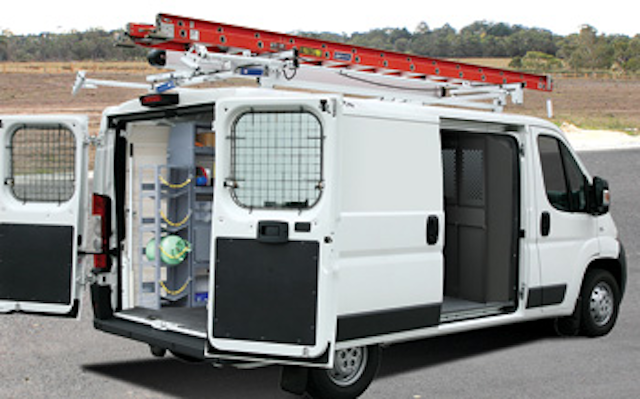 Easily upgrade base shelving packages with trade accessories to customize an interior system. Additional accessories such as flooring and window screens are also now available through Masterack.
Masterack
CIRCLE 141 ON READER SERVICE CARD
---
Automatic Tire Chain Kit Provides Instant Traction on Snow and Ice
Onspot Automatic Tire Chains of North America announces the availability of an automatic tire chain kit designed to be compatible with Liquid Spring suspension that has been released for the Ford F-450 ambulance chassis.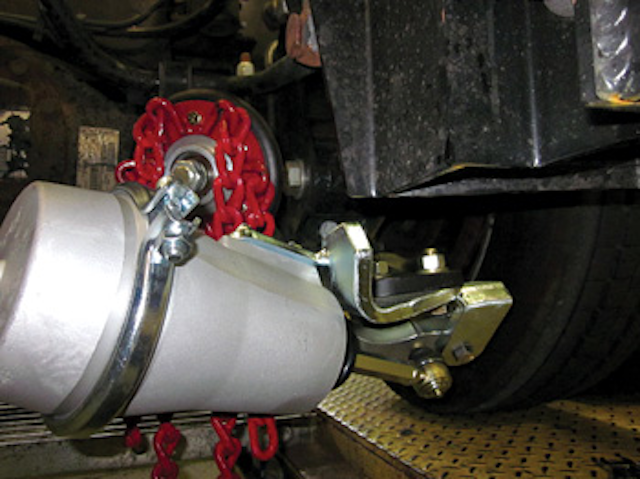 Working together, the two companies have arrived at a solution that gives EMS responders a good ride and instant traction on snow and ice.
Onspot Automatic Tire Chains
CIRCLE 142 ON READER SERVICE CARD
---
New 3811 Directional LEDs Provide High Light Output
ECCO's new 3811 directional LEDs comprise 20 high-intensity LEDs with individual reflectors to provide high light output in a cost-effective package. Featuring seven flash patterns and synchronization capability, the 3811 is available in either surface or grommet mount configurations, offering fit-and-forget, maintenance-free operation and low amp draw.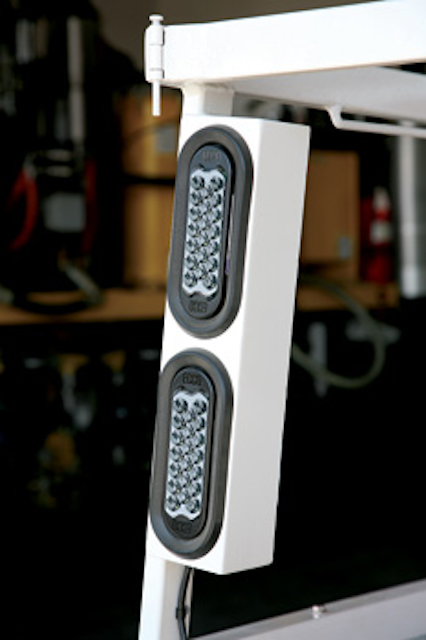 ECCO Group
CIRCLE 143 ON READER SERVICE CARD