Fleet Management Mobile Applications: A Utility Industry Accessory for 2014
When referring to accessories in the power and telecom industries, products such as safety lighting, cable strippers, voltmeters and crossarms are more likely to come to mind than a business intelligence tool.
Dec 27th, 2013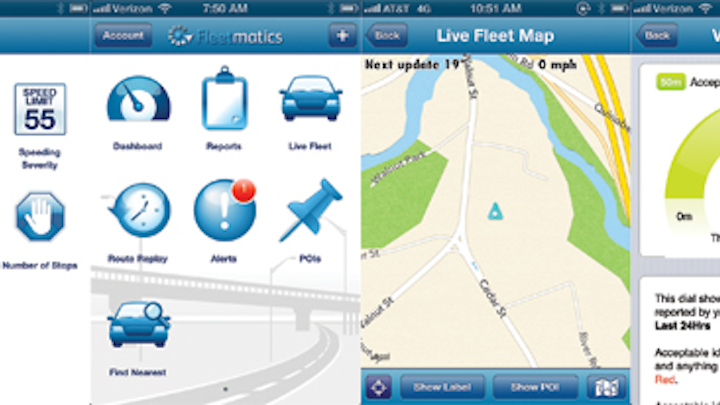 By Todd Ewing
When referring to accessories in the power and telecom industries, products such as safety lighting, cable strippers, voltmeters and crossarms are more likely to come to mind than a business intelligence tool. Business intelligence tools such as fleet management software, however, are must-have accessories that allow operations managers to have better visibility into where their trucks and drivers are and how efficiently they are working. And, a new advancement in fleet management tools is mobile access to the data the platform provides. Some of the best utility fleet and operations managers are beginning to consider fleet management tools to be among their most valuable accessories.
Mobile Intelligence for Optimized Operations
Mobile access will only grow in importance as Navigant Research forecasts the global utility mobile workforce will increase from over 1.2 million employees in 2013 to more than 2.4 million by 2020. For utility companies, it will be even more important to find mobile solutions such as apps that ensure they have visibility into the entire workforce and fleet. Companies who neglect to consider fleet management mobile solutions will fall behind in the race to provide greater quality of service, optimize productivity and secure increased revenues.
In addition, data is being generated, compiled, consumed and analyzed at a high speed in the business landscape, and utility companies have a need to find more efficient ways to leverage this data in a meaningful ways. The utility industry historically has been bogged down by cumbersome internal communications processes, but fleet management mobile tools can mitigate these inefficiencies. Fleet management apps allow operations managers and field technicians to have clear visibility into business operations to reduce costs, increase workforce productivity, and better serve and communicate with customers whether they are in the office or the field.
Benefits for Mobile Management
For utilities' fleet and operations managers, mobile apps provide an on-demand hub of information in the palm of their hand, allowing them to access fleet performance metrics from any location-whether in the office or in the field-and to receive alerts about incidents in the field that may require immediate action. In addition, apps provide managers with the ability to:
• Work around situations that could minimize efficiencies such as traffic congestion and inclement weather,
• Validate service and contest customer complaints,
• Check and confirm accuracy of payroll hours with objective information,
• Monitor where their technicians are in the field in near real-time through integration with global positioning system (GPS) satellite technology and Google Maps,
• Build better company programs and policies from fleet tracking data and trends, and
• Manage fleets remotely and have visibility into how productive their field workforce is and how safely and smartly they are working-i.e. speeding and fuel consumption.
Field Technician Advantages
In addition to the benefits for fleet and operations managers, mobile apps tied to fleet management software also have benefits for field technicians. There are even apps designed specifically with the field technician in mind-not the manager. These apps allow technicians to assign themselves to a vehicle remotely, create location-based parameters, or key in assets that need to be tracked. This is particularly important as utility technicians work in a complex grid of geographic information system (GIS) objects and field assets, so having visibility into their location in real-time against a map of the utility field assets is crucial.
Mobile apps help technicians to:
• Facilitate greater and more direct communication between field technicians and dispatch,
• Identify more direct routes or send a new location from a mobile app to the technician's GPS device,
• Reduce travel time or check-in calls back to the office and save on fuel costs,
• Respond to emergencies and customer needs with greater agility,
• Improve customer satisfaction and productivity,
• Verify work if a customer ever questions whether the technician arrived on time or worked the hours billed, and
• Improve safety conditions should a technician ever get lost in the field.
Driving Return on Investment
In terms of real world results, following are two examples of companies in the utility industry that have used mobile applications tied to fleet management software to gain insight into productivity and cost.
Fleet Management Software Saves $40,000 a Year in Wasted Fuel
A leader in telecommunications construction ranked as one of the top 5,000 fastest growing companies in the US turned to fleet management software with mobile assets to remain ahead of the competition and keep costs low for customers. The fleet management software allowed the company to gain business insights such as the finding that in only one week, the company's trucks had idled more than 259 hours and 52 minutes, burning more than 180 gallons of fuel. Had the idling continued, it would have cost the company some $40,000 for the wasted fuel for the entire year. Once this was discovered, the company enforced new rules about idling time.
Reduced Cell Phone Bills and Overtime
A Massachusetts-based plumbing and electrical contracting services provider was looking to improve their productivity through tighter control over their fleet. Through fleet management software and mobile tools, the company was able to eliminate unnecessary paperwork, increase productivity and reduce monthly cell phone bills through more efficient dispatching, and save more than $28,000 in overtime costs through time card automation.
As key service providers such as workforce management and GPS systems develop apps for platforms, more utility companies will become comfortable with relying on tablets and smartphones as more efficient tools to deal with field service needs rather than using bulky laptops anchored to the vehicle. And, it's evident the mobile utility workforce will continue to grow, making mobile fleet management tools even more important in the optimization of productivity and cost savings, among other competitive differentiators.
---
About the author: Todd Ewing is director of product management for Fleetmatics.
For more information, please visit www.fleetmatics.com.