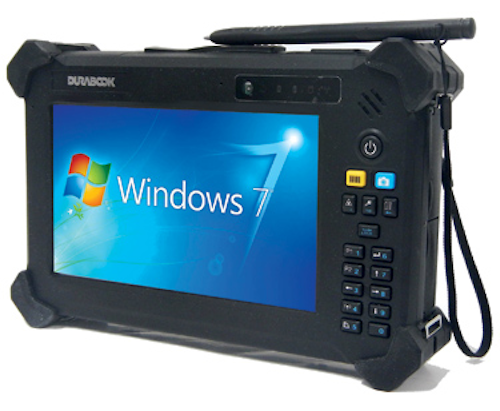 Price is always a factor, but there is more utility professionals should consider.
No matter what we purchase in life, price will always be an issue-even for the most profitable companies. Something a utility company needs to consider when purchasing a rugged notebook is price-and staying within budget.
In addition to price, there are other factors that should be considered when selecting a rugged notebook. It should have rugged features-not every notebook is designed to endure long bumpy rides over rough roads, work in stifling heat or freezing cold, withstand swirling dust and dirt, or handle all manner of moisture.
It is critical that notebooks used in the utilities sector operate in remote and challenging work environments, and are durable and reliable. A rugged notebook should be designed to protect against vibration and shock, and built to regulations such as MIL 810G or MIL 810F specifications. It should provide added protection against physical or functional damage during normal everyday use and from damage caused by mishandling or by accidental drops and bumps during transport. In addition, it should include added protection against damage to vital electronic components caused by accidental spills. This extra protection lowers the risk of expensive component repairs while also lowering total cost of ownership by protecting this investment.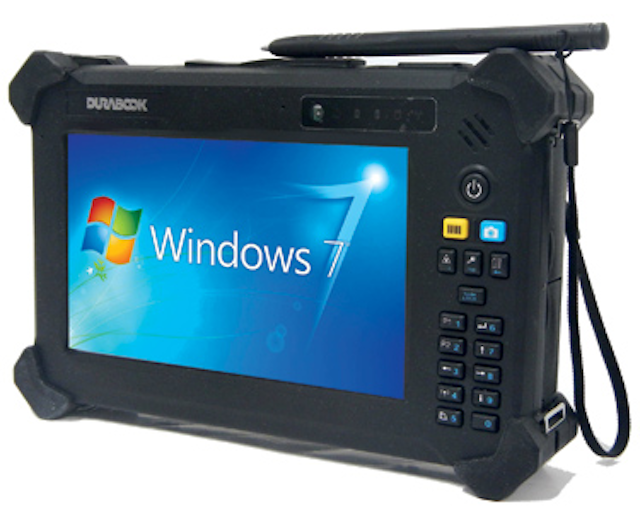 Before purchasing, consider that a magnesium alloy top and bottom case is 20 times stronger than those made from Acrylonitrile Butadiene Styrene (ABS) plastic. Remember that shock-absorbing material around the liquid crystal display (LCD) and hard-disk drive provides shock resistance.
Something else to consider is ergonomics. Is the device easy to hold, carry and use? If it's not, field technicians probably will be reluctant to use it-wasting time and money. Size and weight are essential considerations and should be factored in for operating (holding or using) and carrying (hands free with a shoulder strap) the unit.
While not an ergonomic concern, the display should also be carefully selected. Working in the field requires a screen that can be read in multiple lighting situations, from bright mid-day sun to dark environments.
Docking effectiveness is another factor that must meet the technician's approval-or it will go unused. A notebook must come with a quality dock that wears well and is easy for the technician to remove the unit and place it back into the dock; otherwise, the technician might not take it to the job site. If that happens, instead of immediately inputting everything into the notebook, the technician will use a piece of paper to write specifics. When the task is completed, the technician will go back to the vehicle or office to input what was written. This defeats the purpose of purchasing a rugged notebook, not to mention wasting time and money.
When selling their products, some vendors will tell you what you want to hear. Then, when you later try to call them, they sometimes aren't as helpful. In purchasing a rugged notebook, realize that post-sale service and support are essential in maximizing a unit's value over its economic life. Look for technical support, repair and/or replacement hardware support, premium service offerings that can reduce risk and deliver budget predictability, and a no-fault warranty.
GammaTech Computer Corp. is a company that offers 'No-Fault Warranty' for its Durabook rugged notebook computers and covers repair or replacement to any component that is accidentally damaged or fails electronically.
Portability is a hallmark of a rugged notebook computer. Other features to consider include hot swappable battery design (single or dual) and lithium ion smart battery packs that can offer double-digit hours of power, allowing extended work in the field.
Many units come with support for on/off switches for a radio frequency device, barcode scanner and radio frequency identification (RFID)/near field communication (NFC). No rugged notebook purchase should be completed without a quality security system built in or optional.
Technicians working in remote locations like to stay in touch-making connectivity important to them. Integrated communication devices are features that need to be considered when purchasing a rugged notebook. These include, but are not limited to, items such as some variation of Bluetooth, WiFi Link 6235 series combo, Intel mini-express Wireless local area network (LAN) 802.1, wireless wide area network (WWAN) (3G) and wireless local area network (WLAN) .
Because much utility work is performed in remote areas, another useful technology to include in a rugged notebook is a built-in global positioning system (GPS) receiver to put users in touch with their favorite GPS navigation software.
Having a rugged computer on the job, away from an office setting, allows utility workers access to necessary documents, files, the company network and the Internet-anywhere their job takes them, regardless of the distance from their place of business. The result is increased productivity and efficiency.