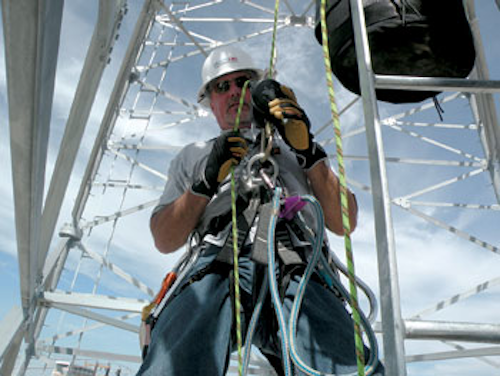 Escape Kit Keeps Safety Simple for Workers at Height
The new DEUS Industrial Escape Kit from DEUS Rescue is a turnkey, individual evacuation solution for anyone who works in elevated industrial environments up to 500 feet such as platforms, tower cranes, communications, utility and wind towers. The lightweight and compact kit is a complete escape system that provides workers a safe and simple way down with nothing to hold, operate or worry about from top to bottom.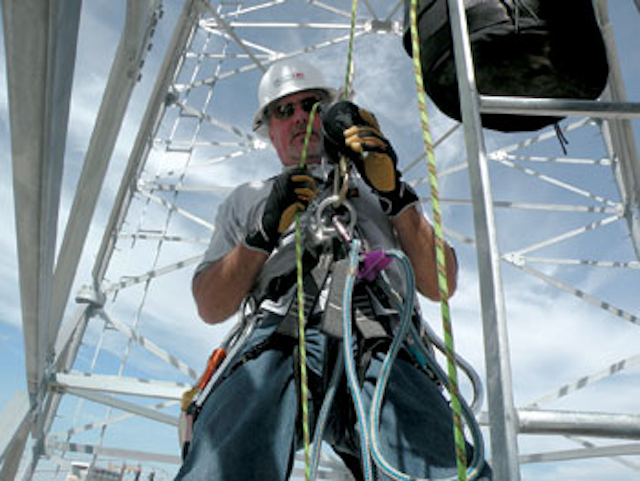 The central component of the kit is the DEUS 3700 controlled descent device. The 3700 has been third-party tested and certified to the American National Standards Institute (ANSI) Z359.4- 2007 fall protection rescue standard.
Complete, pre-rigged and ready to use, the simple-to-operate 3700 is an automatic, compact, speed-limited, descent system. When the DEUS 3700 is connected to a harness and anchor, the worker can experience a smooth and safe descent at a maximum speed of 7 feet per second. Especially useful for rescue situations, the device works even if the person descending is unconscious.
Workers who fall while wearing fall protection gear may still risk suspension trauma waiting to be rescued. The kit eliminates wait times by enabling workers to lower themselves safely and quickly.
Pocket-size and weighing 2.5 pounds, the DEUS 3700 features four integrated brakes for redundant safety including a patented centrifugal direct-drive brake with no gears to break or fail. There is also a large control knob that enables the worker to variably control the descent speed-from complete stop to full descent.
DEUS Rescue
CIRCLE 111 ON READER SERVICE CARD
---
OptiGrid Stored Energy Solutions
EnerSys, a provider of stored energy solutions, has announced its entrance into the large-energy storage systems segment for utilities and large industrial applications with the introduction of OptiGrid Stored Energy Solutions. A flexible, turnkey, utility-scale capacity optimization system, OptiGrid Stored Energy Solutions is available in the full range of battery chemistries offered by Enersys-making it one of the most comprehensive, large-scale energy storage systems available.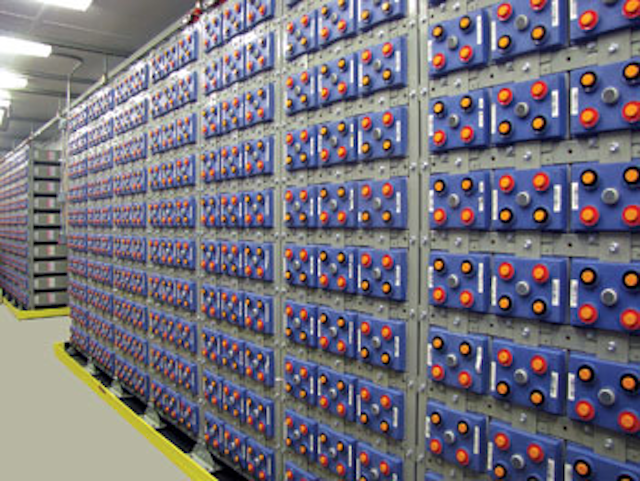 OptiGrid Stored Energy Solutions can be customized with one or more of the proven EnerSys chemistries, including tubular technology, traditional flat plate valve regulated, traditional flat plate flooded, lithium ion and/or advanced lead acid designs and alloys-marketed under brand names such as PowerSafe and DataSafe batteries.
OptiGrid Stored Energy Solutions by EnerSys is provided as a complete, packaged solution that combines the right battery chemistry, as well as a power conditioning system, monitoring system, shelter/container, and full service and engineering to best match the customer's technical and economical requirements.
Designed to help utilities manage grid-level storage needs, OptiGrid Stored Energy Solutions by EnerSys enables users to improve power quality and efficiency, moderate peak demand and effectively integrate energy from renewable resources.
Coinciding with the launch, EnerSys is completing the OptiGrid Stored Energy Solutions customer showcase, located in southern Vermont. This showcase is being built to enable customers to understand the product platform and see the system in operation.
OptiGrid Stored Energy Solutions by EnerSys is for utilities, independent system operators, independent power producers and regional transmission operators-as well as end users, including commercial, industrial, government agencies and renewable project developers.
EnerSys
CIRCLE 112 ON READER SERVICE CARD
---
NOYES Fiber Optic Connector Cleaning Products
AFL has enhanced its NOYES fiber optic connector cleaning product line with the addition of these new products:
• AFL CleanConnect 500, a refillable cassette-type cleaner;
• NTT-AT NEOCLEAN-E series, refillable push-type cleaners;
• OPTIPOP-C, refillable card-type cleaners;
• Fujikura One-Click D-LC, a push-type cleaner;
• KimWipes, optical grade cleaning wipes; and
• CleanWipes optical grade cleaning wipes.
AFL's selection of cleaning products enables technicians and engineers to choose the products that match their current and future needs, and also comply with established cleaning procedures. These products are designed for ease-of-use in a wide variety of environments.
Whether building and installing a high-performance data communications or telecom network, or experimenting with high power laboratory optics, properly cleaning fiber optic connectors prevents the most common causes of performance degradation, network and component failure and downtime. By providing the widest choice of fiber optic cleaning products in the industry, AFL is better serving its customers.
AFL
CIRCLE 113 ON READER SERVICE CARD
---
Powerblanket Extra-Hot Blankets Accelerate Cold Weather Construction Jobs
Powerblanket's Extra-Hot (EH) heating blankets provide added levels of heat for rapid thawing capability and equipment and machinery protection for utility companies, construction contractors and others. Featuring patented GreenHeat Technology, the EH blankets create a barrier of insulated heat for effective temperature control and freeze prevention.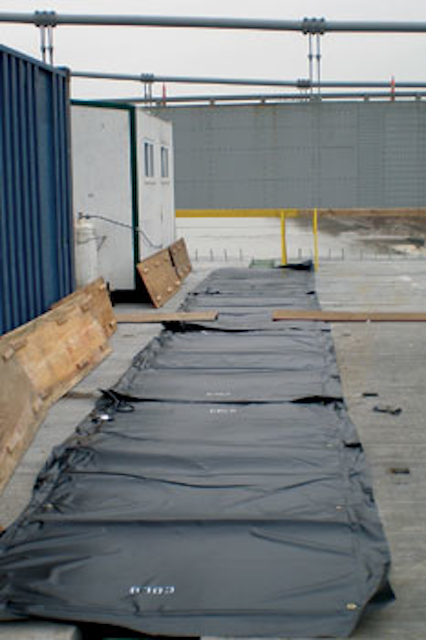 Suited to accelerate the thawing of frozen ground up to 24 inches deep, GreenHeat Technology is a heat spreading system that provides an efficient and uniform distribution of heat while consuming low levels of energy-saving money by not subjecting projects to cold weather delays. After calculating the savings in fuel and the personnel to build and move heated enclosures, for example, Walsh Construction saved more than $5.43 for every $1.00 spent on Powerblanket heating blankets during a cold-weather concreting job. In addition, the site workers found the blankets easier to work with.
Powerblanket
CIRCLE 114 ON READER SERVICE CARD
---
Fault Current Limiter for Substations
Phoenix Electric Corp. has introduced the Capture Fault Current Limiter concept, which employs new technology to make utility substations more reliable. Using Faultron electron tube technology, the Fault Current Limiter traps and diffuses fault currents, protecting substation equipment and preventing power outages.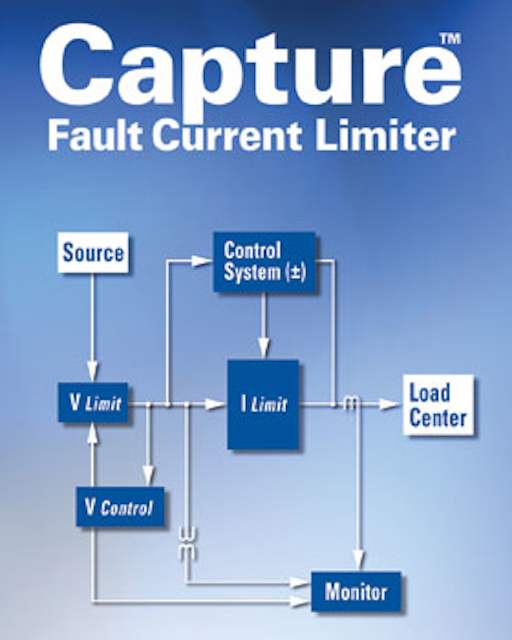 Because it eliminates the need for fuses, the Fault Current Limiter also eliminates the time and expense of buying and managing an inventory of spares.
The Fault Current Limiters have an operational frequency of 60 Hz and a maximum current let-through of 20 kA. Fifteen kV voltage class limiters have continuous current ratings up to 3,000A and a BIL of 110 kV. Twenty-seven kV voltage class limiters have continuous current ratings up to 4,000A and a BIL of 150 kV. All units have a response time measured in microseconds. An integrated monitoring control system ensures the proper operation of the Fault Current Limiter unit and signals any malfunctions or anomalies.
Phoenix Electric Corp.
CIRCLE 115 ON READER SERVICE CARD
---
Portable Warning Lights
Lumastrobe, a manufacturer of battery power emergency lights, announces its new police portable warning light-Model PD-12RB-M. The unit features two 7 1/2-inch bright LED flash heads-one red the other blue-that alternate flash 60 double flashes per minute. Many flash head color combinations are available: red, blue, amber, white and green. Among other features: weighs 9 1/2 lbs., two lantern 6V batteries that will flash more than 250 hours per set of batteries, and measures 13 in. high x 23 inches wide x 4 inches deep.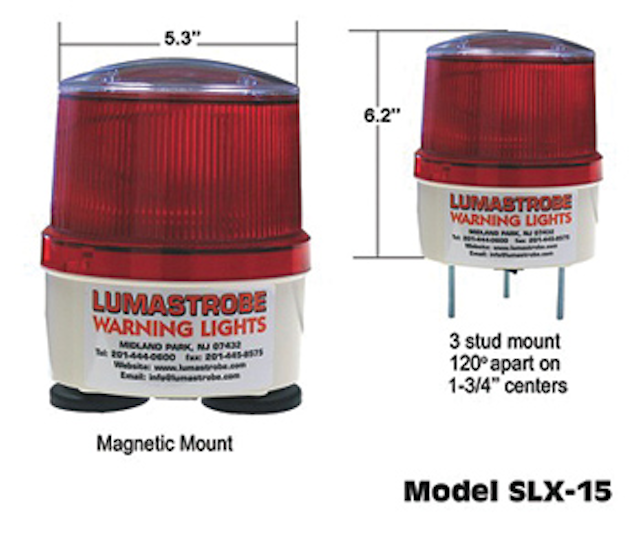 A sturdy handle facilitates transport and hanging and its two 50-lb. pull magnets on the base are for secure mounting on metal, car or equipment. A tamper-proof bolt allows mounting on barricades and safety barrels. The lights can easily be seen from 1/2 mile.
Lumastrobe Warning Lights
CIRCLE 116 ON READER SERVICE CARD
---
Non-hazardous, Biobased Cleaning, Degreasing and Lubricating Products
RSC Bio Solutions manufactures and distributes non-hazardous, biobased cleaning, degreasing and lubricating products for applications where high performance and safety are essential. The company offers readily biodegradable fluids that provide a safe alternative to petroleum-based formulas.
RSC has developed partnerships with Gemtek and Terresolve, who are committed to delivering high-quality products. Through the Gemtek partnership, RSC Bio Solutions is now the exclusive North American licensee of Gemtek's SafeCare technology for cleaners, degreasers and solvents. The Terresolve partnership involves an investment of growth capital and a minority ownership in the company. In addition, the Terresolve EnviroLogic brand of industrial lubricants is now available to RSC customers.
RSC is manufacturing ready-to-use, non-hazardous, Gunk Powered by SafeCare and Liquid Wrench Powered by EnviroLogic products formulated for industrial applications. The new Gunk Powered by SafeCare line features biodegradable industrial cleaners, degreasers, solvents and specialty products that extend the life and performance of equipment and tools. Liquid Wrench Powered by EnviroLogic products are non-hazardous, high-performance industrial lubricants and functional fluids-including hydraulic fluids, gear oils and greases-that will not harm soil or water if spilled during use.
RSC Bio Solutions
CIRCLE 117 ON READER SERVICE CARD
---
Compressor/Generator Combination Units Introduced
Jenny Products Inc. introduces two compressor/generator combination models, providing portable air and a power source in one machine for a variety of industrial and construction applications.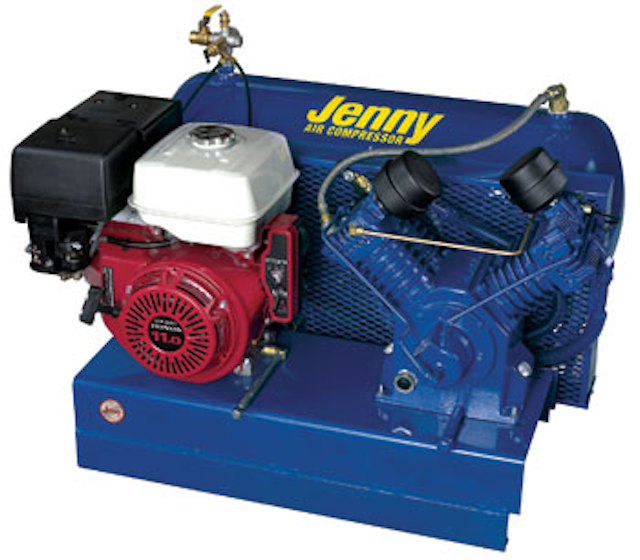 The K11HGA-17P-3000W features Jenny's K pump, a heavy-duty, single-stage cast-iron compressor pump. The unit is powered by an 11-hp Honda GX series OHV engine with electric start and produces 8.9 cfm at 100 psi or 8.6 cfm at 125 psi for quick recovery. Featuring a G pump and a 13-hp, electric start Honda GX engine, the G13HGA-17P-3000W delivers 16.2 cfm at 100 psi or 15.6 cfm at 125 psi.
Each model includes a 3,000-watt, 115V/230V generator, providing a solution for powering electric tools, lighting or other jobsite equipment-or as a backup power source during instances of power failure.
The compressor/generator units are offered with 17-gallon, powder-coated, American Society of Mechanical Engineers (ASME) certified air tanks. Maneuvering is simple with lifting handles integrated into opposite ends of the compressors' frames, and pneumatic tires are included to further enhance portability.
Each compressor/generator model is equipped with numerous standard features for increased uptime and reduced maintenance. The compressors are belt driven with a large flywheel for easy start-ups and extra cooling, and a directional air shroud helps further reduce pump temperatures. Special unloading valves on the compressors also assist in engine starting.
Jenny Products Inc.
CIRCLE 118 ON READER SERVICE CARD
---
Air Command App for Android Smart Phones
Firestone Industrial Products Co. LLC introduces an Air Command Android app that will allow users to remotely adjust the amount of air in their vehicle's Firestone air helper springs by turning their smart phone into the controller.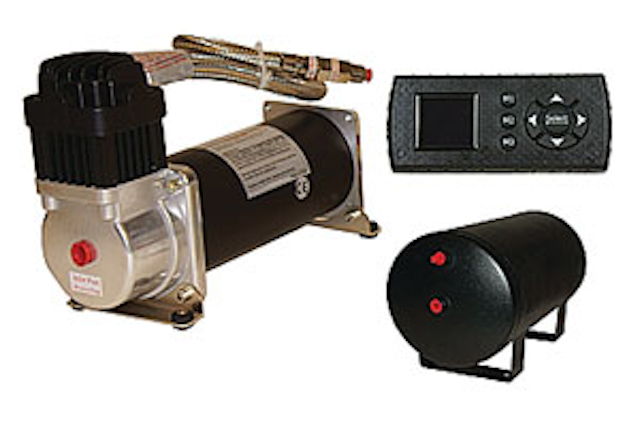 The new app works with Firestone's Android Air Command Kit that, like existing Air Command Kits, is designed to provide an instant air source to their line of suspension solutions-delivering convenient adjustability of the air helper springs with the push of a button.
To use, truck owners can purchase the Android Air Command Kit, which comes with an updated Electronic Control Unit (ECU) that is specifically designed to work with Android applications. Then simply download the Air Command app to control the air.
Firestone's Air-Rite Air Control Systems allow users to adjust the ride of their air suspension products for various load and road conditions. The Air Command app lets the smart phone control the amount of air in the air helper springs from up to 25 feet away, letting drivers visually inspect a vehicle's ride height while it is loaded.
Firestone Industrial Products Co. LLC
CIRCLE 119 ON READER SERVICE CARD
---
Predator Series Thermal Imaging Cameras Offer Improved Features
New Predator Series Thermal Imaging Cameras (GTi10/20/30/50) from General Tools & Instruments (General) offers benefits and value to technicians and contractors, plant and facility maintenance managers, energy auditors and others. Useful for revealing hidden heat- or cold-driven processes and problems, the Predator Series cameras can detect small temperature differences from a distance by converting an object's invisible infrared radiation to a visible color image. These visual thermal signatures help diagnose equipment malfunctions and poor performance more effectively than infrared (IR) thermometer readings. General's models offer a range of features at an affordable price.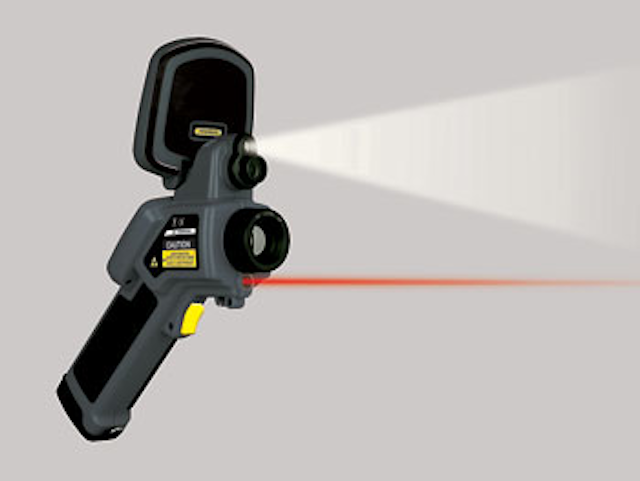 Currently available in the U.S., Canada, Mexico, Central and South America, these instruments can generate long-term savings by helping professionals quickly and easily:
• Identify areas of poor machinery performance;
• Locate invisible or inaccessible thermal leaks and pinpoint leak sources;
• Inspect integrity of thermal insulation;
• Reveal overheated electrical circuits;
• Check/monitor combustion or temperature-controlled processes;
• Assess the "thermal envelope" of any building;
• Detect specific areas of energy loss (e.g., around/through windows, doors, radiators, roofs); and
• Support maintenance and repair efforts by documenting problem areas.
General Tools & Instruments (General)
CIRCLE 120 ON READER SERVICE CARD
---
Transferable Power With Load'N'Go Powerbody
Fleetwest Transferable Truck Bodies has announced a product upgrade to its Load'N'Go Powerbody. The Powerbody now features the new AirNArc 150 All-In-One Power System with a more powerful 18-hp Kohler engine, providing more energy to power tools. Power, storage and security of 16-gauge steel construction are the foundation of the Load'N'Go Powerbody.
The Load'N'Go Powerbody is a transferable service body up-fitted with a generator, compressor, welder and battery booster/charger, which universally fits Ford, Dodge and GM 1-ton pickup trucks. Features include a control panel in the side compartment for easy access and a 1,000-lb capacity slide-out parts drawer. The Load'N'Go Powerbody also has built-in forklift tunnels for easy transfer from one pickup to another.
Using a transferable work truck body includes the following features:
• Perfect fit for new and existing fleet vehicles;
• Extra security-standard key locks and pad-lockable T-handles;
• Built-in forklift tunnels and lifting jack receptacles for easy installation and removal;
• Models available for long bed and short bed pickups;
• Immediate cost saving benefits-universal fit for all major brand, standard pickup trucks (Chevy, Dodge, Ford, GM and Toyota); and
• Life cycle savings in excess of 17.5 percent of initial cost.
Fleetwest Transferable Truck Bodies
CIRCLE 121 ON READER SERVICE CARD
---
Hi-Ranger TCX65/100 Non-overcenter Material Handling Aerial Device
The new Terex Hi-Ranger TCX65/100 non-overcenter material handling aerial device is engineered to offer convenient, easy operation. The TCX65/100 allows operators to work in all three phases without repositioning. It is also designed to enable positioning the truck to work on H structures. A 24-in. basket lift is available for the TCX65/100 to help operators maneuver into difficult positions.
With a working height up to 105 ft. and a platform capacity up to 700 lbs. in all positions, the TCX65/100 has 110 degree lower boom articulation to achieve 47 ft. of side reach. This aerial device is equipped with pilot closed center controls for smooth, intuitive operation.
This aerial device can be installed on a 6x6 chassis with front bumper winch and uses high-strength material for a low-weight design. Dual lift cylinders on each elevator tub give the TCX65/100 a compact stow height.
Terex Corp.
CIRCLE 123 ON READER SERVICE CARD
---
Cable Measurement Line Expanded With VDV Distance Meter
Klein Tools introduces the VDV Distance Meter for pair-conductor cables. This tool measures cable length; locates faults; and simplifies inventory, estimates and billing jobs. With an entry-level price point, the VDV Distance Meter lets tradespeople confidently test and measure cable.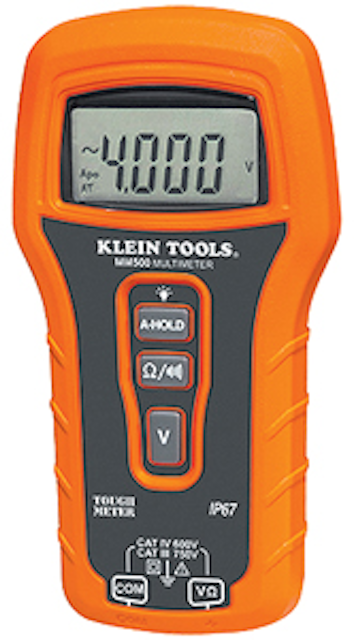 Klein Tools' VDV Distance Meter (Cat. No. VDV501-089) measures voice, data, video, doorbell, siamese, lamp-wire and NM cables up to 1,500 feet. It has six pre-programmed nominal cable length constants for RG59, RG6 and RG11 coaxial as well as Cat3, Cat5e and Cat6 twisted pair. In addition, the VDV Distance Meter lets the user adjust the capacitance/foot constant based on the cable being tested. This tester also ensures compliance and identifies cable runs outside specification. The fault finder feature determines if a cable run is broken or damaged. The VDV Distance Meter saves time and increases efficiencies by measuring cable remaining in a box or on a reel as well as facilitating estimates and billing jobs correctly.
Klein Tools
CIRCLE 122 ON READER SERVICE CARD
---
Test and Measurement Line Expanded With Milliamp Clamp Meter
Milwaukee Tool Corp. continues to expand its test and measurement line with the introduction of the Milwaukee Milliamp Clamp Meter. More than 10 times faster than measuring milliamps with a traditional multimeter, the Milliamp Clamp Meter measures 4-20 mA signals used in control panels to collect and send data, and can measure 0 to 99 mA to cover a broad range of control signals, if needed. Enhanced tool design features allow professional electricians, HVAC technicians, building maintenance specialists and others working with 4-20 mA signals to troubleshoot an entire control panel faster and more easily.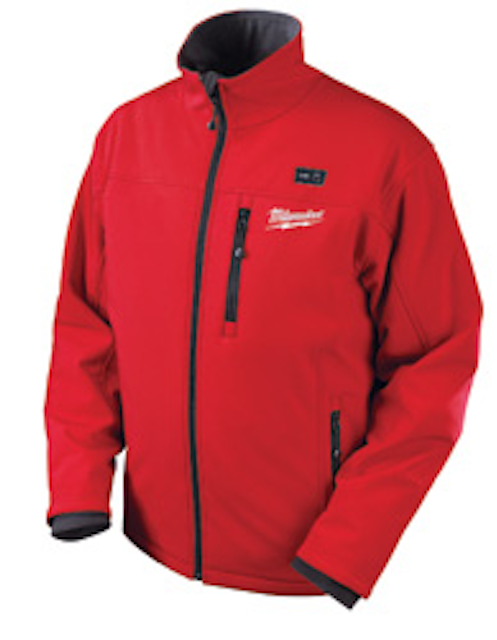 The Milwaukee Milliamp Clamp Meter saves users time and money. Large control panels can have dozens of wires that need to be tested to identify a problem. The clamp allows users to measure milliamps without having to break the loop, preventing the shutdown of equipment and saving time.
Milwaukee Electric Tool Corp.
CIRCLE 124 ON READER SERVICE CARD
---
Custom Label Service
When it comes to visual communication in the workplace, one size doesn't fit all. Graphic Products Inc. has introduced the DuraLabel Custom Label Service to help customers create their own custom, multicolor labels and signs with logos, special graphics and symbols.
Compatible with the DuraLabel PRO 300, DuraLabel Toro, DuraLabel 7000 and DuraLabel 9000 industrial labeling systems, Custom Label Service allows customers to create multi-color labels alerting of specific hazards, describing workflow and other uses. The custom print process creates a label of up to four colors that can be populated with black or any other type color as it is run through the DuraLabel thermal transfer printer.
Design your own Custom Labels in three steps:
• Sketch a design using your favorite software or a sheet of paper. Indicate desired specifications. Specify desired font and size. Include pictograms.
• Select up to four spot-colors to indicate which items should be in color-white, black, red, green, orange, yellow, blue or magenta.
• Contact a DuraLabel representative to discuss a specific application, and representatives will help determine the appropriate vinyl label supply or other material appropriate to that environment. A proof will be delivered for your review. Once approved, your custom labels will be printed with your design and delivered to you.
DuraLabel representatives work directly with customers-reviewing compliance needs, desired widths, lengths, quantities, adhesion strengths and supply options such as metal-detectable tapes, reflective vinyl tapes, two-color tapes and marine label tapes. In addition, cost savings are realized because the messaging printed over the custom label can be changed by the user at any time without reordering.
Graphic Products Inc.
CIRCLE 126 ON READER SERVICE CARD UP-FITTED
---
S200PR Ring Tongue High-performance, Current Limiting, Miniature Circuit Breakers
ABB Low Voltage Products Division has introduced the S200PR ring tongue line of high-performance, current limiting miniature circuit breakers (MCBs) with ring tongue lug connections. The SU200PR range conforms to Underwriters' Laboratories (UL) 489, Canadian Standards Association (CSA) 22.2 No. 5, and International Electrotechnical Commission (IEC) / European Norm (EN) 60947-2 standards. It is cited to be the only UL489 MCB on the market with rated current up to and including 35A for 480Y/277 Vac, and up to 63A for 240 Vac. The S200PR range supplemental protection conforms to UL1077, CSA 22.2 No. 235 and IEC/EN 60947-2 standards. Both ranges are available in 1, 2, 3 and 4 pole configurations, from 0.2A through 63A, and feature integrated captive screws that simplify the secure connection of cables, prevent installers from loosing the connection screws, provide extra protection and save time.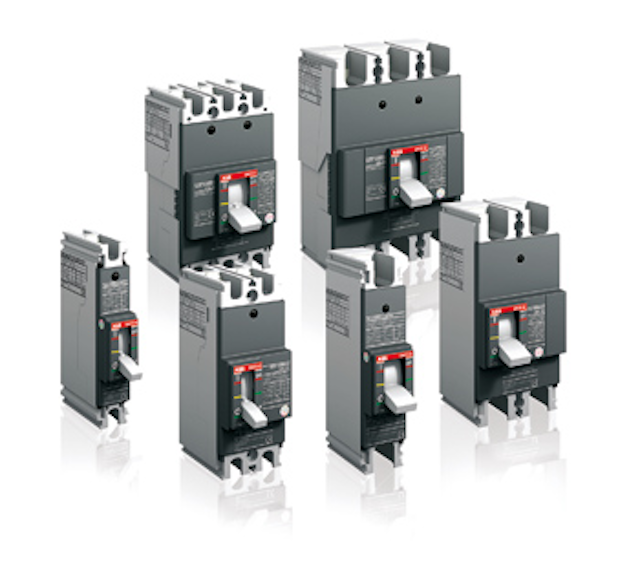 All markings on the ring tongue MCBs are permanent laser markings, clearly visible from the front-even when mounted in position on the DIN rail. These miniature circuit breakers have a true contact position indicator (CPI) that indicates the actual contact position, ensuring the display of fault conditions such as contacts that may be "welded" closed because of excessive fault.
ABB Low Voltage Products Division
CIRCLE 125 ON READER SERVICE CARD
---
Rail Mount LED Work Light with Dual Light Heads
Larson Electronics' Magnalight.com offers the WAL-JH-2XWP400 rail mount LED work light-designed to allow fast, temporary mounting to ladders, scaffolding and railings. This high output LED work light is designed to provide highly versatile mounting options for workers who frequently use ladders and scaffolds during work operations. This LED light features an adjustable scaffold mounting bracket and dual light heads that make it useful for larger workspaces where operators must work from elevated locations.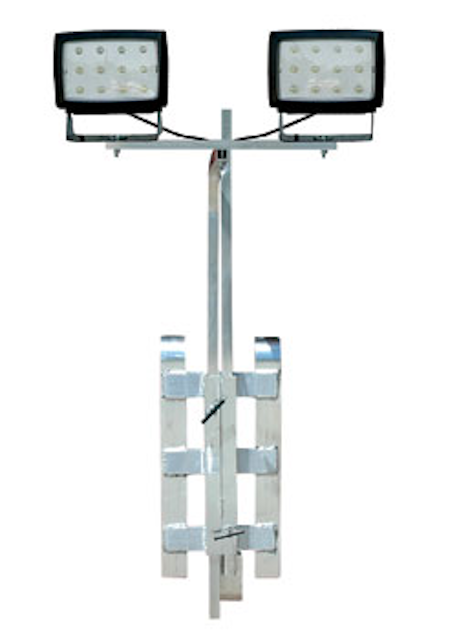 The light provides versatile mounting options with an adjustable J-hook ladder mount bracket. This railing mounted work light produces 2,924 lumens of bright white light and distributes it in a wide flood pattern capable of illuminating 15,000 square feet of work space. The lamp assembly consists of two 40-watt LED light fixtures producing 1,462 lumens each, mounted onto an aluminum J-hook bracket designed to be attached to ladders, scaffolds and railings without the need for tools. The J-hook bracket can be adjusted between 26 inches to 43 inches in length, allowing it to be quickly and easily fitted to a wide variety of railings and scaffolds of various sizes.
Larson Electronics, Magnalight.com
CIRCLE 127 ON READER SERVICE CARD