Safety Products: Helping Technicians Work More Efficiently and Safely with Properly Outfitted Trucks
For utility and telecommunication technicians working in the field each day, the value they place on their equipment has little to do with its price. Instead, it is the product's ability to make technicians more productive without compromising safety that they find most significant.
Feb 1st, 2013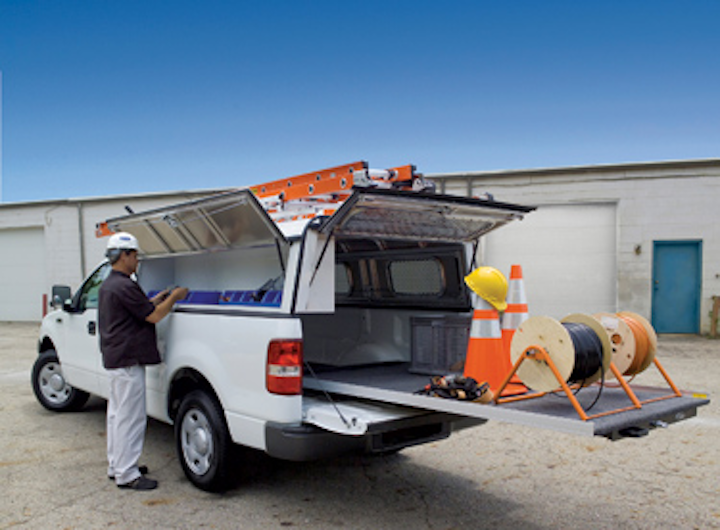 By Jim Blayne
For utility and telecommunication technicians working in the field each day, the value they place on their equipment has little to do with its price. Instead, it is the product's ability to make technicians more productive without compromising safety that they find most significant.
As most business owners know, the quicker technicians can get to their tools, complete the job and pack their tools once finished, the more jobs they can do in one day-and that means greater profits.
By understanding how your company's technicians work in the field, fleet managers can upfit their work trucks with the correct products and accessories to increase efficiency and safety. From mechanical issues caused by overload to safely handling cargo, there are many products designed to improve jobsite productivity.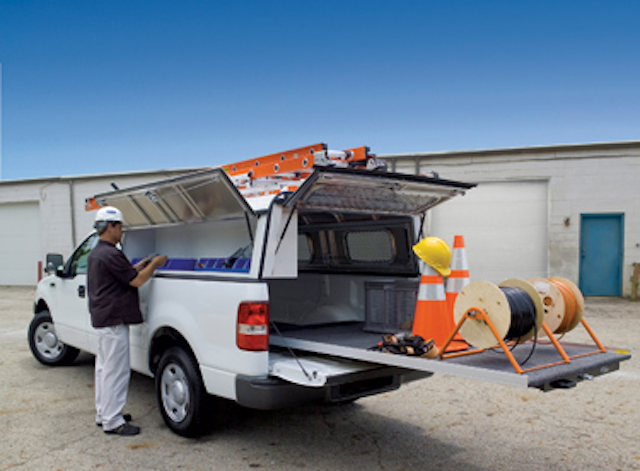 Overloading
To better serve their customers, many fleet operators have extended their service hours by running more than one shift. This often leads to "slip-seating" different drivers in the same vehicles, which can result in increased clutter in the vehicle and overloading from excess materials carried.
Overloading is one of the greatest safety issues faced by fleets. For service technicians, more service calls made in a day can result in increased revenue and profitability for the company. Often, however, the goal becomes loading the truck with as much cargo as possible to avoid making trips back to the base to restock. This can become more complicated when an organization decides to buy smaller vehicles chosen for greater fuel mileage instead of carrying capacity.
Overloading smaller vehicles causes excessive wear to brakes and drive trains, which makes a vehicle expensive to maintain and unsafe to drive. In addition, vehicle handling becomes a safety issue when overloading pushes suspension components beyond rated capacities.
The best way to avoid overloading is to plan how much cargo to carry in the vehicles and then choose the best vehicle to meet your needs for organization and carrying capacity. Understanding the Gross Vehicle Weight Rating (GVWR) for a vehicle is the best way to start. By knowing the GVWR and then subtracting the actual vehicle weight, one can arrive at the gross cargo capacity.
Most original equipment manufacturers have made the calculation process easier by posting maximum payload capacities for all their vehicles. It is, however, never wise to maximize a vehicle's payload capacity without first factoring in the approximate weight of the driver and a full fuel tank. Otherwise, the vehicle might inadvertently be overloaded when fueling up in the morning.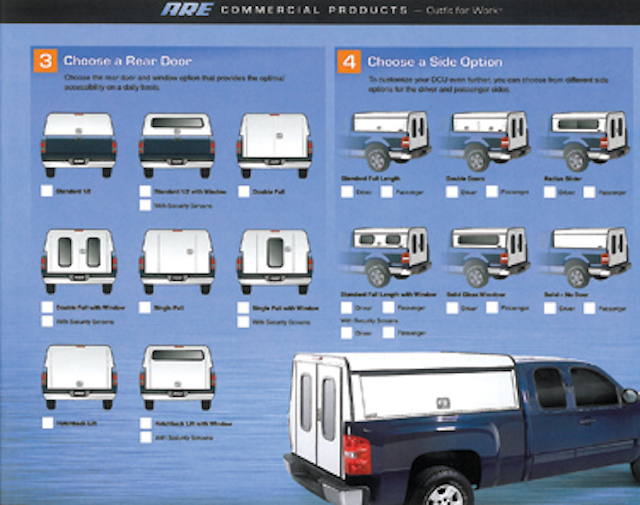 Vans make overloading deceptive. Although there are organization packages for vans, drivers tend to pile up the center section between the shelves, often overloading the vehicle and creating a hazard for drivers climbing over cargo to access items in the shelving. This is where the pickup truck with a sturdy truck cover offers advantages.
Pickups generally offer the fleet manager a better range of weight carrying options at a lower cost per mile than most vans. Adding a cover such as the A.R.E. Deluxe Commercial Unit (DCU) or ToolMaster Series-both have side access for storing tools and parts-will leave much room in the bed for hauling larger, bulkier items.
The aluminum DCU cap offers strength, durability and a long work life without excess weight. Offering fully welded aluminum tube frame construction, the DCU is available in cap heights from 20-36 inches and features STRATTEC lock cylinders in folding T-handles on all doors.
A.R.E.'s ToolMaster Series is a fiberglass truck cap featuring heavy-duty doors; two steel toolboxes, each with a 120-pound weight capacity; and a commercial-grade Prime Design AluRack roof rack with a ladder rack roller.
In addition, A.R.E. offers the SpaceKap, a self-contained mobile unit constructed of double-sided fiberglass walls-insulated to avoid condensation inside the unit-as well as a reinforced floor and stainless steel hardware. The SpaceKap mobile workstation features optional doors, windows, interior shelves, dome lights and more.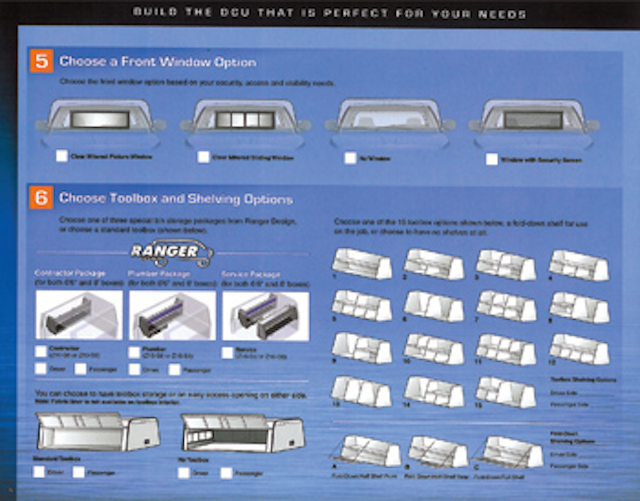 Organization and Safety
A well-organized truck bed can be the difference between a productive or unproductive day on the job. A.R.E.'s variety of truck bed storage products can increase the efficiency of a work truck-from sliding platforms and ladder racks to built-in toolboxes.
The company offers more than 200 options to customize its DCU truck, including a variety of door and window configurations, toolboxes, ladder racks, roof racks, interior fabric liners, side panels and organizational solutions.
Lighting is an important accessory for efficiency and safety, and A.R.E. provides various 12 volt and battery lights for the truck cap's interior and exterior.
The proper products and accessories also allow technicians to safely handle cargo. The BedSlide platform mounts in a truck's bed to provide a flat sliding surface that holds 96 cubic feet and up to 1,800 pounds of equipment for easy cargo access. By pulling equipment out rather than climbing in the bed for heavy items, technicians can help prevent back injuries.
The A.R.E. Pickup Vault, a lockable drawer system that provides heavy-duty secure storage in the truck bed, can also provide easy access to expensive tools.
Ladder storage items are available, including Kargo Master, Jet Rack, Yakima and Prime Design. A.R.E. also offers fully customizable toolbox solutions, storage bins and shelving options for the truck caps.
In addition, there are in-cab benefits from using a pickup and truck cover combo-such as reduced driver distraction from items shifting in the back. Truck covers also provide passenger protection from vapors caused by hauling volatile chemicals or materials to the jobsite.
For safety and efficiency, nothing beats a well-organized pickup properly spec'd for the job.
---
About the author: Jim Blayne is the national fleet sales manager for A.R.E Accessories LLC, a leading truck cap and tonneau cover manufacturer in the U.S. Blayne holds a bachelor's degree in Business Administration from the University of Phoenix and has spent more than 20 years helping customers outfit their fleet vehicles and responding to the changing demands of the industry. To learn more about A.R.E., please visit www.4are.com/fleet.