New Products Showcase
May 1st, 2013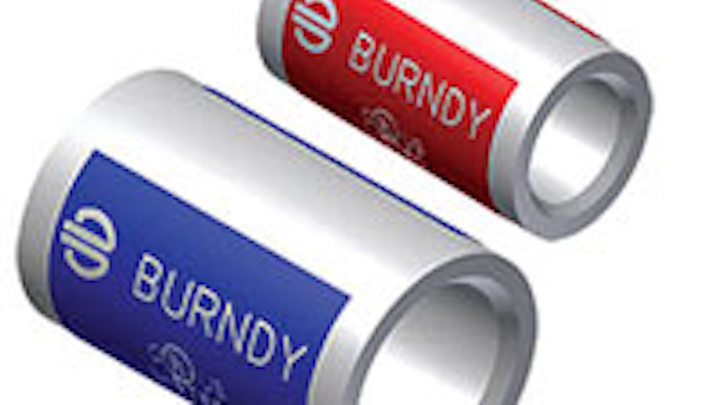 Copper WEJTAPTM Connectors Meet ANSI C119.4 Fault Current Testing
BURNDY has a long history of designing high performance connectors and the introduction of the Copper WEJTAPTM line of fired-on connectors is no exception. The BURNDY copper WEJTAPTM connector line is designed with labor and cost savings in mind along with many other appealing features.
Offering expanded range taking capabilities to reduce inventory requirements, 12 sizes cover from #6 to 250 kcmil. The connectors meet American National Standards Institute C119.4 including optional fault current test annex. High strength and rugged design provide long-term reliability and performance on copper-to-copper conductor applications.
BURNDY
CIRCLE 109 ON READER SERVICE CARD
---
Remote Control and Monitoring Solution
SMS Controls introduces its newest remote control and monitoring product that uses the text messaging portion of the cellular network-allowing for reliable yet low cost two-way communication. The UCB-4 comes with two on-board relays, two monitoring circuits and power outage detection as standard.
Combined with its NEM4X enclosure, the UCB-4 is for numerous control applications such as capacitor control, lighting controls, generator start and any application that can benefit from two points of monitoring and outage detection.
Secure communication can be initiated using any authorized cell phone or from an intuitive Web interface. Zero communications or IT infrastructure from the utility is required. SMS Controls pre-wires and pre-programs its controls to customer requirements and ships them in plug-and-play configuration.
SMS Controls
CIRCLE 110 ON READER SERVICE CARD
---
Three Mid-range Mobile Generators Introduced
Doosan Portable Power introduces three new mobile generators-the G70, G85 and G125-all powered by Tier 4 interim-certified Cummins diesel engines. The three models have been redesigned from the ground up to enhance operator efficiency and expand versatility through the development of several new options including the availability of the Quad Voltage selection feature. A Doosan-exclusive, the Quad Voltage control allows operators to choose voltage output with the simple flip of a switch.
The Quad Voltage feature allows these mobile generator models to be deployed in additional markets and applications. This feature eliminates the need to purchase a 600V-dedicated voltage generator model or add a bulky and expensive 600V transformer to a traditional multi-voltage generator.
The G70, G85 and G125 mobile generators feature Cummins QSB5 engines with a simple diesel oxidation catalyst (DOC) after-treatment system, recognized as a superior Tier 4 interim solution because the DOC is a maintenance-free device and requires no regeneration.
Doosan Portable Power
CIRCLE 111 ON READER SERVICE CARD
---
Easy Locator, High Dynamic Range Ground Penetrating Radar
MALA's patent pending High Dynamic Range (HDR) ground penetrating radar (GPR) technology for utility detection delivers higher resolution and deeper depth penetration than prior GPR technology.
A single frequency transducer now performs the work of two-a direct result of MALA's engineering HDR concept that allows the detection and imaging of targets from small near surface service connections to deeper, larger transmission facilities. With the new zoom function and other upgrades incorporated into the HDR monitor, the user can zoom in for visualization of small near surface targets or out for maximum range to view the deepest targets. The detection limits span a broader range of various size utility targets-particularly non-metallic, non-conductive utilities such as plastic, asphalt composite, concrete or terracotta, and more.
Other features include a built-in differential global positioning system (DGPS) receiver and upgradeable GPS Mapper software for mapping utilities marked digitally with the HDR monitor. In addition, the screen capture function upgrade allows the user to create screen shots into a jpeg format to record and archive a locate on the screen. The Rough Terrain Cart (RTC) is available as well as the highly portable foldable version outfitted for urban streetscapes. The cost of the new Easy Locator HDR remains the same as previous models.
MALA
CIRCLE 112 ON READER SERVICE CARD
---
APS75 Hydraulic Underground Cable Puller
Condux International offers the APS75 Hydraulic Underground Cable Puller. The APS75 provides up to 7,500 lbs of continuous pulling power to tackle a comprehensive range of pulling applications. Designed for installing underground cable, the APS75 is completely self-contained and easily transports from jobsite to jobsite.
The new digital readout allows the operator to view pulling forces, distance pulled, tension limiter and hydraulic pressure readings. Pulling operations can be recorded and downloaded through a convenient USB port. With other standard features including antitwist rope, rotating pulling arm and wired remote control, the APS75 is cited to be one of the most advanced pulling systems available. The APS75 is precision manufactured to the highest standards. Each puller is backed with years of underground cable pulling experience and a commitment to quality customer service.
Condux International
CIRCLE 114 ON READER SERVICE CARD
---
Red Zone Van Storage Accessories
WEATHER GUARD Van Solutions now offers a complete range of new and re-engineered van storage accessories for professional users and all commercial van models. The Red Zone Accessories include a wide range of items designed to improve productivity and organization, including end panel accessories, tool and parts cabinets, cases and bin boxes, specialty equipment including tank holders and wire racks, window screens, floor mats, a secure strong box, Cab Command Center (a between-the-seat organizer), and the Grab & Go tool cart.
The culmination of years of research, WEATHER GUARD Van Solutions identified "Red Zones," or work zones, in the back, side and cab of the van that can be organized to maximize productivity and efficiency.
The WEATHER GUARD Van Solutions Red Zone accessories encompass a variety of items that help professionals be more organized and productive. All accessories are easy to install and heavy-duty for years of dependable service.
WEATHER GUARD Van Solutions
CIRCLE 113 ON READER SERVICE CARD
---
Test Kit for VDV MapMaster 2.0 Length Measurement Voice/Data/Video Tester
Platinum Tools-a provider of solutions for the preparation, installation, hand termination and testing of wire and cable-announces its new complete test kit for the updated VDV MapMaster 2.0 voice, data and video tester is now shipping. The T129K1 Test Kit includes the VDV MapMaster 2.0 as well as all accessories required for voice, data and video testing and mapping in a rugged, double-walled, blow molded case.
The T129K1 Test Kit includes:
• VDV MapMaster 2.0,
• Case and foam insert ,
• RJ45 #'s 1-12 remote set,
• Coax F #'s 1-8 remote set,
• RJ45 port saver,
• RJ45 to alligator clips cable,
• No-fault cable,
• F female to F female adapters (set of three),
• BNC female to F female adapter,
• BNC female to F male adapter,
• 9V battery, and
• Instruction manual.
Platinum Tools
CIRCLE 115 ON READER SERVICE CARD
---
Side Handle MAG Dock for Getac B300 Computer
Gamber-Johnson, an ISO 9001:2008 certified manufacturer of rugged docking stations and vehicle mounting, announces the newest version of its MAG docking station line for the Getac B300 computer.
The MAG Dock for Getac B300 is constructed using a one-piece magnesium chassis, which enhances the overall strength and performance. The MAG Dock features an easy-to-activate side docking handle; ergonomically designed with a wide grip and smoother docking activation, the computer can be docked by simply pulling the handle toward you. All Gamber-Johnson docking stations come with a standard key lock for added security.
The MAG Dock for Getac B300 has passed MIL-STD-810G shock/vibration testing and has undergone extensive cycle testing on the latch and docking mechanisms. In addition, the MAG Dock for Getac B300 contains forward facing ports for low mounting capability, minimal cable strain and minimal swivel resistance, is USB 2.0 compliant, and offers a no or dual antenna pass-through options. The MAG Dock for Getac B300 has one Ethernet, four USB, two Serial, microphone, VGA, mouse/keyboard and headphone ports. It comes standard with an integrated internal power supply. The docking station also has a power switch with a Green LED indicator light and optional bypass capability and carries a three-year limited warranty.
The MAG Dock for Getac B300 attaches to any existing Gamber-Johnson Motion Attachments. Gamber-Johnson offers a full line of vehicle bases, poles, and motion attachments to complete the mounting system.
Gamber-Johnson LLC
CIRCLE 117 ON READER SERVICE CARD
---
DVI-100 and DVI-500 Digital Voltage Indicators
HD Electric Company's DVI-100 and DVI-500 Series Digital Voltage Indicators are designed to be used on both transmission and distribution systems in overhead and underground applications up to 500 kV.
Voltage is displayed on a large LED display with a two- or three-digit readout. In addition, an audible alarm alerts the user to the presence of voltage above 100 Vac. Models are also available with an option to measure elbow test points.
A video is posted on our website showing how the Digital Voltage Indicators work. To view the video and get more information on the DVI Series Digital Voltage Indicators, please visit our website at HDElectricCompany.com.
HD Electric Company
CIRCLE 116 ON READER SERVICE CARD
---
Extendo Slick Product Helps Keep Telescopic Sticks Lubricated
Hastings, a manufacturer of hotline tools and equipment, has been working since 1959 to create products that are safe and easy to use for linemen. Extendo Slick, a new product formulated for hot stick use, will help linemen keep their telescopic sticks sliding freely.
Extendo Slick will reduce friction caused by wear and contaminants, is non-conductive and non-flammable. Once the product is sprayed onto the telescopic stick it dries quickly and is long lasting, reducing the number of applications. An optional spray attachment is also available for use with this product.
Hastings
CIRCLE 118 ON READER SERVICE CARD
---
Multifunction Hand Cleaner and Skin Care Product
Timber Wolf waterless hand cleaner provides personnel with a product that is versatile, effective and efficient. It cleans and moisturizes the skin, repels mosquitoes, and prevents and relieves the symptoms of poison ivy, oak and sumac.
Timber Wolf offers three functional capabilities in one bottle, something procurement and personnel in the working environment will appreciate. This translates into dollar savings, reduced inventory and ease of purchasing. No other vendor can provide a product with these characteristics, it's reported.
The product safely removes silicone gel, penetrox, c-cement, kopper bond, fiber optic cable jelly, pipe dope, grease, oil, tar, creosote and other soils. Timber Wolf uses the finest personal skin care ingredients to formulate a skin friendly, pH balanced, biodegradable, non-VOC, multifunctional green product that is listed in the United States Department of Agriculture BioPreferred catalog.
Timber Wolf is used by utility and telecommunication companies, government, agriculture, private industry, tree care companies and the military.
Timber Wolf
CIRCLE 120 ON READER SERVICE CARD
---
Lockout/Tagout Guide
An estimated 120 lives are saved and 50,000 injuries prevented each year by complying with OSHA lockout/tagout standards, according to the OSHA Fact Sheet on Lockout/Tagout, from the U.S. Department of Labor, Occupational Safety and Health Administration, 2002. Lockout/tagout, or LO/TO, is a procedure where repairs are not made to machines until power sources are removed, locked out, tagged out and isolated. In response to this course of action, Graphic Products Inc. has released the Safety Lockout/Tagout Best Practices Guide.
A large percentage of workplace accidents, as well as OSHA citations, are related to not using LO/TO or not following LO/TO procedures. The best practices guide was developed to help reduce accidents by providing foundational information about LO/TO. Graphic Products produced the free best practices guide for its customers and will make copies available to anyone who needs to learn the basics of LO/TO.
Included in the guide are chapters about how accidental start-ups occur, a definition of stored energy, steps to install and remove lockout gear, a case study from an environmental health and safety professional, and an overview of commonly used LO/TO products and services. There is also a section about reducing the number of potential injuries and fatalities possible from entrapment in confined spaces such as tanks and tunnels. LO/TO supplies include DuraLabel tag stock, which includes holes to hang tags on piping systems and switches resists. Tag stock also resists moisture, UV rays and exposure to washdown chemicals. And, lockout padlocks, hasps and kits are included in the Graphic Products Facility & Safety Equipment catalog.
Graphic Products Inc.
CIRCLE 119 ON READER SERVICE CARD
---
WidEye LED Wide Area Explosion-proof Lighting for Class I, Division 1 Hazardous Locations
UL and CSA listed, KH Industries' WidEye Wide Area Hazardous Location Light creates daylight from darkness with 5,500-lumen output and 180 degrees forward-throw louvered optics. The WidEye was designed specifically for the underground utility industry for illumination during nighttime excavations in hazardous locations.
K&H Industries was approached to design a Class I, Division 1 wide area light that could be used either on the ground or elevated to illuminate an excavation site. With the company's louvered optics, the light is projected at the worksite and away from incoming traffic. The WidEye can be placed on KH Industries' telescoping adapter pole for a raised light source. A feature of the sign adapter pole is that it works with the crews existing sign stand that's already on the job site.
Features on the WidEye Wide Area Hazardous Location Light:
• 5,500 lumens;
• 180 degrees forward throw optics;
• Louvered optics;
• Superior color rendition index ;
• Low power consumption;
• Over 60,000 operating hours;
• Maintenance free;
• No ultra violet (UV) or infrared (IR) light;
• Universal input-100-277 Vac, 50/60 Hz;
• Instant on/off operation;
• Resistant to shock and vibration;
• Mercury free;
• One year warranty; and
• Made in the USA.
Optional sign stand adapter pole:
• Non-hazardous location telescoping sign adapter pole for use with existing highway safety sign stand provides elevated wide area illumination. Head rotates 360 degrees horizontally and pivots 180 degrees vertically.
KH Industries
CIRCLE 121 ON READER SERVICE CARD
---
maX HD Gloves Provide Knuckle and Palm Protection
Galeton, a supplier of quality gloves and work gear, has introduced maX HD Gloves for added metacarpal and palm protection. Galeton's maX HD Gloves feature neoprene and rubber protection points at the knuckle and palm for extra protection and lower risk of impact injuries. Spandex finger crotches provide ease of movement and ventilation. The durable gloves also feature a neoprene cuff, synthetic leather palms, a terry brow-wipe and adjustable cinch strap wrist.
Black and yellow in color, Galeton's maX HD Gloves are available in sizes medium through 2XL.
Galeton
CIRCLE 123 ON READER SERVICE CARD
---
Mattracks MT Plus
Mattracks, a provider of rubber track conversion systems, introduces the new MT PLUS model-available in 2013 as part of the 105 and 150 MT series. Mattracks has been converting 4x4 Trucks, SUVs, Tractors, ATVs and UTVs for more than 20 years. When customers requested a larger footprint than is available for certain applications, Mattracks' engineers developed the new MT PLUS, adding to the Mattracks model lineup.
The MT PLUS has more track on the ground, which provides greater performance in deep snow or soft soil conditions. With a 21 inch longer footprint on hard surface and 33 inches more in soft soil conditions compared to the standard 150/150 series, the rear track on the MT PLUS provides floatation in deep snow, sand, mud, swamps or any challenging terrain. Its self-cleaning system allows snow, sand, rocks or any other debris to be ejected from the inside of the track. Coupled with the tread pattern and built-in suspension, the traction is very good, while providing more than 50 percent greater footprint compared to the standard 105/150 series. The PLUS system will fit most 1/2-ton pickups and large SUVs.
Mattracks
---
M18 Six Pack Sequential Charger
Milwaukee Tool Corp. introduces its M18 Six Pack Sequential Charger. The new Energy Star rated charger will sequentially charge up to six battery packs of any Milwaukee M18 LITHIUM-ION battery, allowing the user to be confident they will have enough power to complete their job.
With the expansion of the M18 system and the wide adoption of the platform, users often have many tools that require multiple M18 LITHIUM-ION batteries. With the new six pack charger, users can reduce the amount of time spent changing out batteries, increasing productivity on the jobsite.
The Six Pack Sequential Charger features a compact design, integrated hang holes for vertical mounting, and a pass through plug to conserve outlet space. The unit will charge M18 compact batteries in 30 minutes and extended capacity (XC) batteries in 60 minutes.
Milwaukee Tool Corp.
CIRCLE 122 ON READER SERVICE CARD