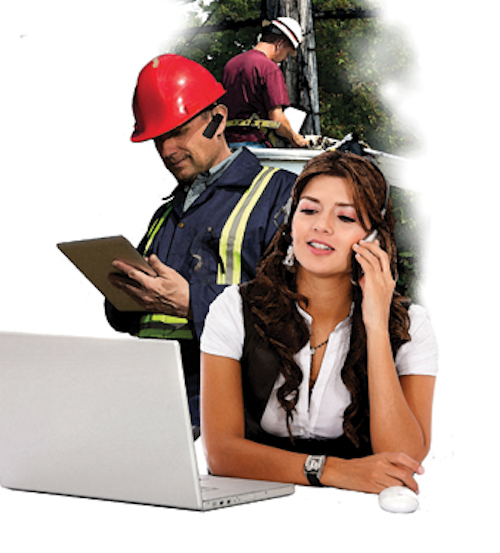 It's not where you're working that matters now.
By Paul Hull
If you mentioned a mobile workforce 10 years ago, most people thought of utility workers because so many of them were mobile, in their trucks, down main street, around residential neighborhoods or miles away in remote locations. There are now workers in many industry sectors who are considered mobile workers because their work is done where they are, not in an office located in a never-changing, concrete location. But, utilities continue to be the mobile workforce leaders. And, they should be taking advantage of any new, useful technologies in the same way their counterparts in real estate, banking and healthcare have.
The word that has propelled the progress of efficiency among the mobile workforce is teamwork. It's an overused word and can cover a multitude of pass-the-buck philosophies, but its genuine philosophy is what utilities have used for years. Where are the changes, then? "Work is what we do, not where we are" has been a slogan of the U.S. Government's General Service Administration; it makes sense. It means colleagues can be in contact on the road as much as they would be sitting next to each other in an office. It means the utility worker does not have to drive back to the office to get the next assignment. The management of mobile workers, then, depends on how well you use and control your communications. It will be the words you use and the way you use them. There is no place for chatter and gossip in business communications, but it doesn't hurt to be pleasant. In this age of communication, let's forget the bellowing, bullying style of military orders and convey our messages in a considerate but accurate style.
There are other considerations for a manager, too. You should not treat mobile or office workers as if one is more important than another-try to occasionally schedule face-to-face meetings with your mobile staff so they do not feel excluded. Consider your "office" as not only part of a building but also part of an organized communications network. You can tell people your office has two addresses: your physical, building address and your address for communications with your mobile employees.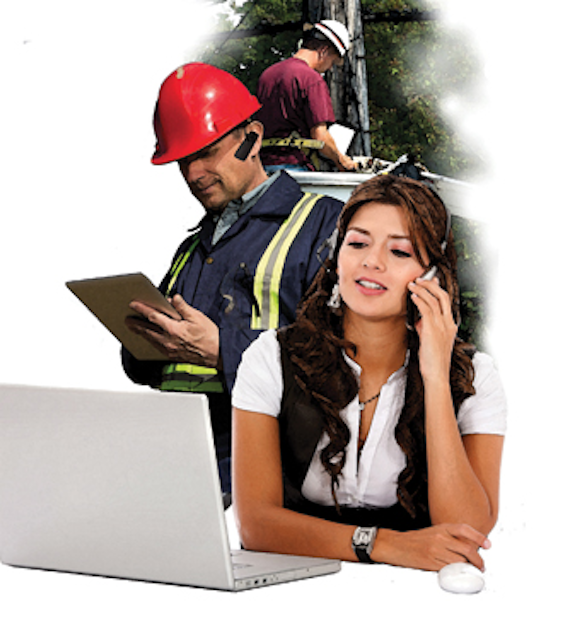 Having the Right Equipment-and Using It
As communications advance, we need to determine which improvements are useful to us. A product might be more scientifically advanced than its previous four versions, but that does not mean it will be more useful to you. With so much emphasis on efficient communication, it would be wise to have experts evaluate the equipment and tools recommended to you and your mobile workers-if only to eliminate the unnecessary features that are costly and counterproductive. Every utility has at least one expert in communications equipment; tell them what you want to achieve and take their advice. It would be good practice to find out what people in other companies with similar challenges have discovered about available equipment. Decide the equipment your workers need, get it for them and make sure they use it. Items such as laptops, smartphones, iPhones, basic cell phones and two-way radios have their place in the mobile worker's environment-and there will continue to be paper files that may be essential in the daily routine. As with all equipment, make sure the user knows how to properly use it. Many younger workers have grown up with sophisticated communications and computer devices, but that does not guarantee they know how to use them for business purposes.
The employees in your mobile workforce network should not perceive this communication as another way for management to check on their activity, so it might be wise to avoid any rigid check-in or checkout procedures. Your employees are skilled; let them perform their work without unnecessary interruptions to see where they are. That does not mean you ignore the location aspect of their work. With today's instruments it is easy to know the location of your vehicles and equipment, and you should question any unauthorized travel route or time of travel that seems unusual. While the manager is not being nosy, it is good for employees to know they are held responsible for assignments. There must be balance-a brief conversation to ensure the employee is okay wastes no time and reassures the employee that he or she is important in the company's operation.
The popularity of a mobile workforce has grown because it emphasizes results, rather than activity, are important. Don't think of the management of mobile workers as one-way communication; it's an opportunity for employees in the field to let their managers know how projects are proceeding and the kinds of problems being addressed.
Tracking the Mobile Employees
Don't forget your customers. Knowing where your mobile workers are can help improve your customer service-and your bottom line. An example of this comes from one of the largest cable providers in the U.S. The company has several million residential and commercial customers, and some 7,000 of its technicians are in the field. The company wanted to improve its customers' experience and, simultaneously, improve mobile employees' productivity and reduce costs. The company investigated the offerings and solutions of eight reputable companies; that's always the first good business practice. The cable company chose TOA, with its ETAdirect program. It offered a Web-based program that could adapt to the cable company's needs and integrate with other applications-while also efficiently communicating with customers. A Web-based hub was required that could achieve total collaboration with employees who worked directly with customers; that would include field and office employees who worked in dispatch, customer service and field services. TOA offered good communications with customers, reducing wait time to an hour or less and achieving 95 percent consistency. Within weeks of implementing the TOA service, the cable company noted greatly improved mobile worker productivity, with a large increase in the number of appointments completed each day. The ETAdirect platform knows how long it takes to perform tasks and travel from job to job. It can predict travel times, arrival times and duration times for projects. An advantage is that the program allows the field staff and dispatch center to share information and resources in real time, so more jobs are completed quicker.
Another program that could be useful to those managing a mobile workforce is VectrGPS, from HCSS. It concerns global positioning system (GPS) technology, which can collect a large amount of data to help your operations, but only if it's easy to access, read and analyze. With VectrGPS, GPS data is converted into information that can automate your processes. Meter readings, for example, can be taken from the jobsites to help schedule maintenance; production can be analyzed as it occurs; and, possibly of greatest usefulness, your trucking operations can be organized and run more smoothly. Various plans and hardware are available to suit your specific requirements and budget. You can control unauthorized use of your equipment and discourage theft of assets. You can immediately see vehicle and machinery location when a foreman or customer calls in. You can accurately tell customers when the technicians will arrive for service or repair.
There are many good programs to improve the management of your mobile workers. The first and most important task is to find out what programs-or software-are available. Then decide which one is best for you. The program developers can tell you which features are best for your applications and which features may not be appropriate. The responsibility is on you. There is plenty of affordable help, but you make the final decisions.