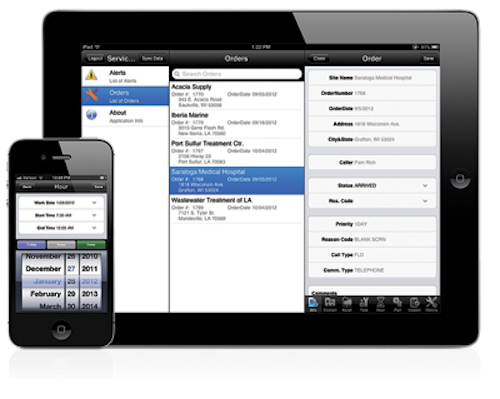 In 2013, field service firms are striving to optimize their operation against business-centric key performance indicators. According to a recent Aberdeen study, service firms' organizational objectives are to raise their productivity, increase their customer satisfaction and improve the profitability of their service process. Considering these goals, it's no surprise that more than half the firms surveyed by Aberdeen also said they were considering implementing new field service software solutions throughout their organization. Mobile workforce and work order tracking solutions are a way organizations can better equip their field technicians. The ability of your technicians to effectively perform in the field makes your service organization more efficient, ultimately leading to happier customers and increased revenue streams for the company.
For these organizations, a software system is vital to achieving objectives because it trends firms toward enterprise mobility. Mobility is the extent to which service organizations can use mobile solutions to their advantage when managing a field workforce. By sorting through these objectives and developing an understanding of how mobile field service software simplifies achieving them, organizations can analyze the effectiveness of their mobility.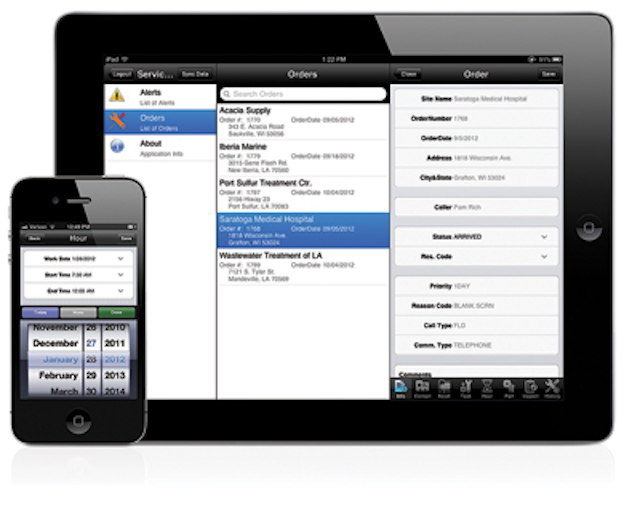 Enhanced Mobile Solutions
Increased productivity, customer satisfaction and profitability can be achieved by outfitting your service technicians with the correct mobile solutions. With customer demands and costs of service on the rise, many firms want to know how their service calls are being handled by technicians-whether they are preventive maintenance or regular repair service. The key is providing technicians with the necessary tools and information to arrive on time and complete the assigned maintenance tasks as efficiently as possible. That is where mobile workforce and work order tracking solutions can benefit an organization's workforce.
A firm's ability to communicate with its field workforce and deliver on-time service technicians can be a key to retaining a customer's business. Through workforce tracking solutions, service firms have views into technician location, availability, skill set, vehicle locations, traffic and route information, and all other data that can impact arrival times for service appointments. Proactive communication with customers and compliance with appointment estimated time of arrival windows is one of the most important indicators of success for a field service organization.
Technicians on a mobile-optimized team can also access interactive work orders through their mobile devices. These work orders can hold pre-assigned tasks that outline the technician's responsibility for that specific service call. In the case of preventive maintenance work, work orders can have a master task, such as quarterly maintenance, that's broken into multiple subtasks such as base unit inspection, replace filter, etc. After completing the inspection and making an assessment of the issue, the technician can add new tasks to the work order as repair is completed. This allows the technician to service the asset more quickly in the future and, after logging his/her time, allows administrators to see how efficiently that technician performed.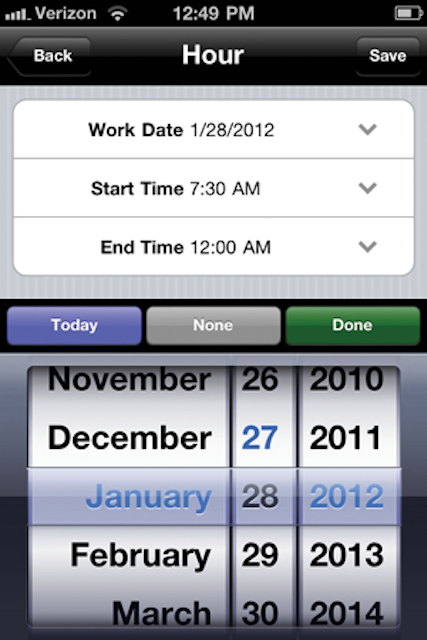 Improve Productivity
Outfitting technicians so they are as prepared as possible is imperative for service firms because utility technicians will play a role in the overall success. Mobile field service software allows companies to equip their technicians with all the necessary information at the touch of a button. Before leaving for a job site, technicians can access site information, equipment and access details, work order type and invoice history. They also are provided with customer comments about the equipment's current problem and the assigned tasks to complete the service.
With this information, the technician can bypass process inefficiencies and focus on the inspections and repairs. This means a lower time-to-service for each technician. Expand that across an entire service fleet and you have a significant improvement in service operation productivity.
Increase Customer Satisfaction
Technician information access is also helpful when trying to increase a department's customer satisfaction rate. Through field service software, companies can provide all the information needed to correctly perform the job on the first visit, pleasing the customer. This advanced information sharing is possible through service portals-cloud-based content hubs that technicians use to access all types of data through their mobile device.
If a technician is unable to diagnose an equipment issue after performing the proper inspections, that technician has an available range of options through the service portal. For one, technicians can log in and view the equipment's general profile to find past repair cases that match the situation. Accessing their mobile device, customer records are available to see what service has been performed on the specific piece of equipment and what parts were used.
Another example is if an issue has been diagnosed, but the technician isn't familiar with the repair required for a first-time fix, he or she can access video demonstrations through the mobile device. Downloadable drawings, schematics and instruction manuals from the portal allow technicians to get a better sense of the equipment's architecture or locate further repair instructions.
This level of on-site information access allows higher service success rates as well as increased first-time fix rates. Aberdeen's study noted that "not solving the issue" was the number one customer complaint in 2012. Service organizations, therefore, would be wise to aim for an increased fix-rate performance.
Increase Profitability
As competition becomes stronger and the cost of customer acquisition continues to rise, service profitability has become a key theme in 2013. Although generating revenue through a service operation isn't easy, technician information access can lend a helping hand.
One way information access can help is by technicians inspecting customer contract information before conducting service. If a technician retrieves a customer's data and realizes the customer doesn't have a maintenance contract, the technician can try to sell them one while on-site so their next preventative maintenance or service request is covered. In addition, if a technician on a call sees his or her customer's maintenance contract is going to expire soon, he or she can alert the organization's sales team about the coming opportunity. This level of sales-service collaboration is an easy way for organizations to grow service revenue.
When discussing profitability, it is important to understand that bringing on new customers is more costly than keeping old ones. Customer retention is an important goal for organizations that want to maximize profitability. Field technicians are clearly the best resource a company has in keeping their customers satisfied and turning them into repeat customers. When a missed service, late arrival or incompetence in repair can mean losing a customer, it's vital that technicians be provided with all the information they need to succeed in the field.
In summary, increased competition within the field service industry puts pressure on organizations to improve efficiency while satisfying customers and improving productivity. By managing tasks with mobile field service software solutions, management can deliver detailed responsibilities in the field as well as understand the work that encompasses their technicians. There's no denying that knowledge is power. The more information access your technicians have, the better their ability to perform in the field.
---
About MSI Data MSI Data develops enterprise, scheduling and mobile software that helps companies improve the productivity of their field workforce. Service organizations rely on MSI Data's suite of field workforce software to automate field service, inspections, site surveys, audits, reporting and other critical field-driven business processes. To learn more about MSI Data, please visit www.msidata.com.