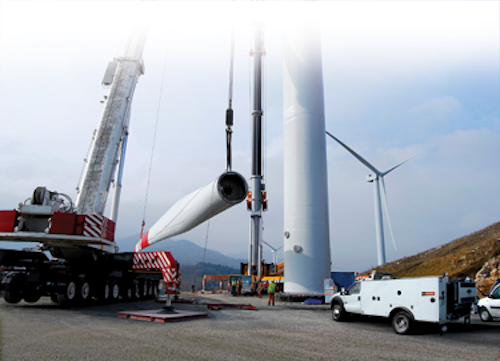 The right truck body can help utilities minimize costly downtime.
By Terry Cook
Electrical, cable and telecom utilities always look for ways to increase efficiency in the field. One option is sending a mechanics truck for equipment breakdowns and preventive maintenance.
Mechanics trucks feature a service body and often a telescopic service crane, air compressor and welder to perform repairs and maintenance on all equipment types. They are designed with side packs for storing tools, parts and other equipment-and may also be upfitted with lubrication capabilities.
Utilities can minimize downtime by taking service capabilities to the equipment with a mechanics truck rather than transporting the equipment to and from the shop. Well-suited for keeping equipment up and running in the field, mechanics trucks are equally useful as mobile workshops. They can spare utility workers heavy lifting and help accomplish daily tasks with greater ease.
While the benefits of a mechanics truck are clear, the process of selecting a truck body from the many manufacturers and models can seem challenging.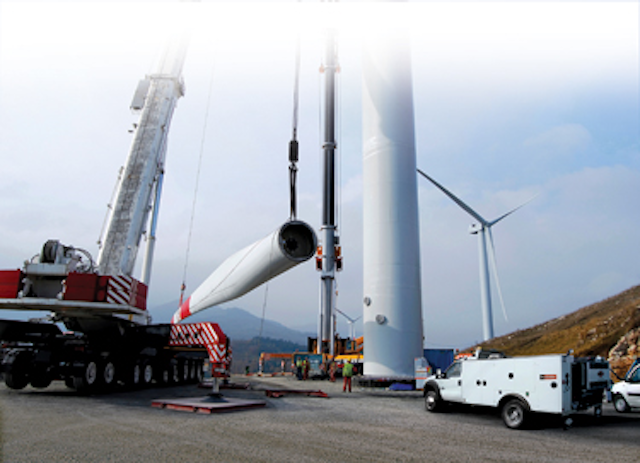 Size up Your Options
Bodies are available in a variety of sizes to meet various customer requirements-including compressed air, storage, lifting, hauling, lubrication and welding. Iowa Mold Tooling Co. Inc. (IMT), for example, manufactures the Dominator lineup of mechanics trucks, featuring seven different models with options to meet specific application needs.
The Dominator line ranges from the Dominator Contractor Series body (a crane body that can be outfitted with an optional telescopic crane with a lifting capacity from 2,000 to 4,000 pounds) to the Dominator IV body (featuring the ability to integrate a 12,000- or 14,000-pound capacity telescopic crane for heavy lifting demands).
Ensure the Network Works
When evaluating different mechanics truck manufacturers, utilities should assess the strength of the respective distributor networks and determine whether there is a location close to the utility's operations area. By choosing a manufacturer with an extensive and well-trained distributor network, utilities can count on expert assessment of their needs up front and responsive, knowledgeable service after the sale.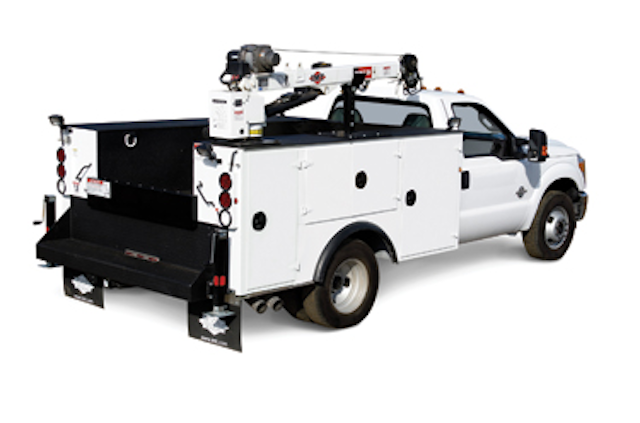 Don't Underdo or Overdo It
Once the need for a mechanics truck has been identified, companies should work with the mechanics truck distributor to specify the truck. The most important point to keep in mind during the selection process is that failure to properly specify the truck could result in costly underutilization or overutilization. Acquisition of a truck that is too large for the application will not provide maximum return on investment, while a truck that is too small could lead to unmet needs and a higher cost of operation.
Connect Your Specs
The specification process should begin with one question: How do I intend to use the truck? Specific needs for storage, payload, lifting, air supply, lubrication, welding and road-ability should govern selection.
Mechanics truck specifications are highly interdependent. When specifying such a vehicle, lifting needs dictate crane size, which governs the size of the body. Crane size, body size and required payload combine to determine chassis size. The required tools included on the truck, combined with other air needs, will determine whether a rotary-screw or reciprocating air compressor is added. Such interdependencies make complete systems integration an important capability to require from a service truck manufacturer.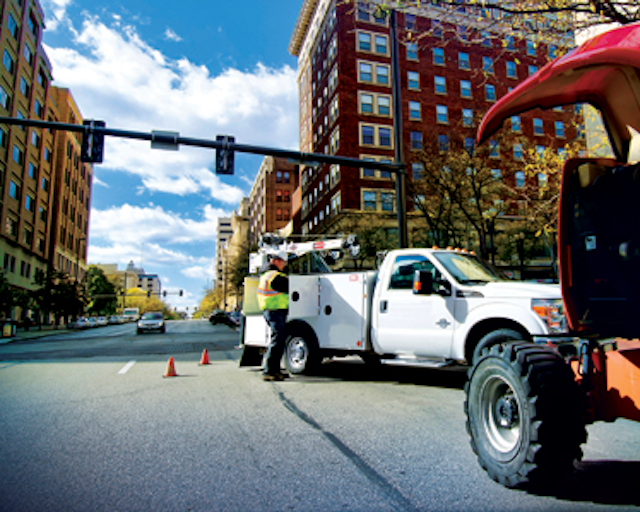 Chassis
When specifying a chassis for a mechanics truck, it is important to ensure the frame is clear behind the cab so there is no restriction on the amount of usable space on the chassis frame. In addition, it is recommended that you purchase a chassis with a frame section modulus and resistance to bending moment (RBM) ratings that comply with equipment manufacturers' minimum chassis requirements.
The truck should also have sufficient gross vehicle weight rating (GVWR) to maintain road legality when all payload is accounted for. When working with a mechanics truck with lubrication capabilities, this should be calculated with product tanks full.
Overloading could result in fines from state departments of transportation, so a critical aspect of preparing mechanics truck specifications is proper weight distribution calculation.
Body
The mechanics truck body doubles as a means of carrying payload and a foundation to support a crane, so body structure selection heavily depends on the size of the crane if one is needed for the application.
Telescopic service cranes for mechanics trucks are available with maximum lifting capacities as low as 2,000 pounds and as high as 14,000 pounds. For fleets that do not require a full-sized mechanics truck but still need the service and capabilities they offer, there are non-crane body options.
Telescopic Crane
Choosing the best truck-mounted crane for an application starts with the answers to two main questions: What do I need to lift at what distance and how often will the crane be used? Capacity needs and duty cycle will guide selection from electric telescopic cranes and hydraulic telescopic cranes.
If the crane duty cycle is intermittent, an electric telescopic crane might be the best solution. Electric cranes typically feature a maximum lifting capacity of between 2,000 and 6,000 pounds. A hydraulic crane usually will be necessary if you lift anything larger than 6,000 pounds because the system cannot handle the electrical load requirements.
If the crane will be used regularly, a hydraulic telescopic crane is the best option. The most common choices for mechanics trucks are body-mounted hydraulic telescopic cranes, which offer a wide range of lift and reach capabilities to meet most field-service needs.
If lifting requirements exceed 14,000 pounds, consider using an articulating crane mounted behind the chassis cab in front of the service body.
Air Compressor
Air compressors are designed to furnish compressed air to operate pneumatic tools, to inflate tires, or for any other application requiring compressed air.
Rotary screw compressors are for applications requiring a continuous supply of air on demand. These units are compact, lighter in weight than reciprocating piston compressors, and are designed to run for extended time periods-making them more efficient. Reciprocating piston compressors are for short, intermittent job needs.
Lubrication
Contamination control is becoming increasingly important to prevent damage to equipment components, so utilities may require lubrication systems to deliver contaminant-free fluids to their equipment.
Some mechanics trucks offer built-in lubrication capabilities. Another approach is adding a lube skid that fits in the back of the mechanics truck and consists of tanks with hose reels to dispense equipment fluids. The lube skid is easily removable so utilities can have mobile lube service when they need it-and truck-bed space when necessary.
Extras
The addition of other components-such as a welder, compressor/welder/generator, or diesel-engine-driven auxiliary hydraulic power source for a hydraulically powered crane or air compressor-can help utilities maximize the value of their mechanics truck.
And, when equipment breaks down or routine maintenance needs arise, a mechanics truck can deliver on-site support that reduces costly downtime and increases the productivity of utilities.
---
About the author: Terry Cook is the product manager of commercial products at Iowa Mold Tooling Co. Inc. (IMT). He is responsible for leading the company's line of commercial products and helping drive business strategy for the segment. Cook has worked at IMT for more than 25 years, serving in various roles including customer satisfaction manager, quality control, technical support manager, quality supervisor and manufacturing engineer.