All-in-One Power
Power unit has almost everything in one compact configuration.
Mar 1st, 2013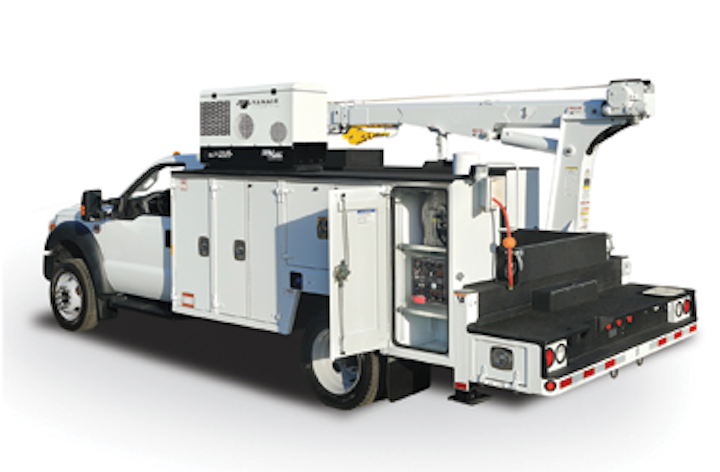 Power unit has almost everything in one compact configuration.
By Paul Hull
In the construction industry, compact machines are taken for granted. It wasn't long ago, however, that excavators and loaders had to be large because no manufacturer gave attention to the development of smaller machines that could do everything a contractor needed-at a much lower purchase and operation cost. There were a few skid steer loaders, which were considered almost novelties. Look at them today. We didn't need a 100,000-pound excavator to dig a small trench on Main Street. A similar direction is gaining momentum in the utility world. Do we need 125 cfm, or is that what has always been recommended by those who make or sell 125 cfm equipment? Aren't there countless jobs where 85 cfm would work? If you think that variation can't make much difference to your bank account, look at the effect of new regulations on engines. With Tier 4 emission standards, 125 -185 cfm underdeck systems will have an inherent cost advantage over a typical tow-behind. By using only the truck's engine to power an air compressor package or generator system, you are using only one engine- integral to the vehicle-that is already Tier 4 compliant. The addition of a slave engine to run a tow-behind translates into buying two Tier 4 engines-potentially costing thousands more dollars than necessary. And, that's only at the buying stage.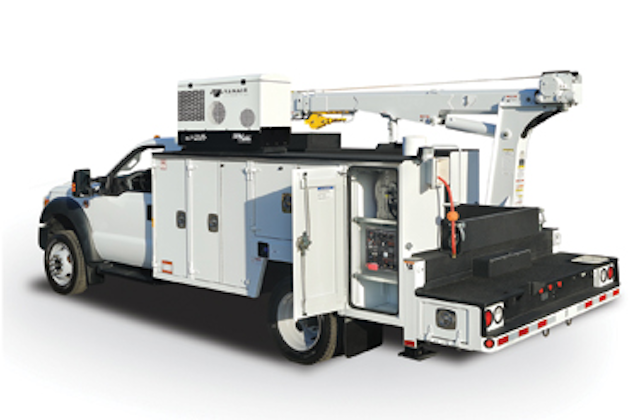 "In the lifetime of this equipment, usually considered to be 10 years or so, the reduced fuel consumption could have bought the whole system," said Dean Strathman, vice president of Air N Arc at mobile power system provider, Vanair.
What would you like from your mobile power system? Everything? Vanair's Air N Arc I300 All-in-One Power System is for those needing mobile power. The system offers a 40-cfm rotary screw compressor, 7-kW generator, 300-amp welder, battery booster and charger, and up to10.5 gpm hydraulic circuit-all driven by a single engine. A wide range of equipment can be operated with this unit, and the turn of one key starts one engine.
The Air N Arc I300 is a self-contained, compact unit with a small footprint that provides two mounting configurations: the 48-inch long unit will fit behind the vehicle cab or it can fit on the side pack of the vehicle. The unit allows the technician to turn the truck off and still be productive, which saves gas and meets the new idling laws. If emergency lights are needed, the I300 allows the technician to run them. Add a remote control panel into the configuration, and the technician doesn't have to get in and out of the vehicle to adjust the system-all control is located in a side compartment.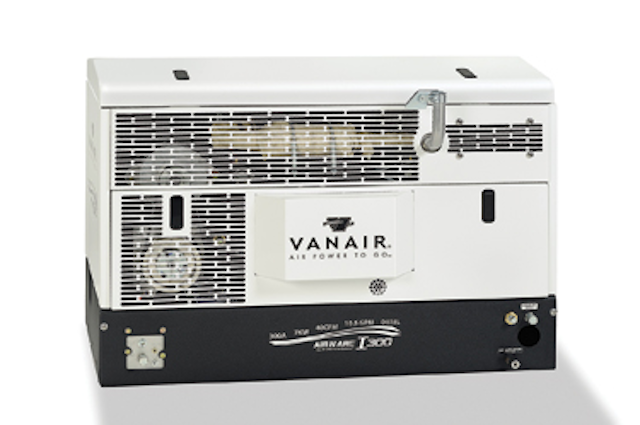 If your needs are specific, the company also offers custom mobile power solutions. Vehicle-mounted air compressors, generators, Air N Arc All-In-One power systems, battery boosters and welders will do the everyday jobs-from repairing vehicles to moving freight. But, there can always be that one task that seems impossible, and the company's engineers will contribute to the successful resolution of that challenge.
Vanair's Road Power Underdeck Generator, an underdeck unit that delivers the power of a 4,000-watt to 25,000-watt ac generator, uses the engine's power by accessing ac power through the truck's power take-off (PTO) drive. Its power and availability can solve many challenges, especially in remote locations for functions such as night lighting, pumps and heaters, as well as many tasks associated with pipe. There are six PTO-shaft driven generators with peak output from 6.8 kW to 25 kW. For the hydraulic-driven generators, there are seven models with peak output from 4 kW to 15 kW. The Road Power PTO-powered generator generates real ac power, not simulated or converted power, in capacities from 4,000 watts to 25,000 watts.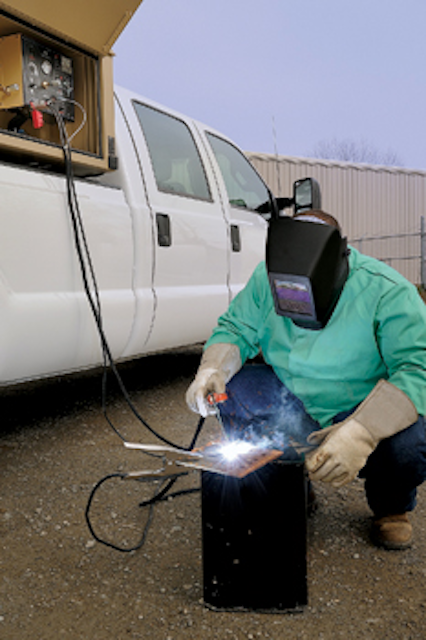 The Vanair underdeck systems can provide up to 185 cfm of air power at up to 150 psi. By installing the compressor directly on the vehicle's chassis, you increase mobility, reduce insurance costs (with no tow-behind to steal), increase bed space for additional equipment, and free up a hitch for auxiliary equipment.
With the performance and quality of Vanair's equipment, this is a manufacturer customers can trust to ascertain the best solutions for mobile power demands.