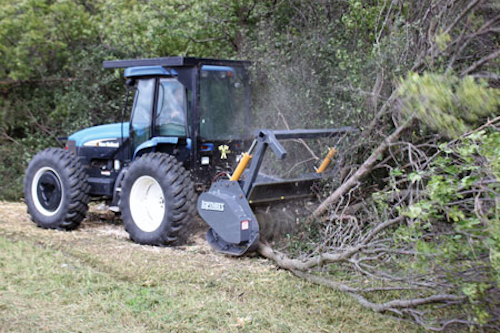 By Bill Schafer
With vegetation management operations, there are times when it's good to have the biggest, most powerful equipment available. A large-scale mechanical tree trimmer with towering boom is the perfect match for mature trees, and a dedicated mulching machine will make quick work of dense underbrush.
But what happens when space is limited? Using these behemoths in a residential setting would be more bull-in-a-china-shop than professional operation. In places where people and motorists are many and the feet between houses are few, clearing rights of way takes a more delicate approach.
In these cases, it's wise to use compact tools for the job. Through technological advancements, increased power and affordability, the smaller and more nimble vegetation management equipment options can expand your versatility without increasing your footprint.
Return on Investment
Professionals are discovering that equipment such as horizontal drum mulcher attachments and compact mechanical trimmers increase efficiency and achieve a faster return on investment. This is especially true when compared to larger, more specialized and more expensive counterparts. Many professional arborists prefer to increase output without increasing costs. This means adding work without overburdening your resources.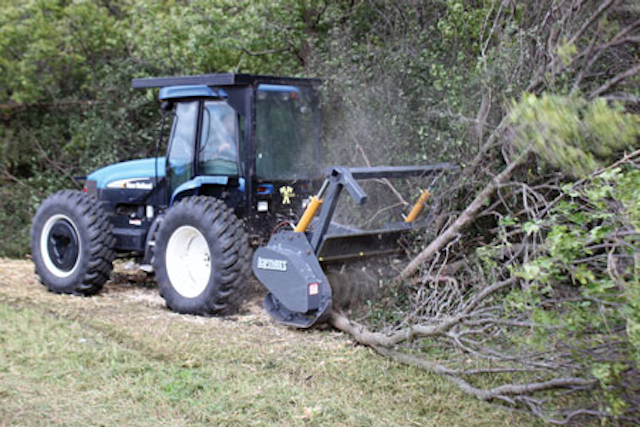 If efficiency is important for your business, consider adding versatile equipment that can pay for itself in the short term. A person can save money, for instance, by purchasing a mulching attachment for one of his existing skid steers, rather than buying a dedicated mulching machine. Likewise, selecting from reputable manufacturers with a proven customer service program offers peace of mind-valuable qualities to a contractor on a budget.
High Tech
Other aspects that set modern compact vegetation management equipment apart are improvements in technology and productivity compared with earlier models. What once were the jobs of large-scale trimmers and mulching machines can now largely be completed using a skid-steer, compact excavator or even small tractors-equipment already used in day-to-day operations.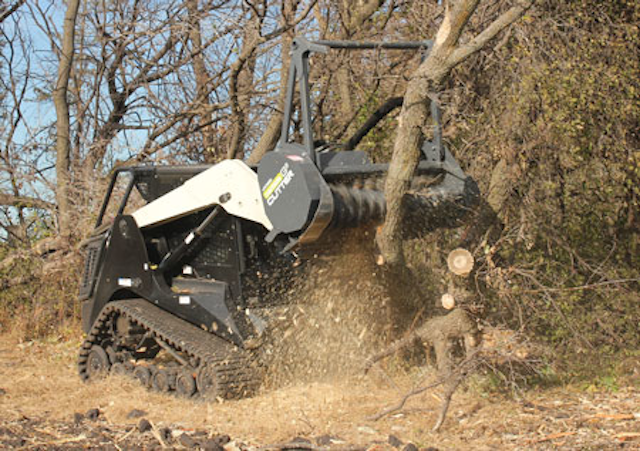 Compact mulching equipment has significantly improved over the years partly because of the advancements in the machines they attach to. Skid steers now offer better hydraulic flow and pressure than their predecessors from even a decade ago. And tractors have higher capacity engines that result in more horsepower to the power take-off (PTO). These increases in output allow for higher-performance attachments capable of performing jobs that used to be the sole occupation of larger equipment.
Mulcher Advancements
Horizontal drum mulchers have come a long way, too. With hydraulics that automatically adjust to loads and high-RPM rotary heads laced with a gamut of cutter options, they are designed to optimize vegetative clearing, be it tall grasses, brush or even small-sized to medium-sized trees.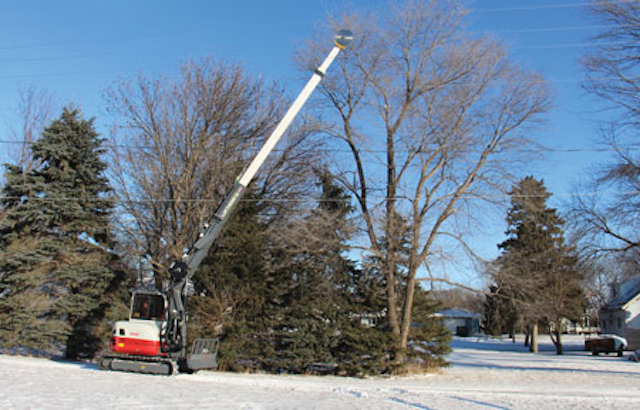 Aside from their cutting parts, modern mulchers are far ahead of yesterday's less advanced models. They can be attached to a number of compact equipment options, from skid steers to tractors, and offer similar clearing results as larger mulchers, but with increased maneuverability and transportability between jobsites. Instead of a dedicated semi truck, for instance, a pickup and trailer easily transports these small, highly versatile machines.
Trimmer Specialists
There used to be only a couple of ways to trim trees along utility line rights of way: using a bucket truck or physically climbing to cut limbs by hand, or operating a large-scale mechanical trimmer. Although effective, neither option is ideal in all cases-the former being more dangerous and the latter being expensive and unwieldy. Modern small trimmer options increase safety and greatly improve close-quarter maneuverability.
Mechanical trimmers built on the chassis of compact excavators use a nonconductive telescoping boom that extends up to 53 feet. With a saw blade at the end, these machines do similar work as hand trimming out of a bucket truck, but in a fraction of the time. In addition, once the branches are on the ground, a skid steer mulching head can be used to effectively clean up.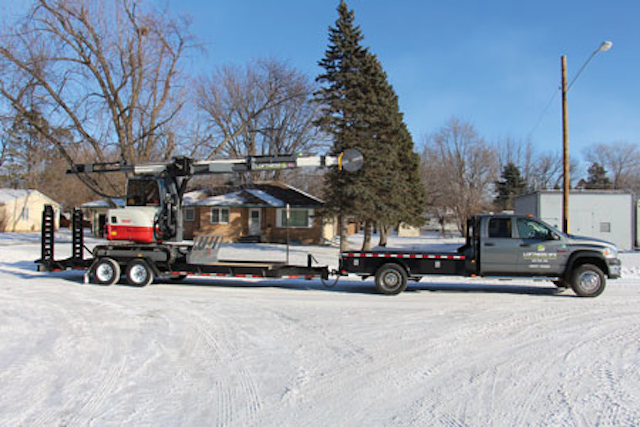 The small footprint of a compact mechanical trimmer is an advantage, too, especially within the tight confines of an urban environment where houses, busy streets and yards are close together. Although a compact trimmer doesn't have the reach of larger implements, it can handle a majority of the work found in such settings. Those few areas that can't be reached can still be trimmed the old fashioned way, if needed.
And when the job is done, no special transportation equipment is required. Often a smaller crewcab tractor-trailer rig can condense trips to the jobsite. This setup cuts down on transportation issues and greatly increases the speed of moving equipment and personnel.
Versatility and Convenience
From the work itself to the unique environmental circumstances, rights of way clearing is a specialized field. And because few contractors rent equipment, buying large, dedicated cutting and mulching machines may be out of reach for smaller companies. Owning attachments for compact equipment they already possess, however, is more realistic.
In addition, in a diluted pool of contractors bidding for work, having these compact equipment resources set companies part. Utility companies in search of right of way line-clearing contractors, for instance, might see the convenience of an outfit equipped with compact equipment as an effective way to service tight jobsites and residential areas in a less intrusive way-an aspect appreciated by homeowners.
Although compact equipment may not be able to handle every vegetation management situation, they can still do much more, and more quickly, than many conventional methods. Adding mulcher attachments and compact mechanical trimmers to your fleet will expand versatility, improve production and increase safety. That adds up to more jobs in less time-a formula that will pay off in more ways than one.
---
About the author: Bill Schafer is product development supervisor for Loftness.
More Utility Products Current Issue Articles
More Utility Products Archives Issue Articles