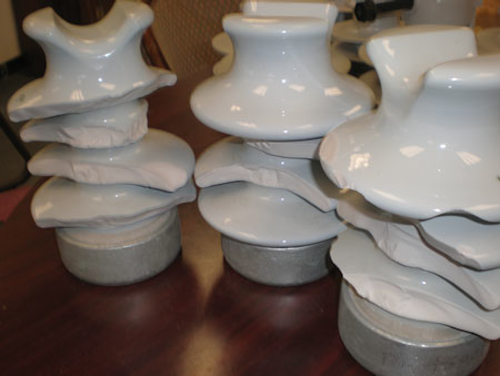 by Charles Clement
A legacy product developed decades ago, porcelain insulators have an established track record of long-term reliability when used to attach high-voltage electrical lines to utility poles and transmission towers. Although their expected service life is 50 years or longer, durability is the downfall of fragile porcelain. Costly damage can occur during handling, transportation and installation, as well as in service when exposed to weather extremes, lightning or vandalism.
Utilities report experiencing significant loss of porcelain insulators in transit, for example, because of damage such as chips, cracks and breakage that occurs when insulators are being shipped from the manufacturer or the warehouse and when traveling around in a utility truck awaiting installation.
Damage is also a problem during installation. Porcelain cannot handle stress and will break if the installer over-tightens the insulator to the mounting hardware. Because porcelain is heavy, damage can also occur when the devices are being carried up a utility pole for installation. Depending on the size of the insulator, line workers often drop the heavy devices. Before it is installed, a chipped or cracked porcelain insulator can create a safety hazard and unsafe working conditions by damaging a line worker's protective equipment or causing personal injury.
Chipped or cracked insulators can create a safety problem by causing injuries or damaging equipment.
Loss can also occur during the insulator's service life. While weather is the biggest culprit, an existing hairline crack can result in "blue sky" failure under perfectly normal weather conditions. During lightning storms, a strike can cause porcelain to track, flash over and/or puncture, damaging the insulator and creating the potential for nuisance outages over time. Condensation, extreme temperature variations and manufacturing defects can cause issues as well. Extreme weather events such as hurricanes or heavy snow and ice can cause irreparable damage. Porcelain insulators can also smash when they are hit by heavy tree limbs.
Human acts of vandalism are another, perhaps less anticipated, cause of damage. Many utilities report that hunters use insulators for target practice in rural areas and that young people with BB guns have also been known to break the fragile assemblies.
For reasons that had nothing to do with the fragility of porcelain, Hendrix Molded Products developed and introduced a durable, lightweight insulator made of high-density polyethylene (HDPE) in the early 1960s. Adoption of HDPE as an alternative material came when Hendrix realized porcelain insulators were unsuitable for use with insulated conductors because of the difference in dielectric constants between the porcelain and the polyethylene cable insulation. This incompatibility caused electrical degradation of the cable's jacketing over time. The new polyethylene insulators were compatible with jacketed conductors and caused no damage or erosion to the coating.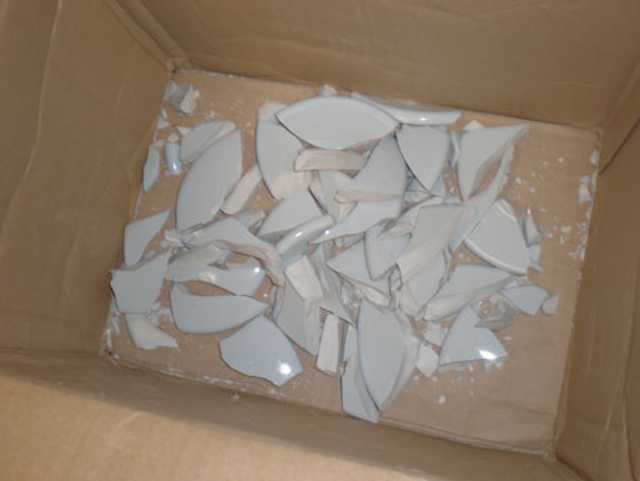 Chips from damaged porcelain insulators collect in a shipping box.
Over time, Hendrix realized its new polyethylene insulators had broader benefits for a wide range of cables including both aluminum conductor steel reinforced (ACSR) and copper bare wire and expanded its line to include a new insulator design in the 1970s. Vice Top insulators were equipped with two nylon bolts with hot-stick eyes that shear off at approximately 80 inch-pounds torque, which promised to make installation significantly easier and faster. In the installation process, the installer removes the upper torque bolt, loosens the lower bolt, places a phase wire between the insulator jaws and tightens the lower bolt until the eye shears off. The installer then attaches the upper bolt, tightening until it shears. No wire ties are required and the entire operation can be accomplished safely with a hot stick, even on energized structures.
Both styles of lightweight HDPE insulators allowed longer leakage distances, were compatible with all conductor types, and were UV and track resistant. The toughness of HDPE increased field life expectancy beyond the 50 years of porcelain insulators and delivered unexpected benefits such as bullet and impact resistance, reduced loss from breakage, and hydrophobic or self-cleaning properties. HDPE could be installed faster and safer than porcelain, even on energized structures. This is especially true for Vice Top insulators, which do not use wire ties.
Because of these advantages, many utilities have switched from porcelain insulators to polyethylene insulators in the decades since their invention, but many are still using porcelain or just considering a switch. When Snohomish County Public Utility District No. 1 in Washington state investigated switching to HDPE to improve distribution reliability, for example, it reached out to utilities around the country including Northeast Utilities, Arizona Public Service (APS) and Southern California Edison (SCE) to discuss their track records with the insulators. The utilities reported that they had collectively used Hendrix insulators for decades with nominal failure rates and that Hendrix offered them a 100 percent replacement guarantee if any insulators failed in the field.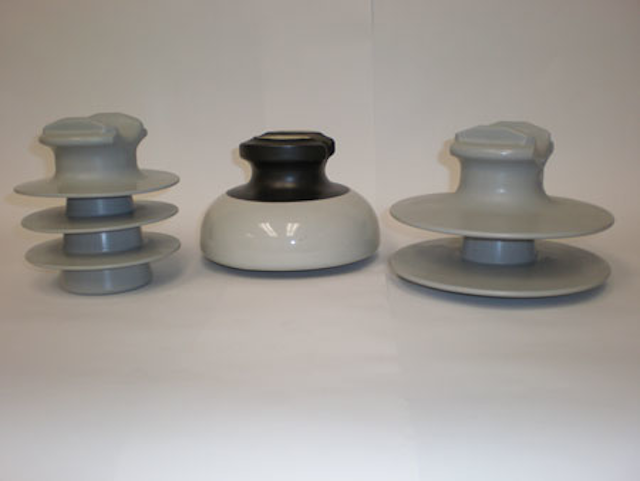 Heavy and fragile porcelain insulator flanked by lightweight, durable polyethylene.
In light of their positive feedback, Snohomish invested in Hendrix Vise Top insulators for use on its overhead distribution conductors up to 336.4 kcmil AAC. Snohomish opted to begin switching to polyethylene insulators for 15 kV applications because of their technological advantages and their potential cost savings during installation. Until the changeout, Snohomish line workers had been hand-tying porcelain pin insulators, a time-consuming and difficult process during which porcelain insulators were likely to break.
Both APS and SCE reported to the Washington utility that they specified Hendrix Vise Top insulators because of labor savings compared to tie-top insulators and wire ties. Use of a Hendrix stringing tool eliminated the need for a separate stringing block and allowed the entire conductor installation to be performed in one operation with hot sticks.
To test the claims regarding installation ease, Snohomish had a team of line workers install Hendrix insulators in the field. These trial installations happened on two re-conductor projects involving a total of 16 conductor spans and a single in-place pole replacement. In place of metal stringing blocks, workers used the Hendrix VTST-1 stringing tool.
Lightweight polyethylene insulators on Snohomish County PUD distribution lines simplify installation and reduce costs. PE insulators have been working effectively since 2008.
The line foreman confirmed the Vise Top HDPE insulators were easier to install than their porcelain counterparts, saving both installation time and money for support workers to assist with installation. This labor savings easily offset the cost of the HDPE insulators. Field personnel also felt the process of securing the conductor with the Vise Top screw clamps was safer than hand ties.
Since 2008, Snohomish County PUD has expanded its use of Hendrix insulators to all distribution wire up to 795 AAC conductor size.
Many utilities report satisfaction with the service life of the HDPE insulators. One utility located in a desert community in the southwestern US has experienced no degradation of the insulators over years of exposure to hot sun and blazing temperatures. Rural utilities report greatly reduced vandalism problems from ammunition strikes. Utilities are also pleased that polyethylene is environmentally friendly and 100 percent recyclable.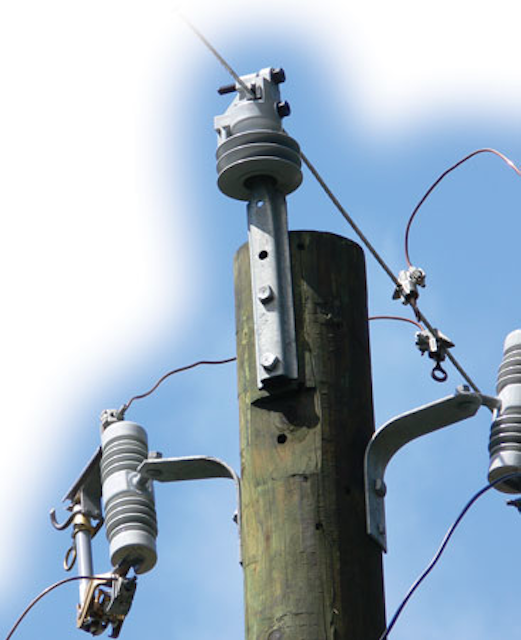 ---
About the author: Charles Clement is lead development engineer for Hendrix Molded Products, where he is responsible for overseeing all product development activities. For some 20 years, he has designed and developed electrical and thermal insulators for both electric and electronic applications using plastic and ceramic materials, and once managed the commercialization of high voltage insulators for the transit, oil and gas, chemical processing and analytical instrumentation markets. Clement holds a PhD in Process Engineering (specialty materials) from the University of Paris.
More Utility Products Current Issue Articles
More Utility Products Archives Issue Articles