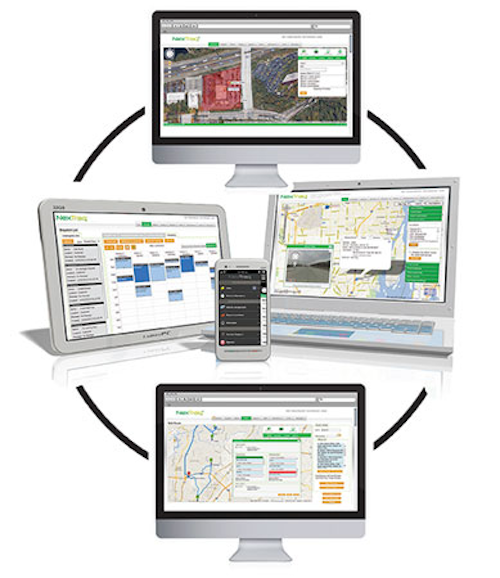 By Wyn Partington
Power and utility operations include a number of moving parts, field employees and communication challenges. In addition, utility companies are constantly seeking avenues to increase operational efficiencies and maximize revenue. A comprehensive global positioning system (GPS) fleet tracking solution can serve as a one-stop-shop for utilities to streamline communications, increase productivity and reduce costs.
Employees are often required to travel to job sites in different and remote areas, so it is vital that business processes continue to run smoothly while employees are in the field. Comprehensive GPS fleet tracking solutions provide managers with a clear view into operations, including the location of employees and assets, fuel usage and equipment performance. Packaged together in one telematics solution, utility providers can increase operational efficiencies and streamline communication.
Efficient Routes
A telematics solution should offer intuitive job scheduling features, providing the option to create and assign jobs within the software. With job sites and employees all viewable on one screen, managers can easily drag and drop employees or vehicles to a job site to add it to the day's itinerary. The list of stops or job sites can then be optimized to ensure employees are traveling on the most efficient route. This optimized route is sent to the employee's Personal Navigation Device (PND) with voice-guided, turn-by-turn directions. Not only does this streamline communication, but it also eliminates the need for the driver to use a mobile device, increasing safety for both the employee and others on the road.
As an added benefit, optimized routes allow utility entities to fit more stops in a workday, increasing productivity and efficiency. Employees can also be navigated to avoid traffic, roadwork or other congestion. Providing optimized routes and tools to manage unexpected road delays increases productivity and simplifies travel for employees.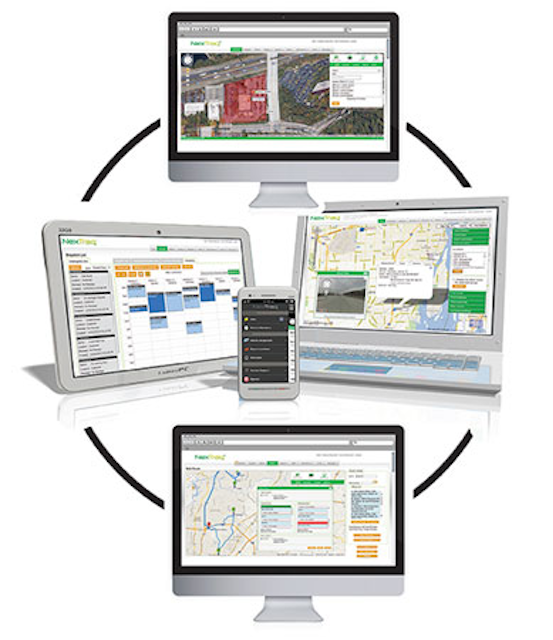 Asset Maintenance
Utilities rely heavily on vehicles and equipment, making asset maintenance a priority to keep operations running smoothly. Ongoing and routine maintenance helps prevent breakdowns and avoid urgent, expensive repair costs. A comprehensive GPS fleet tracking solution allows managers to keep track of maintenance schedules, logs and reports to develop a proactive maintenance strategy. Automated maintenance scheduling provides a notification when it is time for upkeep and repairs, ensuring preventative maintenance is occurring consistently and on schedule. Logs and reports offer details regarding services performed and information can be pulled regarding the status of individual vehicles, assets or the entire fleet. Well-maintained assets are more reliable, so employees are confident when traveling or using company equipment. In addition, proactively maintaining assets reduces the chance there will be costly repairs in the future, saving the entity both time and money.
Comprehensive Fuel Management
Gas prices are a constantly fluctuating but necessary cost for any service-based company, which can make it difficult to forecast and manage expenses accurately. Route optimization and job scheduling features reduce overall fuel usage and expenses, but a telematics solution should offer a complete fuel management program, including fuel card integration, fuel reports and alerts.
A fuel card program incorporates gas card data, fuel card transactions and maintenance purchase information into the telematics solution. This provides a complete view of fleet operations and fleet fuel consumption, helping managers better understand fuel costs and efficiency. Managers can pull information regarding how much fuel was purchased over any time period or how much fuel a specific employee or vehicle used. In addition, the integration allows for employees to be easily routed to an in-network fuel provider and spending limits can be established based on the projected travel for a period of time.
Fuel reports can easily be pulled from the solution and are helpful to identify any behaviors that are burning more fuel than they should. GPS fleet tracking solutions, for example, can pinpoint idling, excessive acceleration, harsh cornering or other wasteful practices that can be addressed to increase fuel efficiency.
Remote Mapping
Power and utility lines are often located in remote areas and underground, requiring employees to navigate using coordinates rather than a physical address. Telematics solutions offer geographic information system (GIS) mapping technology within the solutions, providing more detailed directions compared to a consumer-facing personal navigation device (PND). Internal Web Map Service (WMS) based map layers can be overlaid on existing maps, easily locating coordinates for job sites for employees.
Businesses that implement fleet tracking can save up to 20 percent in both fuel costs and labor costs, and can achieve return on investment in as little as one month. Integrating a telematics solution into utility operations can streamline operations, increasing efficiencies and communication.
---
About the author: Wyn Partington is vice president of marketing at NexTraq. NexTraq's applications-Fleet Dispatch, Fleet Metrics, NexTraq Connect and NexTraq View-deliver real-time data needed to optimize fleet operations.
More Utility Products Current Issue Articles
More Utility Products Archives Issue Articles