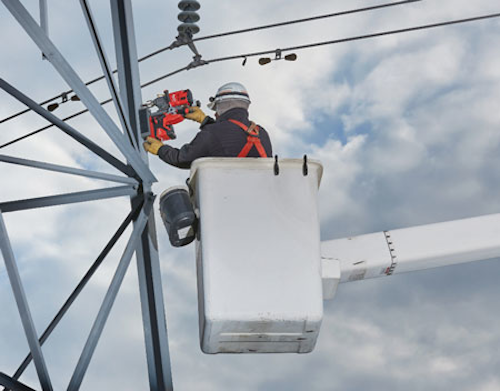 Linemen are no strangers to challenges on the jobsite. When hundreds of feet in the air, drilling holes into vertical steel beams with a magnetic drill, numerous factors come into play. Often, a string of extension cords is needed to deliver power from the truck's generator to the tool being used above, from a bucket. A fellow lineman may be below, helping maneuver cords so they don't come into contact with high voltage lines. All the while, it's crucial that the generator does not lose power or the extension cords do not get disconnected. If either scenario takes place, the drill's electromagnetic base can lose power and productivity takes a major hit. But even with efficient power, each time a new hole needs to be drilled, the lineman needs to scale the tower with the corded tool, facing tripping hazards as well as electric shock hazards if they encounter wet conditions.
It's another reason why most of the tool industry has turned its focus to cordless tools. There's far too much work to be done to let productivity be hindered by fluctuations in power and the possible hazards associated with cords.
Lithium-ion is Key
Cordless tools have long been part of the lineman's tool arsenal with traditional battery operated tools such as cordless drills, impact guns, Sawzalls and bandsaws. From the power plant, through transmission and distribution, manufacturers are forging solutions that improve safety, reliability and productivity for linemen by offering cordless solutions that will replace traditional corded and truck hydraulic solutions. Much of this is because of the rapid advances in battery technology.
For more than 10 years, lithium-ion batteries have been a growing force in the cordless tool industry. It has shaped the way manufacturers approach solutions for the jobsite and has allowed them to deliver massive amounts of power and performance in a much more compact package. Tools are getting smaller and lighter and, at the same time, outperforming their predecessors. They are offering longer run times and charging faster than before.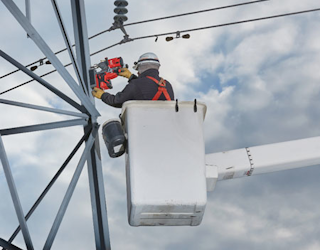 But lithium-ion technology isn't solely responsible for the performance users are seeing in their tools. A tool's motor and electronics infrastructure are also key factors that can offer increased run-time and performance. As seen with cordless lines such as Milwaukee Tool's M18 FUEL, lithium-ion battery packs have complimented innovations in brushless motors and intelligence systems to deliver longer life, amplified power and increased run-time.
All of this and more are setting new standards for performance, durability and safety for linemen. And it's opening doors for manufacturers to drive innovation and deliver on users' every need, with almost boundless limits.
Innovation Driving Productivity, Safety
The combination of advancements in batteries, motors and electronics, along with the introduction of new magnetic base technologies, has lead to solutions that alleviate the productivity and safety concerns linemen have when using magnetic drills hundreds of feet above the ground.
The first order of business in these situations? Find a way to make the tool cordless.
For years, this market has been shifting to more compact magnetic drills, but no one has been able to deliver a solution for the user who has limited access to power, drills vertically or overhead, and regularly encounters thin metal. But, as the cordless tool industry has evolved, so have the capabilities of manufacturers. By using its M18 FUEL technology, Milwaukee has introduced the 18v cordless magnetic drill press. This has allowed the company to address the typical productivity and safety issues linemen face with corded magnetic drills on the same battery platform that the rest of their 90+ solutions operate on.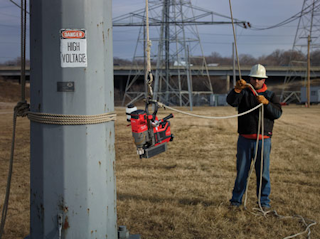 This helps minimize safety concerns with having feet of cord draped close to active power lines and the large voltage drop that occurs over longer lengths of cord.
But without electricity being fed into the magnetic base through a generator, how does a tool such as this continue to operate? The new tools use permanent magnets so that the magnetic base operates without electricity, ensuring the magnet does not deactivate if the battery is drained. Equipped with Auto-Stop lift-off detection, power to the motor is automatically cut if excess rotational motion is detected while drilling.
This type of innovation wouldn't have been possible without the interworking of lithium-ion, motor technologies and electronics.
Keeping the Fast-paced Jobsite in Focus
The mobile world of the lineman will constantly challenge the cordless tools industry in new ways. This is why lithium-ion technology will, and must, continue to improve. Whether it is heavy-duty battery packs that allow users to push their cordless tools harder than ever or systems run entirely on one battery option, massive jumps are on the horizon. Some of these are already here.
And, as lithium-ion technology evolves, advanced motor capabilities and electronics potential will be pushed toward solving common struggles that currently seem impossible to solve. Just last year, linemen had no safer or faster choice than their corded magnetic drills-now, that's a different story.
---
About the company: Since the company began in 1924, Milwaukee Tool has provided professional, heavy-duty tools and accessories. With an unwavering commitment to the trades, Milwaukee continues to provide innovative, trade-specific solutions. Whether it is through its lithium-ion technology, as seen in the M12, M18 and M28 Systems, time-saving accessories or hand tool products, Milwaukee is dedicated to delivering a steady stream of advanced solutions for the trades that offer increased productivity and durability.
More Utility Products Current Issue Articles
More Utility Products Archives Issue Articles