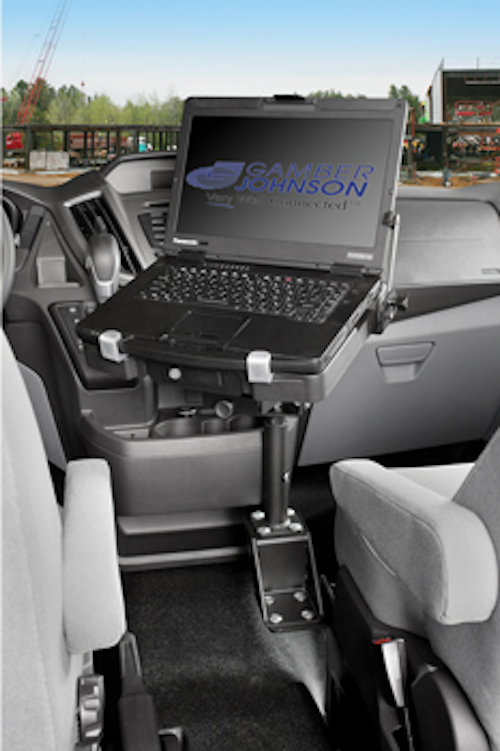 New Vehicle Docking Station Panasonic Toughbook 54 Laptop Computer
Gamber-Johnson, an ISO 9001:2008 certified manufacturer of rugged docking stations and long-time partner with Panasonic System Communications Co. of North America, announces a Vehicle Docking Station designed for the new Panasonic Toughbook 54 semi-rugged laptop computer.
Gamber-Johnson's Toughbook 54 vehicle dock is designed to leverage the expandability of the laptop and will accommodate the Toughbook 54 Performance model, and all models with the following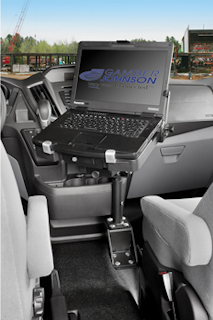 integrated options: Insertable SmartCard (bottom), 2nd LAN, 4th USB (2.0), Rugged Fischer USB, VGA and Serial. The dock provides a convenient access area to the bottom Insertable SmartCard Reader; the user can insert and eject a Smart Card while the laptop is docked in the station. The dock is designed for the mobile worker; a spring-loaded docking connector ensures connectivity even over the toughest terrain and the push-button keyed latch enables the laptop to be easily docked and undocked while keeping it secure.
The Toughbook 54 dock features rear-facing l/O ports and an integrated cable strain relief system, making vehicle installation easy and convenient. The Toughbook 54 docking station is Gamber-Johnson's first laptop docking station featuring the international standard VESA 75 mounting pattern. Gamber-Johnson has incorporated the VESA 75mm standard into their motion attachment product line.
Gamber-Johnson
---
TAG-5000 Wireless Phaser Utility Testing
Test products: HD Electric's TAG-5000 Wireless Phaser is designed to perform many of the existing functions of conventional voltmeter/phaser devices. The TAG-5000, however, uses new technology that eliminates the cord and lightens the weight of this testing device.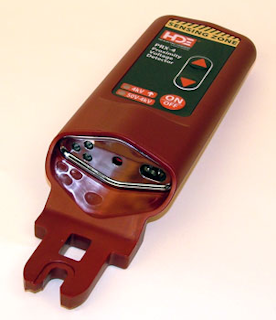 TAG-5000 can be used for all overhead and underground phasing applications with appropriate underground probes and is especially useful at higher voltages-up to 230 kV-where safety and ease of use are prime considerations.
Features and benefits include:
Range of operation is more than 33 ft. through the air and over 1,000 ft. along overhead conductors,
No connecting cord between transmitter and receiver,
Phase through walls and metal enclosures,
Phase conductors on system voltages up to 230 kV (phase-to-phase),
Clear indication of in-phase/out-of-phase conditions with both audible and visual indications,
Rugged and lightweight, and
Built-in self-test feature.
HD Electric
---
AirStream Cable Blowing Machine Makes Micro Fiber Cable Installation Fast, Efficient
General Machine Products Co. Inc. (GMP) offers the AirStream Cable Blowing Machine to its line of fiber optic cable placing equipment. Specifically designed to safely install micro fiber cable into pre-installed 0.196-in. to 0.708-in. OD micro duct, the AirStream will place 0.098-in. to 0.433-in. OD cable at speeds up to 260 ft. per minute. This, along with its low maintenance and high reliability, makes the AirStream an excellent value.
The AirStream incorporates a tabletop design with easy-to-use ergonomic controls for one-person operation. The unit uses a double belt drive concept, backed by the latest in servo control technology, to provide a secure cable grip with precise torque and speed control. The pushing force, up to 44 lbs. maximum, can be adjusted to suit the cable stiffness.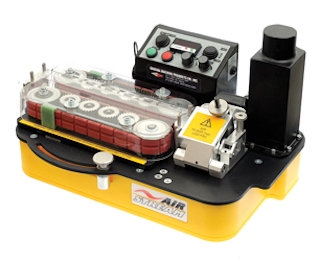 The AirStream uses compressed air to install micro fiber cable into micro duct in both indoor and outdoor environments. Its electrically operated, double belt drive can be operated in forward and reverse to propel the cable through the micro duct. An electronic monitoring system provides read-outs of speed and distance, and includes an emergency stop capability.
With the purchase of any GMP fiber cable blowing machine, onsite training is provided at no additional cost.
GMP
---
Fall Protection: Rope-Safe Rope Grab Provides Protection for Workers at Height
Cited to be the first rope grab of its kind, the Rope-Safe Rope Grab is certified to multiple world standards to provide advanced protection to workers at height. The kernmantle rope grab provides the versatility of easily switching between an automatic or towable manual rope grab. The patented inertia cam provides an anti-panic grip function, engaging the device and arresting a fall even if the user grasps the rope grab in a way that interferes with the primary braking mechanism.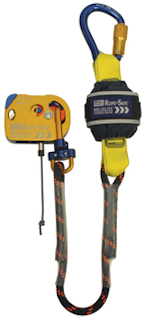 The Rope-Safe is tested up to 440 lbs., far exceeding the requirements of ANSI and CSA, providing a device for industrial fall protection, rope access and rescue.
Capital Safety
---
Truck Caps Offer Convenience of CargoGlide Products
Fleet managers who choose high-quality A.R.E. truck caps for their fit, durability and enhanced security can now add convenience and accessibility to the growing roster of advantages of buying A.R.E. A.R.E. understands the professional's need for productivity and develops its product line to solve logistical challenges in the field. By offering an array of products and solutions, A.R.E. provides a one-stop shop, helping busy fleet managers overcome multiple challenges and work more efficiently.
A.R.E. now offers CargoGlide bed units with extensions that range from 70 percent to 100 percent, placing tools and cargo stored in even the farthest corner of the truck bed at your fingertips.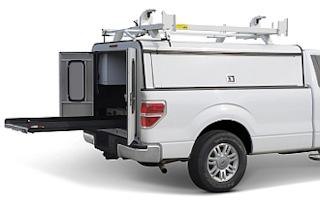 Built with a strong steel frame and sturdy side-thrust roller bearings, CargoGlide units deliver a smooth slide, even on uneven ground. They are constructed to last, especially in commercial applications, and can help prevent driver injury.
CargoGlide makes tools and gear easily accessible, helping eliminate the scuffed knees and aching backs experienced by busy workers who unload their vehicles many times throughout the course of a work day, it's reported. Although safety is the number one priority, another benefit to companies is the potential to reduce costs associated with injuries.
A.R.E. offers the CargoGlide in five models, including:
CargoGlide CG1000 - 1,000-lb. capacity,
CargoGlide 1500HD - 1,500-lb. capacity,
CargoGlide 2000HD - 2,000-lb. capacity,
CargoGlide 1500XL - 1,500-lb. capacity, and
CargoGlide 2000XL (commercial grade unit) - 2,000-lb. capacity.
A.R.E.
---
Tier 4 Final Compact Wheel Loaders Increase Jobsite Versatility
Construction equipment: Featuring a robust design and high maneuverability, Terex compact wheel loaders, ranging from 50 hp to 101 hp, are built for the most challenging applications. Equipped with Tier 4 Final Deutz engines, these compact wheel loaders offer North American contractors maximum productivity on many jobsites because of their steering and hydrostatic drive systems, parallel kinematics and Terex Smart Control System.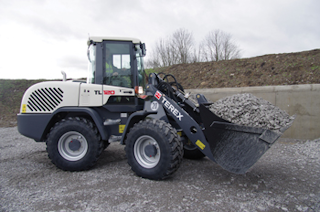 Four models make up the Terex Tier 4 Final compact wheel loader line: The 50-hp TL65 unit offers bucket capacities from 0.65-1.31 yd3, the 60-hp TL80 features bucket capacities of 1.05-1.57 yd3, the 74-hp TL100 has bucket capacities ranging from 1.31-2.03 yd3, and the 101-hp TL120 model provides bucket capacities from 1.57-2.36 yd3. This range of models ensures that Terex has the right size of compact wheel loader to meet customers' unique business needs.
Terex
---
Contractor Series 6-Ton Li-Ion Battery Platform IN-LINE Crimping Tool
BURNDY has announced its Contractor Series 6-Ton Li-Ion battery platform IN-LINE crimping tool that combines performance with an economical purchase price. The Contractor Series tool maintains the quality and reliability that BURNDY is recognized for and offers better than industry average crimp speeds.
Fixed, scissor-action crimping jaws are available in three standard configurations-each accepting standard W and X style die sets. Features include 350 degree head rotation, ergonomic balance, non-slip grip area, safety-lock feature and an audible pop off indicating a proper crimp completion.

As with all BURNDY battery operated tools, the Contractor Series is powered by Makita 18V battery technology. Supplied with the tool is one
3.0Ah battery and a charger. BURNDY offers a one-year warranty on the Contractor Series of tools.
BURNDY
---
Static Discharge Grounding Reels for Utility Service Vehicles
Utility tools: KH Industries, a US manufacturer of industrial grade portable power and lighting products, has added the RTX Static Discharge Grounding Reels to its ReelTuff Cord Reel product line. The RTX Static Discharge Grounding Reels electrically connect equipment to the ground, which prevents equipment from becoming sufficiently charged to cause a static spark that could ignite flammable vapors. RTX Static Discharge Grounding Reels are for utility maintenance and service applications including exterior mounting on utility trucks, maintenance shops and fuel tank static grounding.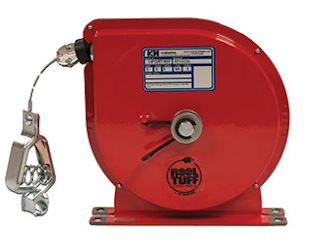 RTX Grounding Reels are built to NEC standards and feature all steel construction, corrosion resistant red powder coating, stranded steel cable, 100A grounding clamp, rubber ball stop, and constant spring tension to keep the cable from becoming tangled.
KH Industries
---
Cable Stripping Tools Provide Safe, Quick Alternative to Blades
Cable stripper: Greenlee, a Textron Co., has released the GTSD-1930 Drill Mounted Saber Tool, the newest addition to Greenlee's Saber stripping tool line. Lacerations are a leading cause of recordable injuries on jobsites, and the GTS-1930 and GTSD-1930 Saber stripping tools are safe and quick alternatives to blades when stripping cable. The Saber line is developed and designed to offer users a wide variety of features to ensure they complete their work quickly, safely and with precision.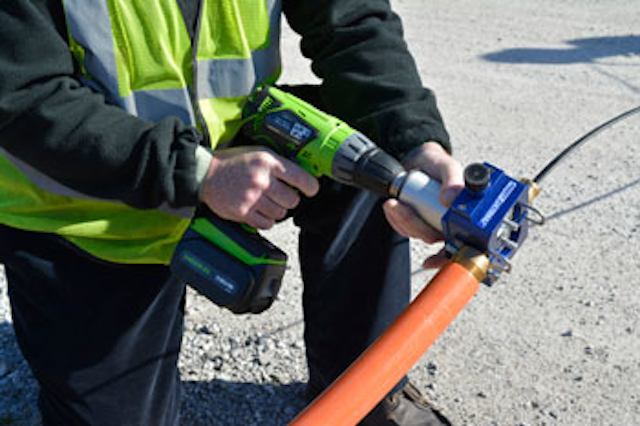 The GTS-1930's laser-etched depth stop and GTSD-1930's self-contained depth gauge allow precise stripping of wire without the danger of exposed blades. The spring loaded retention pin allows the user to simply pull the pin and insert specific bushing sizes.
Greenlee Textron Inc.
---
Insulation Resistance Tester Rated at 15 kV
Test equipment: Megger offers a versatile insulation resistance tester (IRT) rated at 15 kV. The MIT1525 measures motors and generators above 34,500V and equipment rated above 35 kV. For applications that use cables, transformers, motors/generators, circuit breakers and bushings, the 15 kV MIT1525 is compact, lightweight and has rapid charge capabilities. It tests the insulation resistance of high-voltage power cables and buses, large motor/generator windings as well as substation transformers.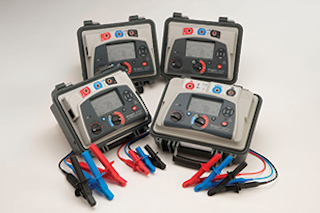 Engineered to ensure the highest precision possible, the MIT1525 offers 5 percent accuracy with a maximum resistance up to 3 TΩ. It maintains a CAT IV 1,000 V safety rating, allowing for dependable use in the widest range of applications.
Megger
---
Model GXL 4021 LED Work Light Is Ultra Bright, Tough
With 4,500 maximum lumens emanating from its compact aluminum housing, Golight's new Model GXL 4021 LED work light delivers more lumens per square inch and handles up to 40 Gs. The light's fascia measures 4 1/2 in. wide by 4 in. tall, has a depth of 3 1/2 in. and comes with a 2-in. stainless steel mounting bracket. The GXL 4021 represents the company's expansion of its permanently mounted, manually adjustable LED work lights and is the smallest of the four lights it now offers in that category.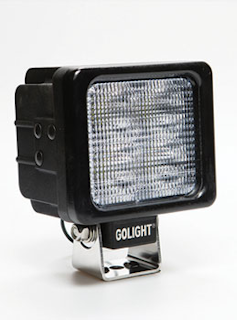 The light's small size and illumination power is a byproduct of its space-saving LED cluster design, combining four clusters of four high-powered LEDs to generate a maximum output of 4,500 lumens. The raw power of the light's 16 LEDs is controlled through the use of three rugged yet versatile polycarbonate lenses.
Golight Inc.
---
Safety Device Prevents Fall Hazards, Trip Hazards and Other Fall Traumas
Fall prevention: Bay Shore Systems' OEPS is an industry derived safety device preventing fall hazards, trip hazards and other fall traumas or related injuries-protecting staff and employers from danger and loss. OEPS, which stands for Open Excavation Protection System, is a certified, made-for-industry barricade that completely secures the area around an excavation site whether excavating holes or trenches.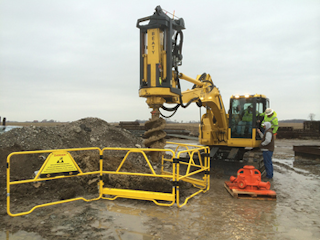 Reduces manual handling activities such as erection of temporary fencing,
The unit flat packs and is portable for ease of transport and re-use,
Easy to assemble-less than a few minutes, and
Available in standard sizes or specially manufactured to customers' requirements.
Bay Shore Systems Inc.
More Utility Products Current Issue Articles
More Utility Products Archives Issue Articles