New Products
Oct 1st, 2011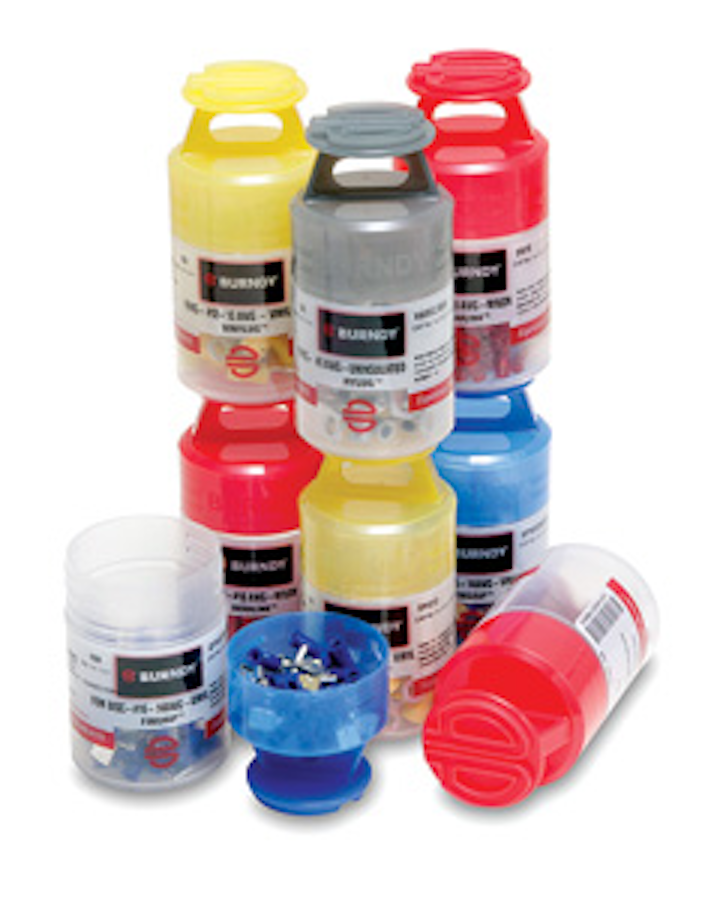 New Packaging for Specific Small HYDENT Compression Connectors
BURNDY, a manufacturer and provider of connector solutions to the industrial, utility, construction, telecommunication, power generation, original equipment manufacturer (OEM), data center, oil and gas industries, introduces its new, made in the USA packaging for specific small HYDENT compression connectors.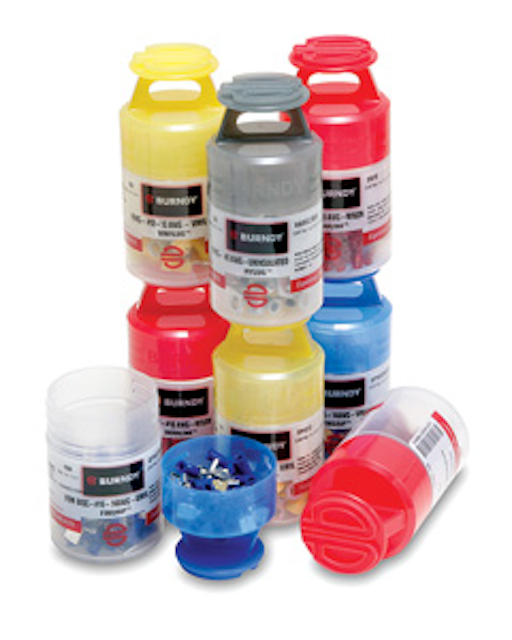 Combining an eye-catching look with function, the patent pending lid features the BURNDY "Bug" identifier and the ability to hold product when inverted while providing a stable base for spill prevention. The lid design allows for hanging on a one- or two-prong rack. The bottom of the jar body is indented to allow for safe stacking.
The jar body is translucent; the color-coded lids offer visual verification. Identifying reds, blues and yellows (gray lid signifies uninsulated product) are easy. The threaded lid design requires only 1/4 turn but locking feature keeps the contents secure.
BURNDY
CIRCLE 109 ON READER SERVICE CARD
---
TCL50 Diesel Fuel Tank Offers 110-percent Secondary Containment
Transcube introduces the TCL50 to its line of transportable fuel tanks. The double-walled tank provides 110-percent secondary containment of the inner container's total capacity, eliminating the risk of spills and ground contamination. Offering very good environmental compliance and Underwriters Laboratories (UL) 142 certification for safe diesel fuel storage, the TCL50 is for a wide variety of applications.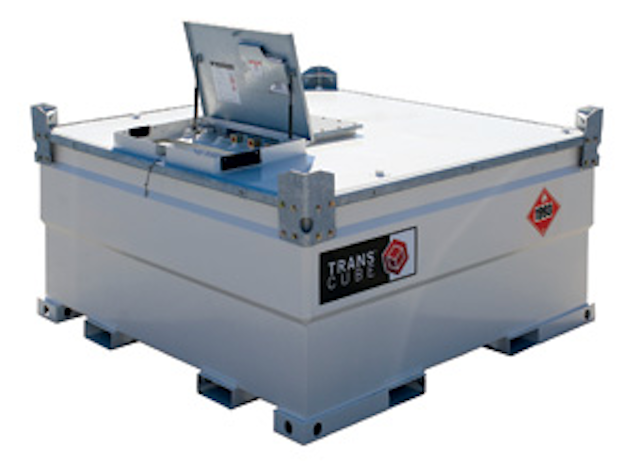 Featuring a capacity of 1,240 gallons, the tank has no bottom or side exterior outlets of any kind. All fill ports, pumps, fittings and connections are housed at the top of the tank within the unit's "Enviroconnect" secondary containment equipment cabinet. The tanks are capable of feeding three generators while simultaneously fueling equipment with a separate nozzle. To prevent theft or tampering, access to fuel and pumping equipment can be secured within the tank's lockable cabinet.
The TCL50 is equipped to make handling and maneuverability simple—regardless of jobsite logistics.
Transcube USA
CIRCLE 111 ON READER SERVICE CARD
---
iZup Lite Global Positioning System- based Text Blocking Solution
More than 2.5 billion text messages are sent daily in the U.S., representing a 100 percent increase from a year ago. With this text messaging growth there has been a great increase in distracted driving incidents that have killed and injured many. Committed to improving safety and compliance, Illume Software, developer of iZup, has announced iZup Lite, a free global positioning system- (GPS-) based text blocking solution with auto-reply that is available immediately in the Android Marketplace for all major carriers.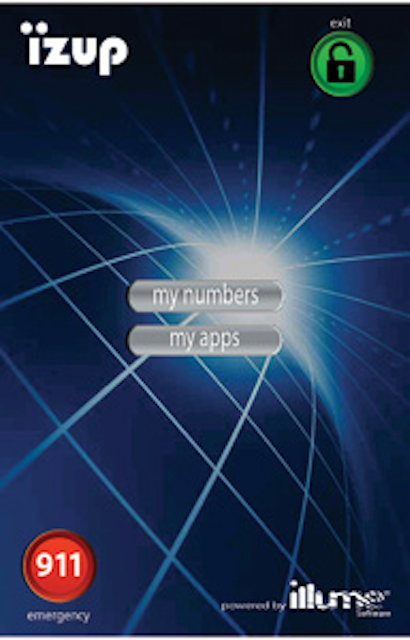 iZup Lite, always on and running in the background, does not require the user to activate the program each time he or she gets behind the wheel—eliminating the temptation to make an exception and not activate the program for a short trip.
iZup Lite is an extension of iZup, a software-based distracted driving solution that automatically saves voice calls to voicemail while vehicles are in motion and holds data interactions including text messages until the product determines that the trip is completed. iZup Lite contains a customizable auto-reply feature that immediately notifies callers that the recipient is driving and will respond to the text when the trip is complete, as well as blocking access to popular social networking and email applications.
Illume Software
CIRCLE 112 ON READER SERVICE CARD
---
Mesh Vests Offer Comfort, Visibility and Plenty of Pockets
Made of breathable nylon mesh, Forestry Suppliers' mesh vests comply with American National Standards Institute (ANSI) / International Safety Equipment Association (ISEA) 107-2004, Class 2 standards for high-visibility safety apparel.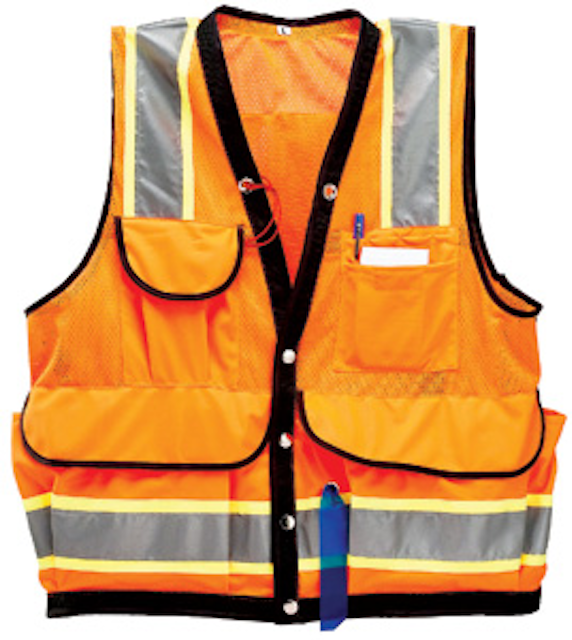 These versatile, economical vests feature eight pockets: a compass pocket, a pencil pocket, a notebook pocket, two pockets at the waist (one with a flagging dispensing grommet and both with Velcro closures), two inside pockets at the waist, and one large pack pocket on the back that stretches across the full width of the vest.
Forestry Suppliers Inc.
CIRCLE 110 ON READER SERVICE CARD
---
Magnetic Utilishelf Provides a Safe, Effective, Portable Hands-free Work Station
Brooks Utility Products, a supplier of metering security products for the electric utility industry, introduces Utilishelf—a safe, convenient, hands-free work station to meet everyday needs in the field.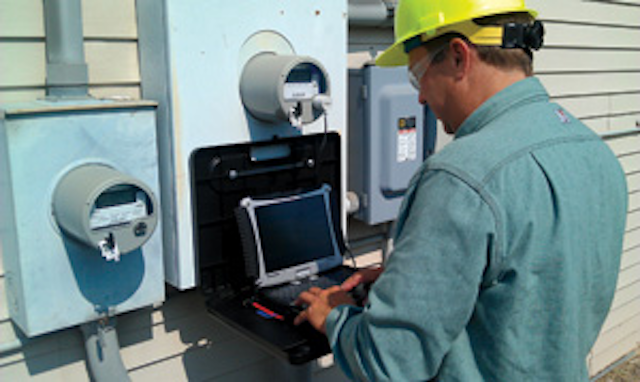 Designed for use as a laptop or tool holder, writing surface, lunch table or compartmentalized surface for holding small parts and connectors, Utilishelf makes field work easier and safer for employees and their equipment. The unit easily and firmly attaches magnetically to meter enclosures, switchgear, substation compartments or any metal surface—providing a convenient and safe portable workstation.
Utilishelf is made from durable, military-grade material; is dielectrically safe and ultraviolet (UV) resistant; and supports 15 pounds of vertical weight. The unit offers a one-year warranty and is 100 percent invented, manufactured and assembled in the USA.
Brooks Utility Products
CIRCLE 113 ON READER SERVICE CARD
---
Enhanced Ohio Brass Varistor Protection
New Enhanced Varistor Protection (EVP) arresters are now available—superseding the Ohio Brass (OB) PVN family of arresters. Built on 20 years of Ohio Brass by Hubbell Power Systems experience, EVP arresters have a robust sealing system.

A slotted tripod base gives flexible installation, fitting 8 3/4- and 10-inch bolt circles. Grading ring usage is optimized. The arresters offer sustainable features and intelligent catalog numbering system. EVP arresters offer the same housing material, mechanical strength, protective level and energy rating as the Ohio Brass PVN arrester family.
Hubbell Power Systems
CIRCLE 115 ON READER SERVICE CARD
---
Pole Library Now Available for Utility and Consulting Engineers
Duratel, a manufacturer of composite utility pole products for utility transmission and distribution, has completed its work with Power Line Systems Inc. (PLSi) to incorporate its fiber reinforced plastic (FRP) pole library with PLSi's PLS-CADD platform. The addition of the Duratel pole library will help engineers use the durable and long lasting composite pole when designing, simulating and analyzing a transmission and distribution system.
Adding Duratel's FRP poles to PLS-POLE's library will enable mutual customers to automatically select the best FRP pole for any particular application, it's reported. In addition, by utilizing PLS-CADD's overhead line optimization capabilities, the full capabilities of these environmentally friendly products can be optimized to develop an overall least-cost alternative to traditional line designs.
Duratel poles offer utilities an effective alternative to traditional distribution poles. Composite poles can be installed with less equipment and manpower than other products and have proven to significantly speed recovery from severe weather and natural disasters.
Duratel
CIRCLE 114 ON READER SERVICE CARD
---
Tray Cable Connectors Accept Wider Range of Cable Sizes
Appleton, a manufacturer of products for hazardous location electrical systems, has introduced a versatile line of tray cable connectors engineered for use with Tray Cable (TC), Instrumentation Tray Cable (ITC), Power Limited Tray Cable (PLTC) and other commonly-used types of tray cable.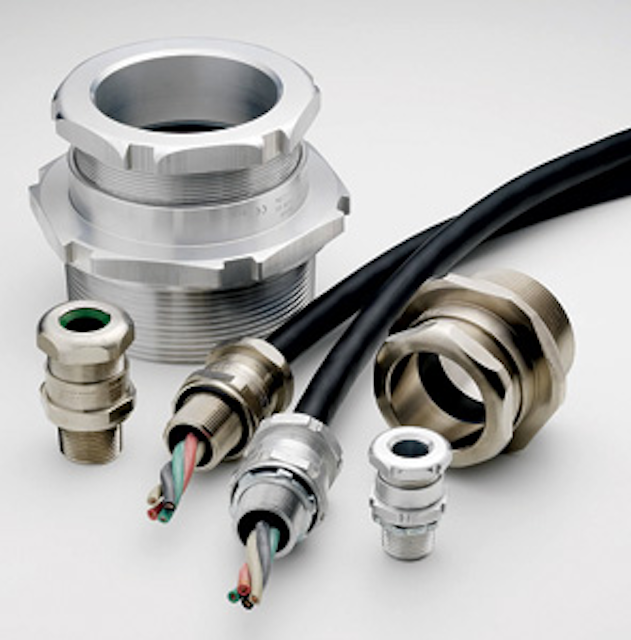 Key to the success of the new connectors is a compensating displacement seal that provides ingress protection to National Electrical Manufacturers Association (NEMA) 4X and Ingress Protection (IP) 68 standards, allowing use in highly caustic or harsh environments. Certified for use in International Electrotechnical Commission (IEC) and National Electrical Code (NEC) applications, the connectors also feature a seal insert that lets each gland terminate the broadest cable range available in a single hub size.
Manufactured in aluminum, stainless steel and nickel-plated brass, the new connectors offer a continuous operating temperature range of -76F to 230F and come in trade sizes from 1/2 inch to 4 inches. NPT threads are standard, while metric is available as an option.
Appleton
CIRCLE 116 ON READER SERVICE CARD
---
Compact, Rugged DC/AC Inverter for Extreme Conditions
Schaefer announces the PRP-1500 Series of highly efficient, pure sine wave inverters that provide up to 1,500 VA of power in a flexible package that can be chassis mounted, DIN rail mounted or fit into a standard 3U Eurorack. The PRP-1500 Series has versions that meet industrial (EN60950) or rail (EN50155) standards.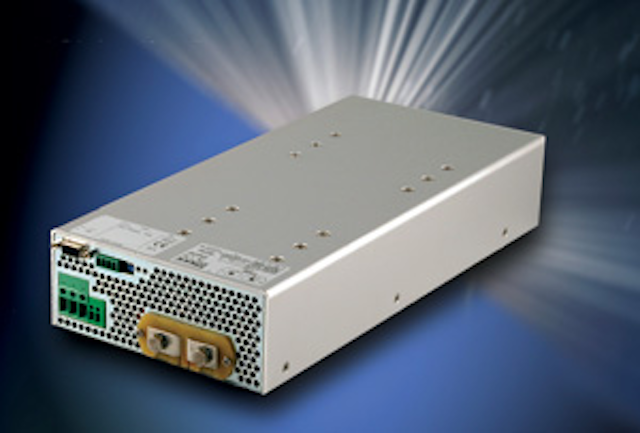 Standard input voltages of 12 Vdc, 24 Vdc, 48 Vdc, 72 Vdc and 110 Vdc are inverted to adjustable 120 Vac or 23 Vac outputs that are regulated to 4 percent or better. Units can be configured for three-phase synchronization.
All models in the PRP-1500 Series feature overload protection and a light emitting diode (LED) indicator for output OK or alarm conditions. A wide operating temperature of -25C to +70C allows for installations in extreme conditions and meets EN50155, Class 3. Remote inhibit and remote off are standard in the PRP-1500 design. Efficiency ranges are from 86 to 90 percent.
Schaefer Inc.
CIRCLE 118 ON READER SERVICE CARD
---
Wooden Pole Testing and Inspection
Pole Inspection.US' pole testing device uses acoustic wave resonance in a fiber medium to test and inspect wooden poles. The nondestructive technology is based on the difference of time runs of acoustic waves in two mediums: through healthy wood fiber and through decay clusters inside the wooden pole.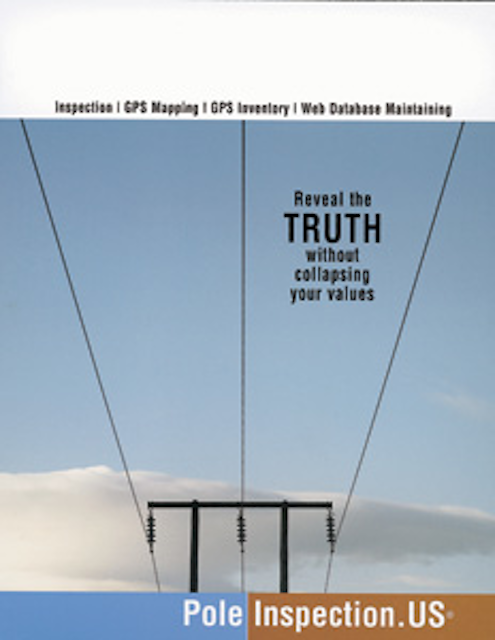 Once the sonic velocity is known in the decay medium, the size of the decay clusters can be calculated inside the pole base on the run times of the sonic waves through the pole. The longer it takes for the sonic wave to run back and forth through the pole, the more decay there is. According to a utility company's policies, Pole Inspection.US can apply chemicals on and inside the pole. The nonintrusive testing determines pole strength and if injection is needed.
Pole Inspection.US Div., TrandWorld Inc.
CIRCLE 117 ON READER SERVICE CARD
---
ToolMaster Series Fiberglass Commercial Cap Features Steel Toolboxes, Roof Rack
Truck cap manufacturer A.R.E. offers commercial customers a new fiberglass truck cap, the ToolMaster Series, which is available for all current model trucks. The ToolMaster Series is a rugged truck cap featuring heavy-duty doors; two steel toolboxes, each with a 120-pound weight capacity; and a commercial-grade Prime Design AluRack roof rack with a ladder rack roller. Side and rear doors with aluminum inserts for privacy and security also come standard on the ToolMaster Series.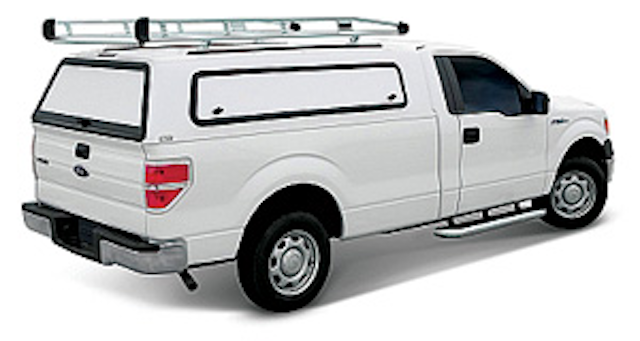 The ToolMaster Series is durable enough to stand up to the elements but also looks good when meeting with current and potential clients. Additional features, such as the over-the-cab AluRack, allow for easy material handling and removal on the job site.
A.R.E. also offers optional accessories for the ToolMaster Series, including Kargo Master bed mounted racks, BedSlide rolling drawer systems, AluRack locking ladder attachments, and interior lighting and carpeting.
The ToolMaster Series comes with a 3-year warranty on materials and workmanship.
A.R.E.
CIRCLE 119 ON READER SERVICE CARD
---
Tool-free D-Sub Connectors Simplify Field Termination
L-com Inc., a manufacturer of wired and wireless connectivity products, now carries a tool-free screwless version of its screw-down field termination connectors. The new connectors feature spring clamps instead of screws in the terminal block—allowing easy termination of wires to a D-Sub connector in the field.
D-Sub connectors can be difficult to terminate, it's reported, and this new lineup will simplify and speed up the process of field terminating D-Subs.
The new connectors are available in DB9, DB15, DB25 and HD15 versions. In addition, all are panel-mountable for thicknesses of up to 0.062 inch.
L-com Inc.
CIRCLE 120 ON READER SERVICE CARD
---
Hand Tool Line Expanded with Pliers, Snips, Cross-linked Polyethylene Cutting
Following the launch of its hand tool business in 2010, Milwaukee Tool continues to expand its tool line with the launch of several new products: pliers, snips and cross-linked polyethylene (PEX) cutting. Features will be incorporated into each hand tool to provide application specific solutions.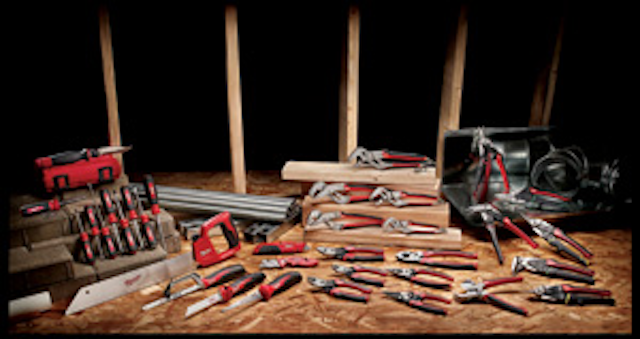 The hand tools include quick adjust reaming pliers, tongue and groove pliers, aviation snips and a PEX/tubing cutter. In addition, Milwaukee offers a line of six-in-one tools that will reduce the number of hand tools needed to complete common applications such as reaming pipe, cutting nails, pulling wire, cutting bolts and more. The six-in-one tools will be offered as lineman's pliers, diagonal cutting pliers, combination wire pliers and long nose pliers.
Backed by Milwaukee's limited lifetime warranty, each new product is drop forged, machined for maximum precision and treated to resist rust. Durable over-molded grips add comfort and last longer than traditional rubber dipped handles.
Milwaukee Electric Tool Corp.
CIRCLE 121 ON READER SERVICE CARD
---
Wheeled Hazardous Area Light Cart
Larson Electronics' Magnalight.com has announced the release of its wheeled light cart, designed to provide powerful lighting for hazardous locations on a mobile and easily deployed platform. Carrying two 400-watt metal halide lamps and approved for Class 1, Division 2 hazardous locations, the HAL-2X400C wheeled light cart illuminates up to 50,000 square feet of workspace.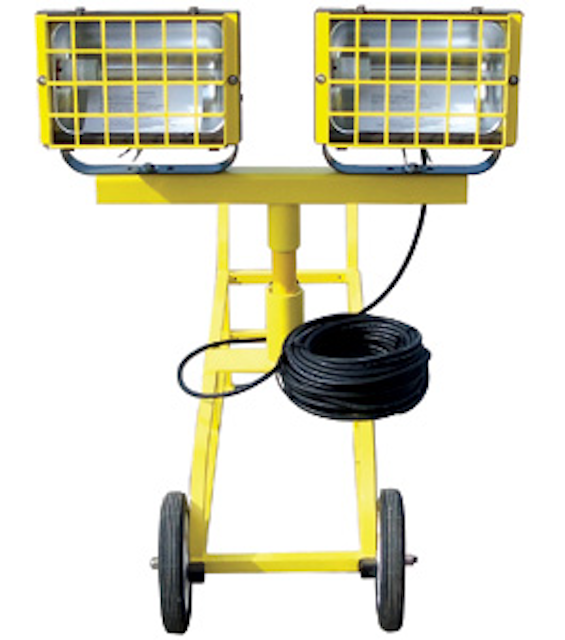 Featuring rugged aluminum and stainless steel construction, an SOOW explosion-proof cord and solid rubber tires, this unit is designed to provide durable, reliable and safe illumination that can be easily moved to the desired area by one person. The two 400-watt metal halide lamps on the unit produce a combined total of 72,000 lumens and are mounted to the cart via an adjustable and removable mounting bracket.
In addition, the weatherproof metal halide lamp housings are constructed of powder-coated aluminum with stainless steel hardware for durability and corrosion resistance.
Larson Electronics, Magnalight
CIRCLE 122 ON READER SERVICE CARD
---
Automatic Tire Chain Kit for International Terrastar
Onspot Automatic Tire Chains announces the release of its automatic tire chain kit for the new International Terrastar with air suspension. A kit is also available for the Terrastar with spring suspension.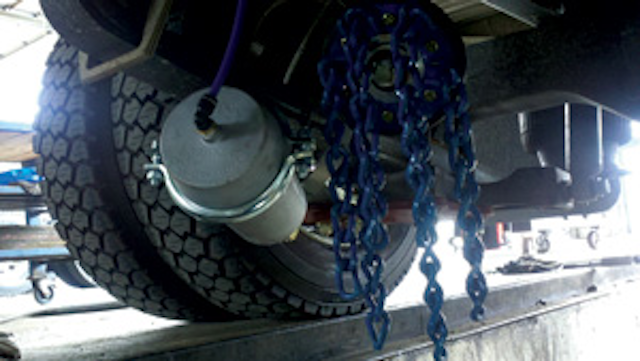 The company's tire chains offer the traction of a single set of conventional snow chains at the flip of a switch, without having to stop the vehicle. An electric switch mounted in the cab provides 12 volts to an air solenoid mounted on the vehicle's frame rail. Compressed air to the solenoid is supplied from either the vehicle's onboard air system or a 12-volt compressed air kit.
When the dashboard switch is activated the solenoid opens, allowing compressed air to enter the air chamber and lower the chainwheel so it contacts the inside of the tire. The friction between the tire and the rubber-covered chainwheel causes the chainwheel to rotate, creating enough centrifugal force to flail the chains out in front of the tire.
Onspot Automatic Tire Chains
CIRCLE 123 ON READER SERVICE CARD
---
V30 Nemesis Protective Eyewear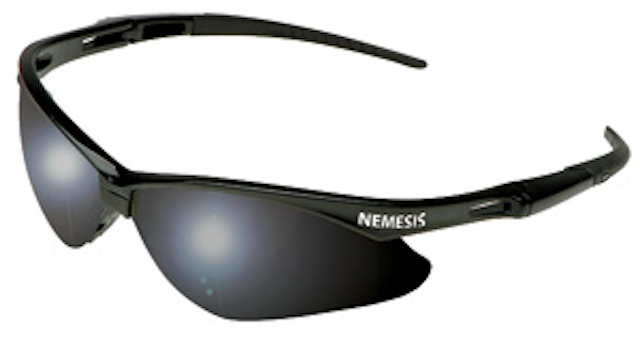 The Jackson Safety brand V30 Nemesis Protective Eyewear features a sleek, sporty and flexible lightweight design with soft touch temples for added comfort. Jackson Safety brand V30 Nemesis Protective Eyewear is scratch-resistant with polycarbonate lenses. The product also meets the American National Standards Institute (ANSI) Z87.1 2010 standard.
Jackson Safety
CIRCLE 124 ON READER SERVICE CARD
---
Compact Current to Analog Converters
Automation Systems Interconnect Inc. (ASI) offers a complete new line of compact current to analog converters—0.99 inches wide and available with 0 to 1 amps up to 0 to 10 amps. Because three different common analog outputs are available, these modules will work in nearly any control application where current to analog signal conversion is required.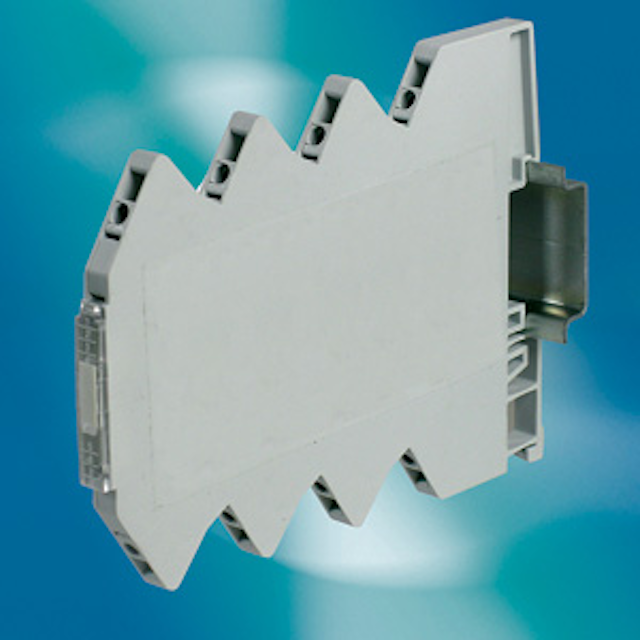 Current to analog converters allow the user to monitor the flow of current in a circuit, indicating the circuit is operating and the load is connected and active. Through the use of a Hall effect sensor, both ac and dc currents can be measured.
Automation Systems Interconnect Inc. (ASI)
CIRCLE 125 ON READER SERVICE CARD
---
AFL SimpleView Enables Optical Fiber and Connector Inspection
AFL is launching AFL SimpleView software for optical fiber and connector inspection. Fiber endface contamination is widely recognized as a key cause of network performance issues, outages and resulting in costly truck rolls. AFL SimpleView permits technicians to use existing field-issued laptops as a fiber inspection system by simply plugging in a NOYES DFS1 FiberScope.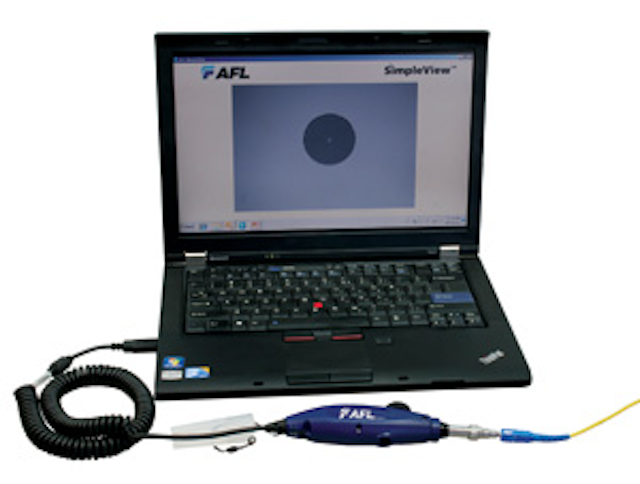 The AFL SimpleView application enables installers and activation crews to view high-resolution endface images and quickly determine if cleaning is required. Documenting the as-built or as-found condition of network connections is now practical, quick and easy, it's reported.
AFL SimpleView software is compatible with Windows XP and Windows 7 operating systems and requires a single USB 1.1 port.
AFL
CIRCLE 126 ON READER SERVICE CARD
---
Global Positioning System Fleet Tracking Dashboard Interface
GPS Insight, a provider of global positioning system (GPS) tracking solutions for commercial and government fleets, has announced the release of its powerful and configurable, yet simple, new GPS fleet tracking dashboard interface. The dashboard has an entirely new look and feel. Several system tabs can be customized to the user's exact preference, and additional custom tabs can be configured and saved by all users. By using the new GPS Insight interface, fleet managers, dispatchers and supervisors are better able to perform all necessary fleet management functions.
GPS Insight introduces tabs along the top of the dashboard so, with one-click, each saved layout can be retrieved—providing a customized dashboard with the information that particular user needs. The new GPS tracking interface also includes a few initial standard layouts for typical areas: mapping, reports, administration and custom.
GPS Insight's interface is now easier to drag, drop and configure the exact functionality a user requires from a list of available dashlets, grouped into major categories. Over 25 dashlets are available, ranging from vehicle lists and maps to graphs, routing tools, Garmin dispatch and alert monitors. Many custom dashlets have already been created for customers and GPS Insight's architecture has helped them modify or create new dashlets in as little as 4 hours to one week.
GPS Insight
CIRCLE 127 ON READER SERVICE CARD
---
Thermal Transfer Product Identification, Bar Code Label Printers
Tharo Systems' H-400/H-600 Series thermal transfer product identification and bar code label printers, available in 203 or 300 dots per inch (DPI), feature durable, all metal construction with a cast aluminum center wall for added strength. The large media window allows for easy viewing and monitoring of supplies.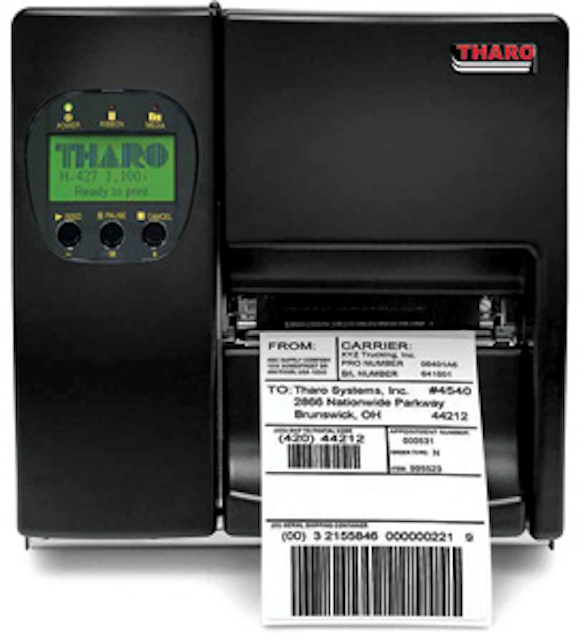 Standard features include a high-speed universal serial bus (USB) 2.0 interface for fast data transfer and a real-time clock for time and date stamping of labels. The standard stripper sensor on the H-400 Series can be used for either strip-and-peel or tear-off applications. The H-600 Series come standard with an Ethernet adapter (wired). Along with these standard features, the Tharo H-Series printers also ship with a free version of Tharo Systems' EASYLABEL Start software for custom designing and printing labels. Options include: cutter, internal rewind, Ethernet adapter (H-400 Series) and applicator interface.
In addition, no personal computer (PC) is necessary—download label formats to the printer's flash memory, unplug the printer from the PC, plug in a standard PC keyboard, take the printer to another location and start printing.
Tharo Systems Inc.
CIRCLE 128 ON READER SERVICE CARD
---
DrumQuik PRO Dispensing System is Easy to Use
The Environmental Protection Agency has mandated that manufacturers of diesel-engine powered vehicles reduce nitrogen oxide (NOx) emission levels. Many manufacturers turned to selective catalytic reduction (SCR) as a method for achieving the mandated targets, and urea-based diesel exhaust fluid (DEF) is the key ingredient of this process. A closed DEF-dispensing system helps maintain DEF integrity by eliminating the need to install, remove or clean a dip-tube.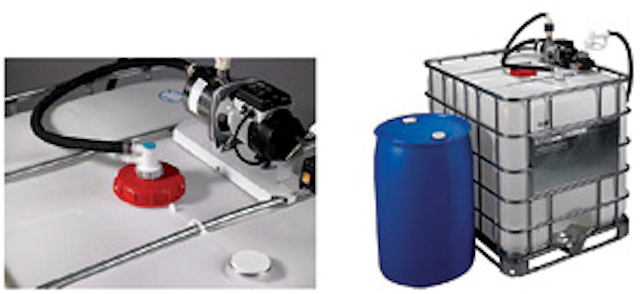 With the DrumQuik PRO dispensing system from Colder Products Co., the dip-tube is installed by the chemical packager and travels with the DEF container. Upon arrival at the station or filling site, the rugged dispensing coupler can easily be connected by the user. The easy-to-use, closed-system design combines a recyclable bung closure and dip-tube with a reusable quick disconnect coupler into one integrated unit, ensuring both sides are sealed from point of origin to point of use.
Colder Products Co.
CIRCLE 129 ON READER SERVICE CARD
---
Protective Coating Features Hard, High-gloss Finish
A self-priming, high gloss, high solids, hard and durable coating for utility meters, valves, and commercial and industrial equipment is available from Dampney Co. Inc.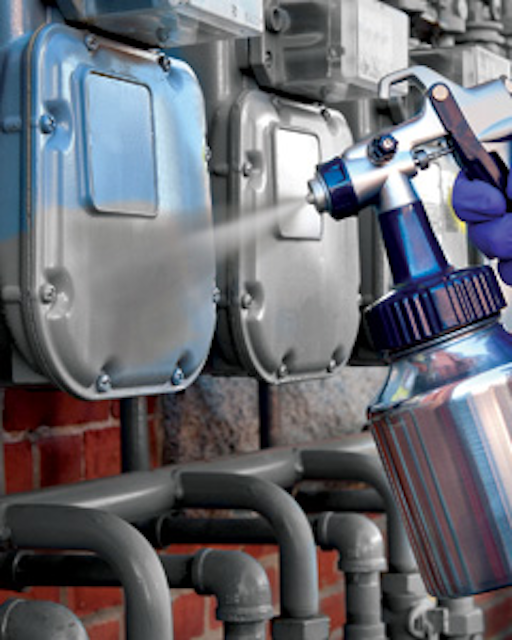 Dampney Endcor 8898 Silicone-Alkyd Copolymer Self-Priming Coating is a high performance, high solids, hard coating for use on cast iron and steel surfaces requiring high gloss, color retention and weather resistance. Formulated to resist ultraviolet (UV), chalking, fading, moisture and salt spray, this durable coating is volatile organic compounds (VOC) compliant and can be applied over solvent cleaned surfaces using conventional airless spray or brush.
Approved by major utilities for electric and water meters, as well as valve maintenance and manufacturing, Dampney Endcor 8898 Silicone-Alkyd Copolymer Self-Priming Coating is offered in standard black and gray colors, with custom colors and gloss levels available on request. This single component coating is 60 percent solids by volume and resists 300F continuous exposure.
Dampney Endcor 8898 Silicone-Alkyd Copolymer Self-Priming Coating is available in gallon containers.
Dampney Co. Inc.
CIRCLE 130 ON READER SERVICE CARD
---
Hydraulic Fluid is Readily Biodegradable, Non-toxic
Terresolve Technologies has launched EnviroLogic 115, an International Organization for Standardization (ISO) 15 grade, readily biodegradable hydraulic fluid that is based on biodegradable, low-temperature base oil technologies and is a direct replacement for synthetic-based arctic hydraulic fluids. EnviroLogic 115 withstands an extremely broad range of temperatures in excess of 200F and in cold temperature to -60F.
EnviroLogic 115 is non-conductive and designed for use in equipment that might be operating near high voltage, providing safety to the machinery and its crew members. The fluid also offers high anti-wear performance, very good water separation, high corrosion and rust protection, as well as low foaming and air release characteristics. EnviroLogic 115 will meet or exceed the performance of conventional hydraulic fluids and meets the requirements of all major pump and equipment manufacturers.
This fluid is for extreme temperatures, and, because of its non-conductive properties, EnviroLogic 115 is well-suited for lift trucks and equipment carriers utilizing piloted controls.
If spilled or leaked during use, it will break down within 28 days into the safe, natural components of carbon dioxide and water. This protects delicate environments from incurring lasting damage and lowers the risk a company will be exposed to environmental fines and cleanup costs associated with the spill.
Terresolve Technologies
CIRCLE 131 ON READER SERVICE CARD
---
Aerial Work Platform Features 140-foot Platform Working Height and 7-ton Lifting Capacity
Elliott Equipment Company's new L140 HiReach is a long-boom aerial work platform solution with a 140-foot working height, 14,000-lb. lift capacity with winch two-parted, and a self-leveling and hydraulically rotating platform.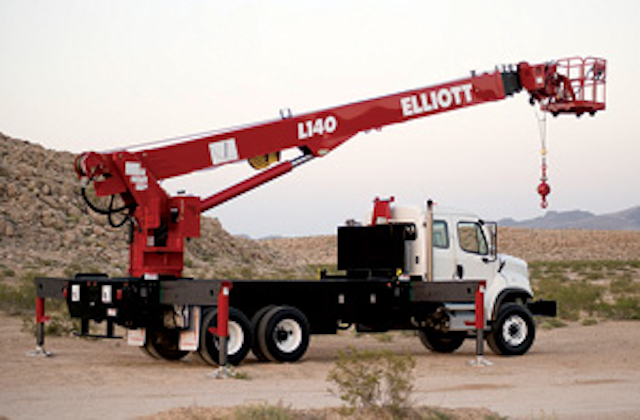 The L140 is designed for access applications that demand heavy lifting and platform stability at working heights up to 140 feet.
The 600-lb. capacity, 30- x 54-inch steel work platform features a rechargeable battery and hydraulic pump system that provides platform leveling and 90-degree rotation. The entire rotation and leveling system is stored in protected boxes on the boom tip, eliminating the need for cables and hosing alongside the boom. By eliminating external cable carriers, the L140's design eliminates hundreds of moving parts and reduces the chance for snags on tree branches or other obstacles during operation. It also cuts down on weight by eliminating hundreds of feet of hydraulic hoses and electrical wires.
Elliott Equipment Co.
CIRCLE 132 ON READER SERVICE CARD
---
Roller Conductor Lifters Give Line Crews More Flexibility
Diversified Products introduces two roller conductor lifters, offering power line and electric utility crews more flexibility when moving and supporting energized lines. The roller conductor lifters allow for safer work while optimizing the utilization of equipment and personnel on the job.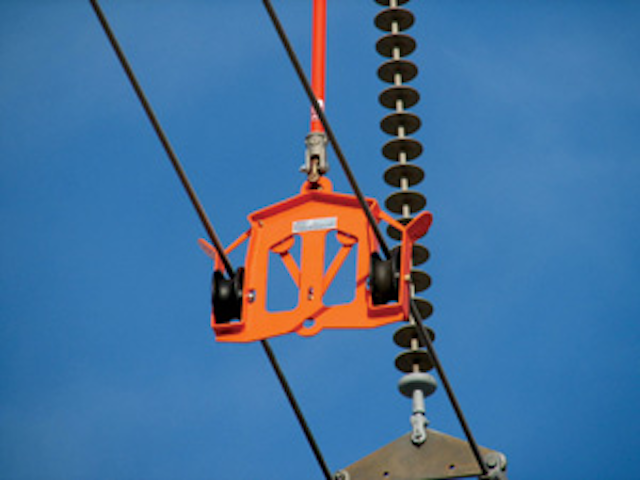 Constructed of high strength steel, yet still lightweight, each roller conductor lifter is designed for use in conjunction with an insulated link supported by the same crane or derrick being used to hold other conductors. This helps increase efficiency by freeing up bucket trucks or other equipment for different functions. The rolling support allows more freedom of movement for an energized conductor, preventing conductor damage often caused when holding lines with abrasive hooks.
Both single and dual roller conductor lifters are available. The single lifter weighs 15 pounds and has a lift capacity of 2,000 pounds. The dual lifter weighs 40 pounds and has a working load of 4,000 pounds, while spacing the two conductors either 16 or 18 inches apart. Each lifter supports a maximum cable diameter of 1.5 inches.
Diversified Products
CIRCLE 134 ON READER SERVICE CARD
---
NEMA Offers Guidelines for Handling Water-damaged Electrical Equipment
The National Electrical Manufacturers Association (NEMA) offers complimentary copies of Guidelines for Handling Water-damaged Electrical Equipment to electrical distributors, contractors, inspectors and residents in water-damaged regions.
The document is for suppliers, installers, inspectors and users of electrical products. It provides advice on the safe handling of electrical equipment that has been exposed to water and outlines which items will require complete replacement or can be reconditioned by a trained professional.
Covered are: electrical distribution equipment; motor circuits; power equipment; transformers; wire; cable and flexible cords; wiring devices; ground-fault circuit interrupters (GFCIs) and surge protectors; lighting fixtures and ballasts; motors; electronic products including signaling, protection, communication systems and industrial controls; and cable trays.
National Electrical Manufacturers Association (NEMA)
CIRCLE 133 ON READER SERVICE CARD
---
RT3 Series Dual-axis Retracting Lanyards Offer Infinite Accessibility
Accidentally dropping or misplacing an expensive hand-held instrument or tool, particularly when working aloft, is a costly and potentially dangerous event that can easily be avoided. Gear Keeper's RT3 series of instrument and tool lanyards offer benefits of safety, productivity and comfort for workers. When the instrument is stored, held or used with a Gear Keeper RT3 retractable tether, the dangers of entanglement, fatigue and annoyance are minimized, and worker satisfaction and output are maximized.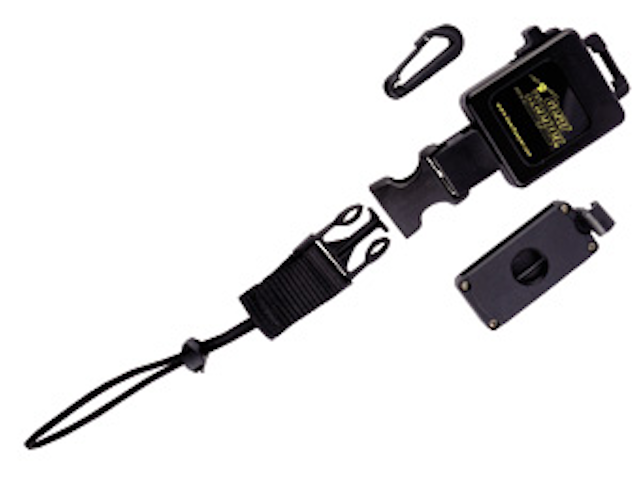 The new RT3 Gear Keeper instrument tethers are designed for operation in even the most volatile environments. The retractable tether mounts securely to the wearer's belt, providing a low-profile tethering system that avoids snags and snaps back securely every time. Featuring a 360-degree rotating clamp-on belt clip and a dual-axis rotation option with 180 degrees of swing-away from the body, the worker can enjoy ease of use in a virtually infinite variety of applications.
Gear Keeper
CIRCLE 135 ON READER SERVICE CARD
---
FG4X4 Truck Delivers Lower Cost of Ownership Under Worst Road Conditions
Mitsubishi Fuso Truck of America Inc. has introduced its new 2012 model FG4X4. This truck is a new design, with an advanced-technology powertrain, lightweight but high-strength frame, spacious and comfortable cab, and instrument panel with comprehensive digital display.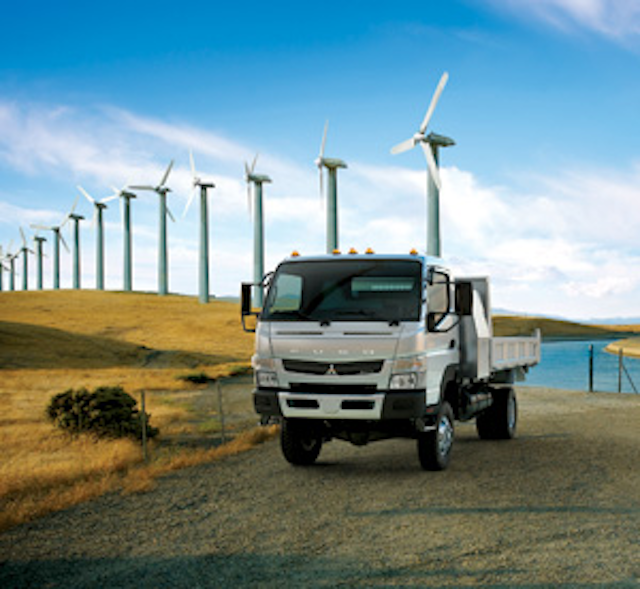 The new 4P10 engine, DUONIC transmission and BlueTec emissions treatment system combine to boost the 2012 FG4X4's horsepower by nearly 4 percent, compared to the previous FG model. At the same time, the lightweight frame and weight reduction strategies have allowed an upgrade from the previously used five-speed manual transmission to the new DUONIC six-speed dual-clutch transmission, while actually reducing curb weight.
The combination of the transfer case, front locking hubs and standard DUONIC transmission give the Canter FG4X4 the on-road economy of two-wheel drive plus the versatility of four-wheel drive when the front hubs are manually locked. With this drivetrain, the 4P10 (3.0L) dual-overhead-cam, dual-turbocharged, intercooled four-cylinder diesel engine generates 161 hp and 295 lb.-ft. of torque.
Mitsubishi Fuso Truck of America Inc.
CIRCLE 137 ON READER SERVICE CARD
---
HDV600 High-definition Videoscope Inspection Cameras
Extech Instruments announces the new Extech HDV600 series of high definition videoscope inspection cameras. These rugged, waterproof and drop-proof industrial videoscopes deliver images and video with sharpness and clarity—regardless of jobsite conditions.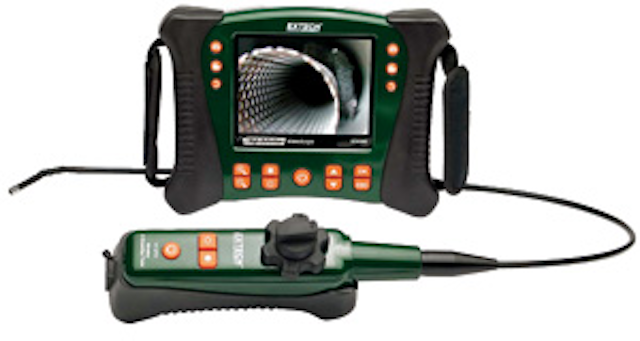 The HDV600 main display unit's large 5.7-inch liquid crystal display (LCD) monitor, with 640 x 480 resolution, is easy to view in outdoor sites and poorly lit spaces. Secure Digital (SD) memory capacity includes 15,000-image/4-hour video capacity, and audio annotations help eliminate manual note taking.
No two jobs are alike, and Extech meets this challenge with both macro and long depth of field camera tips in diameters ranging from 4-6mm. Macro optics are very good for up-close inspections, while long depth of field optics are suited for viewing larger or longer concealed areas. In addition, 10m and 30m long fiberglass cables feature 25mm optics. All HDV600 camera tips are equipped with adjustable light emitting diode (LED) lighting.
Users can select from a number of semi-rigid, flexible and long-length-fiberglass scopes that connect to the display unit.
Extech Instruments
CIRCLE 136 ON READER SERVICE CARD
---
Hi-Ranger NT35 and NT38 Telescopic Articulating Aerial Devices
Terex Utilities expands its equipment lineup with the addition of the Hi-Ranger NT35 and NT38 non-insulated, telescopic articulating aerial devices. These non-overcenter Hi-Ranger aerial devices are designed for the needs of the telecommunications and CATV markets and provide fully proportional, electric-over-hydraulic platform controls that allow for smooth, multi-functional operation. Both the NT35 and the NT38 are available in end mount or side mount.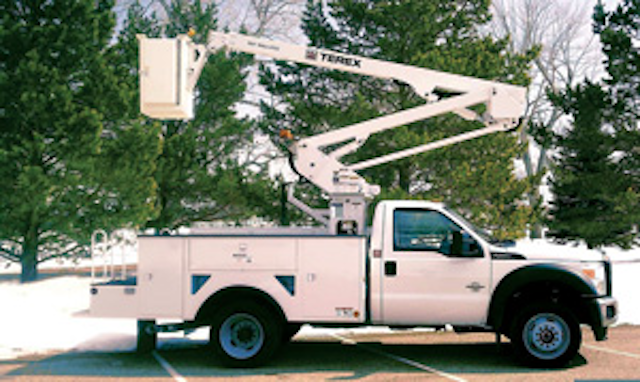 On side mount units, the NT35 has a working height of up to 39.5 feet, a horizontal reach of 24.5 feet and a bottom of platform height of 34.5 feet. On end mount units, the NT38 offers a working height of up to 40.0 feet, a horizontal reach of 26.8 feet and a bottom of platform height of 35.0 feet.
The NT38 offers working heights of up to 42.5 feet, a horizontal reach of up to 24.1 feet and a 37.5-foot bottom of platform height on side mount models. The NT38 end-mount unit provides operators with working heights of up to 43.0 feet and a horizontal reach of up to 26.3 feet.
Terex Utilities
CIRCLE 138 ON READER SERVICE CARD
More Utility Products Current Issue Articles
More Utility Products Archives Issue Articles