By John Ficcadenti
Whether it's new installations, routine maintenance, system upgrades or emergency repairs, field technicians bear the burden of delivering timely, functional service for telecom and cable companies, electrical, gas and other utility providers. Perimeter and mechanical security products in and around facilities, substations, vehicles, telecom and cable boxes, utility meters and more play a crucial role in enabling them to get the job done right.
In spite of ongoing service provider investment in padlocks and related security products, many sites remain vulnerable because of inadequate devices that have been in place for years—or even decades. That is where the problem often resides.
Maintaining the status quo with an entrenched system poses even greater risks, not only from locks that lack improved technology, but also by "enemies from within" from disgruntled or past employees and outsiders. While today's economy could encourage companies to defer upgrading, tight times and cutbacks also increase the potential for break-ins, thievery, vandalism and service disruptions.
Simplicity and Affordability vs. Security?
The good news is that many recent, higher security products are less expensive than a person might think and could provide less costly solutions than those now used.
Securing network-wide sites involves the locks chosen and how the technician controls and administers the program. The simpler the better is the rule for both technician entry and the ability to keep tabs on multiple locations and crews. There are basically two mechanical locking device options: key-operated or combination padlocks.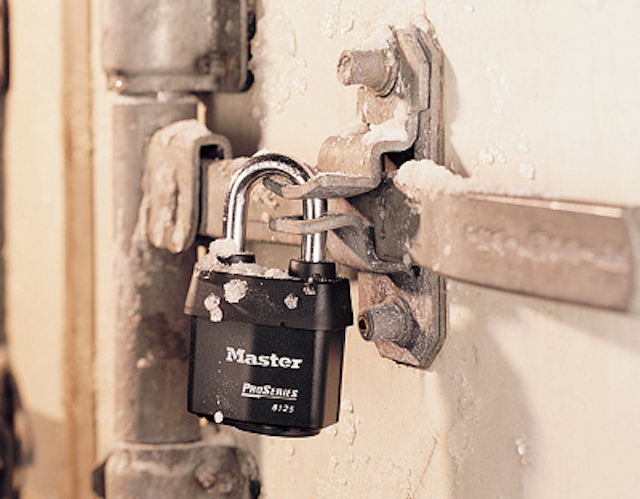 Primary features for locks in harsh outdoor conditions include weather covers to defend against moisture, freezing, dust, dirt and grime. This padlock's heavy steel body withstands physical attack, and its large, 3/8-inch diameter hardened boron alloy shackle discourages cutting.
Key-operated, solid body brass padlocks, to cite one example, are a favorite among many service providers because of brass' resistance to rust, corrosion and other harsh conditions. Keyed-alike systems offer flexibility in sending crews wherever they're needed. Technicians from various facilities often have locks keyed differently for their sites, and master key systems enable access anywhere by supervisors.
Over time, however, misplaced or stolen keys, coupled with employee turnover, create the potential for unauthorized entry at any time, from many sources.
Key Control: Critical Component in More Affordable, Enhanced Keyed Security Systems
The most sophisticated, expensive, high-security locks won't solve the problem as effectively or economically as a key control system that prevents key duplication by employees. All systems are not created equal.
While some lock makers provide restricted keyways, others offer greater flexibility as well as control from patented systems with a locking feature for creating numerous, one-of-a-kind, virtual keyways. This enables an exclusive range of cut keys from protected proprietary key blanks to be reserved for each installation and guarantees that all operating keys will be unique to the operation, with key blanks available only at authorized dealers. A key charting service included with some systems keeps track of site devices and makes updating effortless.
An advanced key control system allows the use of less expensive, enhanced-security locks—$20 to $40 types, for instance—compared to devices costing up to $100 or more. Network-wide savings could make such a system a very affordable and enhanced security option.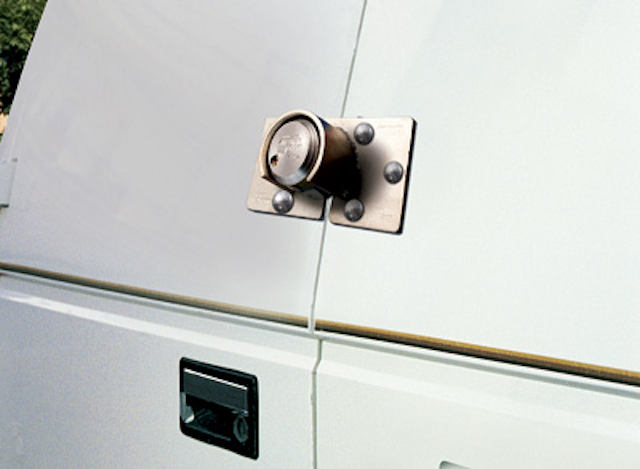 There will be no entry from prying or cutting when fleet vehicles are equipped with hidden shackle padlock-plus-hasp protection. Convenient, front access keyway is protected with an anti-drill plate. The lock's hardened steel body and a 3/8-inch diameter boron alloy shackle further strengthen security.
A lock's main job is security and keeping intruders out. But, when technicians arrive, they must be able to open it. A utility supervisor, noting that padlocks at some locations hadn't been touched in 3 to 5 years, said: "We don't need an operator going out and not being able to open a lock."
That's why, at a multitude of sites, weather-covered padlocks are a technician's best friend. Covers keep out moisture as well as dust, grit and grime that can make locks difficult to open or inoperable. Look for locks with shackle seals and keyway covers for added protection. While solid body brass padlocks stand up to caustic, corrosive and salty environments—even more so with stainless steel—these locks benefit from weather covers to protect the inner mechanisms.
For resisting intruders, solid body locks—brass, steel or stainless steel—have an edge against physical attacks. Higher security models usually have larger shackle diameters—some more than 1/2 inch. Hardened steel or stainless steel increases resistance to cutting; hardened boron alloy shackles are even better. Some manufacturers offer locks with an iron shroud that prevents shackle access by any cutting tool.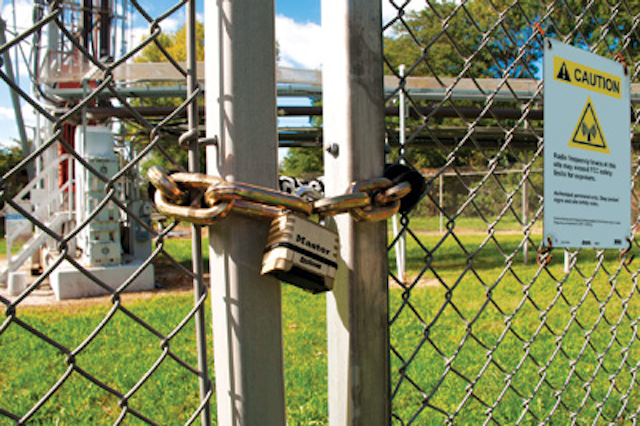 Resettable combination padlocks—that technicians can operate while wearing gloves, in dim light or at night, and can be reset without a reset tool—are gaining converts among utility users. Solid brass bodies resist corrosion; shackle seals and dust covers fend off moisture, dirt and grime; and octagonal boron-carbide shackles in some models and shackle sizes up to 3/8-inch diameter deter bolt cutters.
Also compare locking mechanisms—dual-ball types resist pulling and prying. Although additional lock cylinders expand keying options and can make it more difficult for would-be intruders, a high-security, five-pin cylinder with spool pins is impossible to pick.
To prevent break-ins that leave no sign of forced entry, look for protection from lock bumping. While many locks make bump protection claims, insist on technology that meets American Society for Testing and Materials (ASTM) Standard F883-09, Grade Level 6 requirements—and nothing less.
Newer Combination Locks Offer Advanced Security Features, Greater Operating Ease
Telecom, cable and other providers that prefer changing a combination to dealing with lost-key issues—or retrieving them when employees leave—have warmly welcomed the advent of newer, resettable padlocks that provide higher security features.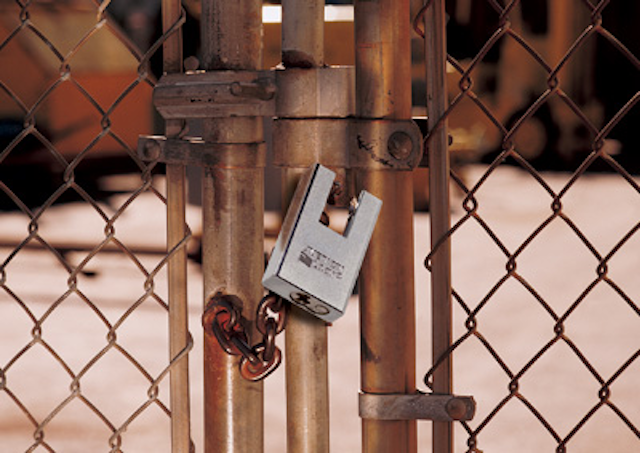 Bolt cutters never had it so tough because of the shackle-protecting, solid steel shroud on this padlock. The shackle itself—3/8-inch diameter, hardened boron alloy—makes cutting even more difficult. The sturdy, solid steel body withstands physical attack and is available with five-pin and six-pin cylinders for increased pick resistance.
Stainless steel and brass body resettables, for example, offer high resistance to physical attacks as well as harsh environmental conditions. Look for models with dust covers and shackle seals to keep dust and grit out. Some locks, which have octagonal, boron-carbide shackles that are twice as hard to cut as hardened steel types, also have a dead-locking mechanism that staves off pry, shim and rap attacks.
Field technicians like large, ergonomic dials with a "blind feature" on some locks, making them operable when wearing gloves, in low light or in the dark. In addition, look for locks that can be reset without a reset tool; several models are available that enable up to 10,000 different, four-digit combinations.
Custom-built, Keyway-matched Systems Allow Gradual, More Affordable Upgrades
Upgrading security can seem overwhelming when the network includes multiple sites, crews and diverse challenges. Here's where the lock manufacturer can provide budget-wise security know-how vs. simply selling locks.
Based on a company's request or a network vulnerability assessment, some manufacturers can custom build a site-specific system, incorporating various padlocks where they are most needed. Examples include: cutter-defying, iron-shrouded devices at selected sites; weather-covered locks in remote locations; solid body brass for the rest; and hidden-shackle locks for fleet vehicles. Remember key control; the right system can strengthen security and save significant dollars.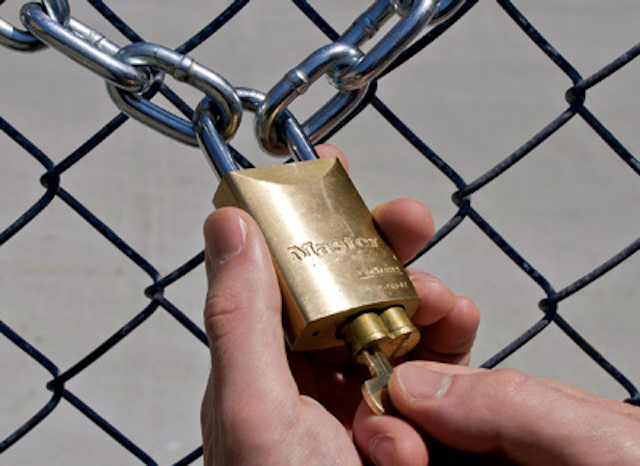 Key-operated, solid body brass padlocks, long a mainstay among utility service providers because of their rust and corrosion resistance, offer higher levels of security with features such as larger diameter, cut-resistant hardened boron alloy shackles—plus stainless steel, dual-ball locking mechanisms that combat pulling and prying. Achieve added convenience with a single key system for doors and padlocks with interchangeable cores (shown) or padlocks with key-in-knob cylinders.
See if the manufacturer will match the current key system if, like many organizations, there are hundreds of locks that use an alternative key system and the company wants to use the same keys for new locks. Most manufacturers, including Master Lock, can make padlocks to operate with other established key systems such as Wilson Bohannan, American Lock, Best Interchangeable Core and others.
Custom-building and key matching allow a company to gradually transition to higher, network-wide security, focusing on high crime areas first and then then introducing new products elsewhere. It can be done with no impact on technicians, other than making each site more secure and easier for them to access. All of which helps keep customers happy, too.
---
About the author: John Ficcadenti, senior product manager for Master Lock Co., is an industry veteran experienced in the development of security systems for telecom, cable, electrical and other service providers. He can be reached at jficcade@mlock.com.
More Utility Products Current Issue Articles
More Utility Products Archives Issue Articles