Vehicle Inspection and Repair Process Quickly Puts Trucks Back on Road
When the Department of Transportation moved to implement new, more stringent safety regulations last year, the trucking industry reacted with concern that trucks and thousands of drivers would be taken off the road for issues as minor as a burned-out light.
Jun 1st, 2011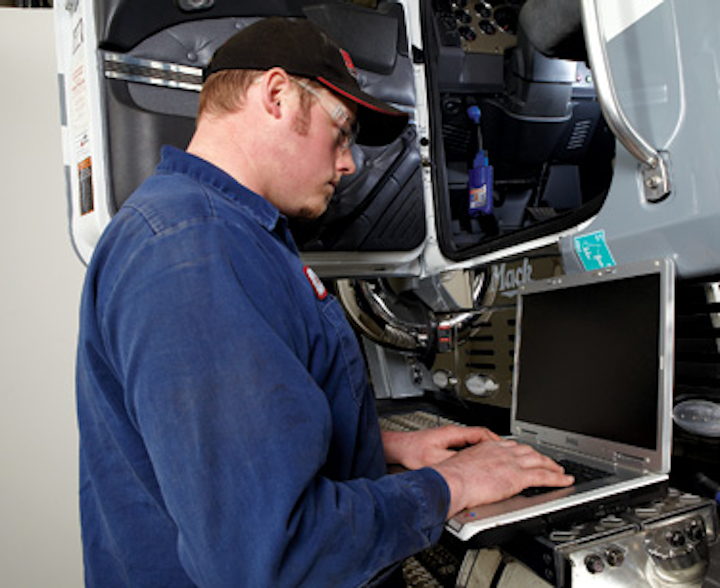 By Renaldo Adler
When the Department of Transportation moved to implement new, more stringent safety regulations last year, the trucking industry reacted with concern that trucks and thousands of drivers would be taken off the road for issues as minor as a burned-out light. Under the Federal Motor Carrier Safety Administration's (FMCSA's) Compliance, Safety, Accountability (CSA) program, both fleets and individual drivers are held responsible for monitoring equipment and reporting and addressing safety concerns.
For the utility industry the CSA program has ramifications on the movement of major supplies such as utility poles and cable rolls. Under rules spelled out by the FMCSA, vehicles with safety defects must be flagged and kept out of service until repairs are made. Drivers and their dispatch office must maintain records of each repair before a truck flagged as defective can return to the road. Failure to meet compliance standards—or delays in making repairs—can slow the delivery of essential goods or equipment, putting project timelines and budgets at risk.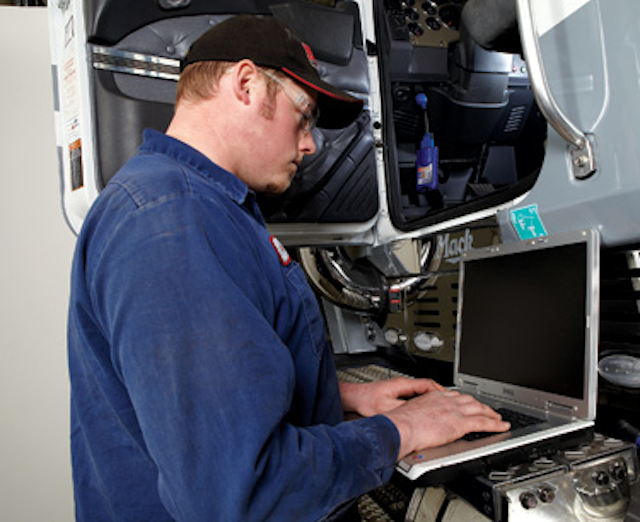 Leveraging TMT shop floor automation, the mechanic tracks labor, material and time in real time from a laptop or PC.
New record-keeping requirements for safety and repair activities imposed by CSA threaten to bog down fleets, creating a demand for systems that better integrate driver, dispatch and repair-shop communications. One solution is an integrated service from TMW Systems. With an industry-first collaboration, PeopleNet and TMW Systems have partnered to create a system that gives carriers extended capabilities to streamline the vehicle inspection and repair process, allowing trucks to get back on the road more quickly. The system also captures and allows carriers to analyze critical safety data, helping them identify issues before they become unmanageable. PeopleNet's Fleet Manager and TMT Fleet Maintenance software from TMW form the centralized, closed loop solution for electronic Driver Inspection Report (eDVIR) capability.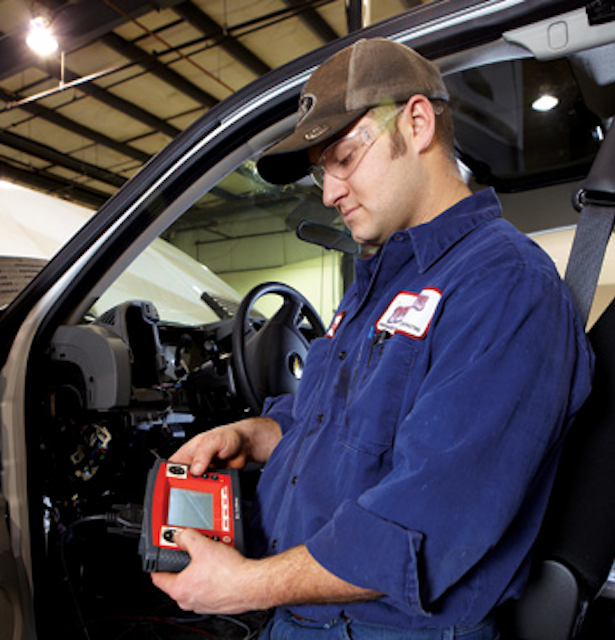 Mechanic engages in shop floor automation by working from mobile device. TMT Fleet Maintenance software is highly regarded for its real-time data collection feature.
Don Prater is maintenance director of Leavitt's Freight Service, an owner-operator trucking company based in Springfield, Ore., specializing in the transportation of extra-long wood poles and laminated beams. The company, established in 1958, provides transportation and self-unloading service of extra-long wood poles, and is a carrier of steel and engineered wood products.
"The company has benefitted from TMW Systems' integrative approach," Prater said. "In the shop, it works well for us. We schedule all our maintenance with it."
The software allows the company to easily, seamlessly track problems and schedule repairs—keeping Leavitt's Freight Service trucks on the road and at the job site.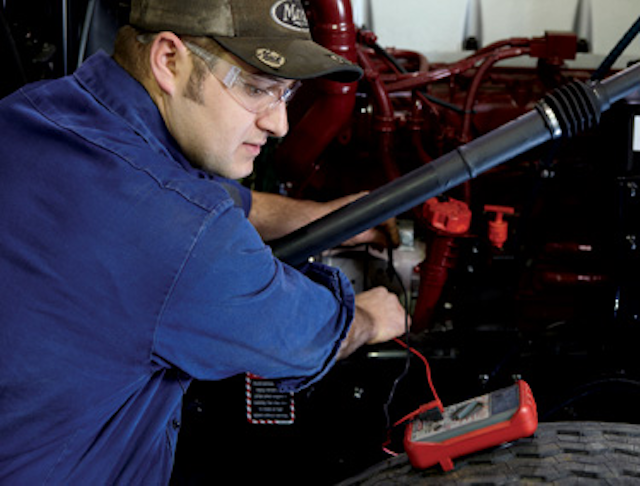 TMW Asset Maintenance software allows for shop floor automation working from a mobile device.
With the eDVIR program, drivers electronically fill out an inspection report of their vehicle through PeopleNet's Fleet Manager with system prompts to ensure they have completed the entire checklist required by CSA. TMT Fleet Maintenance software polls the PeopleNet message history and automatically creates a repair notice for the specific vehicle in the maintenance system when it detects a vehicle defect status in any eDVIR driver message. This automation eliminates the risk for miscommunication or lost paperwork regarding a repair requirement.
If there is a problem identified with a truck during a eDVIR inspection, fleet maintenance directors, such as Prater, are made aware of the situation almost immediately with a priority flag on safety-related repair orders that would otherwise sideline trucks. The system also prompts fleet mechanics regarding scheduled maintenance that is due. With no paperwork to shuffle, mechanics enjoy a more efficient process that's focused on getting and keeping trucks on the road, saving fleets and their customers time and money.
Under the CSA rules, drivers are required to sign off on any repair before a truck can return to service. TMT Fleet Maintenance sends messages through PeopleNet Fleet Manager to dispatch and the vehicle's scheduled driver, identifying the completed repairs and the responsible mechanic, alerting them when the truck repairs are finished.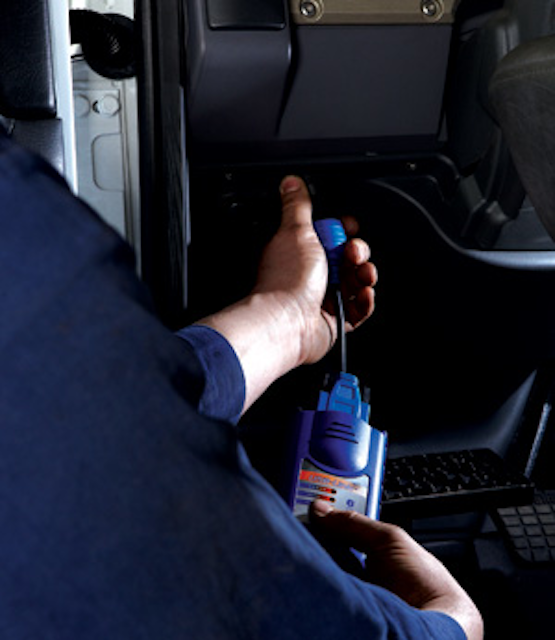 From diagnostics to scheduling to input of work performed, shop floor automation works in real-time from mobile devices.
For drivers and mechanics, the integrated system with PeopleNet and TMW maintenance software means trouble-free repair workflows with a greatly reduced risk for errors. Under CSA, drivers are required to keep a copy of all repair reports for 90 days in their cabs. The PeopleNet mobile communications system provides electronic versions accessible from the cab, and all completed eDVIRs as well as eDVIRS that did not require maintenance are stored for reference in TMT Fleet Maintenance. For carriers, the TMT Fleet Maintenance record system allows maintenance directors to more easily evaluate patterns of breakdown, maintenance or warranty problems. The integrated program streamlines the entire vehicle health monitoring process and keeps trucks in operation with essential supplies and materials for the utility industry as well as the rest of the domestic economy.
"For Leavitt's Freight Service, which has 107 tractors and 168 trailers, the incorporation of TMW Systems' front-office and repair-shop programs makes sense," Prater said. "Our experience is very good; it works because we're able to tie it into the maintenance side."
---
About the author: Renaldo Adler is TMW Systems' vice president of development.
More Utility Products Current Issue Articles
More Utility Products Archives Issue Articles