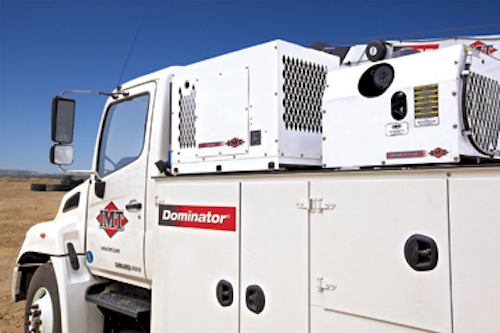 By Troy Johnson
Utility companies and municipal departments depend on their mechanics trucks for much more than fleet service. When equipped with a telescopic crane, air compressor and storage compartments, a mechanics truck becomes a multipurpose mobile workshop capable of handling everything from field maintenance to heavy lifting.
One issue with these versatile vehicles is that operation of the hydraulic-driven crane or air compressor using a power take-off (PTO) requires the truck's engine to run at idle—leading to excessive fuel usage and engine wear.
Iowa Mold Tooling Co. Inc. (IMT), a manufacturer and supplier of service vehicles, truck-mounted cranes and air compressors, recently introduced a solution that enables customers to give their mechanics truck engines a rest without sacrificing productivity—the 35DHP power pack.
The 35DHP power pack is a diesel-engine-driven auxiliary hydraulic power source that allows technicians to operate a hydraulic-powered crane or air compressor with the truck engine turned off—delivering significant fuel and maintenance savings while helping operators meet anti-idling laws.
"Because you're using the hydraulic equipment with the chassis engine turned off, you don't have to pay the price for idling," said Tim Worman, product manager of commercial vehicles for IMT. "The 35DHP power pack is less costly to fuel and maintain than the chassis engine, and reducing engine hours extends chassis life. So, the payback period is short. But, more importantly to the technicians, there's no drop-off in crane or compressor functionality."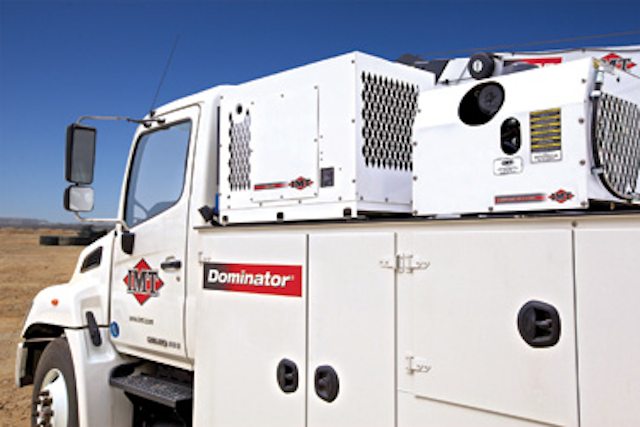 Gets the Job Done
The 35DHP power pack is designed to operate open-center hydraulic systems on a mechanics truck. It is capable of running a hydraulic-driven crane or hydraulic-driven air compressor, eliminating the need to set up and maintain a PTO.
The integrated unit features a 35-hp, Tier 4-compliant Kohler diesel engine and fixed-displacement hydraulic pump. The engine draws fuel from the auxiliary port on the chassis fuel system, making an additional fuel tank unnecessary. The unit also utilizes the truck's hydraulic reservoir, and, in order to maintain a flooded inlet for the pump, carries an integrated hydraulic reservoir.
The 35DHP power pack can operate most cranes and air compressors independently. The only exceptions are large rotary screw compressors with higher flow requirements.
"Potential customers will like the fuel and maintenance savings and longer engine life, but ultimately they need the 35DHP power pack to perform," Worman said. "With available hydraulic flow up to 10 gpm at 3,000 psi, the unit can run the most common applications with ease."
Fully Compatible
While the 35DHP power pack is a very good accessory to IMT's Dominator mechanic truck series, the unit can be specified for any new mechanics truck or retrofitted to any existing one, regardless of the make or manufacturer.
Environmental Upsides
In the process of reducing fuel and maintenance costs and truck engine hours, the 35DHP power pack decreases emissions and helps customers comply with strict anti-idling regulations being implemented throughout the country.
The 35-hp diesel engine meets Environmental Protection Agency Tier 4 emissions regulations.
"Anti-idling initiatives vary from state to state, but they are all intended to reduce pollution and protect health," Worman said. "The 35DHP power pack is designed to help operators comply with local anti-idling laws by eliminating the need to operate the chassis engine during service operations."
Operator Friendly
The 35DHP power pack does not get in the way of productivity—nor does it require significant operator training.
At 24 inches wide, 42 inches long and 30 inches tall, the compact, 550-pound 35DHP power pack can be mounted on top of the side pack rather than the load bed, providing additional room and payload.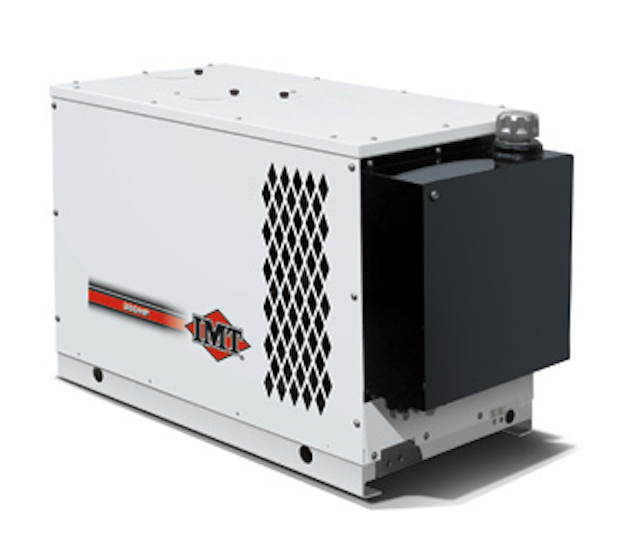 The 35DHP power pack is easy to operate. The unit is equipped with an electric start that provides remote start and stop capability; integrated into the crane's remote control handle, the electric start allows operation of the unit that is identical to the chassis engine. How the equipment is operated today, with speed control and remote engine start and stop, is identical with the new power pack.
"Mechanics trucks meet the field maintenance and lifting needs of utility companies and municipal departments," Worman said. "The 35DHP power pack is an accessory that can enhance the value of the truck by reducing fuel and maintenance costs and increasing chassis longevity while maintaining functionality and enabling compliance with tough anti-idling laws."
Besides providing benefits for the utility market, the 35DHP power pack meets customer needs in any industry that depends on mechanics trucks—including construction, mining, railroad and rental.
---
About Iowa Mold Tooling: Iowa Mold Tooling (IMT) Co. Inc., an Oshkosh Corp. company, is a manufacturer and supplier of service vehicles, cranes, hydraulic loaders and air compressors for tire, mining, construction, material handling and utility markets worldwide. For more information, visit www.imt.com.
---
About the author: Troy Johnson is a technical writer for Two Rivers Marketing, Des Moines, Iowa.
More Utility Products Current Issue Articles
More Utility Products Archives Issue Articles