Biodegradable Hydraulic Fluid Offers High Performance, is Environmentally Safe
Like most utility companies, Northeast Utilities (NEU) occasionally experienced petroleum hydraulic fluid spills from its equipment, which exposed the company to potential environmental fines and cleanup costs.
Jun 1st, 2011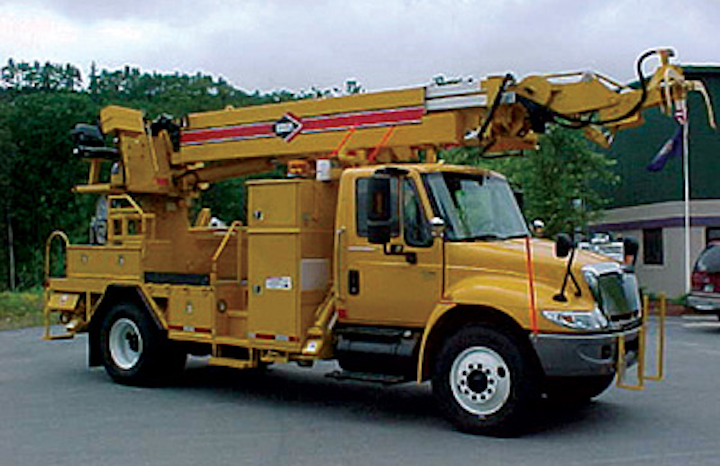 Like most utility companies, Northeast Utilities (NEU) occasionally experienced petroleum hydraulic fluid spills from its equipment, which exposed the company to potential environmental fines and cleanup costs. To protect its constituents and reduce environmental risk and costs to the company, NEU began looking for an environmentally safe alternative to petroleum.
In 2003, after an extensive search, the company and its truck fabricator, North American Equipment Upfitters (NAEU), began testing Terresolve's natural ester-based EnviroLogic 122. The company used this readily biodegradable, vegetable-based lubricant to directly replace the conventional petroleum-based hydraulic fluid it had previously used.
While NEU knew using readily biodegradable and biobased renewable lubricants were a better environmental choice, the company was skeptical of a biobased product's performance, especially in cold weather. Other biobased products on the market have proven unsuccessful, and although Terresolve biodegradable lubricants are greener than petroleum-based products, the question for the company remained: "If it doesn't work, who cares how safe it is?"
But, once tested, Terresolve's environmentally safe petroleum alternative proved its worth. EnviroLogic 122 was tested against and shown to meet all major equipment manufacturers' requirements. The fluid has consistently been used by NEU since January 2003 when the company's Connecticut Power and Light Torrington facility began a six-month field demonstration using the fluid in a material handler. At the end of the trial, NEU and NAEU determined the fluid performed well in the demonstration, and, today, the fluid is still in that truck and used throughout the fleet.
"Over the years, we've looked at several biodegradable hydraulic fluids and the EnviroLogic products are the only fluids we found that work," said Janet Dunican, president of NAEU. "After this trial and several years of excellent field performance, we have standardized with Terresolve and now use the company's products in all of our equipment."
The results showed the cold temperature performance of EnviroLogic 122 is almost exactly equivalent to that of conventional low-temperature fluids. (See Graph 1).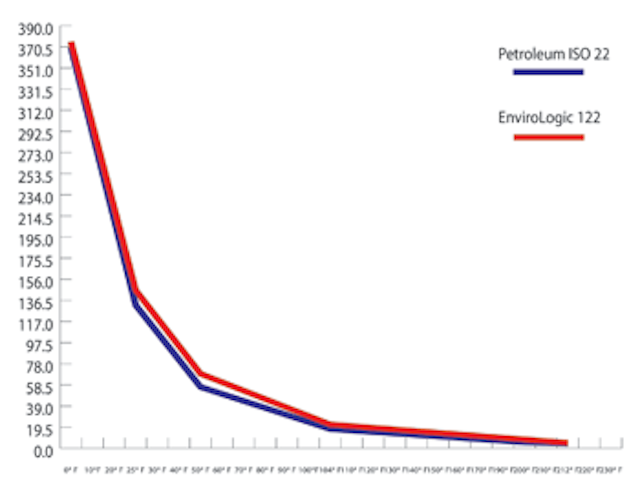 Because of the extremely high viscosity index—200 compared to 100 for petroleum—EnviroLogic 122 maintains its viscosity over a broad temperature range. During the six-month pilot project and to date, NEU found that Terresolve vegetable oils reduced friction and pump wear better than petroleum-based lubricants. Less friction means hydraulics run more efficiently and can increase equipment life. (See Graph 2). After more than 50,000 hours in the vehicle, the fluid is still within specification and is still protecting the truck.
Graph 2 shows the results of the oil analysis taken over periodic intervals during the past eight years. The oil analysis monitors the fluid performance, equipment performance and possible contamination. The fluid performance is determined by evaluating the viscosity at 40C and 100C. A major change in viscosity indicates potential break down.
The oil analysis also measures total acid number (TAN), which is the ability to neutralize acids and is a leading indicator of fluid breakdown. It also measures the level of several performance additives to determine useful life. Once the additives are depleted, the oil life is greatly reduced.
Equipment performance is measured by the level of wear metals in the oil, which can indicate severe friction, wear, rust or breakdown of bearings. Equipment response is primarily determined through operator use. Finally, contamination is determined by measuring dirt, water and extraneous chemicals. From Graph 2, it can be determined that the fluid is holding up well, protecting the equipment and that the operators are taking care of the fluids.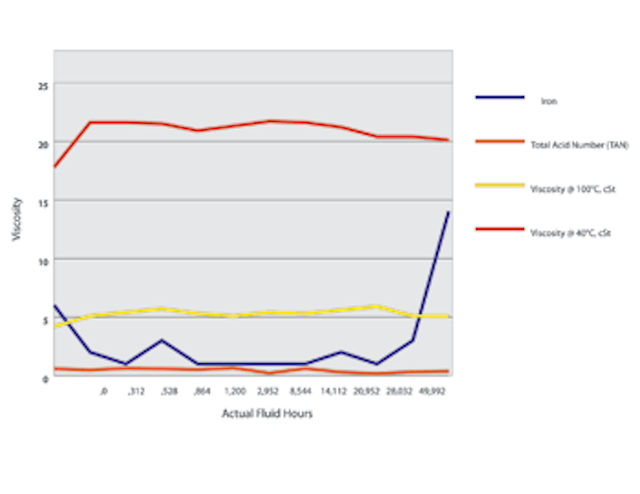 Aside from performance, another factor in choosing biobased products is cost. Although natural ester-based lubricants and fluids cost more than conventional petroleum products on a per gallon basis, the extra initial investment is small when compared to the cost of fines and clean up as well as time spent addressing the concerns of customers and environmentalists. But, even during difficult economic times, the costs alone should not be the driving force behind whether to use these products. Other factors must be considered, including that the cost of cleaning up a spill would far outweigh the cost of purchasing biobased products.
More importantly, Terresolve products do not trade equipment performance for environmental responsibility. After seeing strong results from its Terresolve product testing, Northeast Utilities expanded the use of the EnviroLogic fluids throughout its system. The company's fleet includes equipment by Altec, Time, National Crane, Deere, Terex, Hogg and Davis, and many others that are working efficiently with Terresolve products.
The environmental and performance benefits of Terresolve lubricants are very useful in environmentally sensitive areas where leaked petroleum would pose a significant threat to an area's natural beauty. It is estimated that in North America seven million barrels of hydraulic fluids are lost each year through equipment leaks into the environment; these spills have long been a concern to environmentalists and communities with petroleum-using companies.
Terresolve's products offer a win-win situation for Northeast Utilities and the customers and communities it serves, as well as environmentalists and the state government. Using environmentally preferable products in its equipment demonstrates the company's ecological stewardship while lowering costs and increasing efficiency for NEU.
---
About Terresolve: Terresolve products are made from renewable resources and meet the requirements of The Farm Security and Rural Investment Act of 2002 (the Farm Bill) federal drive toward environmentally preferable products. For more information on Terresolve's biodegradable lubricants and fluids, please visit www.terresolve.com.
---
About North American Equipment Upfitters: North American Equipment Upfitters (NAEU), established in 1999, is a 100 percent Woman-owned, Disadvantaged Business Enterprise. It is a final-stage manufacturer of truck-mounted aerials and offers a variety of products for telecommunication, power industry, contractors, tree care, government, fire and rescue, and cable companies. Please visit www.naeuinc.com.
More Utility Products Current Issue Articles
More Utility Products Archives Issue Articles