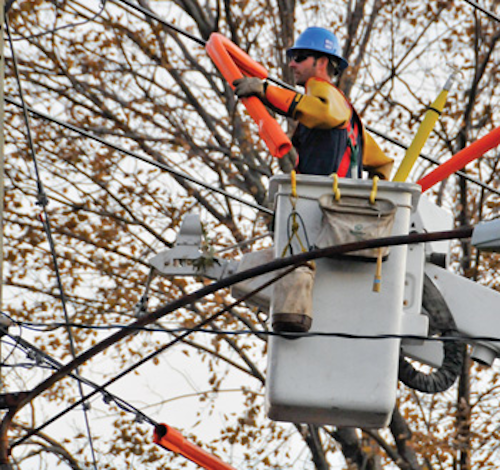 Four years ago, Macrosoft Inc., a New Jersey-based software design and development company, published a report based on an extensive survey of the unique challenges facing utilities when dealing with catastrophic power outages. The report, "Emergency Restoration Practices Followed by Utility Companies in North America, 2007 Edition," received an overwhelmingly positive response from all concerned including storm center management and utility industry media. Four years later, our world has undergone a virtual face-lift. An unpredictable economy, a desire for transparency across the board, and a Twitter-fueled media that makes instant gratification an understatement that presents the industry with unique, new challenges. Logic, therefore, dictates that we reexamine the strategies employed and methodology firms utilize in managing powerful storms and extensive outages. A 2011 report once again analyzes the results of a Macrosoft survey of almost 250 respondents.
According to the National Oceanic and Atmospheric Administration (NOAA) National Weather Service data, on a yearly average, the U.S. alone will be hit by 5-10 Nor'easters, 20-30 killer tornadoes and 13-17 "named" storms, half of which potentially will become major hurricanes attaining strength status of Category 3 or higher. Clearly, these weather events all threaten significant disruptions to everyday life and business continuity. The utilities' provision of uninterrupted electric service and high power quality represents a critical requirement mandated by the electric customer.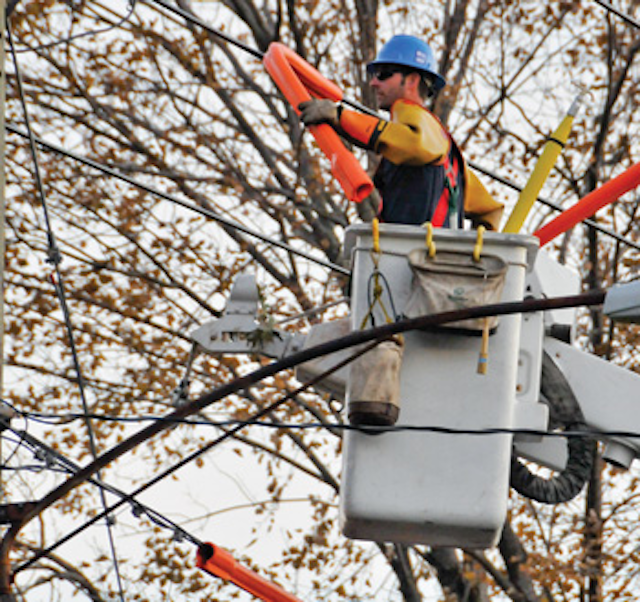 Photo courtesy of FEMA/Norman Lenburg
Fortunately, while this myriad of severe weather conditions challenges utilities to handle emergency situations and restore power in an expedient manner, the potential for effective service relief has been greatly improved by modern technology. Proper automation systems exponentially enhance efficiency factors such as preparedness, utilization of available resources, and the allocation of man-power and equipment. This emergency restoration survey identifies common challenges faced by utilities, best practices followed by these companies and the impact of technology in allowing utilities to achieve significantly higher levels of efficiency. The survey also encompasses a broader series of questions yielding new perspectives. Finally, this updated survey addresses the application of modern technology to utility restoration practices.
Nearly 250 people participated in the survey. Sixty percent of the respondents came from investor-owned utilities, 14 percent from municipals, 12 percent from cooperatives and 6 percent from government. An additional 8 percent were categorized as "other." Most respondents represent large companies that employ between 200 to more than 1,000 field personnel and serve a customer base that ranges from 100,000 to 3 million. In supporting day-to-day operations, these companies require more than 1,000 personnel and 500 vehicles. The utility mix includes distribution (30 percent), transmission (26 percent), generation (19 percent), natural gas (14 percent), water (4 percent), steam (2 percent) and communications (2 percent). Many utilities provide more than one service. The geographical distribution of the surveyed utilities presents a cross-section of North America; respondents came from 41 different states as well as Ontario, Canada. Of the respondents, the highest percentage was from the Midwest (26 percent), followed by the Southeast (19 percent), with the Northwest having the smallest representation (5 percent). Most respondents originated from New Jersey, Texas, New York and Ontario, Canada.
Before analyzing the survey's storm statistics, it must be noted that a large-scale emergency outage is defined here as an outage that affects more than 5 percent of a utility company's total customers for a period exceeding 24 hours. Nearly 40 percent of the utilities surveyed reported an occurrence of between one and three major outages, while nearly 20 percent were faced with three to five of these emergencies. A relatively small percentage suffered through more than five serious outages. According to the survey, the Northeast, Mid-Atlantic and Canada endured the highest frequency of storms. The average duration of reported storms ranged from 24-48 hours. Overall, more than 60 percent of the surveyed companies were faced with at least one significant power outage of which 75 percent lasted more than 24 hours. These numbers underscore the importance for utilities to be fully prepared to mobilize and manage crews in an expedient and effective manner.
The 2011 report indicates that 75 percent of the companies surveyed opened their storm center more than once last year, with 10 percent forced to activate between 10 and 20 times. Close to 40 percent of companies in the Northeast and Mid-Atlantic opened their storm centers 5-10 times last year. The estimated peak number of field personnel deployed during these emergencies ranged from 27 percent utilizing less than 100, nearly 20 percent using between 100 and 250, while another 30 percent used between 500 and 2,500. Nearly half the responding companies used 100 or less vehicles, while more than 30 percent surveyed deployed between 200 and 1,000. Research found that on average, the peak number of personnel deployed during an outage event is three times the number deployed on a "blue sky day." It is, therefore, imperative that storm centers develop systems to manage this exponentially greater demand of personnel and equipment during an emergency when travel and working conditions are severely impaired.
While only 21 percent of the responding companies indicated the existence of state-imposed financial penalties for poor response and performance during a major storm, customer satisfaction and demand for transparency are factors utilities must monitor to improve their emergency restoration. Improvement goals included areas such as planning, resource utilization, communication, training, time management, and the flow of information including the use of current technology and updated software.
According to the survey, the current approach for tracking and managing resources during an emergency restoration is overwhelmingly manual, with only 22 percent of the respondents using a fully automated system. More than 85 percent of companies with three or fewer storms per year tend to utilize a fully manual process to track resources. Even as storm frequency triples, 67 percent remain manual. When a blend of the two systems is employed, the survey indicated that, generally, in-house crews are tracked with automated systems, while contract crews are tracked manually. Some firms possess an automated system but still rely on spreadsheets and whiteboards to collect data.
When surveyed whether the current resource management approach provided adequate reporting, the results are similar to the previous question regarding system satisfaction. Once again, the larger the concern, the less likely the respondent would label the present reporting system as adequate. The majority of Northeastern, Mid-Atlantic and Canadian companies stated that their current resource management operations do not provide adequate reporting. Predictably, when questioned about whether automating the storm center should be a corporate priority, the larger firms were far more likely to answer in the affirmative. Interestingly, mid-size utilities with a customer size ranging from 100,000 to 500,000 seem to be those with the highest corporate priority of automating their storm centers.
The companies' surveyed have expressed dissatisfaction with their current approaches in resource management and logistical support. Furthermore, along with an expressed desire to automate storm centers, there is a critical need to infuse cutting edge technology into the menu of emergency restoration strategies. Many of the surveyed goals for improving storm restoration performance could be achieved with the implementation of an automated system such as Macrosoft's Resources on Demand (RoD)—a powerful, cost-effective tool for handling the management of emergency situations faced by the utility industry. Specifically designed for electric utilities, RoD provides a network-based, multi-user tool that manages resource requests, tracks personnel movements and supports logistics during a large-scale restoration event.
The potential efficiency created by such an automated system will successfully address the universal desire to reduce storm costs and outage duration, improve communications, increase electric reliability, and effectively allocate and track resources.
More Utility Products Current Issue Articles
More Utility Products Archives Issue Articles