New Products
Nov 1st, 2011

MRC840AL Hand-operated Crimper Tool is Versatile
BURNDY, a manufacturer and provider of electrical connector solutions and application tooling, announces the release of the MRC840AL crimper tool designed specifically for use on aluminum BURNDY HYLUG (type YA-A) and HYLINK (type YS-A) terminals and splices ranging from #8 – 4/0 AWG. It features heat-treated steel jaws to reduce jaw buckling and misalignment under heavy loading. Plated jaws provide enhanced corrosion resistance. The rotatable, color-coded die wheel is marked with conductor size. The MRC840AL crimper is an integral part of the BURNDY Engineered System of coordinating connectors, dies and tools.

BURNDY is committed to providing consistent excellence in quality, reliability and service to the electrical industry, in the safest possible manner, at a competitive cost and to the highest possible standards.
BURNDY
CIRCLE 111 ON READER SERVICE CARD
---
Global Positioning System-enabled Automatic Vehicle Location Solution
Clevest Solutions Inc. has announced the availability of version 3.3 of its global positioning system- (GPS-) enabled Automatic Vehicle Location (AVL) software solution. Built on best practices specific to utility field operations, the latest release makes managing a mobile fleet easier and more convenient with Environmental Systems Research Institute- (ESRI-) and browser-based mapping capabilities in the office and in the field. The new capabilities are integrated with Clevest's mobile workforce management solution for a single, geographic view of a utility's asset infrastructure and the work created, assigned, performed and managed within it.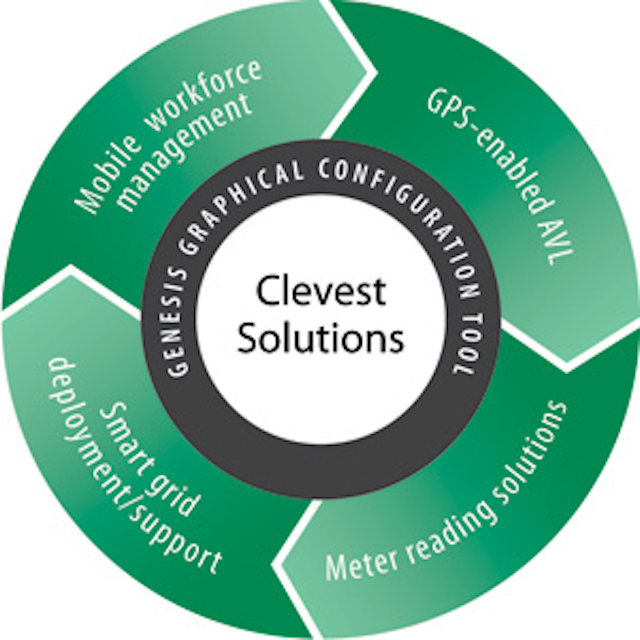 "Clevest is singularly focused on meeting the field operations needs of utilities that are currently underserved by more generic workforce management software," said Lily Ligocki, vice president of Product Marketing for Clevest Solutions. "It's this focus that has driven us to go beyond the simple display of trucks on a map to provide the office and the field with the full context of the actual work that's performed day-to-day."
Clevest Solutions Inc.
CIRCLE 113 ON READER SERVICE CARD
---
New APS75 Hydraulic Underground Cable Puller
Condux International recently unveiled the APS75 Hydraulic Underground Cable Puller. The APS75 provides up to 7,500 lbs of continuous pulling power to tackle a comprehensive range of pulling applications. Designed for installing underground cable, the APS75 is completely self-contained and transports easily from jobsite to jobsite.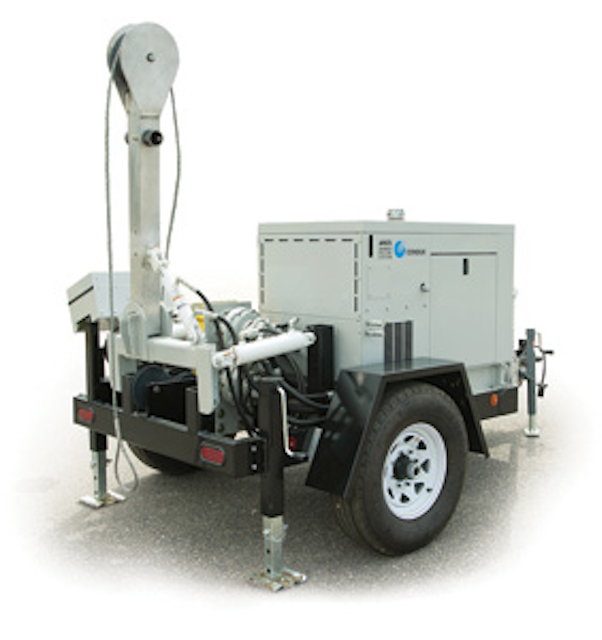 The new digital readout allows the operator to view pulling forces, distance pulled, tension limiter and hydraulic pressure readings. Pulling operations can be recorded and downloaded through a convenient Universal Serial Bus (USB) port. With other standard features including anti-twist rope, rotating pulling arm and wired remote control, the APS75 is cited to be one of the most advanced pulling systems available. The APS75 is precision manufactured to the highest standards. Each puller is backed with years of underground cable pulling experience and a commitment to quality customer service.
Condux International
CIRCLE 112 ON READER SERVICE CARD
---
Ratcheting Wrench Works in Tight Spaces on Pad Mount Transformers
A new ratcheting wrench from Lowell Corp. is designed to make it easier for utility workers to open the pentagon security nuts and adjust the 3/4-inch hexagon tie-down nuts used on pad mount transformers. The tool offers a number of convenience and safety features.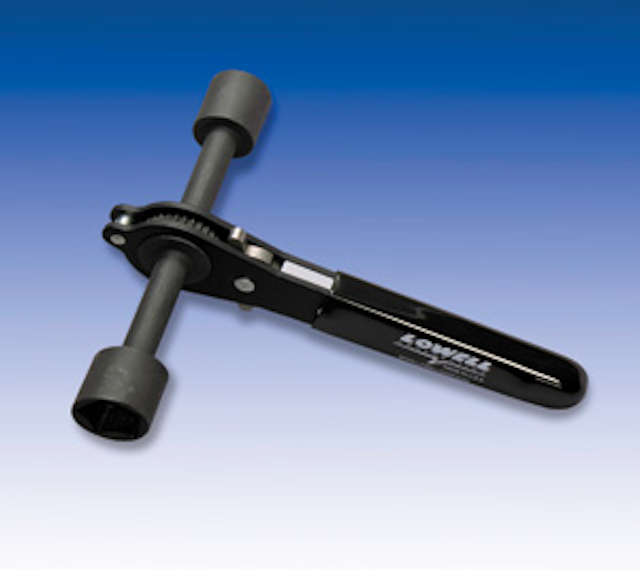 The 101XRS is built for tough duty with a rugged one-piece design that incorporates gear, shaft and sockets. The sturdy ratchet mechanism reverses with the flick of a lever. There are 32 teeth that reduce the throw angle between teeth and make the tool a good choice for working in tight areas. For extra strength, the head of the wrench is secured with a pin that also eliminates wobbling for better torque and reduced wear. Torque has been tested to 90 ft. lbs.
A cushioned grip improves comfort and reduces worker fatigue. Handle length is 7 inches and the tool weighs 1 1/2 lbs. It is guaranteed against defects in material and workmanship for a period of one year from date of delivery.
Lowell Corp.
CIRCLE 114 ON READER SERVICE CARD
---
DVM-80UVK Universal Voltmeter Kit
HD Electric Company's DVM-80UVK Universal Voltmeter Kit is a new addition to its phasing voltmeter product line. The company has expanded the features of the DVM-80 series voltmeter and packaged it with an assembly of accessories—offering it as a complete, ready-to-use Universal Voltmeter Kit. Priced competitively as a complete kit, the DVM-80UVK includes: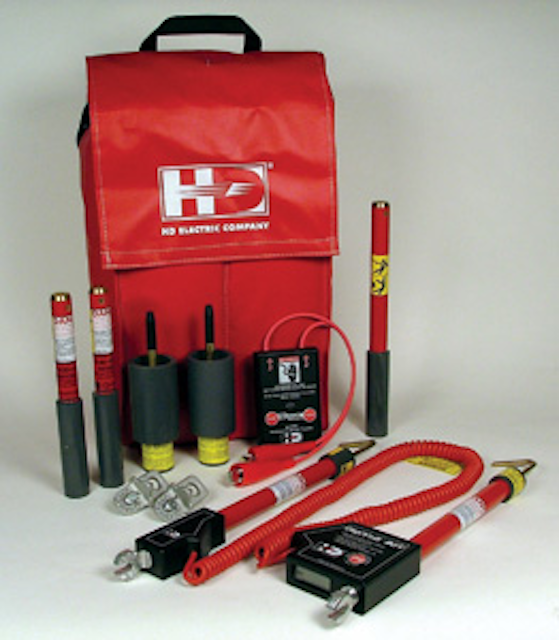 • Dual stick phasing voltmeter with overhead hook probes for use up to 40 kV;
• Add-on resistor sticks for measurements up to 80 kV;
• Underground bushing probes;
• Cable fault tester;
• Voltmeter proof tester;
• Shotgun hotstick adapters; and
• Soft-sided, multi-functional carrying bag with built-in bucket hooks.
This kit contains everything needed to:
• Perform voltmeter and phasing operations for all overhead and underground applications;
• Take measurements on secondary voltages starting at 5V;
• Take measurements on primary voltages up to 80 kV;
• Take measurements on elbow test points with test point feature;
• Peak voltage reading can be held using the new peak hold feature;
• Perform underground cable fault testing with cable fault tester; and
• Test the voltmeter before and after use with voltmeter proof tester.
HD Electric Co.
CIRCLE 115 ON READER SERVICE CARD
---
LiteFoot 65M1- A1 Rubber Track Conversion System
MATTRACKS rubber track conversion systems are often referred to as the "most extreme off-road accessory available," it's reported. Equipping your 4x4 vehicle with Mattracks provides a capable, four-track-drive, off-road machine. The technologically advanced, independent, rubber track system is used on most 4-wheel drive vehicles—from all-terrain vehicles (ATVs) to trucks up to 20,500 lbs gross vehicle weight (GVW).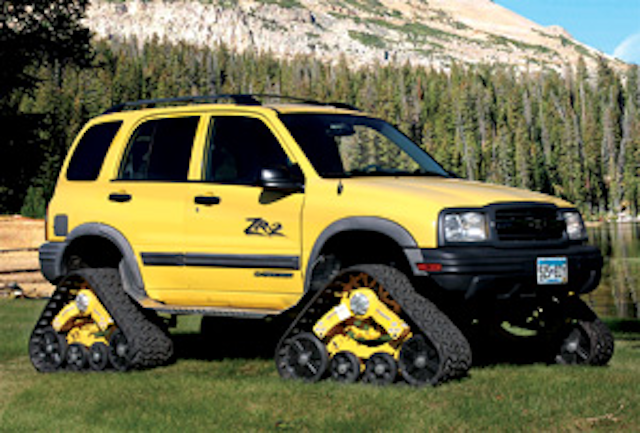 MATTRACKS has now bridged the gap between the automotive-based Mattracks and the ATV-based LiteFoot lineup. New to the LiteFoot lineup is the 65M1- A1, the first automotive approved system in the LiteFoot family, and is approved for 4x4 sub-compact and compact sport utility vehicles (SUVs) and trucks with GVWs under 5,025 lbs.
MATTRACKS currently manufactures 66 different rubber track conversion systems for 4x4 ATVs, utility terrain vehicles (UTVs), SUVs, trucks, tractors and specialty vehicles. Mattracks can be utilized year-round in mud, sand, snow, swamp, rough terrain or down the road.
MATTRACKS
CIRCLE 118 ON READER SERVICE CARD
---
LoPro Toolbox and Headache Rack for Pickups
Highway Products Inc. has released its 2012 model shaved diamond black powder coated LoPro toolbox and headache rack for pickups. This heavy-gauge, marine grade aluminum combo is available for all pickup brands and bed sizes.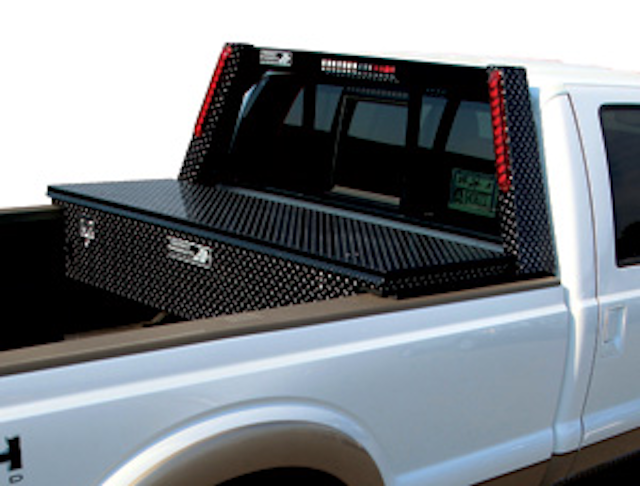 The single-lid, low-profile toolboxes are designed for easy access, add sharp looks to your truck, are made with 1/8 inch aluminum and come with one removable tool tray.
The shaved diamond, black powder coated aluminum headache racks come with optional light emitting diode (LED) turn and stop lights. Headache racks and toolbox are covered by a lifetime warranty.
Highway Products Inc.
CIRCLE 117 ON READER SERVICE CARD
---
C16-10-11 DE Portable Cable Reel is Durable
The Hannay Reels C16-10-11 DE portable cable reel is durable and designed to easily and safely manage cable where long lengths are payed out over a large area. Small and lightweight for easy transport, this reel comes equipped with a crank handle permanently attached to the disk and a camlock drag device to brake the reel.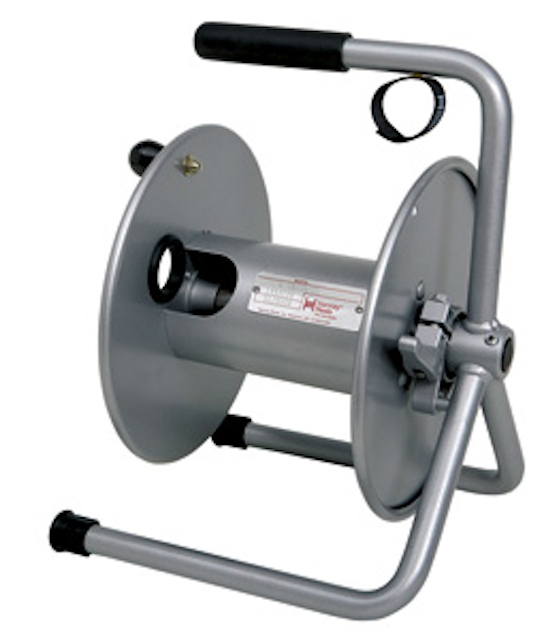 Built from high-quality materials and custom-made to customer specifications, Hannay Reels are available for a variety of utility and construction applications—electric cable; grounding cable; transformer maintenance; service, lubrication and refueling; welding and cutting operations; power tools; washdown; generators; and more.
Hannay Reels
CIRCLE 119 ON READER SERVICE CARD
---
SpaceKap Compak Slip-in Utility for Trucks
Truck cap and tonneau cover manufacturer A.R.E. is now offering the new SpaceKap Compak slip-in utility body as part of its commercial fleet product line.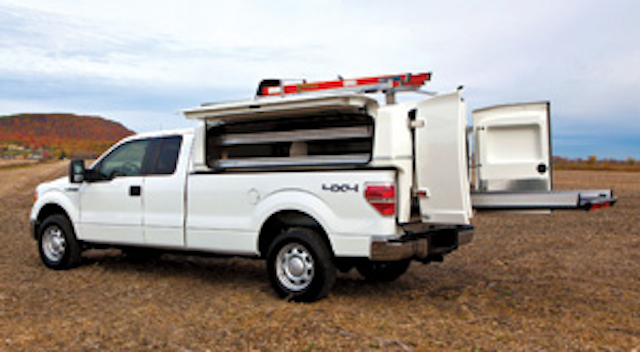 The SpaceKap Compak, manufactured by Canadian-based Fibrobec Inc., is a cab-high, insert-type commercial unit with a low-profile roof line that allows safe access to parking decks and other low clearance areas—making it a good height design for urban areas and municipalities. The Compak is available for 6-foot and 8-foot truck beds and comes standard with a 40/60 rear door for easy access. Additional features include a light emitting diode (LED) interior lighting package, stainless steel hinges, automotive grade door retainers, aluminum door sill and aluminum diamond plate panels to protect the rear doors from shifting cargo.
"Designed to increase efficiency, the SpaceKap Compak has practically unlimited interior customization options and a tie-down system that allows users to quickly install or remove the cap in minutes," said Jim Blayne, commercial/fleet division sales manager at A.R.E. "Plus, its low-profile design provides less wind resistance, which translates into savings at the gas pump."
A.R.E.
CIRCLE 120 ON READER SERVICE CARD
---
Enhanced Type L Cutout Increases Linemen Field Productivity
Cooper Power Systems' Type L Cutout enhancements simplify field installation and identification, and improve field operation reliability. This labor savings solution ensures utilities can quickly restore power to their customers after the cutout and fuse combination clear a fault.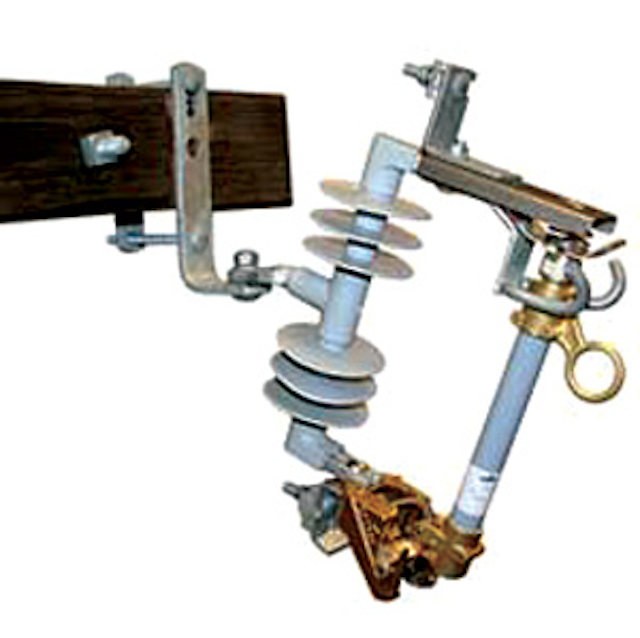 Several new features ease field installation. The new fuse door cap design allows faster tool orientation and easier cap installation, tightening and removal. The new lower door casting eliminates the need for additional tools. In addition, the trunion opening allows easier and faster hotstick installation of the door into the cutout. Reduced force is required to close the door into the frame without compromising the connection rigidity.
The Type L Cutout also features an enlarged shield that is tapered at the end to provide easy open fuse identification in the field and reduce time needed to select a replacement cutout. An added kick-out spring ensures the fuse door falls open on fuse clearing, again providing on-site crews a clear visual indication of fuse operation.
Cooper Power Systems
CIRCLE 121 ON READER SERVICE CARD
---
ExoFit NEX Arc Flash Harnesses Provide Comfort, Function, Durability
Capital Safety, home of the DBI-SALA, UNILINE and PROTECTA brands of fall protection equipment, has announced a new extension to its DBI-SALA ExoFit NEX product line—the ExoFit NEX Arc Flash harnesses. The harnesses incorporate Nomex/Kevlar technology into their design and feature flame-resistant and non-conductive properties, making them useful in any industry that involves exposure to high-voltage electricity or hot work.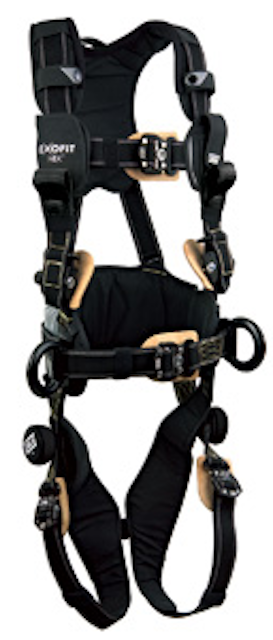 The new harnesses are tested to perform in accordance with the recently updated American Society for Testing and Materials (ASTM) F887-11 arc flash standard specification for personal climbing equipment, as well as American National Standards Institute (ANSI) Z359.1 and Canadian Standards Association (CSA) requirements. The ExoFit NEX Arc Flash harnesses are a result of ongoing research and development within the ExoFit NEX line, and incorporate technical advancements in materials and features.
Capital Safety
CIRCLE 122 ON READER SERVICE CARD
---
New Tx5 Transmitter is Powerful and Precise
Schonstedt Instrument Co. is pleased to announce the new Tx5 Transmitter for use with the TraceMaster II pipe and cable locator. Quick, powerful and precise, the new transmitter extends the capabilities of the company's proven multi-frequency TraceMaster II by adding the following features: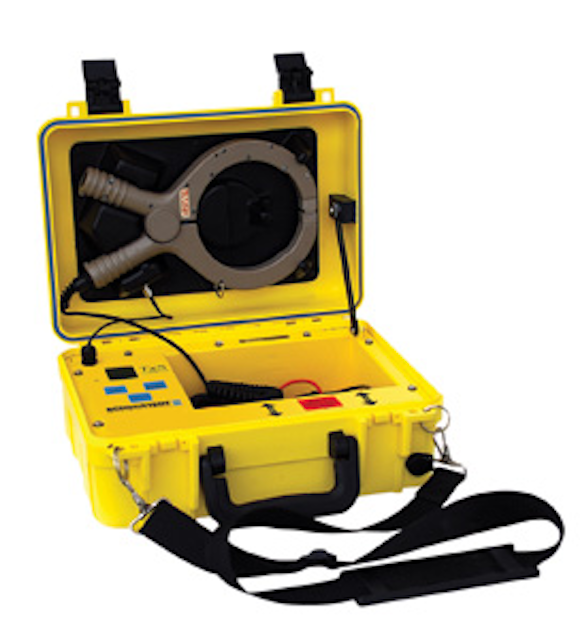 • 5-watt adjustable power;
• Clear, intuitive display;
• Automatic safety test (ac/dc);
• Rechargeable NiMH battery; and
• Three-year warranty.
The TraceMaster II, with its remote frequency control, is the productivity choice of the professional. It can be counted on for quick, precise location of buried utilities—electric, telecommunications, water, sewer and gas.
Schonstedt Instrument Co.
CIRCLE 123 ON READER SERVICE CARD
---
New 490 Series Multimeters for Harsh Environments
IDEAL INDUSTRIES Inc. introduces the 490 Series Multimeter with problem-solving technology and a hardened all-weather housing for harsh environments.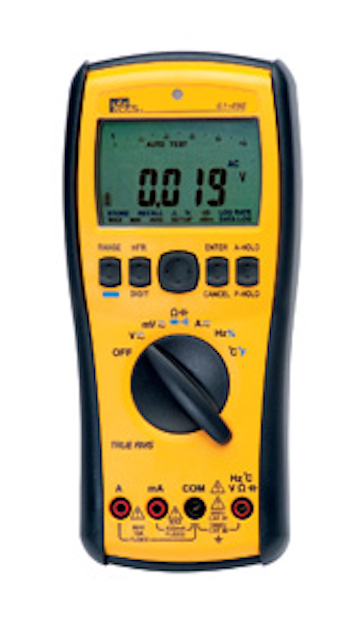 With the 490 Series Multimeter, electricians can diagnose problems in power distribution systems, electro-mechanical equipment and motor drives, as well as perform a range of preventive maintenance tasks for maximum productivity and minimum downtime.
Building on the success of its PlatinumPro industrial multimeters, the 490 Series features true RMS readings for error-free testing, auto ac/dc voltage (1000V) and current mode with frequency indication, auto selection for resistance/continuity/diode/capacitance, plus data acquisition and logging of up to 20,000 records when used in unattended monitoring of signals over time. High frequency rejection (HFR) mode provides accurate voltage/frequency readings on non-sinusoidal wave forms, such as adjustable speed motor drives.
The 490 Series is user-friendly with its auto-sensing functions, easy-to-read backlit liquid-crystal display (LCD) and simple toggle operation. Everything that is needed is in the package, including software, Universal Serial Bus (USB) cable, test leads with alligator clips, K-Type thermocouple and a sturdy protective carrying case.
IDEAL INDUSTRIES Inc.
CIRCLE 124 ON READER SERVICE CARD
---
Clip-On Conduit Body Covers Reduce Installation Times
Clip-On Form-IN-Place conduit body covers from O-Z/Gedney provide high sealing protection while allowing facilities to benefit from reduced inventory parts and money-saving, faster installation times. The covers fit all new or previously installed Form 7-style conduit body configurations in sizes from 1/2-inch to 4-inches.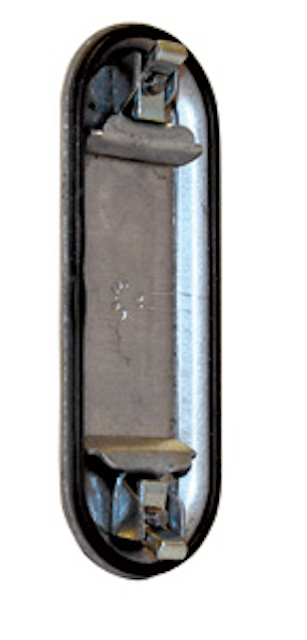 An integral gasket seal prevents electrical wiring from being exposed to moisture and solvents. Because it takes the place of a separate removable gasket, the gasket helps reduce the number of parts a facility has to keep in-house. In addition, the covers simplify overall conduit system installation by eliminating the need to align, assemble and install a separate gasket in every conduit body. The covers can be removed and re-installed for years of use. Captive pan-head screws deliver very good screwdriver torque and Clip-On clips for secure seating.
O-Z/Gedney Clip-On Form-IN-Place covers are made from stamped steel with a zinc pre-galvanized finish, making them corrosion- and weather-resistant.
O-Z/Gedney
CIRCLE 126 ON READER SERVICE CARD
---
E1 Extracted Key Adapter Ensures Machine Safety
Safety interlocking company Fortress Interlocks has added a new extracted key adaptor, the E1, to its amGard range of modular safety gate switch interlocks. The E1 ensures the door to hazardous machinery cannot be opened without removing the safety key, and the machinery cannot then be restarted until the key is returned.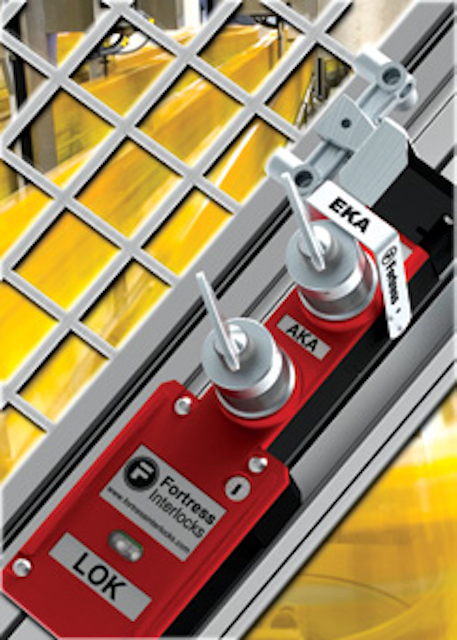 The mechanism is designed to trap an actuator in the head unit until the key is removed, which then allows the "gate" to swing over the keyhole. While the actuator remains out of the head, the gate remains over the keyhole, preventing the key from being returned to the lock.
E1 ensures a specific sequence of operation and can be stacked or combined with other adaptors; up to five key adaptors can be used in one configuration. E1 also provides a link to Fortress' mechanical mGard range of interlocks.
E1 works with access key and safety key adapters, Fortress amGard LOK or STOP bodies and is suitable for either hinged or sliding door applications.
Fortress Interlocks
CIRCLE 125 ON READER SERVICE CARD
---
Complete Heat System for Toaster Ground-thawing Machines
Serious Thermal Products introduces the new Complete Heat System for use with its Serious Toaster ground-thawing machines. For utility maintenance, underground installations or any other winter application that requires excavation, the system features a heavy-duty cabinet that houses everything needed to run up to five Toasters at one time—simplifying any application that requires more than one ground-thawing unit.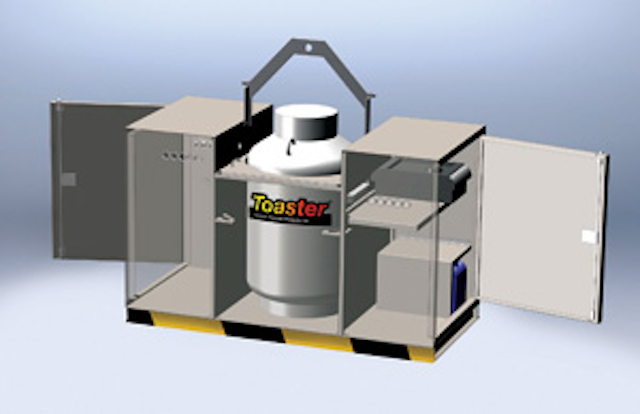 Rather than having to supply propane and electricity separately to each Toaster ground-thawing unit, the Complete Heat System supplies everything in one package. It includes storage to contain a 250-gallon propane tank (or "pig"), all necessary hoses to connect propane to five Toasters, a generator with extended gas tank, all electrical cords and propane-tank heaters to keep the propane vaporizable in extreme cold weather conditions. Beyond the added convenience, the system also includes lockable cabinet doors to help prevent vandalism and tampering. The Complete Heat System is skid mounted and includes an integrated lifting eye for portability.
Serious Thermal Products
CIRCLE 127 ON READER SERVICE CARD
More Utility Products Current Issue Articles
More Utility Products Archives Issue Articles