New Products Showcase: Part 2
Apr 1st, 2011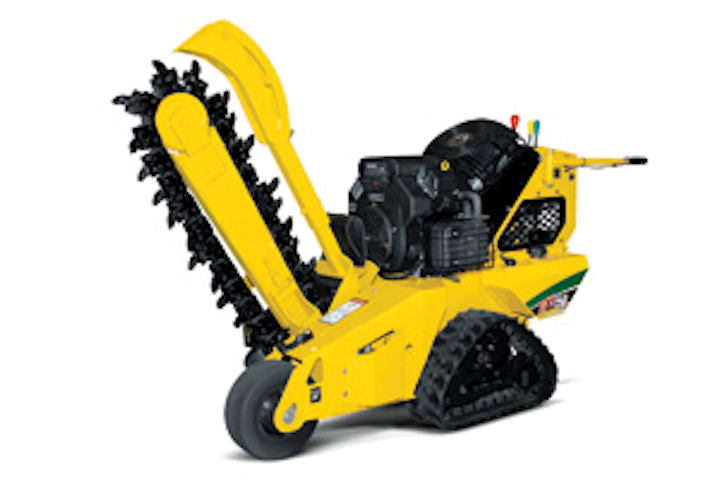 RTX150 Pedestrian Trencher Features Easy-to-Operate Steering System
The RTX150 is the newest member in the Vermeer line of pedestrian trenchers designed specifically for rental outlets and utility contractors to assist in the installation of electric lines, gas lines, irrigation lines and drainage tiles.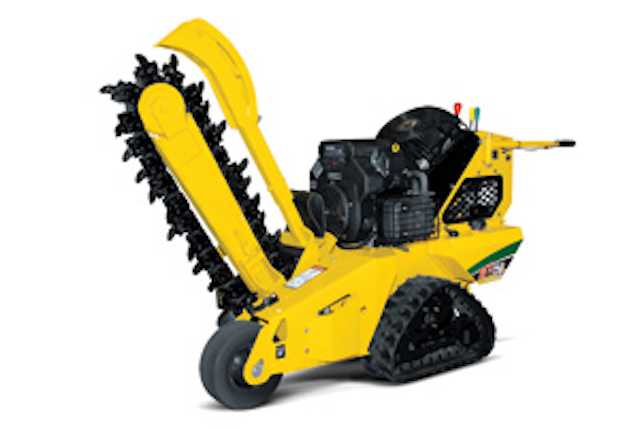 Powered by a 20-hp (14.9 kW) Kohler gas engine, the RTX150 offers 68 percent greater torque than lower horse-powered models for increased digging performance up to a maximum digging depth of 36 inches.
Interchangeable tires or tracks allow you to adapt the RTX150 to the jobsite conditions. The tracks oscillate up to 20 degrees for increased traction on uneven ground and ease of loading and unloading.
The RTX150 features the exclusive and intuitive Vermeer VZ steering system that allows the operator to steer the machine by applying light pressure to the handlebars. This system eliminates the need for additional steering levers or wheels at the operator's station. Its zero-turning radius will even counter rotate from a stationary position.
Vermeer
CIRCLE 108 ON READER SERVICE CARD
---
MSAT 5 Loose Buffer Tube Mid-span Access Tool
Ripley's Miller Division introduces the Adjustable Jacket Slitter (AJS). This patent pending mid-span access tool is designed to simply and accurately shave loose buffer tubes ranging in diameter from 1.9mm to 3.0mm, allowing easy access to the fibers with no adjustments or die changes.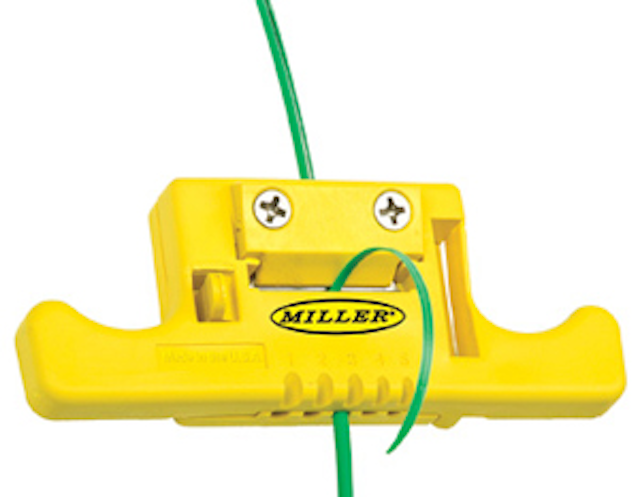 The tool provides a buffer tube diameter guide that allows quick and easy determination of the proper channel to use for shaving the tube. It is lightweight and compact enough to carry in your pocket, yet functionally more versatile than tools of significantly greater size and complexity. Blade replacement is simple and requires only a #2 screwdriver to complete.
Ripley, Miller Division
CIRCLE 109 ON READER SERVICE CARD
---
Single Man Basket Now Attaches to Knucklebooms
Diversified Products now offers its single man baskets with the ability to attach to any knuckleboom that meets American Society of Mechanical Engineers (ASME) standard B30.23. Because of specialized adapters, the baskets install easily and quickly to extend the capabilities of knuckleboom trucks. Eliminating the need to use ladders or climb on equipment, they also provide fall arrest and fall protection.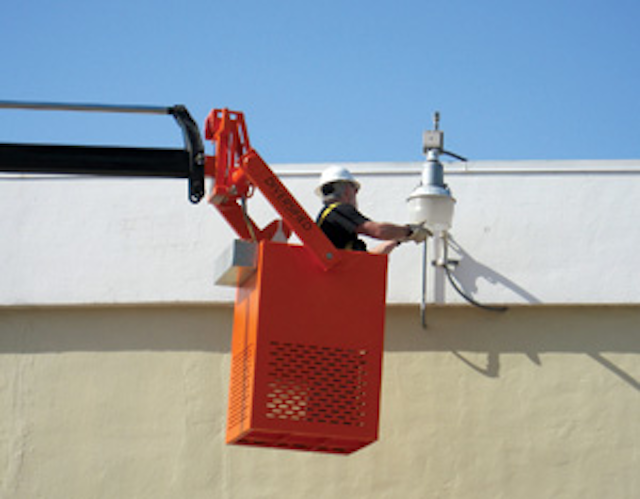 With the ability to hold up to 350 pounds, Diversified's single man basket contains a large, open work area to allow maximum productivity. The full-sized floor is 30 inches wide by 30 inches deep, and it contains slots for water drainage as well as upset holes for skid resistance. In addition, the basket includes a tilt angle indicator and a low-maintenance disc brake.
To meet the demands of any access application, the baskets are constructed from heavy-duty steel and fabricated with laser-produced parts, which are keyed together and then welded into place. The entire assembly is designed using solid modeling and finite element analysis, and the finished product meets or exceeds industry standards.
Diversified Products
CIRCLE 110 ON READER SERVICE CARD
---
AluRack Roof Rack Allows Trucks to Carry More Tools, Materials
A.R.E. has expanded its line of truck cap accessories with the AluRack by Prime Design–a 100 percent aluminum construction, roof-mounted rack for full-size short bed and long bed trucks.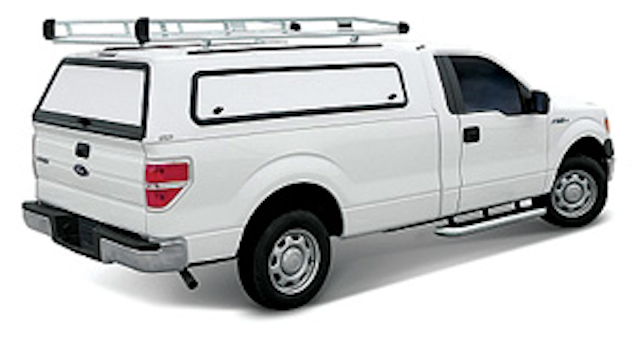 Featuring an over-the-cab design, the AluRack has a rear roller crossbar for easy material handling and removal. Its sturdy design, styling and polished aluminum finish make it a very good accessory for the commercial market.
The AluRack's strong, lightweight construction allows owners to carry more tools and materials without adding excessive weight to the vehicle.
The AluRack attaches directly to factory tracks (sold separately) on your A.R.E. cap and will work with most aftermarket tracks as well. A full range of channels and mountings specific to each type of vehicle allows for a no-drill installation and gives owners flexibility to move the rack to the most suitable position. The AluRack also comes with optional locking ladder QuikClamp attachments to easily and safely secure ladders for transport.
A.R.E.
CIRCLE 111 ON READER SERVICE CARD
---
Silver Conductive Epoxy Meets NASA Low Outgassing Standards
Master Bond EP21TDCS-LO is an electrically conductive silver-filled epoxy that passes American Society for Testing and Materials (ASTM) 595 for National Aeronautics and Space Administration (NASA) low outgassing specifications. It is widely used for demanding applications in the electronic, electrical, computer, semiconductor, aerospace and optical industries.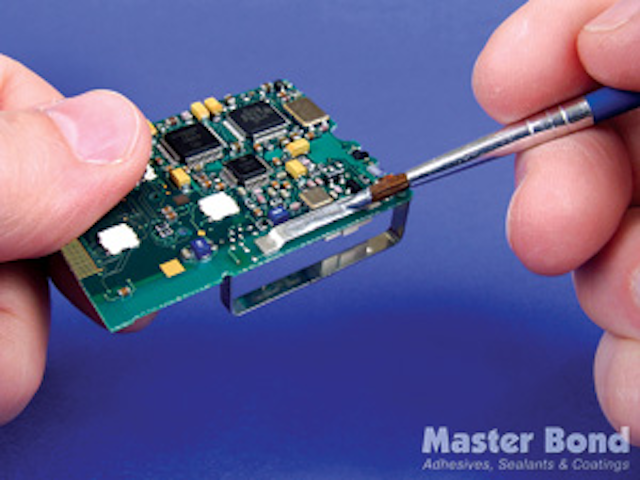 The adhesive cures at room temperature in 24-48 hours and in just 1-2 hours at 200F, producing tough, high-strength bonds. It features a tensile shear strength of more than 1,800 psi, a T-peel of greater than 5 pli, and very good adhesion to similar and dissimilar substrates. The volume resistivity of the system is less than 10-3 ohm-cm. Serviceable over the wide range of 4K to 275F, EP21TDCS-LO is suitable for cryogenic applications. It withstands thermal cycling and is resistant to chemicals, including water, oil and most organic solvents.
Master Bond
CIRCLE 112 ON READER SERVICE CARD
---
Sidewalk Sleever Quickly Installs Electrical Conduit Under Sidewalks, Other Structures
The patented Sidewalk Sleever features a shaft with a pointed tip and a strike plate for easy installation–no boring and no voids around the installed pipe.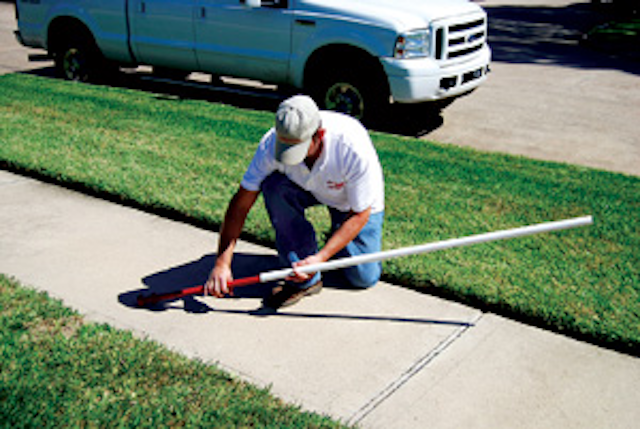 Simply place the Sidewalk Sleever inside a piece of precut polyvinyl chloride (PVC) and position it just under the concrete. Hammer the Sidewalk Sleever under the sidewalk until the tool and the pipe are visible on the other end. Lightly tap the tip of the Sidewalk Sleever and then pull it away from the pipe. Pipe installation is complete.
Forestry Suppliers Inc.
CIRCLE 113 ON READER SERVICE CARD
---
ProFlex 750 At-Heights Construction Glove Offers Comfort, Durability
Ergodyne's ProFlex 750 At-Heights Construction Glove delivers the comfort, durability and protection required for climbing as well as the fit and dexterity needed to get the job done right in the world's highest work zones.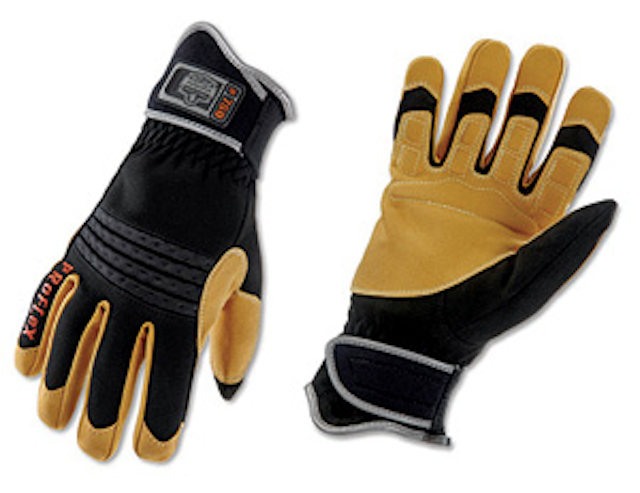 Designed to reduce fatigue and discomfort while climbing, the 750 At-Heights Construction Glove features strategically placed padding on the upper palm and on the lower two-thirds of the fingers for gripping rungs. The fingertips on the glove are double-layered for durability but remain padding-free for high dexterity.
The glove also features a double-layer palm using Rovenica, a soft, flexible yet ultra-durable material providing up to four times the strength of goatskin leather.
Ergodyne
CIRCLE 114 ON READER SERVICE CARD
---
All-season Control System Offers Four Control Channels, Cost Tracking Capabilities
DICKEY-john Corp. announces the Flex4 Control product line. The system is designed with a user-friendly operator interface for use during all seasons. In addition, Flex4 is compatible with the full line of DICKEY-john sensors and hydraulic packages for easy integration with existing systems.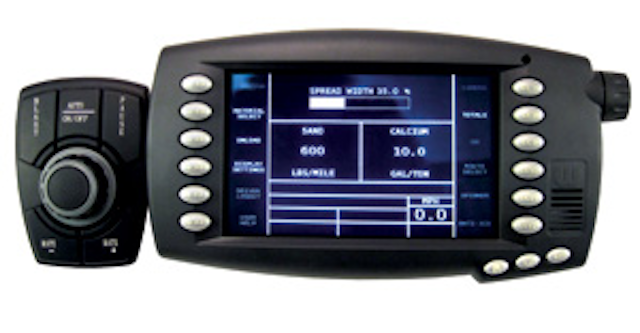 Truck fleet management software, consisting of personal computer (PC) software and a wireless modem with integrated global positioning system (GPS) installed in each truck, captures critical vehicle location and spread data. This allows for easy expense calculations of each truck or fleet including material, fuel, labor and equipment costs. GPS coordinates of truck spreading routes are stored in the system and can be viewed in map format via the PC software.
DICKEY-john Corp.
CIRCLE 115 ON READER SERVICE CARD
---
Transformers for Retrofit Market
Pacific Crest Transformers (PCT) is offering a transformer design for retrofitting existing transformers. PCT meets the market's need for a turnkey retrofit solution that fits into an existing space and easily connects to high- and low-voltage equipment already in place.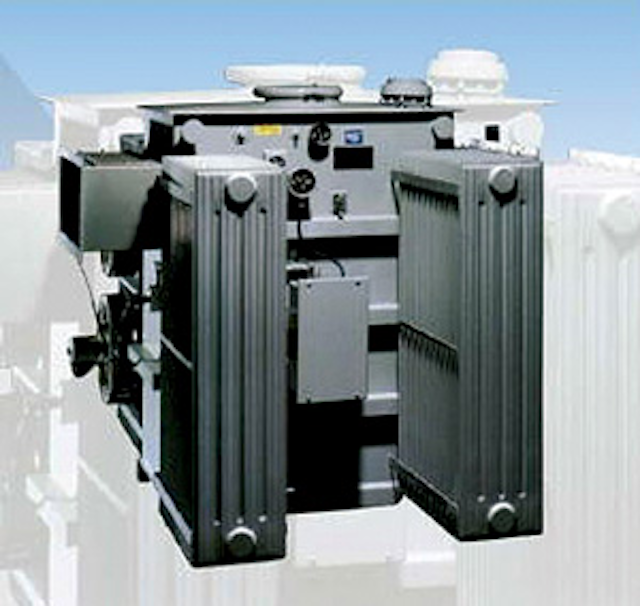 PCT's transformers are custom-designed for each installation, so the retrofit design and mechanical components can be matched with the existing application. With PCT's turnkey solution, facility managers can quickly and easily replace transformers during a planned outage.
The high-efficiency transformer meets the needs of facilities responding to Department of Energy requirements stipulating that replacement transformers incorporate new high-efficiency standards.
Pacific Crest Transformers (PCT)
CIRCLE 116 ON READER SERVICE CARD
---
SLiPWire Wire Guarantee Update
Effective for all SLiPWire wire produced after January 1, 2011, Cerro Wire LLC, a manufacturer of copper electrical building wire and cable, has announced an update to its reel completeness guarantee. The improved guarantee is effective for all SLiPWire wire in sizes of 1 AWG and larger produced after January 1, 2011.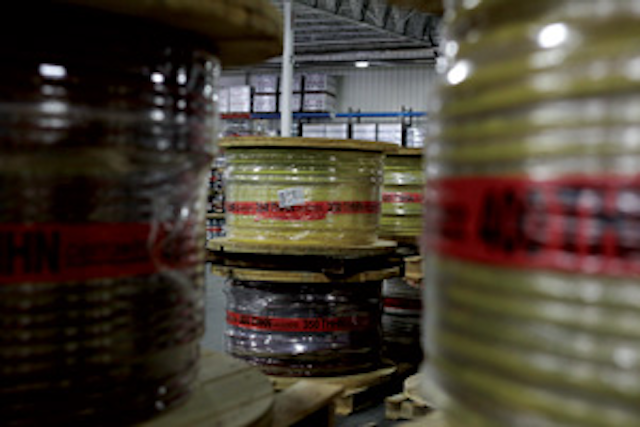 Footages on Cerro Wire's standard reels of SLiPWire, which were previously guaranteed to be within ± 0.75 percent, are now guaranteed to be within ± 0.50 percent of the tagged footage. If the footage falls below that range, Cerro Wire will either give the customer credit for the omitted product or replace the missing wire. In addition, Cerro Wire will also reimburse the customer for reasonable, direct, out-of-pocket labor costs incurred as a result of the shortage.
The guarantee does not include responsibility for any consequential, incidental, or indirect damages, costs or expenses, including lost profits or revenue.
Cerro Wire LLC
CIRCLE 117 ON READER SERVICE CARD
---
Durabook S15C Mobile Notebooks for Rugged Environments
GammaTech Computer Corp. has introduced another member to its line of cost-effective, high-performance, rugged mobile solutions, the Durabook S15C. It offers portability and features seldom found in notebooks that are designed for rugged environments.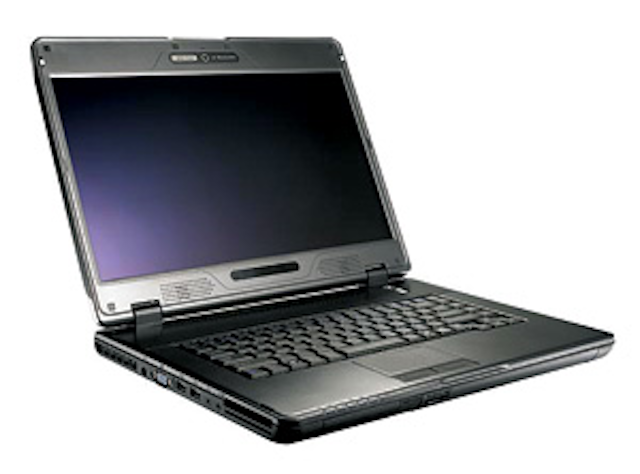 The rugged S15C has a 15.6-inch display with high-definition resolution and many other features. The magnesium alloy case is very strong, and it is tested to Mil- Standard 810G for drop and shock resistance. A flexible cable design absorbs shock from drops, providing protection for important data while anti-shock mounting technology helps protect the screen from accidental damage.
Additional protection is provided by the unit's spill-resistant design that protects the keyboard, touchpad and switches from spills seeping into sensitive interior parts. GammaTech's optical-disk-tray lock prevents unintentional tray ejection due to drop and vibration.
GammaTech Computer Corp.
CIRCLE 118 ON READER SERVICE CARD
---
FTX600 Tractor Offers High Cutting Performance, Track Power
Fecon's new flagship tractor, the FTX600, is cited to bring the best combination of cutting performance, track power, ground pressure and serviceability in the 600-hp class of mulching machines.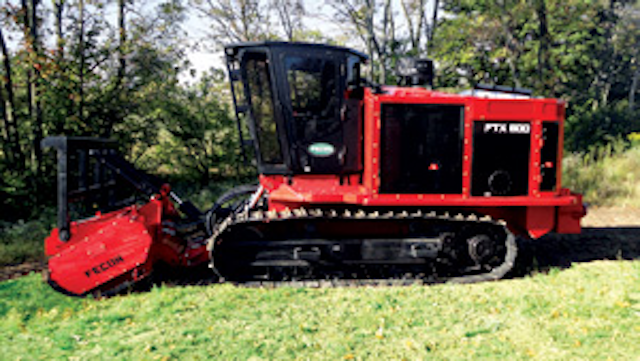 Equipped with a 600-hp Cummins QSX15 engine, the FTX600 delivers 210 gallons of hydraulic flow to the variable speed mulching head and solid power to the hydrostatic all steel oscillating undercarriage. Fitted with either the Fecon BH300 or BH350 Bull Hog, the FTX600 can achieve 98 inch cutting height and 32 inch below grade, giving the operator unparalleled range of motion. Fecon's Power Management system optimizes torque and rotor speed–allowing the FTX600 to tackle the toughest material, the roughest terrain and the most demanding schedules.
The FTX600 is for a wide range of applications including power line and pipeline right of way clearing, large-scale vegetation management and site preparation.
Fecon Inc.
CIRCLE 119 ON READER SERVICE CARD
More Utility Products Current Issue Articles
More Utility Products Archives Issue Articles