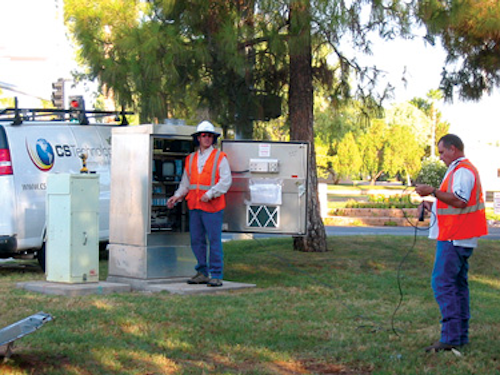 By Ed Sullivan
When a vehicle shears a traffic light cabinet, it can rip into fiber cable to the backbone, causing extensive costs and risking exposure. An inexpensive breakaway cable connector eliminates that.
Although today's intelligent, fiber optic-based traffic control systems have become increasingly powerful and popular, too many still have an inherent vulnerability. When a vehicle accidentally runs into a traffic light control cabinet at an intersection, the situation can quickly become disastrous–and remain that way for a long time.
The reason for this dilemma is well known. When impact shears a cabinet from its pad, it can also rip the fiber optic cable far beyond the cabinet's branch segment–completely into the network's backbone, bringing down the traffic control system, causing extensive repairs and introducing risk to travelers and technicians. In addition to costs of up to $30,000, miles of traffic flow might be affected for days.
"It is somewhat paradoxical that one of the causes of all this pandemonium is the durability of the fiber optic cable," said Tom Hazelton of Optical Cable Corp. (OCC), Roanoke, Va. "OCC is a manufacturer of advanced fiber optic cable with applications ranging from abusive military environments to the most sophisticated communications networks. And, because these cables are built to withstand harsh conditions, they don't break. As a result, when impact carries an enclosure away from its base, the cable will move with it–unless the cable connection is designed to do otherwise."
Engineering a Triggered Breakaway
Designing a fiber optic cable connector rugged enough to last, yet one that wouldn't destroy network asset connections, required OCC to undertake creative engineering to fulfill the concept of one of its technology partners, TrueView Products of Phoenix, Ariz.
"As a manufacturer of fiber optic devices for the telecommunications industry, we are naturally involved in intelligent transportation systems (ITS) applications," said Jeff Dominique, TrueView president. "So we got together with Tom Hazelton to discuss the need for a cable connection device that would disconnect positively upon impact or when triggered by some mechanical force."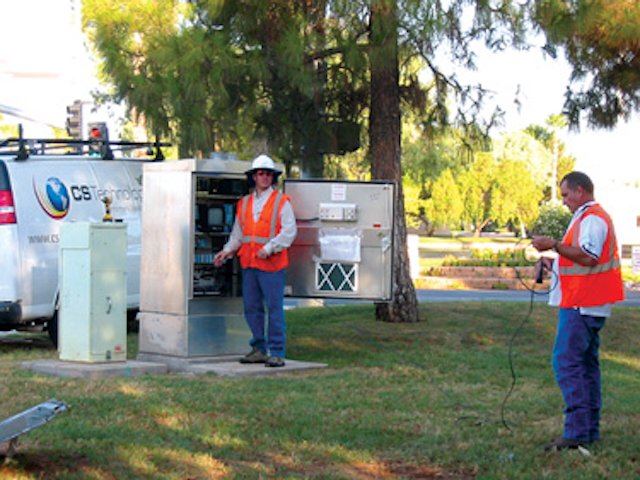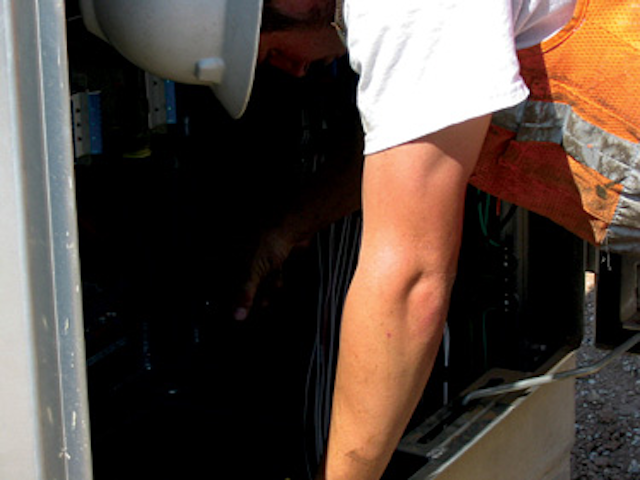 Working together with OCC, TrueView engineers developed the IRIS connector, the first fail-safe breakaway fiber optic cable connector developed for traffic light control cabinets and highway network nodes. In the event of a vehicular impact, the IRIS connector assembly, which is under positive spring tension, disengages automatically to protect the electronics of the cabinet as well as downstream fiber optic drop cabling and backbone cable. Using this connector, expensive collateral damage to traffic system networks can be avoided, and traffic signal cabinets can be running in minutes instead of hours or days.
The Surprise Installation
The IRIS connector made its debut at a March 2009 Intelligent Traffic Engineers Conference, held at the Phoenix, Ariz. convention center. At the conference, officials from the city of Surprise and the surrounding Maricopa County's Department of Transportation (MCDOT) first saw the IRIS in action.
"We recognized that it could offer valuable protection to the new, intelligent traffic control system we were installing along a five-mile stretch of West Bell Road, a primary Surprise access road that carries nearly 60,000 vehicles on a work day," said Israel Lopez, who was then a MCDOT manager on the project.
"This project was already specified at the time, but TrueView Products, together with OCC, agreed that we could have the IRIS connector on a beta test basis. So we were able to install the device in the traffic signal cabinets at 12 intersections without changing the spec," Lopez said.
The IRIS connector looked promising to Lopez, not only because it would save extensive damage and incurred related costs when a vehicle hit one of the cabinets, but because it also would reduce the related hazards that occur when extensive damage is done to a traffic communications network that supports message boards, traffic sensors and TV observation cameras connected to the MCDOT traffic management system.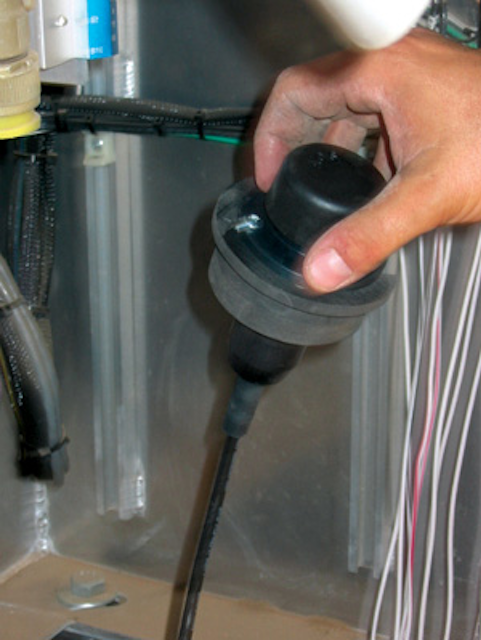 The IRIS connector is easily configurable to any new or existing traffic cabinet. Its mounting design enables it to be installed over the top of existing drop.
Dominique explained that the avoidance of collateral damage to backbone cabling is the main benefit of the new breakaway connector. The fiber optic cable feeder line runs underground beside the city streets. At some 250 feet from the traffic light control cabinet at an intersection, a drop cable is connected to the backbone. Without a breakaway connector at the front end of the drop cable in the control cabinet, a severe impact can shear the cabinet off its pad and cause collateral damage by jerking the drop cable so hard it destroys the connection with the backbone cabling, possibly disabling some of the traffic control systems sensors, cameras and communications devices in the process.
"You are dealing with cable composed of 96 or 144 pieces of glass fiber that is about the diameter of the human hair," Dominique said. "So, when a cabinet is moved by the impact of a vehicle, the resulting mechanical strain can physically take out the backbone connection. And, if that happens, it could cost as much as $25,000 to repair."
A vehicle recently struck one of the traffic light cabinets along West Bell Road, pushing it off its pad with enough force to tug the drop cable and engage the breakaway connector, which functioned perfectly, eliminating collateral damage while also making reconnection quick and simple.
Minimizing Restoration Time and Costs
Lopez estimates that it takes two to 12 hours to get the cabinet back in service.
"Restoration of service can be delayed because many jurisdictions do not keep fiber optic cable on hand, and there is a back order time of four to eight weeks for cable from many sources," Lopez said. "If a cabinet is knocked out and you have sufficient slack cable in the pull boxes, you may be alright. But, if additional cable is needed or qualified technicians are not available, you might be out of service much longer. And that would be a painful experience."
"There are periods when an outage in a traffic management system is especially disastrous," said Marty Soulard, information technology services program manager at CS Technologies, the network specialist that installed the Surprise system. "In most areas there are special events, such as ball games, concerts and school programs, when traffic can be unusually heavy. And, when you have even one signal cabinet out, let alone the main system, the resulting traffic can be very dangerous."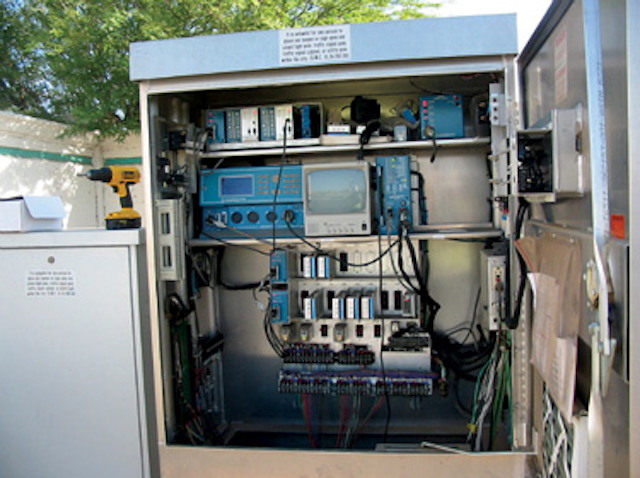 In the event of a vehicular impact, the IRIS connector assembly, which is under positive spring tension, disengages automatically to protect the electronics of the cabinet as well as downstream fiber optic drop cabling.
"Auto insurance companies should love the benefits of the IRIS breakaway connector, considering that this relatively inexpensive device could save repair costs of $5,000 to $20,000 per incident, for which the insurance company of the driver who did the damage is ultimately liable," Soulard said.
The city of Surprise beta installation was overseen by Fiber Network Training and Consulting Services (FNT). FNT, which provides installation and maintenance training for IRIS as well as customer application and design consulting, supported this project with complimentary customer and installation crew training.
The IRIS connector is easily configurable to any new or existing traffic cabinet. Its mounting design enables it to be installed over the top of existing drop cables without taking the intersection down until the final cut over is ready. The connector offers up to 12 individual, high-speed fiber optic information channels from multiple intersection cameras, signal status, detectors, traffic management center commands and other data collection devices.
In the event of a traffic signal controller cabinet knockdown, the IRIS connector isolates fiber damage to the stricken cabinet. Because of the built-in safety disconnect point installed at the base of the cabinet, the fiber optic cable is no longer ripped out of the ground by the crashing vehicle.
Made in the U.S., the IRIS breakaway connector is composed mainly of hardened steel components, making it a green product that is recyclable.
"The next generation of the IRIS breakaway technology promises to be even more exciting," Dominique said. "We will soon be releasing the total cabinet breakaway system, which will include breakaway connection technology for all cabinet connections including power, control, RJ45 and BNC connections. When this occurs, I believe we will finally meet the full intent of the Traffic Incident Management Report, authored by the U.S. Department of Transportation in January of 2009."
---
About Optical Cable Corp: Founded in 1983, Optical Cable Corp. manufactures a comprehensive line of tight-buffered fiber optic cable products that address most communications applications, including data communications, local area networks (LANs), telecommunications, video transmission, cable TV, traffic signaling and military tactical communications. Email: marketinginfo@occfiber.com or visit www.occfiber.com.
About the author: Ed Sullivan is a technical writer based in Hermosa Beach, Calif.
More Utility Products Current Issue Articles
More Utility Products Archives Issue Articles