Electric Utility Fleet Managers Conference 2011 Preview
Focused Strategies for Future Success
May 1st, 2011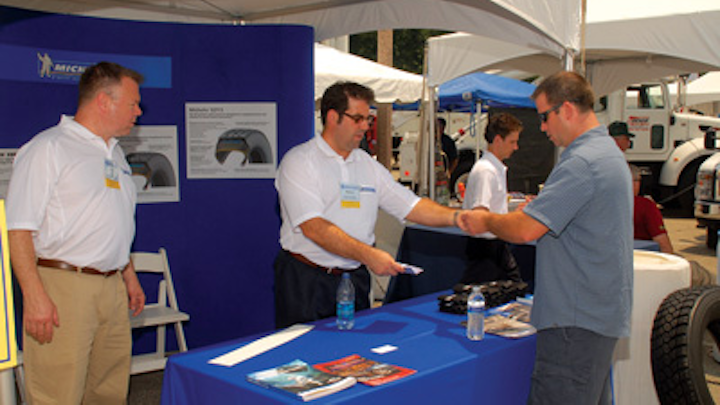 Focused Strategies for Future Success
This year's 58th annual Electric Utility Fleet Managers Conference (EUFMC) will take place June 19-22, 2011, at the Williamsburg Lodge and Conference Center in Williamsburg, Va. Conference activities will include one day for a drive-thru utility equipment demonstration and equipment show, two days of speakers and presentations on industry issues, and roundtable best practices discussions.
The EUFMC 2011 theme, "Focused Strategies for Future Success," will be addressed in high-quality presentations targeted to meet the information needs of utility fleet managers. Among the presentations: Emerging Market Update; News Standards for Cranes and Digger Derricks; Acquisition and Funding Strategies; Washington Update: Legislation and Regulations Impacting Fleets; and Utilization of Benchmarking Data to Define Success. EUFMC will also offer feature presentations on plug-in hybrid electric vehicles and a report on hybrid truck life experience by fleet managers. In addition, fleet strategies panels will cover acquisition, maintenance and parts, and 2010 emissions.
EUFMC is known for its exhibition of the latest utility equipment and services. This year's outdoor exhibit will be the site of more than 60 displays where fleet managers can meet with over 270 representatives from more than 95 manufacturers and service providers. Expanded to meet the need for larger equipment and growing interest in the conference by leading suppliers of vehicles and equipment for the electric utility industry, the 2011 showcase will also include indoor displays.
Also plan to attend EUFMC's popular fleet and supplier roundtables to address common challenges and share solutions. All EUFMC events provide great networking opportunities. Started in 1953 as a regional meeting of electric utility fleet managers, the conference is now attended by fleet managers of investor-owned utilities from across the U.S. and Canada.
The utility keynote speaker addressing this year's EUFMC theme will be Mike Sole, vice president of government affairs at Florida Power & Light. A marine biologist, the former Florida Department of Environmental Protection Secretary was one of the longest serving agency heads appointed by Governor Charlie Crist.
Also addressing EUFMC 2011 will be Lou Holtz, one of the most celebrated and accomplished coaches in sports history. Holtz will return to Williamsburg this year, where he served as the College of William & Mary's football coach from 1969-1970, to address EUFMC attendees. Called "the greatest motivator of our time," Holtz had a 26-year career of inspiring players and motivating them to be winners, most notably with the Notre Dame University Fighting Irish football team. Holtz will use his experience and humor to help EUFMC attendees learn to access their strengths, work as a team and embrace the values that can help improve their organizations.
All registered conference attendees are invited to play in the 2011 EUFMC Sunday Golf Tournament. The June 19th captain and crew (scramble) event will be limited to 36 teams (144 golfers). The first 144 registered conference attendees will be included in the tournament with other registrants placed on a waiting list. As space is available, players on the waiting list will be assigned the day of the tournament. To maximize the availability for conference attendees, spouses are not eligible to play in the Sunday tournament.
Among other special Sunday events will be an afternoon sightseeing tour of Williamsburg. The 2:00 p.m. walking tour will be specifically for EUFMC registrants and their families. The 90-minute tour will provide an overview of the restored and reconstructed sites in Colonial Williamsburg and the important history of Virginia's colonial capital. Later, Sunday evening at 8:30 p.m., registered EUFMC attendees and families can participate in an interactive hunt for Blackbeard's treasure; join Blackbeard's crew and learn more about the pirate and his ties to Williamsburg. Pirate gear will be provided for the adventure and treasure hunt—children are encouraged.
On Monday, June 20th, registered EUFMC spouses are invited to play nine holes on the Spotswood Executive Course located across the street from the lodge; green fees and cart rental are courtesy of EUFMC.
And then on Tuesday, June 21st, EUFMC spouses are invited to an 18th century chocolate making demonstration and lecture. See how chocolate was processed and enjoyed in colonial times.
EUFMC provides a forum to discuss and share best practices by networking with fleet managers from investor-owned electric utility companies and electrical contractors from across North America. Allowing the exchange of information and discussion of mutual concerns, the conference promotes close cooperation between manufacturers, suppliers, service and fleet representatives.
More Utility Products Current Issue Articles
More Utility Products Archives Issue Articles