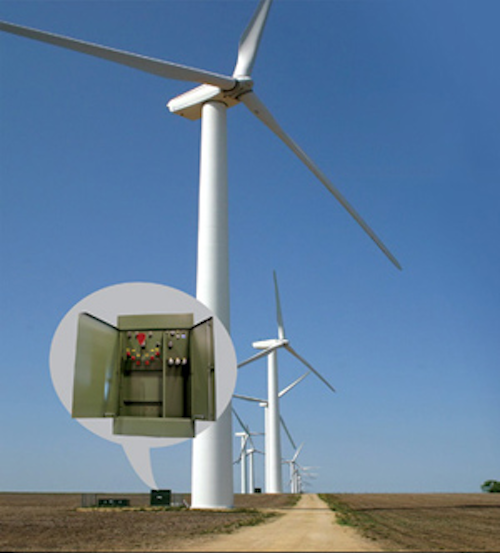 Wind Farm Turbine Step-up Transformers
Pacific Crest Transformers offers the PCT WTSU step-up transformer specially designed for the wind farm turbine market. The PCT WTSU is an engineered solution that addresses the specific needs of the wind farm turbine. It reduces lost revenues due to down time and provides a lower total cost of ownership compared to standard off-the-shelf distribution transformers. Standard transformers experience frequent failures when used in wind farms, due to heat build-up from rapid and irregular thermo-cycling, frequent fault conditions, and build-up of gasses from arcing that occurs when inexpensive tap changers are used.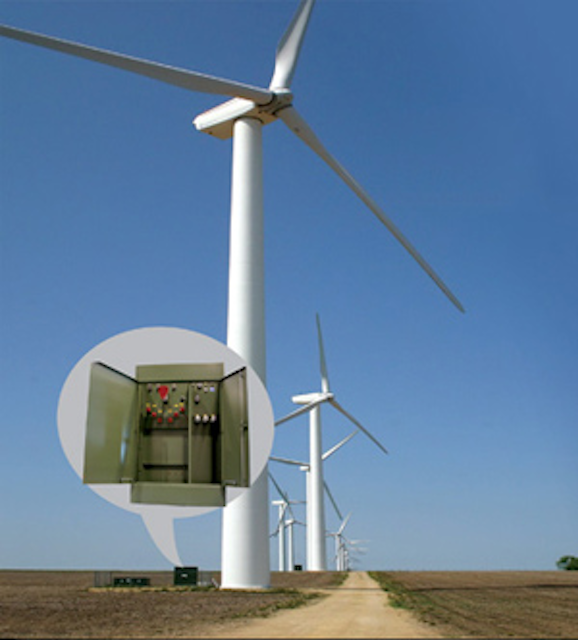 To mitigate these issues, the model WTSU features an innovative design that includes round coils, a cruciform, mitered core with heavy-duty clamping and a proprietary pressure plate design, as well as a premium no-load tap changer.
Pacific Crest Transformers
CIRCLE 109 ON READER SERVICE CARD
---
Full Cycle Ratchet Hand Tools
BURNDY has introduced the new MRE10-22B and MRE10-22NV HYTOOL. These ergonomic full cycle ratchet tools provide a complete positive crimp each time. The ergonomic comfort grip handles reduce operator fatigue during continuous use.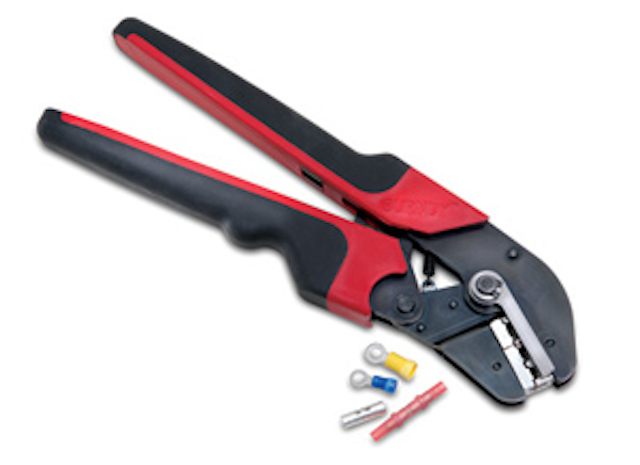 Each tool is for use with BURNDY insulated and non-insulated small HYDENT terminals, #10-22 AWG. The MRE10-22B crimps uninsulated (bare) terminals and splices; the MRE10-22NV crimps nylon and vinyl insulated terminals and splices. The dies are color coded and stamped with the conductor size to provide an easy match of the die and proper BURNDY terminal or splice. The ratchet mechanism does not allow the handles to be opened until the full cycle is completed, unless the emergency release lever is actuated, providing for a completed crimp before a connector can be removed from a tool.
BURNDY
CIRCLE 110 ON READER SERVICE CARD
---
Customized Storage Equipment for Nissan NV Vans
Knaack LLC and WEATHER GUARD Van Solutions announce customized van storage equipment for the new Nissan NV commercial van, featuring driver-friendly bulkheads and a wide range of shelving, specialty storage and roof rack options that meet the needs of professional contractors and field service/repair professionals.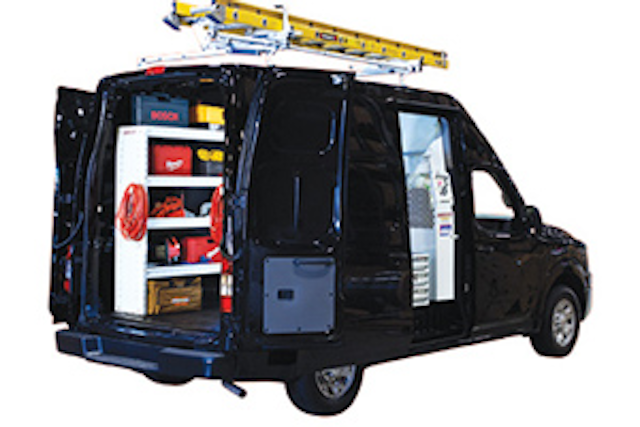 WEATHER GUARD has developed customized Nissan NV bulkheads that not only keep the drivers safe, but also provide an extra 4 inches of room to stretch out the legs or recline the seat compared to other van bulkheads on the market.
WEATHER GUARD is offering the customized Nissan NV bulkhead in standard-roof and high-roof models, along with a complete line up of bulkhead accessories, such as hard hat, fire extinguisher and extension cord brackets, literature holders, and first aid kit and safety reflector kit trays. And, with the WEATHER GUARD Dog Hatch Door, storing pipe and lumber inside the van is possible.
WEATHER GUARD
CIRCLE 112 ON READER SERVICE CARD
---
Power Distribution System Provides DC Links for Renewables
A new micro-grid power distribution system for the simple integration of wind and solar power generators by transmitting dc power is being introduced by Diversified Technologies Inc.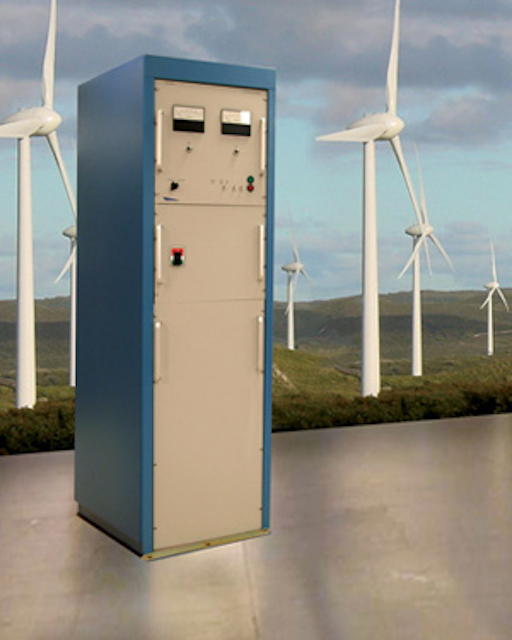 The PowerMod Micro-Grid Power Distribution System features direct solid-state switching and includes a dc power supply, dc cable and down converter for providing ac or dc power at the load end point. Eliminating the limits of ac point-to-point installation, a generator or load can be placed any-where along the cable which is suitable for up to 1 MW power transfer.
Providing constant 10 kV dc transmission at up to hundreds of kilometers, the PowerMod Micro-Grid Power Distribution System uses PowerMod High Voltage Solid-State Switch Modules that provide over 1-million hour predicted reliability per MIL-HDBK-217F.
Diversified Technologies Inc.
CIRCLE 111 ON READER SERVICE CARD
---
Polyvinyl Blanket Barrier Systems Protect Wind Farms
While wind farms are more ecologically sound than traditional power options and operate with mostly small transformers, they still fall under oil spill protection regulations. Drastically reducing the labor and expenses to help meet federal Spill Prevention Controls and Countermeasures (SPCC) Secondary Containment EPA Regulation 40 CFR 112, the C.I. Agent Polyvinyl Blanket Barrier Boom System usually costs 50-80 percent less than traditional methods.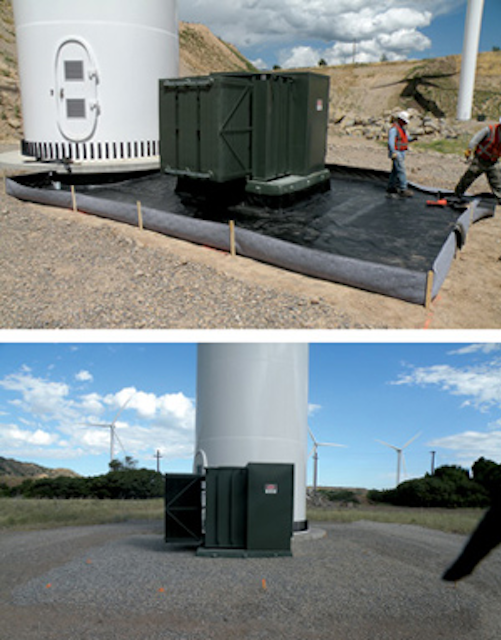 Unlike concrete, the Polyvinyl Blanket Barrier Boom System doesn't require sumps or drains as it allows storm water or snow melt to flow through the C.I. Agent Barrier Boom side-walls while removing any hydrocarbon from the water. For large spills, the side walls become an impervious barrier upon contact to keep the encapsulated hydrocarbons from migrating out of the contained area.
C.I. Agent
CIRCLE 113 ON READER SERVICE CARD
---
IBEX Climb Assist Systems are Safe and Easy to Install
Power Climber Wind, a division of SafeWorks, has signed a contract to supply and install the IBEX climb assist systems for the Dashuiboluo wind farm located in Linxi, Inner Mongolia.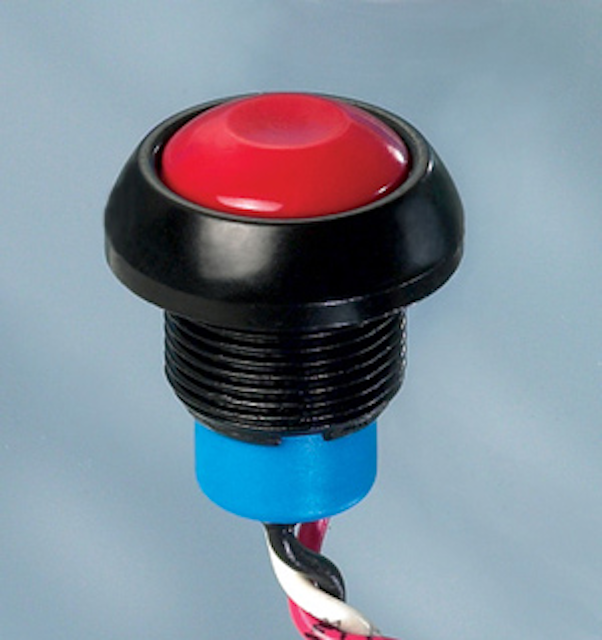 The IBEX climb assist systems will be installed in 25 of the company's 2.0 MW turbines, which generate up to 50 MW of wind power in the region. Climb assist is designed to retrofit and sets the standard for performance, safety and ease of installation. It puts complete control over the climbing effort and experience into the hands of the climber, delivering personalized performance, increased safety and better productivity in any tower.
SafeWorks, Power Climber Wind Div.
CIRCLE 115 ON READER SERVICE CARD
---
Hall Effect Switches for Rugged Environments
APEM's two new Hall effect switches are low maintenance, contact-less, sealed push buttons that come in two versions: linear proportional output and momentary switch. The switches are made of extremely durable materials, including switch bushings of Zamak, a robust family of alloys with a base metal of zinc and alloying elements of aluminum, magnesium and copper. Life expectancy for both versions is estimated at above 5 million cycles at least ten times more than the classic mechanical switch, which is rated for about 500,000 cycles.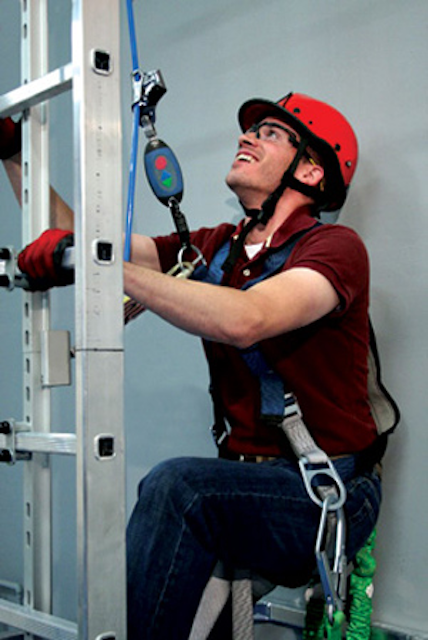 With the lowest behind-panel depth on the market, and IP67 sealing guaranteeing protection against the effects of being immersed in water 15 centimeters and up to1 meter deep for 30 minutes, the series is ideal for customers looking to reduce maintenance, especially in remote military or outdoor locations where switch replacement may be difficult. Those integrating switches into dashboards or panels with space issues will find the compact size and low profile critical factors.
APEM
CIRCLE 114 ON READER SERVICE CARD
---
Adjustable Current Switches Designed for On-off Indication
CR Magnetics Inc. has introduced the CR9600 Series adjustable current switches specifically designed for applications that require an on-off indication of current flow. The key features of the new current switches are low cost, self-powering, adjustable set points, LED visual switch indication, and reverse output polarity protection. Major performance benefits are lower losses, improved lifetime durability, increased ruggedness and heat capacity.
The New CR Magnetics CR9600 Series adjustable current switches are available with an output transistor for dc switching and an additional output for switching ac. Continuous operating current above the full ON level of 1.0 Aac is required. The CR9600 Current Switches are intended for power monitoring applications.
CR Magnetics Inc.
CIRCLE 116 ON READER SERVICE CARD
---
Cleaners, Degreasers and Lubricants for Trucks and Equipment
RSC Bio Solutions has announced its new Gunk Powered by SafeCare and Liquid Wrench Powered by EnviroLogic industrial cleaners, degreasers and lubricants. The Gunk Powered by SafeCare products include truck and equipment wash, heavy duty degreaser, universal parts washing fluid and a general purpose cleaner and degreaser.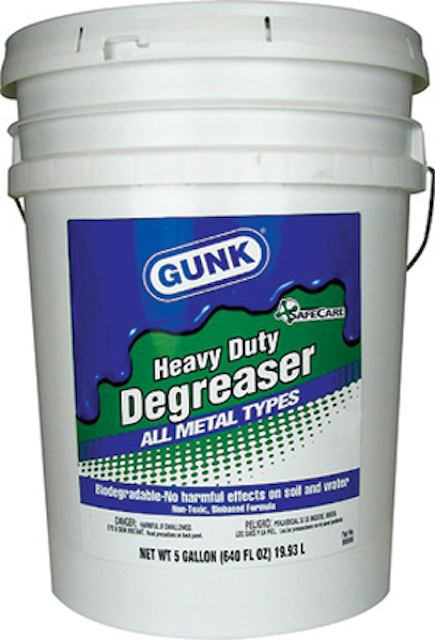 The Liquid Wrench Powered by EnviroLogic line features penetrating oil, jack oil, aerial lift fluid and mobile equipment hydraulic fluid. These new, non-hazardous formulas are the company's first products to market since launching in 2010 as a bio-based platform of Radiator Specialty Company (RSC), the 86-year-old company that houses the Liquid Wrench and Gunk brands under its RSC Chemical Solutions division.
RSC Bio Solutions
CIRCLE 117 ON READER SERVICE CARD
---
Protek Power PMP135 Series AC-DC Power Supplies Offer Continuous Output Power
Power Sources Unlimited's PMP135 series of single output ac/dc switching power supplies offer 120-135 watts of continuous output power. They are enclosed in a 94V-1 rated polyphenylene-oxide case with an IEC320/C14 or IEC320/C18 inlet to mate with interchangeable power cords for worldwide use.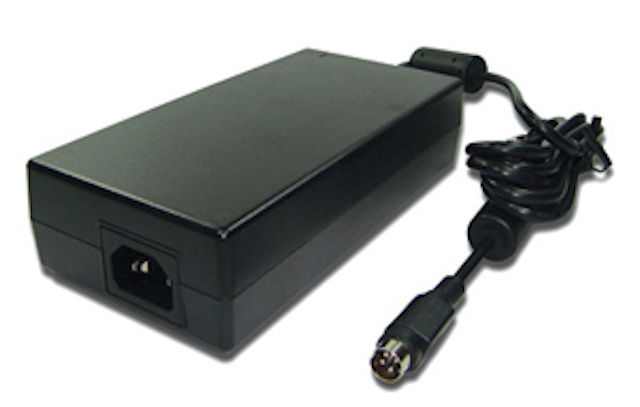 All models meet EN55011, EN55022 and FCC class B emission limits. They are designed for medical and ITE applications, not for life-supporting equipment. The series meets Class I & II standards and complies with CEC, Energy Star and ErP Level V requirements.
Power Sources Unlimited
CIRCLE 118 ON READER SERVICE CARD
---
Help Eliminate Oil Proximity to Waterways
Electro Composites Bushings by Hubbell Power Systems protect waterways from oil spilling by transformers or breakers if there is a bushing failure. These solid dielectric capacitor (SDC) epoxy bushings are 100 percent oil free.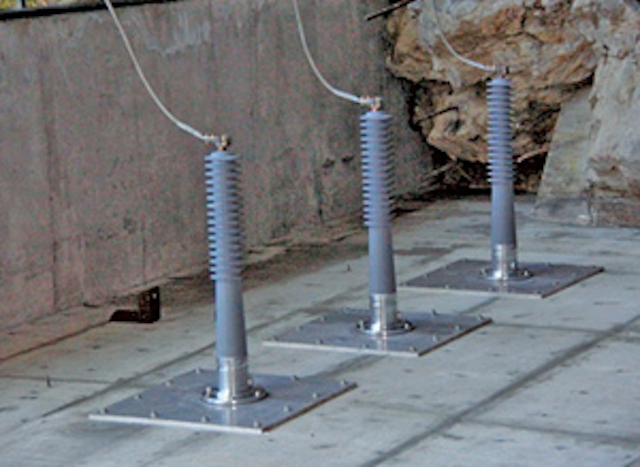 Hubbell Power Systems Inc.
CIRCLE 120 ON READER SERVICE CARD
---
Tharo PA2000 Offers Specialty Tamp Label Printer and Applicator
The Tharo PA2000 Specialty Tamp Label Printer/Applicator is a cost-effective accessory for the Tharo H-400 Series of thermal/thermal transfer bar code label printers. The Tharo PA2000 Specialty Tamp Label Printer/Applicator is easy to use, with minimal adjustments necessary, quick setup and changeover for applying labels to the top or side of varying height products.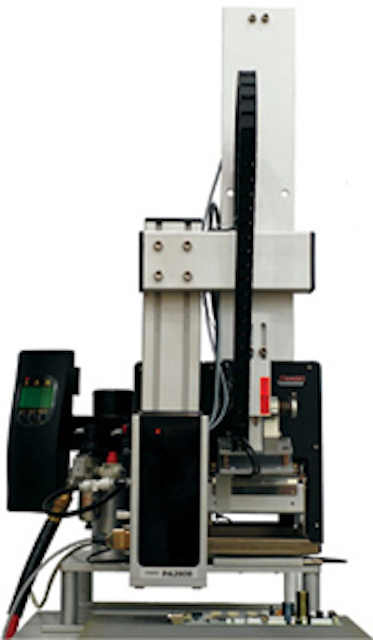 The PA2000 Specialty Tamp features a smaller footprint than other printer/applicators, with a remote front panel for easy access, regardless of the orientation of the applicator. It has an all-metal construction and is made to last with time-tested components.
Suitable for small, delicate, high precision applications, the PA2000 Specialty Tamp is for applying labels to electronic components, printed circuit boards, pharmaceutical and medical applications, cosmetics, automotive parts, plastic parts, assemblies and much more. The PA2000 Specialty Tamp is automatic or semi-automatic and can apply up to 58 labels per minute depending on printer used, label size and height of product.
Tharo Systems Inc.
CIRCLE 119 ON READER SERVICE CARD
---
Transmit Remote Data with 900 MHz Ethernet Radio Family
Phoenix Contact has added a basic version of the trusted wireless Ethernet (TWE) radio. The TWE-Basic (RAD-ISM-900-EN-BD/B) transmits Ethernet data from remote locations, even in high interference environments. The basic nature of the product indicates the removal of the standard RS-232 and RS-485/422 ports.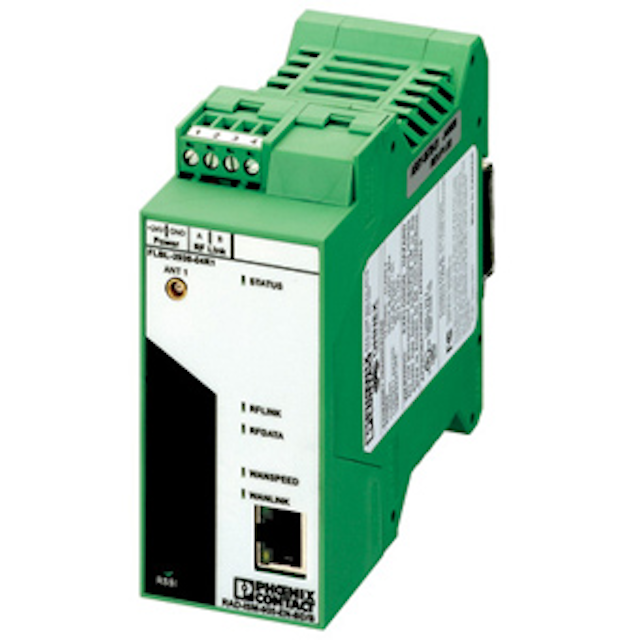 In addition, the TWE-Basic is a slave-only device; so it must be used in conjunction with a standard TWE or TWE-BUS radio acting as the master. Like other trusted wireless radios, the basic version features the MOTR-9 radio platform, a 1-watt, frequency-hopping spread spectrum transceiver. It operates in the license-free 902-928 MHz ISM band.
The MOTR-9 radio lets the user configure over-the-air data rates up to 500 kbps. Adjustable packet sizes maximize data speed and minimize latency. The radio also incorporates selectable 128/192/256-bit AES encryption to prevent unwanted intrusion and keep data secure.
Phoenix Contact
CIRCLE 121 ON READER SERVICE CARD
---
Newly Designed Gull Wing Toolboxes for Pick-ups
Highway Products Inc. introduces its newly designed Gull Wing Toolboxes. Their new design features 1/8-inch aluminum construction, low entry lids for easy access, no-drill easy mounting, welded rope hooks on front face for truck bed cargo tie downs and removable tool trays with each box.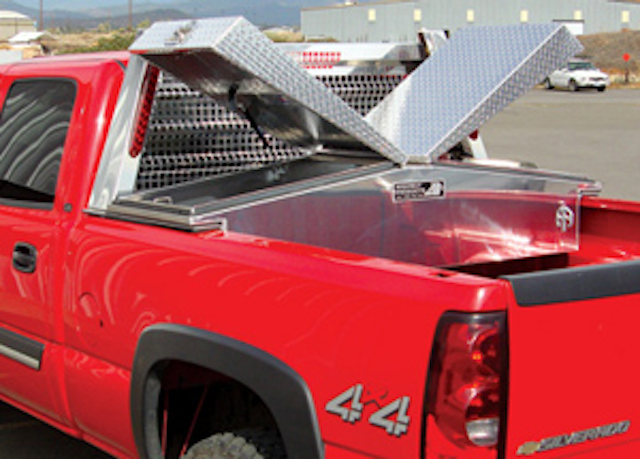 These boxes are available in many sizes to fit all pick-up brands and bed sizes and come with a lifetime warranty.
Highway Products Inc.
CIRCLE 122 ON READER SERVICE CARD
---
AJS Adjustable Jacket Slitter Introduced
Ripley's Utility Tool division is pleased to introduce the new AJS Adjustable Jacket Slitter.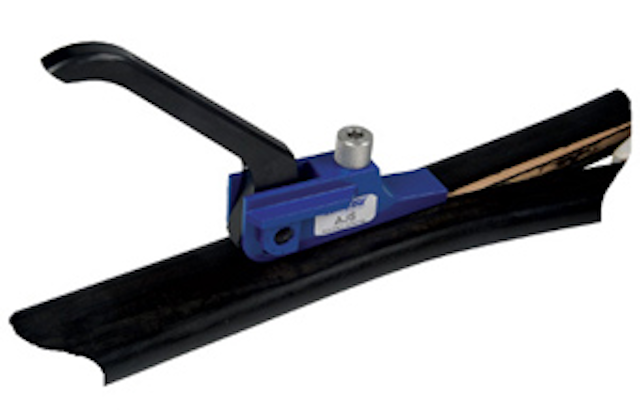 The AJS Adjustable Jacket Slitter is a professional-grade cable slitter designed for longitudinal, circumferential (ringing), and mid-span slitting of corrugated aluminum or copper shield cables, medium-density polyethylene (MDPE), and high-density polyethylene (HDPE) conduits. The AJS has precision-ground tool steel blade, adjustable blade depth allowing slitting of coverings of up to 1/4 inch thick and the blade fully retracts inside body for storage.
The AJS's cam-adjustable lever allows blade dig-in in mid-span application, and lever teeth are designed for soft and hard jacket/covering applications. It will do longitudinal slitting of cable/duct ranging from 1/2 inch to larger sizes and circumferential slitting of cable/duct ranging from 1 1/2 inch to larger sizes. It allows window cutout to access fibers inside ducts ranging from 1 1/2 inch to larger sizes.
Ripley, Utility Tool Div.
CIRCLE 123 ON READER SERVICE CARD
---
Box Pads Evolve Chute Technology
Nordic box pads have evolved in the wind industry from our standard reinforced top (RT) unit to the innovative, first of its type, chuted style box pad. This box pad enabled workers to install the box pad next the wind tower base. Underground cables from the tower conduits were now protected by the chute and could enter the transformer freely from underneath. The box pad provides excellent cable training and transformer support.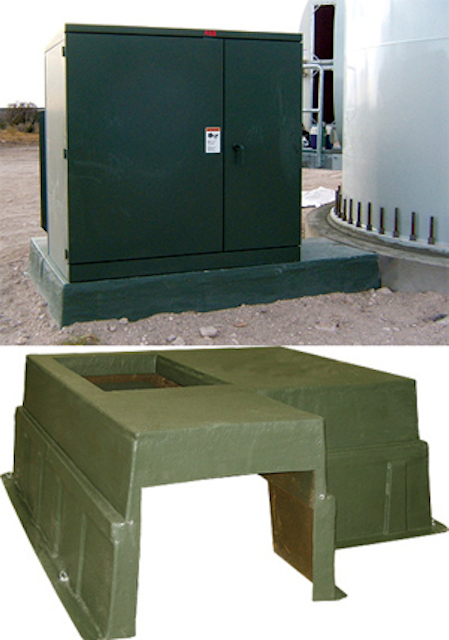 Nordic Fiberglass
CIRCLE 124 ON READER SERVICE CARD
---
Self-contained, Sub-surface Penetrating Radar System
Featuring a technologically-advanced, yet simple touch screen operating system and a variety of antenna frequency options, The Seeker SPR from US Radar is an easy-to-operate, sub-surface penetrating radar system able to infiltrate numerous surfaces such as soil, clay, concrete and brick. The Seeker integrates a complete imaging system into one portable, user-friendly unit, making it a convenient and practical solution.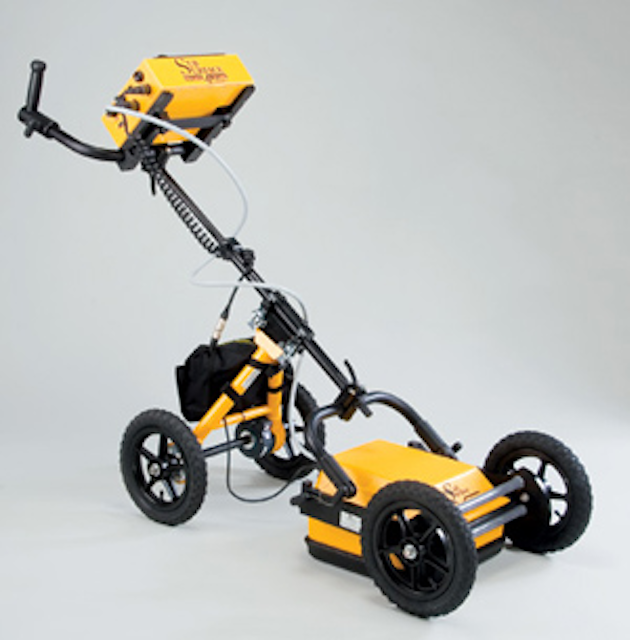 To accommodate a broad range of detection needs, five antenna frequency options are available and are easily interchangeable for those with multiple antenna needs. The highest resolution option, 2,000 MHz, can detect in depths up to 1.5 feet, and see the smallest objects, such as fine wire and cracks in concrete. At a lower resolution, the 1,000 MHz detects slightly larger objects including rebar and wire mesh in depths up to 3.5 feet. The most popular and versatile unit, the 500 MHz, offers a detection depth up to 14 feet and is for recognizing soil disturbances and finding large and small pipes and cables.
US Radar
CIRCLE 125 ON READER SERVICE CARD
---
RD7000+ Utility Cable and Pipe Locator Launched
More than two years ago Radiodetection launched the RD7000 range of utility specific locators offering high performance in an ergonomic and exceptionally user-friendly platform. The RD7000+ products that replace them focus on core user requirements by incorporating dynamic overload protection to improve locate performance in electrically noisy areas and compass, which determines and displays the orientation of the target cable or pipe, simplifying route determination and helping to improve depth measurement accuracy.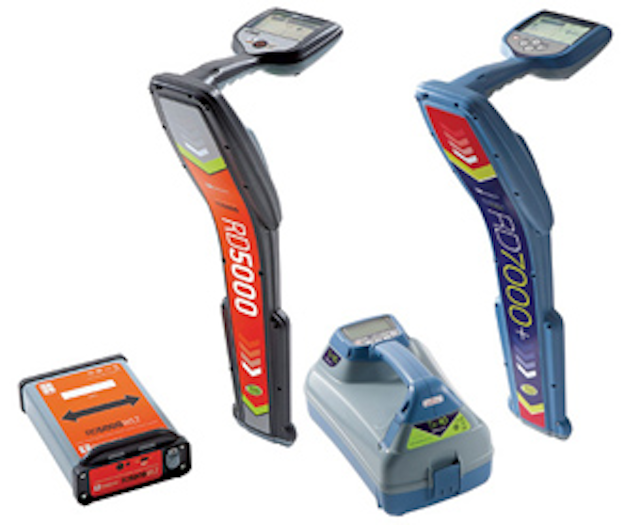 The task of locating specific pipes and cables in large underground networks is becoming increasingly complex, making the operator's job more difficult and more time-consuming. Radiodetection research into this area identifies improved locator ease of use, accuracy and reliability as key to user requirements. The RD7000+ range addresses these needs with new features that deliver accurate, reliable and repeatable measurements.
Radiodetection
CIRCLE 126 ON READER SERVICE CARD
---
BOLT One-key Lock Technology for Truck Caps
Leading commercial truck cap manufacturer A.R.E. has partnered with STRATTEC Security Corp. to provide BOLT one-key lock technology on its popular deluxe commercial unit (DCU) truck caps.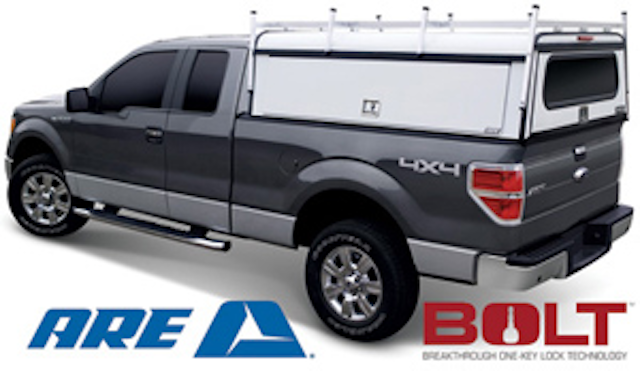 A.R.E.'s DCU truck cap, which is made of fully welded aluminum frame construction, currently features STRATTEC automotive-grade lock cylinders in folding t-handles on all doors for added security. The BOLT lock systems within the cylinders are designed to permanently program themselves to the specific vehicle's ignition key, eliminating the need for multiple keys to operate the truck cap.
When drivers insert their ignition key into the lock cylinder, spring-loaded plate tumblers move up and down until they are matched exactly to that key. The first time the key is rotated, the cylinder is uniquely coded to only that key. When the key is removed, the cylinder moves into the locked position. When the key is turned again, it will rotate to the unlocked position.
A.R.E.
CIRCLE 127 ON READER SERVICE CARD
---
More Utility Products Current Issue Articles
More Utility Products Archives Issue Articles