Successfully Breaking the Mold with Polymer Concrete Cutouts
Polymer concrete model makes cutouts safer and more reliable in extreme cold-weather climates than traditional porcelain units.
May 1st, 2011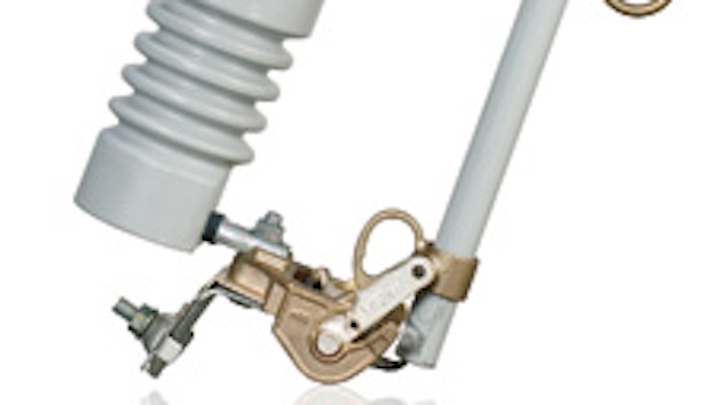 Polymer concrete model makes cutouts safer and more reliable in extreme cold-weather climates than traditional porcelain units.
By Mark Berner and Mohamed I. Abdelrahim
For years, all electric utilities in the U.S. have relied on cutouts in the power distribution grid and on the overhead distribution system to provide overcurrent protection. Utility providers using distribution cutouts on overhead lines have traditionally implemented cutouts made of porcelain, the material of choice for most utilities throughout the 20th century.
PPL Electric Utilities is no exception. The company, a large utility system based primarily in eastern Pennsylvania and serving 1.36 million electric customers, is dedicated to serving its customers with a reliable, stable, safe and secure distribution system.
Distribution cutout insulators made from porcelain were a key component in PPL's protection, security and operation of the distribution system for many years. In the 1980s, however, the company noticed the porcelain cutouts it had utilized for many years were becoming increasingly damaged or affected by the cold-weather climate of the Northeast. Cutouts have long been considered a commodity; if the cutout becomes damaged, it is simply discarded and replaced with a new unit.
The Downside of Porcelain
Cutouts have historically had issues with porcelain insulators; the brittle nature of the porcelain insulator makes it susceptible to breakage from handling in transit to the warehouse, in the warehouse, on trucks en route to the job and during installation.
There were often challenges with the potting material and with the process used in setting the metal mounting brackets and live component materials into the porcelain. This potting material might have had a different co-efficient of expansion compared to the metal, potting material and porcelain. If not compensated for in the design or during the manufacturing process, the natural expansion and contraction process would allow moisture ingression during extreme temperature changes—including sub-zero conditions. During extreme cold periods this moisture would freeze, expand and crack the insulator, which ultimately would lead to mechanical failure.
Cutout Options Investigation Leads to Polymer Concrete
Shortly after these issues were discovered, PPL began an extensive analysis and evaluation of all the distribution cutouts and began noticing similar porcelain-related issues across the distribution system. The company proactively sought an alternative plan to porcelain cutouts by using a more reliable material.
These findings led to an executive decision to no longer install porcelain cutouts on their distribution systems and replace them with polymer concrete cutouts. Once this decision was made, a new program was immediately launched to evaluate all available cutout technologies and material options other than porcelain.
PPL, however, soon discovered that polymer concrete, or polysil, cutouts were more advantageous. Polymer concrete has many advantages over porcelain, including a very good service record with more than 250,000 units installed over a 20-year period with no polymer concrete insulator failures. Overall safety is another key advantage.
These findings eventually led to the executive decision to systematically remove all porcelain cutouts from their distribution systems.
Polymer Concrete Search Leads to ABB
After unacceptable performance from another supplier and a research and development comparison search project, PPL approached ABB in 1988 about creating a polymer cutout.
In 1990, PPL elected to move forward with its program to install all new cutouts using a polymer concrete-designed cutout product from ABB. The ABB polymer concrete cutout provided all the previously mentioned features common with cutout vendors, but also provided additional benefits, including:
Cold weather reliability—resists damage from freeze and thaw cycles, no rod to insulator potting process required.
Metal is directly cast into the insulator;
Improved reliability;
Cast-in hot rods, which prevent moisture penetration;
UV resistant;
Excellent electrical properties and dielectric strengths;
Superior mechanical toughness;
Service history, dating back to 1991;
Durability that reduces typical breakage from shipping, storage and installation; and
Non-brittle material to withstand the rough handling often associated with this type of equipment and shatter proof.
Polymer concrete is a better alternative to potted porcelain cutouts, which have a tendency to crack or shatter in extreme cold weather climates. The polymer concrete insulator cutout is a one-of-a-kind technology within the industry, it's reported, but one that is growing in popularity among utilities.
Proprietary manufacturing materials make the polymer concrete cutout cold-weather resistant. Its casting process makes it more resistant to moisture ingress and, therefore, more resistant to damage from freeze and thaw cycles. Safety has also been enhanced by a shatter-proof design, eliminating any possibility of shattered porcelain falling on a utility worker.
Polymer concrete provides excellent electrical properties and dielectric strengths, as well as superior mechanical toughness. Most of ABB's cutout and switch designs are available with a polymer concrete insulator.
PPL's change-out program involved the removal of approximately 500,000 cutouts. At the beginning of the new decade in 2010, nearly 290,000 of all porcelain cutouts had been removed and changed to polymer concrete cutouts, with approximately another 210,000 to go.
New Experiences with the Polysil Cutout Design
To further substantiate the belief that the polymer concrete cutouts have performed without an insulator failure, PPL decided to test a small sample of the cutouts installed on its system. The company selected 30 units that were in service for 12 to 14 years on its distribution system. The sample units were tested by ABB, an independent testing lab and by another utility's testing lab. The results from all the tests verified that the units performed without failure while exposed to the typical weather conditions for the northeastern U.S.
PPL can now report that, with more than 250,000 units installed over the last 20 years, there has not been a single known cracked polymer concrete cutout in its network.
PPL found that the durability of the polysil design, with less risk of becoming brittle, met its expectations with no breakage in transit, in the warehouse, on line trucks and in handling during the entire installation process. The material's consistency has created better quality and higher quantities of cutouts over a significant manufacturing period.
The quality and reliability is greatly improved over the porcelain design, based on the repeatability to the manufacturing process. PPL currently uses the polymer concrete cutout for transformer and capacitor fuses, tap switches and bypass switches on reclosers.
---
About the authors: Mark Berner is the manager for Distribution Maintenance at PPL Electric Utilities and is based in Allentown, Pa. He can be reached at mrberner@pplweb.com. Mohamed I. Abdelrahim is the marketing and sales manager for Medium Voltage Power Products with ABB Inc. and is based in Pinetops, N.C. He can be reached at mohamed.i.abdelrahim@us.abb.com.
More Utility Products Current Issue Articles
More Utility Products Archives Issue Articles