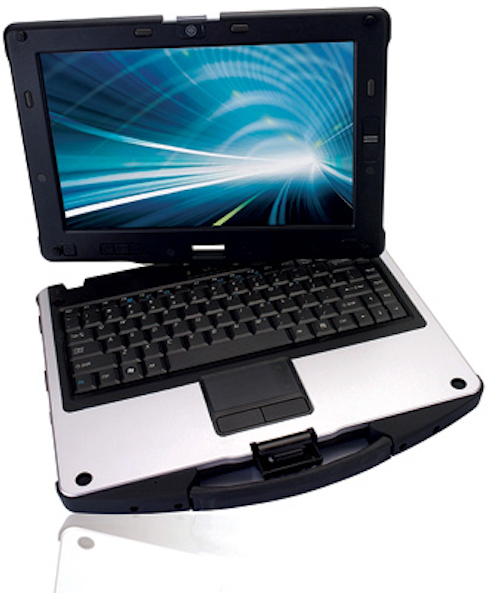 Many good things can be said about working outdoors. When the job entails working outside every day—regardless of the weather and, at times, in places many would consider less than hospitable—all of those good things are quickly forgotten.
Dust. Dirt. Rain. Snow. Bumpy roads. Dirt trails. Excessive heat. Frigid cold.
The great outdoors has its drawbacks, and even more so if the job requires doing computer work in the elements. Those same negatives that can make a utility worker's job and life miserable can be just as rough on man's newest best friend: the computer or offshoots thereof.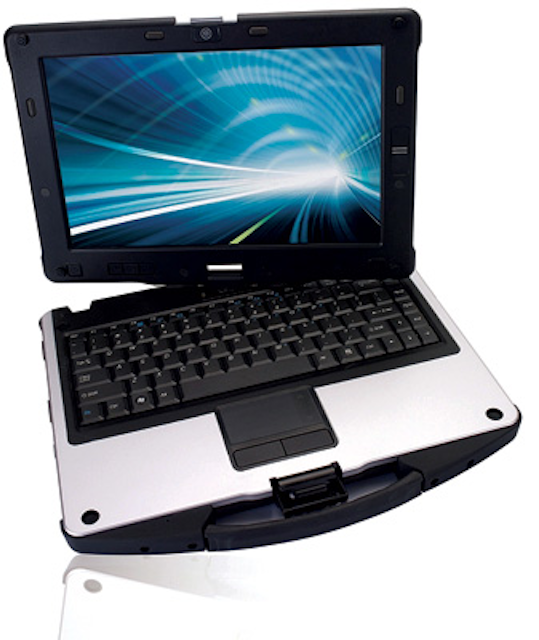 Computers originally were designed to work in a nice, warm and fuzzy office or educational setting. They were plugged in, turned on and did what they were commanded to do or, as we all have experienced on numerous occasions, did whatever they felt like doing.
Then, after all sorts of technological advancements and a good deal of abracadabras and hocus-pocus, the computer was taken and successfully used in places no one ever dreamt they would be—utility job sites.
When computers found their way into the field, our good friends Mr. Dust and Mr. Dirt posed all kinds of new challenges. One company that has overcome those obstacles is GammaTech Computer Corp.
For more than two decades GammaTech has been designing, manufacturing and selling rugged, hardened notebook and tablet computers.
Take, for instance, model U12C, a high-performance convertible notebook. It provides flexibility and functionality as it transforms quickly and easily into a tablet personal computer (PC). It incorporates industrial durability to protect vital components such as the motherboard, hard drive and memory module yet retains a slim, lightweight design allowing portability.
This durable, ultra mobile computing device makes an excellent on-the-job companion for on-the-go utility workers. Its feature-rich design includes a 12.1-inch convertible thin film transistor (TFT), light emitting diode (LED) backlit touch-screen display, 1.3 mega pixel Web camera and up to 8 gigabytes of memory.
Those are not out of the ordinary for this type of computer. It's how the U12C presents itself on the ride to and from job sites and how it stands up to inhospitable factors that make it dependable. Easily meeting Mil-810G standard guidelines, the unit is drop-, shock-, spill-, and dust-resistant.
Take the ride down that bumpy stretch of no-man's land. The GammaTech U12C is built with rugged features to protect it and someone's hard work from being jarred, bounced, dropped or thrown.
The U12C is protected from such actions by a magnesium alloy case that is 20 times stronger than the ABS plastic used in other notebook products. In testing, it has withstood more than 26 drops onto concrete covered with 2-inch plywood from 4 feet high.
Likewise, its liquid crystal display (LCD) screen and hard-disk drive feature an anti-shock mounting design that protects them from damage and data loss that usually would occur following sudden shock or drop.
Utility work is mostly done in dirty, dusty conditions. Sensitive equipment ends up in nasty places. The U12C's input and output ports are covered to protect from such hazards.
Liquids—whether from mother nature, job-site peculiarities, spilled drinks or some other means—are associated with working outside. The unit features a spill-resistant design to protect the system's electronic devices from wetness. It also has a spill-resistant C-Face that includes the area around the keyboard, touchpad, speakers, and wireless and power switches.
The U12C also offers a power safeguard. Double-protection, smart battery circuitry prevents damage caused by current or voltage surges and overheating. Smart battery calibration helps fight battery capacity loss after repeated charge-discharge cycles.
The unit keeps content safe with security features such as BIOS administrator password/Boot password, fingerprint scanner and TPM 1.2 technology.
The U12C comes with an Intel i5-540UM processor and Intel HM55 chipset. Additional features include high-definition stereo audio and wireless local area network (WLAN) and Wi-Fi compatibility with optional Bluetooth capability. A hard handle makes portability easy.
The U12C is competitively priced to commercial notebooks, which lack structural protection. With pricing lower than fully rugged notebook systems, the unit offers the features needed to lower the risk of damage on the job during normal use.
The GammaTech U12C comes with a 2-year warranty. It is available through authorized resellers nationwide. Final assembly, as with all GammaTech products, is done in the U.S. as is all customer service and factory repair services.
---
About GammaTech Computer Corp. For more than two decades, GammaTech Computer Corp. has designed, manufactured and sold rugged and hardened notebook and tablet computers throughout North America. GammaTech promotes its built-to-order durable mobile computers to businesses, government, health care, fire, law enforcement and public safety entities. GammaTech is headquartered in Fremont, Calif. and provides the final assembly, inventory, service and technical support. For more information, visit GammaTech at www.GammaTechUSA.com.
More Utility Products Current Issue Articles
More Utility Products Archives Issue Articles