Situational Intelligence Software Improves Field Effectiveness
When the list of outages and maintenance requests start accumulating, field service managers are challenged to correctly prioritize service calls and determine whether a dispatched technician has the right skills and tools at their disposal to do the job.
May 1st, 2011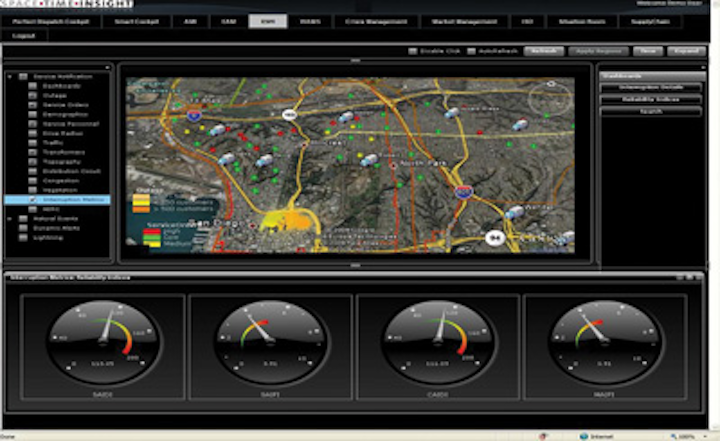 By Steve Ehrlich
When the list of outages and maintenance requests start accumulating, field service managers are challenged to correctly prioritize service calls and determine whether a dispatched technician has the right skills and tools at their disposal to do the job. To further complicate matters in critical situations such as downed power lines, time is of the essence. Determining not which technician is closest but which one can get to the site first is vital to safety.
The Limitations of a Partial View
The software at the disposal of most utility organizations today, unfortunately, does not provide a 360-degree view of the problem. As a result, managers' abilities to make instant decisions that affect lives, property and profits are limited by the quantity and age of accessible information. Without a clear understanding of what the problem might be, how and when additional problems might transpire, and what is required to resolve the issue at hand, technicians are essentially being dispatched on a blind date. Hopefully they are prepared to handle what they find on arrival at the scene, but many times that is not the case—leading to productivity loss, higher costs and dissatisfied customers.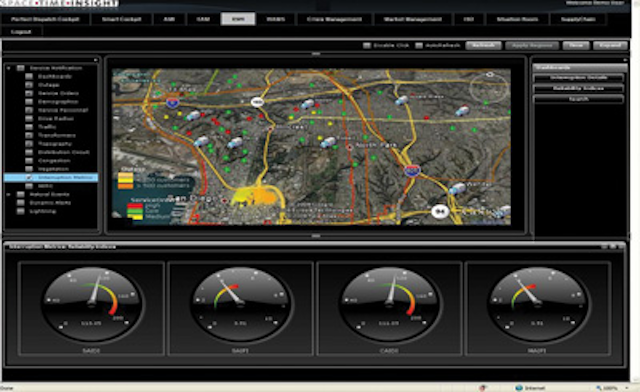 The grouped yellow dots show the outage. The truck icons show current vehicle locations using global positioning system feeds.
The recent San Bruno disaster highlights some of these issues. A technician was dispatched when the explosion was reported. It's unlikely, however, the technician would have been able to address the problem—to turn off the flow of gas—because that was outside his skill set. In addition, he was stuck in traffic, and it fell to other technicians acting on their recognizance to perform the required tasks.
Enabling Smart Decision Making
What operational managers need is the ability to hone in on a specific problem and identify the root cause. With that understanding in place, they can then take the appropriate action to address the issue and make sure the most qualified and closest technicians can be dispatched. Several other factors should be considered in making those decisions:
Which problem has the greatest financial impact on the company? Large companies generate more revenue than houses and might be prioritized higher.
Which problem poses the greatest risk to lives and property? If a gas leak has caused a fire, it needs immediate attention.
What environmental variables need to be considered? An approaching lightning storm or potential flood might trigger proactive maintenance activity.
Traditional field service and analytical solutions seldom provide the access to the myriad of data sources needed to answer the above questions or real-time information availability that is critical to the instant decision-making process. A new class of software, however, is emerging, called situational intelligence. Situational intelligence solutions are designed to pull high volumes of disparate data from many different sources, correlate it and present it visually and geospatially through a combination of 3-D maps and dashboards.
Using this software, managers are able to make more informed decisions. Consider the following scenario, for instance. Power is out in a certain area. An operator can zoom into that area on the map to the precise location of the outage and asset that caused the problem. The operator can then perform a root-cause analysis to determine why the issue occurred, such as overlaying on the map storms moving through the area in the last hour, and step through a set of tasks that need to be completed when such a situation occurs. With the problem identified, the operator can display all the trucks in the vicinity that are color coded using pre-defined rules for suitability. Those rules might include the technicians' skills, the equipment and tools at their disposal, and the current traffic conditions that might cause the closest vehicle to take longer to reach the site than another technician.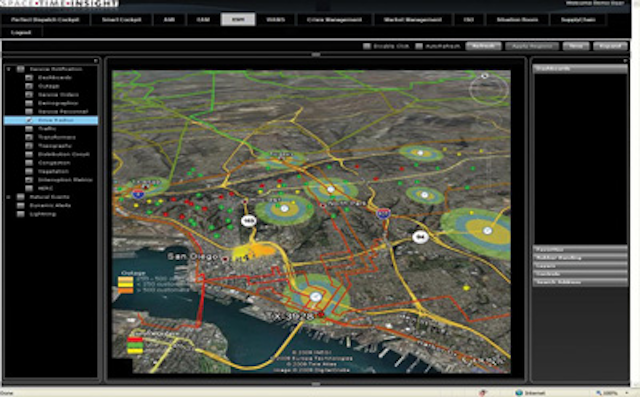 The circles represent drive-time radius estimates.
Other cases where situational intelligence can be applied include:
Using a heat map to show a financial analysis of open tickets, helping with prioritization of service requests;
Providing customers with faster time-to-resolution information by more quickly identifying and quantifying problems;
Increasing visibility into interruptions caused by common asset failures, arming technicians with the information needed to more quickly complete a job;
Alerting technicians to safety issues such as approaching storms during planned and unplanned maintenance;
Geospatially identifying trouble tickets by criticality, aging and customer type; and
Identifying mitigated and unmitigated risks and risk factors, and scheduling field technicians to remediate and proactively fix issues using remedial action schemes (RAS).
Quality situational intelligence software should be designed not to replace, but to complement existing systems so any field service, workforce management, enterprise resource planning or business intelligence software already in use can be easily and seamlessly integrated into the solution, setting the stage for the well-informed decisions to follow. The software could also provide comprehensive analytical views of trouble tickets from inception through completion.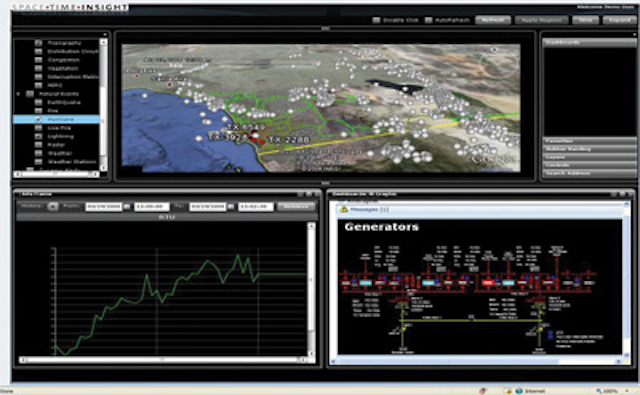 Looking backward in time helps create temporal content for root-cause analysis.
By providing field service managers with the visibility needed, informed decisions can be made that will save valuable time and resources in critical situations.
---
About the author: Steve Ehrlich is vice president of marketing at Space-Time Insight (www.spacetimeinsight.com).
More Utility Products Current Issue Articles
More Utility Products Archives Issue Articles