Secure and Safe
Security involves more than technologies.
Sep 1st, 2011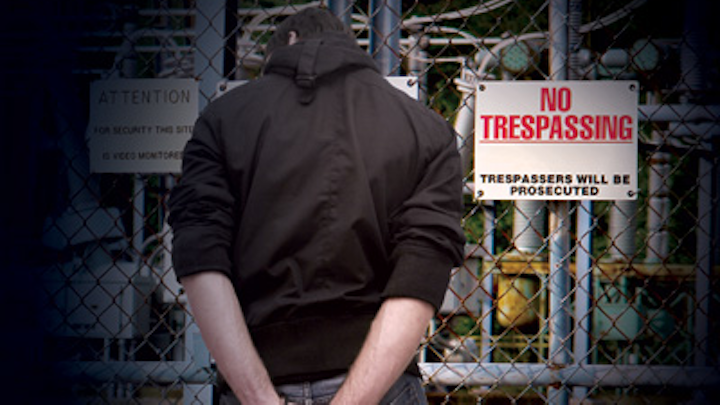 Security involves more than technologies.
By Paul Hull
If you knew someone whose car was stolen and you learned they had not locked the vehicle or removed the keys, you would probably think that person deserved what happened. It's amazing how many times expensive business equipment is left like that! The security of trucks and vehicles very much depends on the attitude of employees. Put another way, it means advanced technologies and keys are of little use if no one uses them.
Most utilities have remote sites that cannot be guarded or monitored by people all the time. It can take almost a day for technicians to reach some of them. The solution is to have security devices—as well as strong fences—that will alert the home office or other appropriate location that there is an intrusion or attempted break-in. At the same time utilities should consider what solutions are available to deter intruders who are not human—animals such as snakes and rodents that can crawl inside secure fences and trigger dangerous failures and outages. Most of our efforts, however, are directed towards the prevention of invasion by human marauders. For both equipment and vehicles, don't imagine that the potential thieves are teenagers having fun. Stealing valuable equipment is a real business, run by professionals. Don't underestimate them. They have developed sophisticated techniques because their profits from taking your properties are extensive.
It is essential to know the location of the company's mobile equipment at all times. Where is it? Where are my crews? Where should they be at this stage of the project? The location of most machines, vehicles and instruments can be pinpointed today. A number of stolen vehicles and machines are recovered because their location, even when taken by thieves in the dead of night, can be found quickly and accurately before they are dismantled or disguised.
Location, Location!
Telematics is one of those long words that make some people wary. Is it just a salesman's gimmick word? What can it do? It lets you connect objects that were once considered stand-alone components of your business—the pickup, the aerial lift and the office. One telematics expert described telematics as a smart device. Smart—or intelligent—business services go beyond the traditional ways of seeing services and using them in establishing growth and profits. Such services are a completely different entity from the service offerings of the past. They are described as fundamentally preemptive rather than reactive—or even proactive. Preemptive means your actions are based on hard field intelligence. Smart services such as telematic intelligence are based on actual evidence, for example, that a machine is about to fail or that a shipment of materials has been delayed. It is impractical to have people with pads and pencils gather and analyze the real-time field data required; smart services depend on machine intelligence. Reliable and extremely fast microprocessors do what they are good at—digesting billions of data points, talking to one another about the data and controlling one another based on the state of the data—all in a matter on nanoseconds. People cannot do that. This constant stream of business information from machines, appliances and vehicles might be invisible to people. At the same time, this background activity gives managers and decision makers much more visibility into a business's assets, costs and liabilities—precisely when they need or want it. Today, virtually all products that use electricity have inherent data-processing capabilities. Each has a wealth of information to offer about its current status, usage, history and performance. Telematics, then, not only locates equipment, it tells you what it is doing, what it has done and even what it is likely to do. And yes, the telematics device might look like a little box under the hood.
If there are two stages in equipment theft, they are to prevent the theft, and, if it is stolen, get it back! Please don't be insulted by the following questions:
Are all your vehicles and machines identified?
Do the vehicles and machines have easily found identification numbers and labels?
Do you have a written record of all equipment owned—date of purchase, model number, manufacturer's name and contact details, and any identification number supplier by manufacturers?
Examples of Security Steps
As technologies advance we can expect faster and more accurate ways of identifying the location and performance of our equipment. There are many companies that might have the ideal solution for your fleet in your part of the country, and there are probably companies that have made outlandish claims, failed and quietly disappeared. It is still very much a "buyer beware" market, but in what sector of our business is that not true?
LoJack Corp. just celebrated its 25th anniversary of success with more than $4 billion worth of stolen construction equipment recovered in that time. The LoJack system was invented by a policeman to help other policemen quickly and safely find stolen vehicles. In Southern California, a rental company recently reported a missing $11,000 compressor and trailer equipped with a LoJack system. It took only half an hour to track the stolen equipment—and several more pieces valued at more than $200,000. Radio frequency plays a role in LoJack's success because it allows equipment to be tracked even when it is hidden in dense foliage or in underground structures such as concrete garages.
The National Equipment Register (NER) has been active and successful for a long time, too. Several insurance companies, especially those involved in property and casualty insurance, work with NER to deter and apprehend thieves. These insurance companies give their policyholders added protection from job site theft—apart from discounts—by using NER proprietary data management services that mark and register equipment across the U.S. One insurance company that does this is Amerisure, insuring businesses since 1912.
"Our new relationship with NER demonstrates our commitment to understand the needs of customers and deliver a solution consistent with our service proposition," said Gerald Chiddick, Amerisure's vice president of marketing. "The option to register equipment provides an additional step in proactive risk management."
Protection is not always boxes and fences. With public utilities mandated to invest in infrastructure upgrades, there are new risks in the new technologies— requiring changes for an organization's security. What you might call the cybersecurity landscape is changing in its complexity and in the intent of adversaries. DELL SecureWorks, with more than 175 clients in the energy and utility sector, can help solve security challenges for advanced metering infrastructure, smart grid technologies, industrial control systems, supervisory control and data acquisition (SCADA) networks, and critical information technology (IT) assets. The Dell SecureWorks Counter Threat Unit (CTU) research team, an elite group of security researchers, performs in-depth analysis of emerging threats. The Dell SecureWorks security and risk consulting team can provide expertise and analysis to help facilitate compliance and improve operational efficiency. Included would be assessments of vulnerability for smart grid infrastructure and industrial control systems, incident response for industrial control systems, and creation and review of policy and procedure for critical infrastructure protection (CIP) compliance.
MOBILELOCK from DeWalt is a portable wireless alarm system and global positioning system (GPS) locator that can protect your assets by enabling you to monitor them 24 hours a day, seven days a week. In Rockdale County, Ga., Patrick Lockman got tired of thieves stealing from his building sites.
"We've had carpet ripped out of houses," Lockman said. "These are finished houses. We have gone in the next morning and the carpet's gone!" So, he decided to fight back. Thieves took an air conditioning unit from a house in Newton County, but they took an extra little something, too—a GPS device inside the unit, a MOBILELOCK.
"I got on the computer, logged in and could see the air conditioner had moved a couple of counties," Lockman said. The device gave him the address of the stolen unit and the police found it—plus several other items.
Be secure and be safe. There is an abundance of equipment and technology available for preventing theft and tracking thieves if they should manage to take your valuable property. Much of what is stolen is taken from untended jobsites, so impress on employees that the greatest responsibility for security is with them and their commitment to stopping theft and damage.
More Utility Products Current Issue Articles
More Utility Products Archives Issue Articles