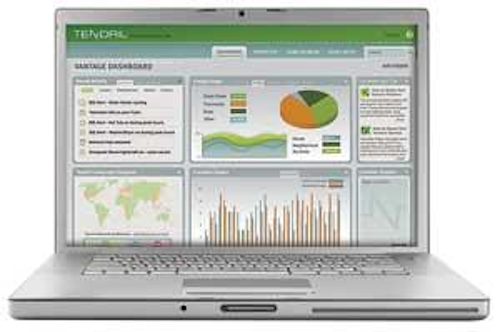 By Adrian Tuck
Need for Flexible, Scalable Solutions to Validate and Fully Realize AMI
The utility industry is tantalizingly close to crossing a communications chasm that has existed since electricity first coursed into homes more than 100 years ago. New software and hardware technologies are poised to enable enormous change in the way energy is managed in the coming years. The interest among environmentally friendly and cost-conscious consumers is there. Awareness is building in state legislatures across the country and the pieces are slowly falling into place to affect real behavioral change, but how that change looks remains a big question. The challenge is reshaping that century-old infrastructure–reshaping it in a way that makes practical and financial sense for utilities and their customers.
Opportunities of AMI
The most important dynamic driving the energy efficiency movement is the huge information and productivity gap that persists, despite tentative steps in the past decade from utilities embracing early technologies. What's emerging now–the advanced metering infrastructure (AMI)–will enable this revolution.
Through its intelligent and connected components, AMI not only ties the home together but binds it better to the utility. AMI is about visibility and control–creating an ecosystem in which consumers get more power over their energy decisions and utilities gain more insight and tools to manage the grid smartly.
For energy providers, AMI improves the reliability of the grid and ultimately lowers cost. Its impact on the environment through energy conservation is also considerable: By leveraging smart meters tied by a communications back channel to the utility, fleets of utility vehicles can be taken off the roads. A New York State study found that every 100 MW of reduced usage can lower carbon emissions in that state by more than 500,000 tons per year. A utility leveraging AMI ultimately builds fewer power plants, saving money and the environment simultaneously.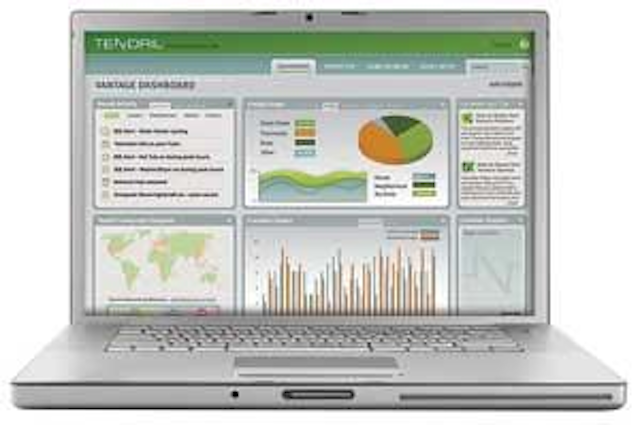 Click here to enlarge image
One of the core value propositions for AMI is the ability to create a demand side management ecosystem that helps manage energy throughout the grid. Demand Response allows energy providers and utilities the flexibility to respond and, where consumers are willing, influence and control operational characteristics within the home. It also enables variable pricing structures that can help balance the load, impact demand and most importantly, promote behavior change that lessens the strain on the grid during peak energy periods.
For residential consumers, AMI provides unprecedented insight and control. Until now, there has been virtually no information about what it is inside the home that is causing high energy bills. AMI opens up a world of possibility and a wealth of data and information never before available. The consumer can see which appliances are drawing what power, assess vampire currents (which still allude the average household) and gain insight that allows the management of energy use in real-time. They can also develop strategies to lower bills, saving money but also lessening the carbon footprint. Consumers are now ready for this fundamental change inside their living room. Online banking is now more than a decade old and common practice in almost every home–utility customers are keenly interested in bringing this level of interactivity to their energy usage as well.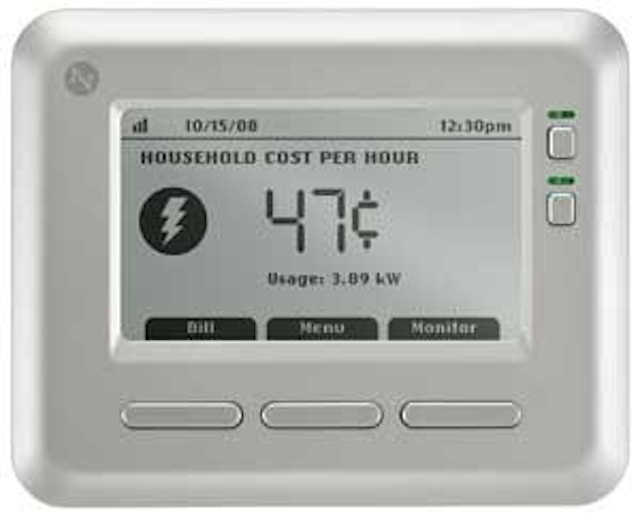 Click here to enlarge image
null
What Does True AMI Look and Feel Like?
True AMI mirrors a modern corporate enterprise in a way, with all aspects of the ecosystem tied together, and monitored and tweaked for various outcomes. A proper AMI architecture provides a sound, enterprise-class foundation for building, deploying and managing remote (wired and wireless) sensor and control network applications and their integration into a larger, open ecosystem.
AMI architectures will be deployed alongside existing standards-based technology, such as ZigBee applications, to enhance the ecosystem and network environment, or used in a green-field application to build programs from the ground up. The core architecture needs also to scale horizontally across existing hardware in place, providing a consistent and responsive user experience in various different environments.
Below are additional features a utility should consider for a robust AMI architecture.
First, it is important to take a "standards-plus" approach. This not only ensures interoperability across vendors but also affords opportunities for solution providers to differentiate and provide unique value.
A robust architecture requires open APIs to enable extensibility and third-party application integration. This includes head-end and meter interfaces to the AMI backhaul network, standard back-office interfaces to billing, CMS and other enterprise systems and wired and wireless interfaces between the meter and consumer devices in the home.
An AMI architecture needs to support the myriad Demand Side Management programs currently defined and those not yet envisioned. These include everything from demand response and direct load control to variable pricing schemes to distributed generation (e.g. solar) and new consumers of energy (e.g. plug-in cars). Leveraging legacy AMR and current technologies in place is also important in extending ROI and supporting phased, controlled rollouts.
Additional factors for success include: real-time data capture and efficient AMI network throughput; multi-tier security through standards-based authentication, authorization and encryption; a service oriented architecture (SOA); and a heterogeneous network that supports multiple communication paths between the office and remote endpoints.
Current Limitations
The promise is there, but there are challenges to building the perfect AMI.
Smart meters and other technologies are important components, but they are just one portion of a much larger ecosystem that needs to be put in place. AMI needs to be considered part of a holistic, integrated energy strategy, not just a way to get fleet trucks off the road or ease billing problems. All the pieces need to fit together to make the AMI puzzle work.
There are many companies focused on developing point solutions to address different pain points throughout the grid. Some companies are building smart meters and AMI network technologies. Others are focused on in-home consumer hardware or have extensive capabilities to manage back-office utility priorities.
Addressing these individual needs is important, but to realize true AMI as an industry, there needs to be an open, interoperable architecture that can be deployed across the entire electricity value chain–from the utility back-office, thought the meter backhaul and into the home via smart meters and broadband connections. This not only enables cost efficiencies in a build-out that will stem unprecedented change in the electricity sector, but it also allows this change to scale and happen quickly. Implementing AMI requires a change of thinking too: Many utilities' existing systems are built around monthly billing cycles. There are some cultural and technological hurdles to knock down to bring two-way, real-time communication into the fold at the utility level as well.
Different AMI backhaul networking technologies will provide varying levels of network performance: bandwidth, throughput and latency. These varying performance levels will affect the capabilities which demand side management applications have at their disposal and the resulting performance, at the application level, of these solutions. With the growing ubiquity of broadband, AMI network technology providers need to consider the effect and limitations of choosing technologies which provide performance levels well below that available from mainstream, IP-based solutions, or embrace the idea of heterogeneous AMI network topologies which provide multiple access paths between utility and home.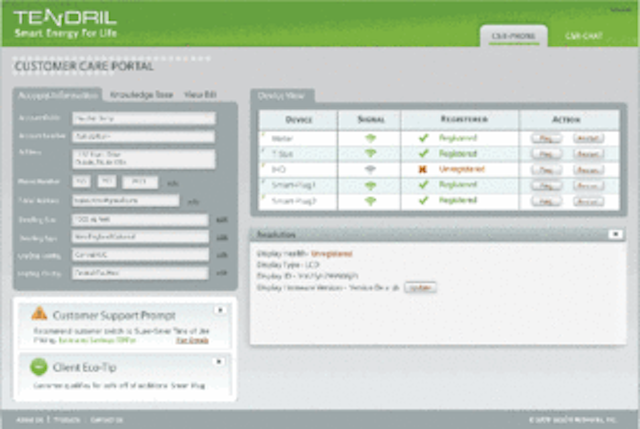 Click here to enlarge image
Standards always win. However, establishing them can be a long and arduous task. Even so, creating standards across the AMI architecture, from head-end to the home area network, will ultimately benefit everyone. The industry must consider the possibilities of collaborating–in the same way that corporate networking and IT organizations drove standards which today allow a Cisco router to co-exist and interoperate with a NETGEAR firewall.
Existing AMR solutions don't fully address the problem energy providers are facing with the capacity-strapped grid and their limited capability to provide real-time information. AMR systems can deliver information about a home's energy usage, but which appliances are really drawing power when they shouldn't be? And, more importantly, how can a consumer access and then act on this information?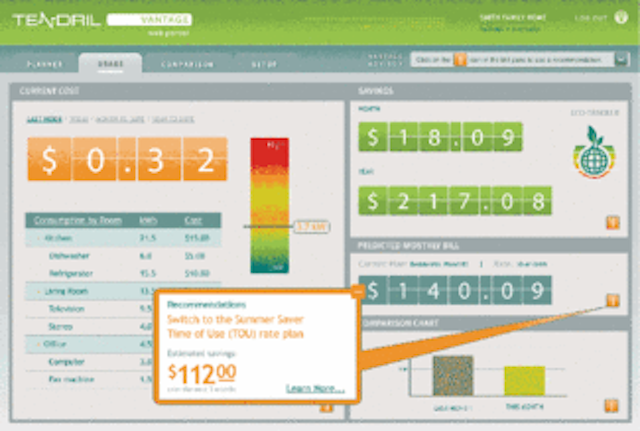 Click here to enlarge image
null
How to Validate AMI?
Solutions that stand in the gap between the home and energy provider and leverage the communication capabilities of AMI are essential to pushing the tipping point toward mass deployment and rollout. This is more specifically defined as a residential energy management system (REMS), a solution designed to connect utility back-office systems, emerging advanced metering systems and home-based smart energy devices for increased insight into and consumer control over energy usage. The Tendril Residential Energy Ecosystem (TREE) is an example of an open, standards-based architecture that provides integration with any ZigBee Smart Energy certified product for the home.
Automation is upon us, as dozens of companies are trying to address this century-old communications gap between the home and the utility company. The industry needs to view each step of the communications process as part of an overall architecture, rather than a point problem to solve or automate. AMI will deliver empowerment to consumers never seen before and finally allow utilities unprecedented insight into their customers' behavior and the flexibility to build custom applications to more efficiently rollout smart energy programs.
Why Should We Care?
The days of the drive-by meter truck are rapidly coming to an end. The grid is capacity constrained, but demand is not slowing anytime soon. There is sound research and progress in various fields of alternative energy, but it will be years before these solutions come online. And even then, it's critical that consumers use these resources efficiently.
Energy efficiency is something that can be implemented today–the technology is here and the industry is ready. Before too long, many households will be grappling with how to plug in their cars or hang their new ultra-high-definition plasma screens. In order to lessen the impact on the environment and burden on the pocketbook, there needs to be a unified industry initiative behind smart, scalable solutions to fully realize a productive and advanced metering infrastructure.
---
About the Author:
Adrian Tuck is CEO of Tendril, a residential energy management systems company based in Boulder, Colo.