Outdoor Handheld Computers Are Key to Streamlining the Work Process
For decades, we've been promised that technology would make our lives infinitely easier—and a lot cooler—and today we're still waiting for our George Jetson flying cars, personal robot butlers and homes that clean themselves with the push of a button.
Sep 1st, 2008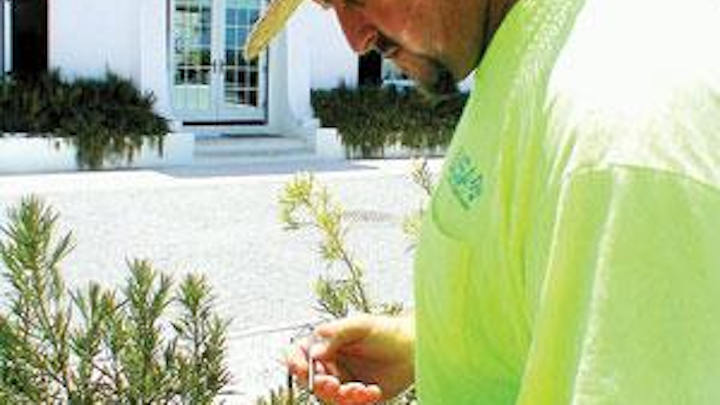 For decades, we've been promised that technology would make our lives infinitely easier—and a lot cooler—and today we're still waiting for our George Jetson flying cars, personal robot butlers and homes that clean themselves with the push of a button. But there are also some developments that match or even exceed the popular-science predictions: A massive library of music contained in a device smaller than a deck of cards; the collected knowledge of the world just a few keystrokes away; an entire generation that communicates using their thumbs.
If you're a utility worker, you can add to that list a single device that provides your schedule for the day, knows exactly where you are at all times, identifies individual meters or other objects for you, takes photos to show your work, creates reports and delivers them to the office without you ever having to actually go there, and is virtually indestructible and fits in the palm of your hand.
All in all, more useful than a hunk of metal on wheels that can remember your name and carry a tray of hors d'oeuvres.
"There's no doubt that rugged handhelds are revolutionizing the way utility field workers do their jobs today," says Randy Leonardo, utility sales manager for TDS, a Trimble company. Trimble makes a trio of outdoor handheld mobile devices—the Nomad, Recon and Ranger computers—that help field workers in a variety of industries do their jobs more efficiently.
Using a rugged handheld computer eliminates paperwork, cuts down on data-entry errors and allows instant, wireless transmission of schedules, readings and other information. Specialized software like UMSMobile is customized to specific tasks, guiding utility workers intelligently through a series of questions.
Click here to enlarge image
"Utility work in the field has traditionally been very heavy on both paperwork and communication with a central office," Leonardo explains. "It's very task-oriented, with the need to document work and transmit information taking up a lot of time and energy. Anything that can streamline those two elements is a major boost to efficiency."
Forward-thinking utilities have long recognized the drawbacks of relying on job processes that require multiple trips to a central location, paper-based record-keeping and manual data entry. The constant potential for data errors, inclement weather wreaking havoc with paperwork and the recent surge in fuel prices have all reinforced the need for more overall efficiency in the field.
Handheld computers have always had vast potential to improve the way their field workers operate. But there have always been two main challenges to committing to them: finding a single device that can accomplish all the tasks necessary to make the leap to paperless processes, and finding one that can withstand the rigors of working in sometimes harsh outdoor environments.
The solution to those challenges was not available until a new category of computer technology hit the market: truly versatile rugged handhelds. Now utilities are finding innovative ways to streamline work tasks.
Here's an example of what these devices can do…
Electric and water utilities typically change out their meters when they've reached the end of their useful lives. When they send a worker out to make the replacement, a handheld can greatly expedite the process. It goes something like this: First a home-office dispatcher sends appointment information directly to a field worker via the handheld—address, task and other details. Upon arriving, the worker verifies the exact location of the meter, using the handheld's built-in GPS to pin down the coordinates. Then it's time to swap the units. The bar-code scanner attachment on the handheld lets the worker quickly scan the old unit and then the new one. Once the new meter is installed, the worker uses the handheld's digital camera to snap a date-stamped photo of the new installation. All the information from the procedure is then transmitted wirelessly and instantly from the handheld back to a central-office mainframe.
And that's just one type of task. Utility workers can use specialized software that runs on the Trimble handheld's Windows Mobile operating system to accomplish any number of tasks.
Using the Trimble Nomad's available laser bar-code scanner, identifying individual utility meters is fast, efficient and paperless. Tracking meter change-outs is a matter of two passes of the laser reader.
Click here to enlarge image
One example is UMSMobile, the utility work management system developed by Computer Network, Inc. (CNI) and used by more than 175 utility boards and municipalities. UMSMobile allows up-to-the-minute service or work order information to be transferred between the office and the field. It features on-screen, paperless work orders in a survey format that intelligently prompts field workers to answer questions specific to each job. Once the work order is complete, the information is transmitted back to the office.
CNI President Mike McConatha outlines some of the advantages of using a combination of a work management system and a rugged handheld.
"To begin with, you eliminate paper and having to hand-enter most of the information," he says. "That reduces data-entry errors, lost orders and paper handling. It also increases the number of work orders you can complete in a day. Beyond that, it cuts down trips to the office, which is a big plus as fuel costs rise. With a wireless mobile handheld, it's conceivable that a field worker could receive the day's work orders, complete all the work and transmit all the information back to the central office without ever having to actually go there."
In McConatha's opinion, having the right handheld is the key to streamlining the work process. And that comes down to the two factors mentioned above—ruggedness and versatility.
McConatha tells the story of a fellow software-application developer who was working on a new product he was going to run on a commonly used "field PDA." The developer called him with some irony to report. "He dropped his PDA from the table to the floor, and it broke," McConatha recalls. "He realized, 'If I drop this in my office, what will happen to it in the field?' One of our customers had a Trimble handheld fall from the hood of a moving car. Someone found it, tracked the customer down and returned it; it had some scratches but worked just fine. We have customers in Florida who leave a handheld on the dashboard during their lunch break, when it gets to 130 degrees in the truck, and others in the far north who work outside in -20 degrees. You don't want a device you have to treat with kid gloves."
The Trimble handhelds, built in North America, are designed with those kinds of harsh conditions in mind. They have an IP67 rating, meaning they're impervious to water and dust. Their operating temperature ranges from -22F to 140F. The different models have battery lives of between 15 and 30 hours, and they feature a sunlight-readable touchscreen for working in bright light.
The technology tools available to help utilities save time and money are wide-ranging and impressive. But there's even more to come. Trimble is putting out a WAN-certified Nomad unit in September 2008 that will allow field workers to wirelessly receive and send information even in highly rural areas. The Nomad has a full VGA color screen, 806 MHZ processor and integrated Bluetooth, and is available with integrated 802.11g, GPS, a digital color camera and a laser scanner, making it an ideal tool for meter change-outs. As utilities upgrade and change out meters to include automatic meter reading (AMR), handhelds can obtain readings instantly and automatically using proximity technology that's good within 200 yards of any meter with an AMR radio transmitter.
All this technological progress can make life a lot easier for field workers these days. Efficiency goes up; errors and travel costs come down. And having a gizmo that fits in your hand and accomplishes such a wide range of tasks definitely has a cool factor. Of course, it's not a family vacation to Venus with Jane, Janet, Elroy and Astro, but it's a lot more practical.
About the Author: Jim Moore is a freelance writer and editor who writes on a wide variety of topics, including technology, through his company, Word Jones.