Made-to-Order Truck Bed Solutions Beneficial in Today's Economy
The growing demands in the construction, electric utility and telecommunications industries–not to mention the rising costs of doing business–are requiring professionals to make smart purchasing decisions when it comes to their fleet operations.
Dec 1st, 2008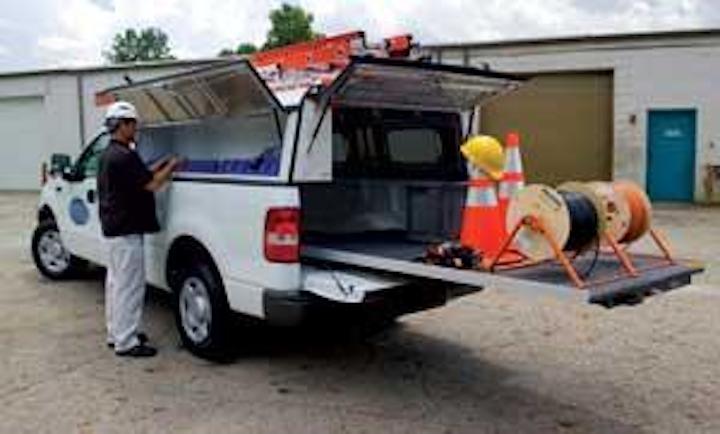 By Jim Blayne
The growing demands in the construction, electric utility and telecommunications industries–not to mention the rising costs of doing business–are requiring professionals to make smart purchasing decisions when it comes to their fleet operations.
One trend we have noticed in the marketplace has been a switch from heavy-duty vans to light- or medium-duty pickups. Using a smaller pickup, outfitted with a truck cap, is one of the best solutions in today's economy because it delivers sufficient useable cargo space and the benefits of a truck bed while helping fleets save money in areas like maintenance and fuel costs.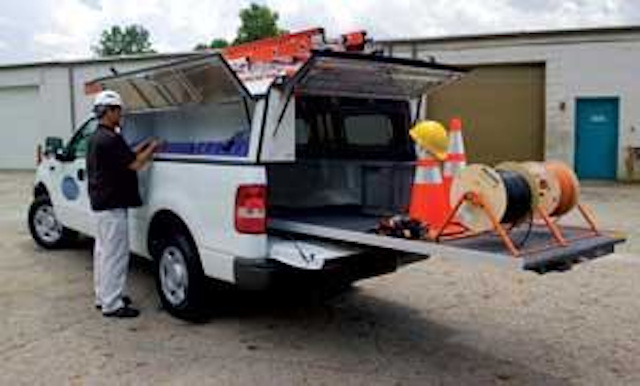 Click here to enlarge image
According to Automotive Fleet magazine's "Lifecycle Costs Analyzer" tool on its Web site, which compares the cost per mile (in addition to other costs) of popular cars, trucks, vans and SUVs used in fleet applications, the cost per mile to operate a Ford Econoline E-150 is 43 cents, while the cost per mile to operate a Ford Ranger XL is 28 cents.
There is sufficient carrying capacity in most pickups, so fleet owners won't be sacrificing too much payload when moving from a cargo van to a pickup. Plus, when it comes to remarketing, pickups tend to have a better resale value than many other available fleet solutions.
A.R.E. has been serving the commercial industry for 40 years. A.R.E.'s Deluxe Commercial Unit (DCU) was developed in response to a request for a sturdy aluminum cap designed specifically for a small fleet of mini-trucks that were being used for commercial applications. Since that time, the goal of A.R.E.'s commercial division has been to deliver total truck bed solutions that maximize the utility of a fleet professional's truck.
A.R.E understands the professional's need for productivity, which is why they are focused on growing their product line and offering new solutions to help the electric utility, telecommunications and construction industries.
The DCU aluminum truck cap has been serving the needs of professionals for more than a quarter of a century. Featuring a fully welded aluminum frame and Strattec lock cylinders in folding t-handles on all doors, the DCU is convenient, secure and durable for utility and maintenance fleets. Its .035-white aluminum construction doesn't rust and weighs only 180 lbs; DuPont base coat/clear coat paint is available to match the truck's OEM color for a professional appearance.
In addition to the DCU, a variety of truck bed storage products are available:
The Fiberglass Contractor Package delivers the style of a fiberglass cap with the function of a commercial unit and includes two steel toolboxes, a Tower Series roof rack, side doors with aluminum inserts and a standard rear door with aluminum insert.
SpaceKap fiberglass units are ideal mobile workshops loaded with all the commodities necessary for space and function. The product lineup includes the SpaceKap Max, SpaceKap Kool (a refrigerated unit that can be modified to a heated unit), SpaceKap Plus and SpaceKap Somager.
The BedSlide provides a flat sliding surface that holds 96 cubic feet and up to 1,800 lbs of equipment for easy cargo access.
A partnership with Akro-Mils allows A.R.E to offer fully customizable toolbox solutions with their AkroBins–high-density polypropylene plastic storage products that are water, rust and corrosion-proof.
The top brands of commercial-grade aluminum and steel locking ladder racks are available to complete the truck cap, including Kargo Master, Jet Rack, Prime Design and welded-aluminum DCU ladder racks.
Protect your investment and your gear with A.R.E.'s tailgate solutions: Wade Tailgate Protectors and TrailSeal Tailgate Gasket.
In addition to having a variety of choices, A.R.E believes that being able to customize your truck bed with a truck cap that delivers the best functionality for your needs is a supreme advantage.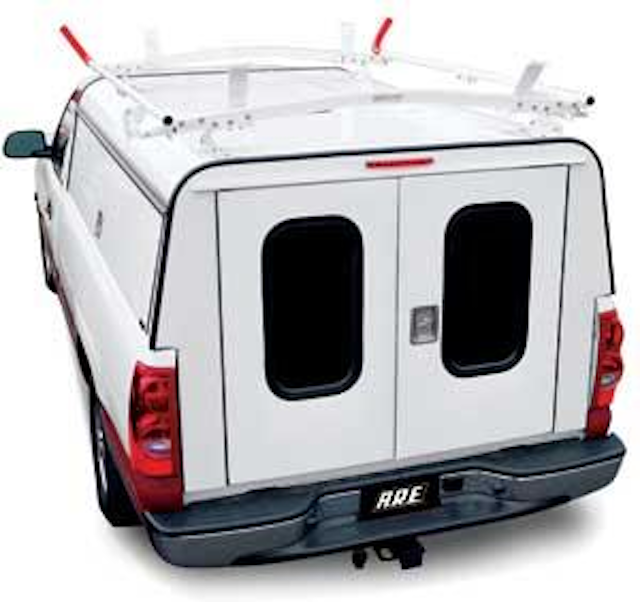 Click here to enlarge image
The DCU can be "made to order" with more than 200 options such as cap height–a choice between 23", 26", 29" and 36"–and door options, including a ½ rear lift door, double full doors, a single full door and a full hatch door.
Plus, professionals can combine the DCU with any of the afore-mentioned toolboxes, ladder racks or cargo management products for an individualized cap that is specifically designed to maximize productivity.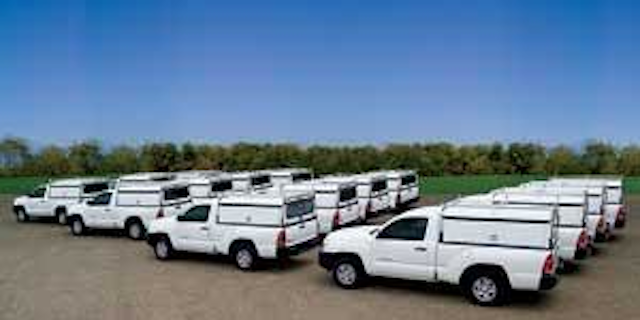 Click here to enlarge image
Many of their cable and phone utility fleet customers have been looking for better ways to optimize their fleets and are experiencing great success utilizing pickup trucks. For example, one customer recently changed from mid-sized vans to full-size short bed pickup trucks. They found that their average fuel mileage increased and their vehicle maintenance costs were reduced. This is because their drivers generally tended to overload the vans. Changing to pickups allowed the fleet to re-evaluate the cargo their drivers were carrying. By optimizing their loads and using the organization tools that A.R.E.'s DCU has to offer, they were able to better control what they were carrying in their vehicles, while at the same time have additional carrying capacity when needed.
Click here to enlarge image
The main benefits of a truck cap over other options–such as in-the-bed toolboxes and ladder racks–are product protection and security. Whether you operate a fleet of electrical trucks or a construction service, protecting equipment from weather damage and theft is really a no-brainer as tools and specialized equipment can cost thousands of dollars.
At A.R.E., they believe fleet owners need 100 percent support from their suppliers and partners. Between preparing project estimates, managing drivers and answering customer needs, fleet owners have enough on their plates. A.R.E's North American network of more than 600 dealers coordinates logistics, provides national serviceability and outfits fleets with the proper accessories needed to perform efficiently.
---
About the Author:
Jim Blayne is the commercial/fleet division manager for leading truck cap and tonneau cover manufacturer A.R.E. He has spent more than 17 years helping his customers outfit their fleets and respond to the changing demands of the industry.