Selecting a Mobile Resource Management Solution to Maximize Your Investment
Business savvy operators managing large vehicle fleets leverage integrated planning and execution systems including dispatch functionality, real-time communications, and proactive alerting features to control costs and exceed service goals.
Jun 1st, 2008
Business savvy operators managing large vehicle fleets leverage integrated planning and execution systems including dispatch functionality, real-time communications, and proactive alerting features to control costs and exceed service goals. You don't have to be a large fleet, however, to enjoy the same benefits and competitive advantage offered through proper implementation of the real-time fleet management functionality found within off-the-shelf Mobile Resource Management (MRM) solutions. Furthermore, they are typically delivered as software as a service (SaaS), so lack of IT resources is no longer a stumbling block to quick returns on investments.
Mobile Resource Management companies are constantly introducing new tools that give users a wide range of functionality and features for their investment. As a result, MRM solutions vary in levels of service, features, and associated benefits. This can make the selection process somewhat complex while sifting through the hype from a wide range of companies. The systems offered today range from feature-rich enterprise-level service providers, to small companies offering dots on a map. Making your selection is an important decision requiring a methodical approach. This is even more important when you consider the substantial investment in time, money and significant cultural implications that implementing a MRM solution can involve.
They key to selecting the correct MRM solution for your company is knowing what's available and what to look for. It's best to begin by understanding the business drivers for implementing MRM within your service fleet.
What Drives Your Fleet?
Somewhere, in a remote corner of your service area, wind meets tree. That tree meets a transformer. As quick as flipping a switch, 3,000 customers are without electricity.
A service fleet responds to a variety of tasks, both critical and run-of-the-mill. Whether scheduled or motivated by an emergency call, the results are the same: a truck must be dispatched. A job must be completed. Paperwork must be recorded.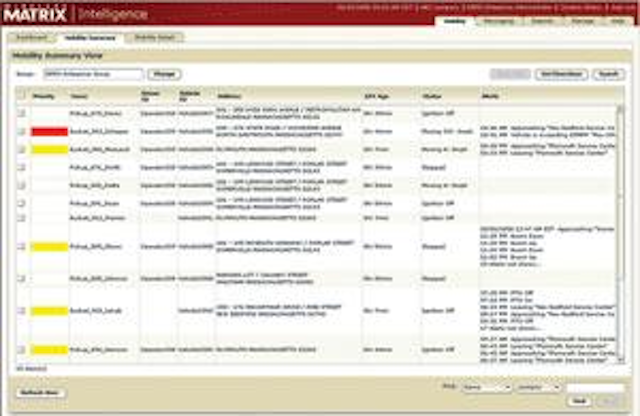 Click here to enlarge image
The challenge for companies operating service fleets is managing costs. Understanding operating costs is the first step in reducing them. While every fleet is different in terms of how they operate, the greatest cost concerns remain the same.
How much fuel am I losing? – Without knowing where, when and how a vehicle operates, it's difficult to understand the entire fuel cost picture. The price of powering a service fleet continues to rise with the price of oil, making fuel costs no laughing matter. MRM solutions can identify engine idle times and where fuel is being wasted. In a fleet of large enough size, the fuel savings alone can provide a substantial return on an MRM solution investment.
How much work is getting done? – Fleet managers and dispatchers take it on faith that work is accomplished. Without the ability to gauge how long tasks take, it's impossible to understand technician efficiency. MRM solutions provide greater insight into how long jobs take to complete and when they're taking longer than they should. This allows fleet managers to determine where greater job efficiency is required, where additional work can be completed, and how productivity can be increased.
Are critical needs being met? – Responding quickly and efficiently to critical jobs or emergency situations is the cornerstone of utility field service operations. Today's MRM solutions allow on-the-fly dispatching and real-time messaging for more intuitive control of assets. This provides faster, more effective response to critical outages. More advanced systems also support alert messaging that gives dispatchers greater flexibility to scale vehicle coverage and response to emergencies.
The right MRM solution provides factual data about fleet operations that can be used to answer these questions, reduce operating costs and increase productivity, providing rapid return on investment.
Features for the Future
The primary features organizations look for in MRM technologies are dictated by their business drivers, but operators of service fleets should investigate their MRM options deeply. Technological advancements have led to new functionality that can address immediate requirements, and offer value-added features for future growth.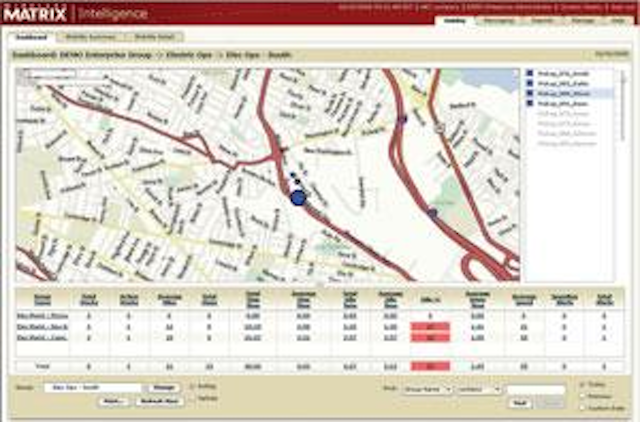 Click here to enlarge image
When selecting a MRM provider, utilities should look for key differentiators in the functions, features and options that offer greater potential returns both now and as operations expand. Some elements to consider include:
Installed Versus Internet – Software delivered over high speed internet via secure servers has gained acceptance as an application delivery method. Internet-based applications reduce complexity for users by making data accessible from any computer with an internet connection. In addition, software updates are invisible to the user. MRM solutions that leverage the Internet to provide the user with increased flexibility and accessibility are clearly the future.
How, When and "Whoa!" – Automatic Vehicle Location (AVL) and GPS systems provide basic fleet operation information. MRM solutions provide another layer of detail on vehicle operations and status. This information enhances the value of dispatch service, and provides greater visibility into how vehicles are utilized. Alerts identifying potentially critical or dangerous events are also available. Solutions that provide deeper insight into vehicle operation, such as vehicle idle time, excessive speeding, miles traveled, and other information, can help reduce operating costs and waste.
Know Your Networks… – Broadband cellular coverage isn't guaranteed everywhere, and no cellular carrier covers the entire map. In a crisis, the solution needs to work. When selecting a solution, utility companies need to understand the wireless coverage choices available. A solution that provides network flexibility, combined networks, and multiple options for the company's service area gives you an edge, especially when real-time data is critical.
…And Don't Count Out Satellite! – For years, satellite airtime and hardware have been branded a luxury in wireless communications. That's no longer the case as satellite has quietly become an affordable option for connectivity where cellular can't reach. With vehicle-based equipment below $1,000, even small rural utilities can implement satellite to obtain complete coverage. Service providers offering options for mixed hardware deployments and employing satellite where necessary can help a company maximize rural operations.
Look Ahead – Does the solution being considered have a future focus? A MRM solution should address immediate issues AND have a plan for tomorrow. A solution that considers new technologies and observes market trends provides insurance for the future. Also, a utility company's MRM solution should listen to the feedback of their users who know what features, functions and reports make their jobs easier and more efficient.
But Does It Work?
The technology behind MRM has proven itself for many companies in a broad range of markets and industries. But even the best-designed MRM system is a waste of money if it doesn't provide value to the company employing it.
The hard numbers and metrics are the mark of success for a MRM solution. The best way for a utility company to tell if their MRM solution is a success is to analyze the increase in cost savings and service calls completed following introduction of the solution.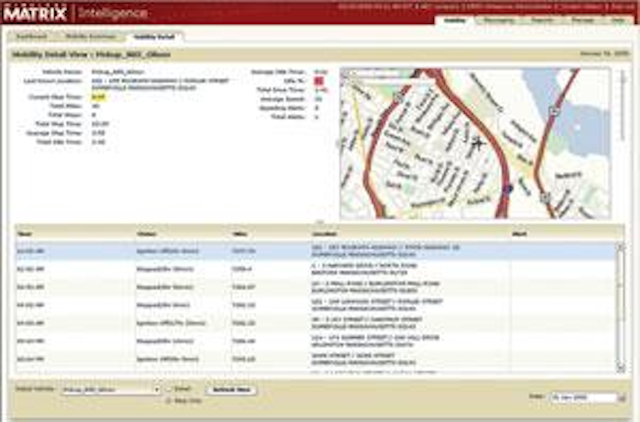 Click here to enlarge image
To identify areas the MRM solution will impact, the utility company should run a pilot program with the MRM provider. By outfitting a small sample of vehicles, the desired MRM solution can be evaluated under real-world operating conditions. This allows the company to analyze the benefits of a solution prior to rolling it out to their entire fleet. This also allows them to more personally address the specific areas of improvement for the fleet. The pilot program will provide up-front data for the pilot vehicle group that can make selection and deployment of a full solution easier to manage – and easier to support internally.
There are also human elements to consider aside from the financial investment. There is a cultural change at the user level when MRM solutions are implemented. The idea that 'Big Brother' might be watching can be daunting.
MRM solution providers are often able to extol the benefits of their solutions to the end users – field technicians, drivers, and dispatchers – that reinforce the primary goal: to make the overall operation more efficient.
With the right internal support and a return on investment based on actual vehicle operation data, a MRM solution can provide substantial reduction in costs, and increases in productivity. Identifying the correct solution lies in asking the right questions and finding the right solution for a company's individual needs, both today and tomorrow.
About the Author: J. Richard Carlson is the CEO and President of Wireless Matrix. He was previously the President and Chief Executive Officer of Teletouch Communications Inc., a publicly traded wireless communications firm based out of Tyler, Texas, where he led a dedicated paging company through a challenging transition to a multi-product and wireless service distribution company. Mr. Carlson was most recently the President, Chief Executive Officer and a Director of U.S. Inspect, LLC, the United State's largest non-franchise home inspection business. He holds an MBA from Georgetown University.