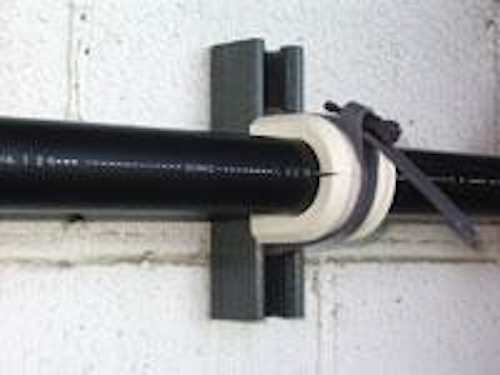 New Fiber-Guard Low Smoke Zero Halogen Conduit Reduces Harmful Side Effects and Lowers Installation Costs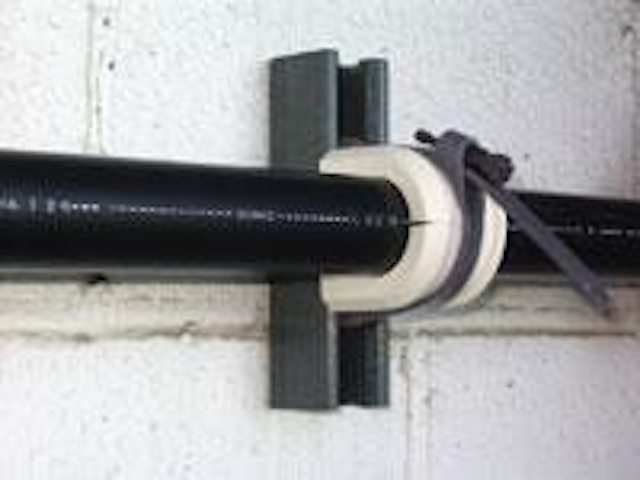 Click here to enlarge image
ARNCO Corp. is introducing its new Fiber-Guard Low Smoke Zero Halogen (LSZH) conduit. Flame-retardant with low-flame propagation, Fiber-Guard LSZH meets NFPA and UL-1685 standards for confined space applications and lowers installation costs compared to metallic conduit.

When exposed to flames, Fiber-Guard LSZH generates low smoke, creating better visibility and does not produce halogens. LSZH is designed to reduce acid combustion that can corrode sensitive electronic parts, lessening harmful side effects to humans and equipment.

Fiber-Guard LSZH is rugged yet flexible for easy installation. The conduit can be used as an innerduct and pulled into steel conduit or into cable tray, or directly attached to tunnel walls.

It is available in standard sizes ranging from 1" to 3" in diameter, in schedules 40 or 80, and SDRs 11 and 13.5. The optional pre-lubed conduit offers a lower coefficient of friction for faster and easier cable installation, while protecting the cable from high tensile stress during installation. Fiber-Guard LSZH is resistant to cold temperature impact and is available with color stripes or special markings for easy identification.
ARNCO
www.arncocorp.com
---
New HPI-55-5 Insulator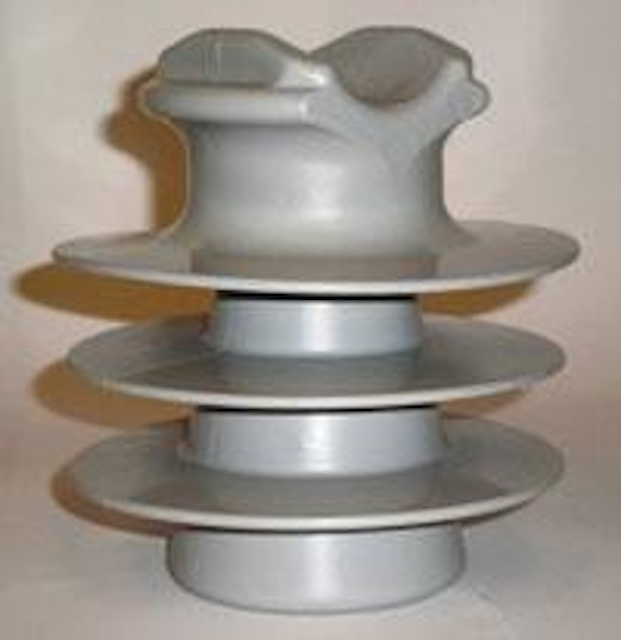 Click here to enlarge image
Hendrix Wire & Cable announces its offering of new the HPI Polyethylene Tie Top Pin Insulator, the HPI-55-5. Made from Hendrix "proprietary" high density polyethylene blend, the HPI-55-5 is vandal proof and resistant to cracks, chips and breakage.

Released as part of Hendrix's Phase II Growth Plan, the HPI-55-5 is backed by over 40 years of field experience and is innovatively designed in two ANSI 55-5 models to meet your system's needs. Both models meet all ANSI Class specifications. The lightweight design (1.3 lbs compared to a porcelain insulator weighing in at 6.25 lbs) allows for easier handling and storage. Additionally, all Hendrix Polyethylene Insulators are suited for safety standards to prevent glove or lineman cuts.

Suited for both bare wire and covered conductors, Hendrix HPI-55-5 Insulators offer an alternative solution to porcelain insulators, which are susceptible to vandalism and can be problematic when paired with covered overheard conductors. Impervious to impact damage and breakage, the HPI-55-5 offers longer leakage distance and higher impulse strength. Additionally, every HPI Polyethylene Insulator easily withstands ultraviolet rays and offers greater track resistance due to the proprietary high-density polyethylene material.
Hendrix Wire & Cable
www.hendrix-wc.com
---
Bent-Nose NM Romex Strippers

Click here to enlarge image
Klein Tools recently added three new Bent-Nose NM Romex Strippers (Cat. Nos. K90-10/2, K90-12/2, and K90-14/2) with Klein-Kurve handles to its existing line of strippers and cutters.

The Bent-Nose NM Romex cable stripper, with its patented 90° angled nose design, allows for easy work in confined spaces. Its unique design eliminates the need to angle the tool, wire, or hand, enabling quick and precise removal of the outer jacket of non-metallic (NM) cable.

Klein Tools' new angled nose strippers strip, cut and loop 10, 12 or 14 AWG solid wire, and cleanly shear 6-32 and 8-32 screws. The K90-12/2 and K90-14/2 also strip 18 AWG stranded wire. A serrated nose bends, shapes and pulls wire. The Bent-Nose NM cable stripper features U.S.-made tool steel, black oxide finish, precision ground stripping holes, shear type cutting blades, and Klein's exclusive Comfort Grip curved handles.
Klein Tools
www.kleintools.com
---
Model RT2S Magnet Wire Stripper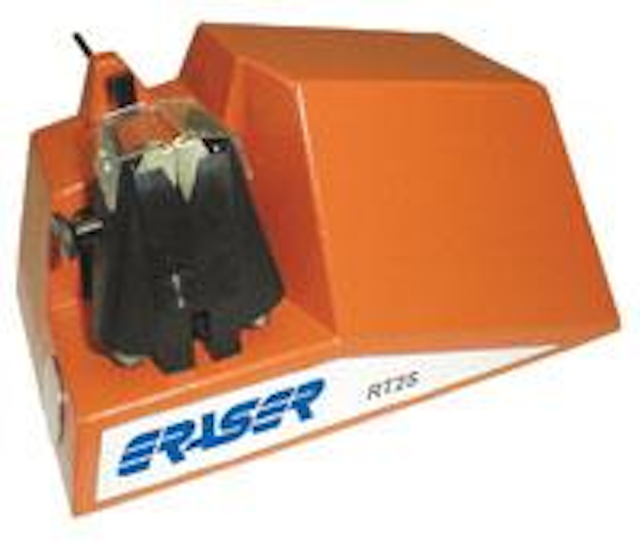 Click here to enlarge image
Eraser's Model RT2S Magnet Wire Stripper will strip most film type insulations including Formvar, ML, enamel, varnish, isonel and more from fine wires. Multiple wires may be stripped in one operation. The conical brushes rotate at high speed to generate frictional heat which softens the insulation on the wire. The "nap" of the brush wipes this insulation away. Stripping is quick and safe with no risk of contaminating the wire conductor. The stripping head is enclosed for operator safety. A strip length stop produces consistent strip lengths. Machine set-up is simple. A dust take off port is incorporated into the machine. Model RT2S also cleans and polishes leads of small electronic components and removes oxidation and other contaminants from leads as small as 0.0012" (.03mmø) diameter with no risk of deforming or nicking the lead.
The Eraser Company Inc.
www.eraser.com
---
High Force Cable Pulling Ropes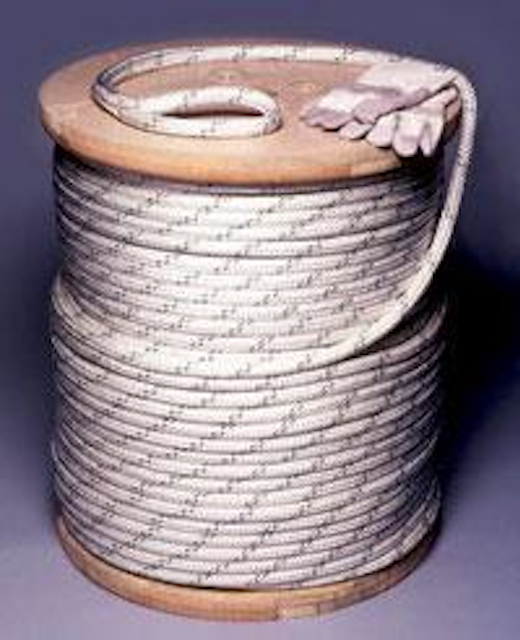 Click here to enlarge image
Pelican Rope Works, an ISO-9001:2000 Certified manufacturer of quality braided ropes, now offers a wide selection of High Force Cable Pulling Rope. Cable pulling ropes are available in nine different diameters with tensile strengths ranging from 2,600 lbs to 50,000 lbs.

Using first quality nylon and polyester fibers, the double-braided composite ropes provide even balance, shock absorption, great strength and excellent resistance to abrasion and UV. New for 2008 are al-polyester 12-strand single-braid ropes along with all-polyester double-braids.

All pulling lines include professionally hand-spliced eyes at both ends; Urethane coating for extra abrasion resistance are available. Standard put-ups are 300', 600' and 1,200' reels. Special length up to 10,000' can be manufactured. Ropes for Stringing Lines and Boom Truck Winch Lines are also available.
Pelican Rope Works
www.pelicanrope.com
---
Wire Rope Grips Assure a Firm Hold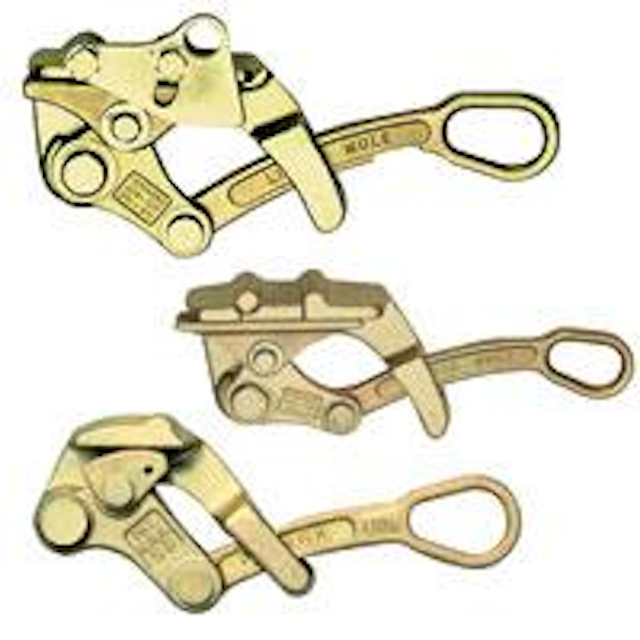 Click here to enlarge image
Getting a grip isn't a problem for Little Mule Wire Rope Grips. Models are rated for a variety of wire sizes and types providing for fewer grip changes during jobs.

Yellow chromate finished forged steel construction resists rust and corrosion.

With no lock ups, these grips open easily and release instantly to insert or remove wire. A large handle eye accepts standard hooks. Grips are available in spring loaded styles.

Hot line models with a spring loaded gate prevent grips from falling. Lineman can use a holding stick to open the gate and place the grip on the wire. When released, the gate closes over the wire, preventing the grip from falling from wire. Notched handle on spring-loaded models locks grip in open position for positioning on or off wire, then releases instantly.
Little Mule
www.littlemulecp.com
---
HIBUS OPGW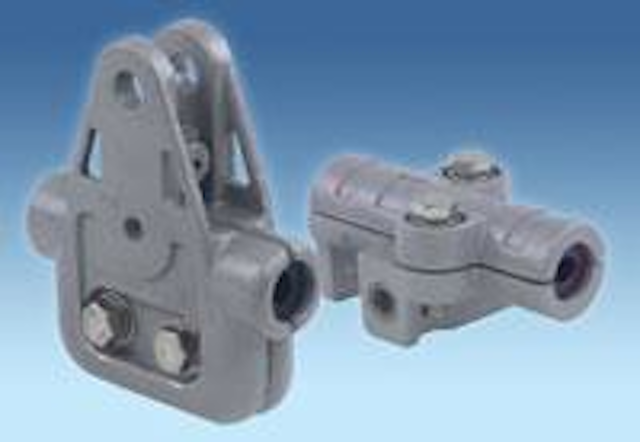 Click here to enlarge image
ACA Conductor Accessories introduces the new Hinged Bushing Suspension (HIBUS) designed to reduce the static and dynamic stress at the attachment point on all types of OPGW fiber cables without the use of protective rods. The hinged concept on the suspension configuration provides self alignment of the housing halves.

By using a unique bushing system which allows OPGW cable to better withstand the affects of Aeolian vibration, the need for using rods was eliminated. Test results have proven its ability to provide superior protection for optical fiber cables. All of the hardware is captive except for the attachment pin.
New and Improved ACA Splice Closure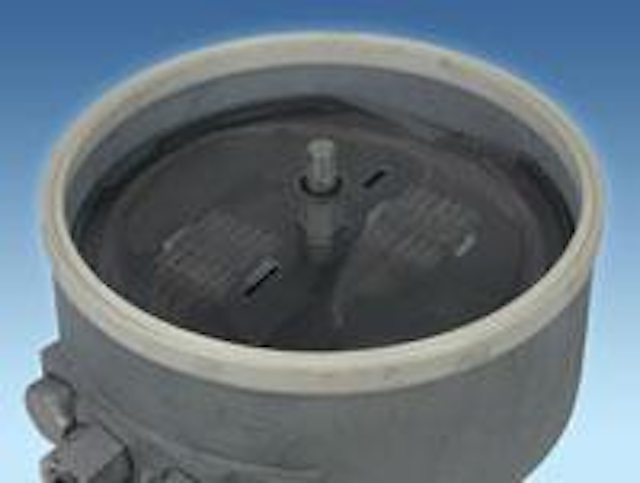 Click here to enlarge image
ACA Conductor Accessories introduces an updated version of the SB-01 splice closure. Now fitted with a 72-fiber splice tray, capacity has been expanded from 48 fibers to 144 fibers. The new circular tray is constructed from high impact resistant Lexan with a black base and clear lid.

The splice closure is circular and made of ductile iron with a thick galvanized coating. Furnished with four plugged cable ports (2 aluminum and 2 plastic) capable of handling All-Dielectric Self Supporting (ADSS), Loose Tube (LT) and/or Optical Ground Wire (OPGW) cables, the splice closure is bullet-resistant and can be pre-mounted to the structure before completion of the splicing phase.

Ideal for electric utilities and optical cable installers, the new splice closure is versatile and cost-effective for new and existing installations.
ACA Conductor Accessories
www.acasolutions.com
---
New Interactive DVD on Fiber Optic Cables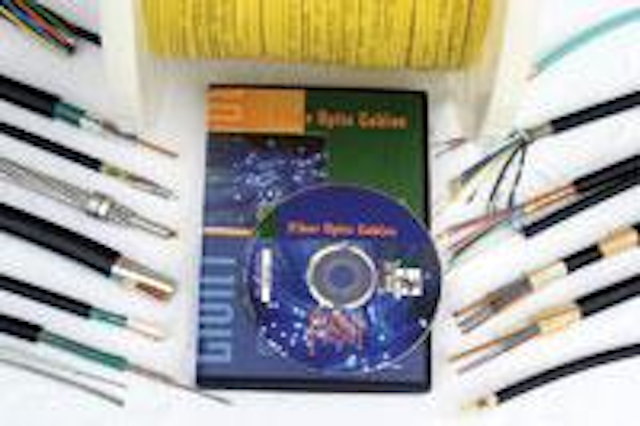 Click here to enlarge image
The Light Brigade announces its new menu-based DVD titled Fiber Optic Cables, the fifth release in the company's new Staff Development series.

The DVD addresses a wide range of topics encompassing manufacturing, installation and cable preparation steps. The DVD uses on-site filming to show how loose tube and tight tube optical cables and their components are integrated, manufactured and tested. High-resolution animations illustrate features and details that can be hard to understand.

Chapters include cable applications, manufacturing, cable specifications, loose tube cables, tight tube cables, optical ground wire (OPGW), all dielectric self supporting (ADSS) cables and specialty cables.

For installers, there are chapters with content on cable preparation, mid-entries, fan-out kits and cable attachment products.

Special features include student and instructor quizzes. Other highlights include:
Understanding how to interpret cable specifications;
How fibers are cabled from acceptance to final assembly;
Cable manufacturing of loose and tight buffered cables;
How to prepare a fiber optic cable for installation, splicing, or connectorization;
How to attach a fan-out kit for loose tube cables;
How to perform a mid-entry into loose and tight buffered cable structures; and
ADSS and OPGW cables for utility applications.
The Light Brigade
www.lightbrigade.com