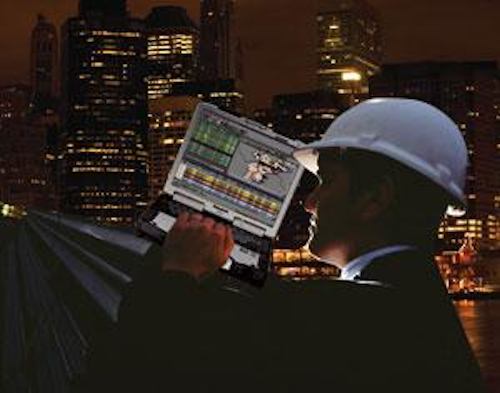 Utilities today have to increase the efficiency of their field service activities in order to provide safe, reliable service delivery that not only increases customer satisfaction but also helps to contribute to the bottom line. Software applications that operators are now accessing on the latest mobile computing solutions are helping to keep the lights on and the meters rolling.
The Workforce is Shrinking While Trees and Transmission Miles Keep Growing
Even as demand for electricity in North America continues to outpace resource growth, utility vegetation management remains a growing potential threat to transmission lines in markets large and small. At the conclusion of its investigation into the August 14, 2003 blackout in the Northeastern United States and Canada, the Federal Energy Regulatory Commission (FERC) stated that "it is generally accepted that the single largest cause of electric power outages occurs when trees, or portions of trees, grow or fall into overhead power lines." That same March 2004 FERC1 report went on to say: "Odds are, every electric customer in North America has, at one time or another, experienced a sustained electric outage as a direct result of a tree and power line conflict."
Meanwhile, a conservative estimate of the number of trees that utility companies throughout North America must manage is in the hundreds of millions. That number too, is growing. As a consequence, utility vegetation management (UVM) expenses are among the highest-cost items associated with maintaining overhead transmission and distribution systems. In fact, the 2004 FERC report on UVM said in part: "In southern California alone, utility companies are expected to spend several hundred million dollars over the next few years in order to remove dead trees that could fall into power lines and equipment (causing outages and/or fires)."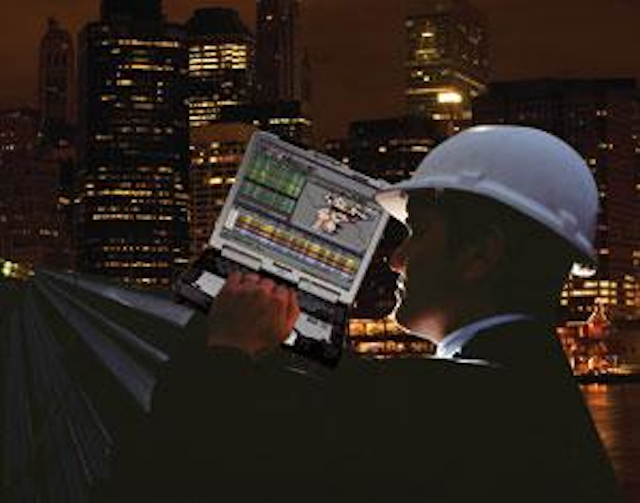 Click here to enlarge image
What's more, in October 2006 the North American Electric Reliability Corporation (NERC) reported that "Transmission miles are projected to increase by 8.8 percent (14,500 circuit miles) in the United States and 4.8 percent (2,250 circuit miles) in Canada over the next 10 years." Adding almost 20,000 transmission miles to our existing infrastructure will mean that an already aging and shrinking workforce (according to the U.S. Department of Labor2) will have many more miles of line to inspect and maintain, with fewer mobile workers to do it.
The good news is that there are plenty of new technology solutions that will enable them to get the job done and keep electricity flowing.
We'll Keep the Lights On for Ya
Increasing speeds and feeds available from wireless broadband Internet networks, coupled with the evolution of sophisticated software solutions tailored to the needs of the mobile workforce, has made advances in field automation, project management and collaboration widely accessible to utility companies. Software applications, like those offered by CGI, Oracle SPL, and Ventyx, offer utilities mobile workforce management solutions and robust billing, customer information and customer relationship (CIS or CRM) management systems that reduce windshield time and increase worker efficiency. Other systems are focused specifically on intelligent dispatch technology, mobile resource management, and GPS-based vehicle tracking.
These systems can have a major impact on increasing the effectiveness of the mobile workforce. They can increase productive hours, letting employees eliminate their commute by taking the truck home at night and reporting to the next day's jobs directly from their own driveway. There are solutions that can intelligently adjust a technician's schedule and routing to accommodate inbound service requests that require rapid response, and select the best possible route using GPS. With solutions like these, utilities can add to the number of completed service calls in a given day – directly contributing to the bottom line.
But for the purposes of this discussion, I want to focus in on protecting both the public and those managing the modern utility company from accidental outages caused by falling or overgrown vegetation.
Because a complete UVM strategy can only be made with a fully-informed, constantly updated understanding of the status of the company's T&D lines, and because fewer field workers are being asked to do more, mobile technologies can be the key to success.
One of the critical keys is giving the men and women in the field access to satellite and aerial photo technology, and one such solution that companies are implementing is MapFrame. The software blends mobile mapping and field automation software in a way that gives the people in the trucks and in the office the same up-to-date data from which they can determine specific areas that must be immediately addressed.
Another notable vendor in mobile mapping is Tele Atlas, a provider of digital maps and dynamic content for navigation and location-based services. Tele Atlas recently signed an agreement to provide the United States Geological Survey (USGS), the nation's largest mapping agency, to help develop internal USGS mapping solutions for use within the USGS Web Locator application. This new relationship is particularly interesting because USGS data forms the basis for most commercial maps in the United States, including many used by the mobile workforce.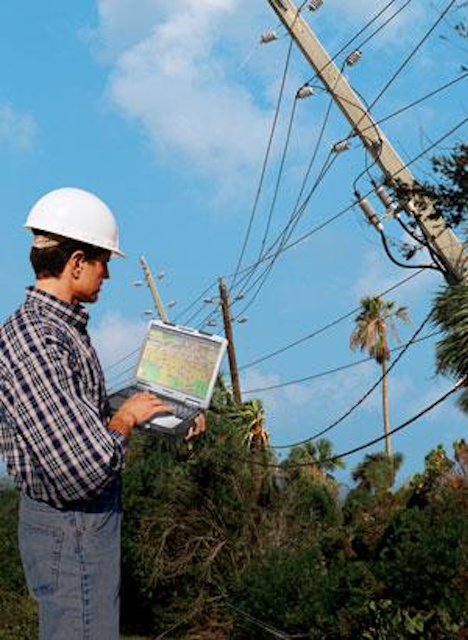 Click here to enlarge image
While some transmission owners choose to visually inspect their lines from a helicopter and others rely predominantly on ground-based observation, the fact is that most operators have a hybrid approach that utilizes every manner of inspection. Because UVM solutions vary from end-to-end tree/landscape specialists to home grown solutions developed by individual IOUs, the real key to successfully implementing a UVM program lies in the hands of the workforce in the field on a daily basis.
Traditionally, this has been a time-consuming, labor-intensive process. A utility company had one (or more) person assess the system – identifying areas where their T&D lines hadn't been checked in a while – and then sent another employee out to physically walk an area, noting with a clipboard and pen the street addresses of problem areas. That data was then brought back to the office and transcribed – if it was still legible – by another employee into a database that managed the workflow of the company contracted to do the ongoing clearance of vegetation, landscaping, and maintenance of right-of-way corridors.
But technologies available today have automated that process, making it more efficient by easily capturing a GPS coordinate with a couple of keystrokes on a truck-mounted notebook computer. That data is immediately sent to a company like Asplundh, Davey Tree, Dow Agro and others whose services can then be dispatched in the timeliest manner.
Investing in the Future and Preventing Revenue Loss
A utility found to be out of compliance for clear and unobstructed right-of-way corridors can be subjected to thousands of dollars per day in fines. But, as has been already noted, the risk to utilities lies not in getting slapped with a fine; it's having all the meters screech to a halt because a tree took down the overhead lines.
The FERC report concluded that: "All medium and large utility companies should seriously consider the investment in inventories and work management systems. The argument for this expense is simply this: If one tree can take out power to millions of people and cost billions of dollars in lost revenue and damages to society, isn't it worth spending a few dollars per tree to document information that may very well prevent the incident from happening in the first place?"
UVM planning involves long-term scheduling as well as immediate response during or immediately following an outage, and typically involves multiple systems and databases for most transmission owners. Putting reliable mobile computing capabilities with the appropriate software solutions into the hands of every field service worker, the guess work related to UVM is substantially reduced – if not eliminated.
With real-time wireless connectivity to corporate headquarters, mobile workers can make updates and notations on vegetation growth. As the entry is made, the GPS location is automatically associated with the measurements taken at the scene. It's conceivable that people in the field could even add images such as digital photographs to their report. This all drives down the risk of outages that cause nothing but pain for the consumer and financial losses for the utility provider.
Importantly, these solutions leverage the latest in broadband wireless connectivity, including EV-DO, and HSDPA technologies. This unique ability enhances a technician's ability to obtain (and report back) reliable real-time data, wherever they may be.
This could be the difference-maker in keeping the lights burning bright.
Utility Vegetation Management Final Report, March 2004, Federal Energy Regulatory Commission, United States Government, Commissioned to Support the Federal Investigation of the August 14, 2003 Northeast Blackout.
Bureau of Labor Statistics, defining as persons who "install or repair cables or wires used in electrical power or distribution systems," says that the number of workers engaged in these activities in the United States was more than 397,000 in 2006.
About the Author: Thell Gillis is Business Development Manager, Workforce Automation, Panasonic Computer Solutions Company, helping to lead a team devoted to serving the mobile computing needs of the utilities industry.
---
Why Rugged?
One of the main challenges facing the utilities industry is an aging (and shrinking) workforce. Consequently, any technology purchase in the utilities industry ought to focus on giving workers the best available tools to increase their efficiency and effectiveness in the field.
The cost of having a computer fail in the field is far greater than the time it takes to be repaired. The loss of that asset could lead to an area of hazardous overgrowth going unobserved the evening before a big storm. Should that tree fall, it could wind up costing revenue.
As a result, rugged mobile computing solutions that offer robust features like shock-mounted hard drives, magnesium alloy casing, long battery life, embedded wireless technologies, including GPS, and daylight-readable screens provide extreme durability and productivity no matter what conditions workers face.
When considering automating your workforce, for UVM or other related projects, take a hard look at the devices you plan to put in the hands of your technicians and make sure they are up to the task.