Power Restoration – A New Edge Proves Effective
In January of 2008, Mother Nature unleashed a violent attack on the power infrastructure along the west coast.
Mar 1st, 2008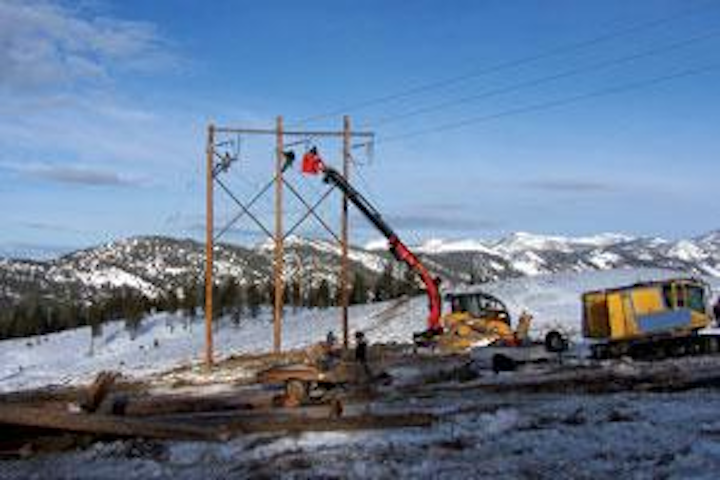 In January of 2008, Mother Nature unleashed a violent attack on the power infrastructure along the west coast. Torrential rains saturated the soil. After days of rain, the winds came - up to 100 mph gusts in some areas - rolling over trees now rooted in nothing but soupy mud. The same thing happened with the power transmission poles as many tumbled. Those still rooted in anything but goo were snapped like matchsticks. When the battle was over, at least a million Californians were cut off from their power grid. What a mess! PG&E along with other helpful utility companies and crews did just a phenomenal job to restore power to most subscribers within days.
My curiosity was aroused. I had just written an article for the January issue of Utility Products about a new piece of line equipment where TVA's Transmission Construction Foreman, Travis Terry had made the comment ". . . the first big storm we have, it [the LineCat] will be a very very key piece of equipment . . . It's going to be a lifesaver . . . Any storm that hits, normally it's either a flood or its raining like crazy and its muddy, it's wet or snowing and that's not going to bother the LineCat at all!" The LineCat, as mentioned in that article, is a brand new development in construction line equipment that combines a bulldozer, crane, bucket truck, auger and virtually everything needed to remove and replace or dig and set transmission poles in hard to reach areas. It can also be operated via remote control from up to 400 feet away if the operating area is dangerous.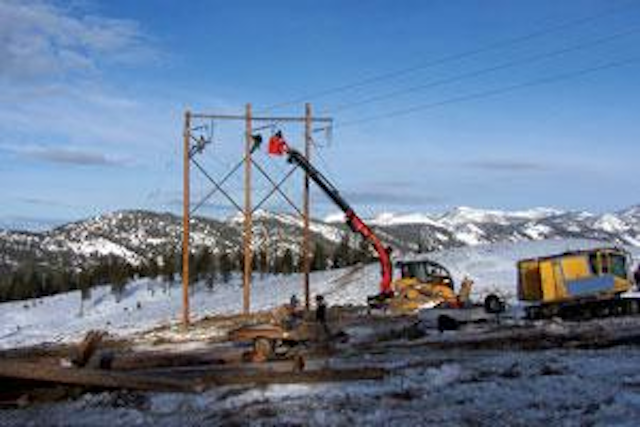 Click here to enlarge image
The LineCat Company is located right in the midst of where that storm hit. I wondered if their new piece of equipment might have been used in the restoration project and if Mr. Terry's comments from the January article held true for California's big storm. A couple of phone calls revealed that the LineCat and its inventor were right in the middle of that restoration. According to Nathan Bunting, developer of the LineCat who is also a construction contractor, "I went 42 hours straight, took a night off and then went another 32 hours." He spent a total of over 140 hours helping to get everything back in order.
Responding to a question about how bad the conditions in the field were, the following comments provide some insight, "The worst spot was on the Coleman junction and it wasn't steep, it was just really, really muddy. When I got up there they had trucks everywhere buried to the frames. I ended up pulling out four trucks and a backhoe that was buried almost to the seat. I hooked onto him, got him out and then one of the foremen was following me. I was in the LineCat and he fell in my track and he sunk up to his shoulders in mud. He was sinking - it was just like quicksand. It was rocky on top, but it was just solid water underneath it. It took three guys to get him out of that hole," commented Nathan.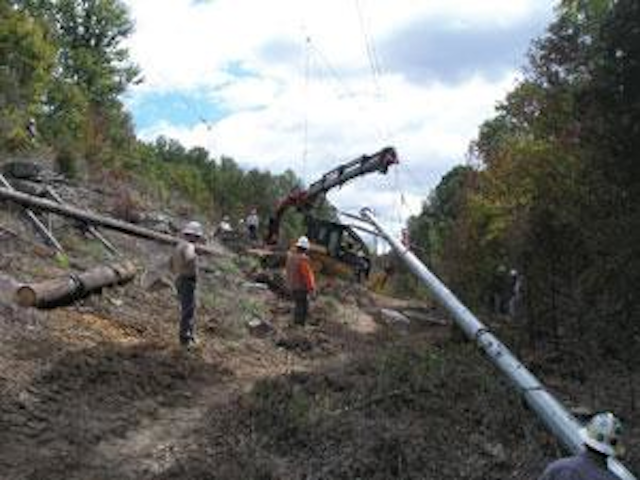 Click here to enlarge image
It's kind of interesting to me and I'm not sure I understand how a 56,000-pound machine can ride on top of gelatinous ground that swallows up other machines weighing far less and even men trying to walk on it. I posed that question to Russ Rylee, a PG&E Transmission Troubleman, to which he responded, "Those cat tracks have such a big surface - it's just like a tank and it rides on the mud." According to Nathan, it actually rides the surface better than most other tracked vehicles because the weight of the 527 Cat (which is the base unit for the LineCat) is more evenly distributed throughout the entire track length.
Just as an interesting side note, I learned that this particular area was what they call a vernal pool. Of course, not knowing what a vernal pool was and how it could eat huge pieces of equipment, I ran a Google search and found the following definition: "a seasonal body of standing water that typically forms in the spring from melting snow and other runoff, dries out completely in the hotter months of summer, and often refills in the autumn." Mr. Rylee said that if a car or truck gets off into it when it's wet, it typically sinks to the frame. So even during normal times this can be a real hazard, but after this storm these vernal pools became extreme hazards.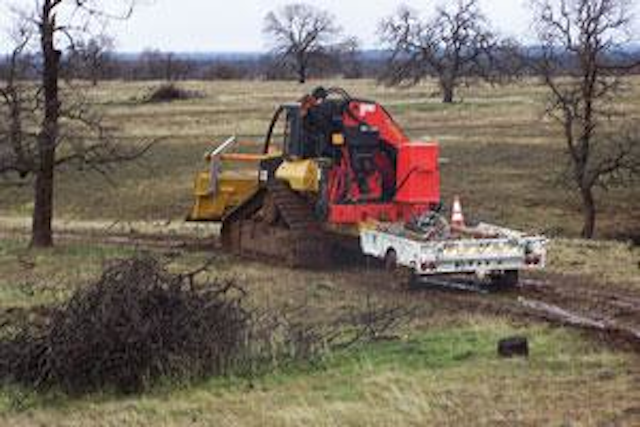 Click here to enlarge image
Mr. Rylee added that even dozers can get bogged down in that stuff, but that a good operator can generally get out and that Nathan Bunting was an excellent operator. "When they (Nathan's construction company) first started working for us four or five years ago they were building our roads, fixing culverts and cleaning up our right of way. They did a really good job and observed the kind of work we were doing. They designed that piece of equipment based on what they saw and that's what's unique about it. It was designed around our work. The first time we used it north of Redding to set a large pole in some real harsh terrain they found that the original Cat they used wasn't big enough. They went back to the drawing board, dismantled it and brought in another unit. From their willingness to do that kind of redesign they've ended up with an awesome piece of equipment" said Russ.
Greg Wimer is a PG&E lineman based out of the Orrville, CA office and he stated, "If it wouldn't have been for them (LineCats) we probably would have been another three days on some of the outages. This was due to the fact they could get that equipment in there and set the poles."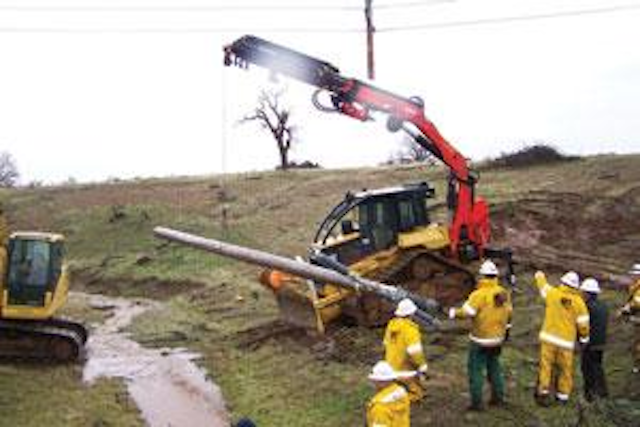 Click here to enlarge image
Turning back to Nathan I asked how many poles he was able to set during this past storm and he said, "I put in 10 or 12 poles." What!? Only 12 poles for 140 hours work? He explained, "I put in 10 or 12 poles and rescued about 50 pieces of equipment. That's why I didn't get many poles set because I would go in and fetch four or five rigs out and go back in and set the pole. Then they'd call me again to go and fetch more rigs out." On one particular call he said, "I got to the location and they had a bucket truck buried to the doors and a digger truck/line truck that was completely buried. I couldn't get him out. I was snapping chokers trying to pull on him. I had to dig out around him. I took the LineCat and started cutting dirt beside him. If you can picture this, I would dig around him and he was an island. It was probably an acre of dirt I moved. And then I just pulled him off the island. I got him out and then it was raining and it was night and I dug and set a pole for the 60kv and got out of there."
He continued, "From there I went to Cottonwood where they had another bucket truck buried and this ground was quicksand. It was even worse than the rest of them - but they buried this rig. They made it about halfway to the pole and that was it. They made it about 300 yards out in the mud and just sunk it. We went in there and changed that one out. We then pulled them out on the way out." The 12 poles and 50 pieces of machinery that were rescued probably had a greater impact than anyone knows with regards to how quickly they were able to get that area back on line. Whether it paid for itself on this one storm is hard to say, but it certainly proved to be a valuable asset towards quickly getting everyone back on line.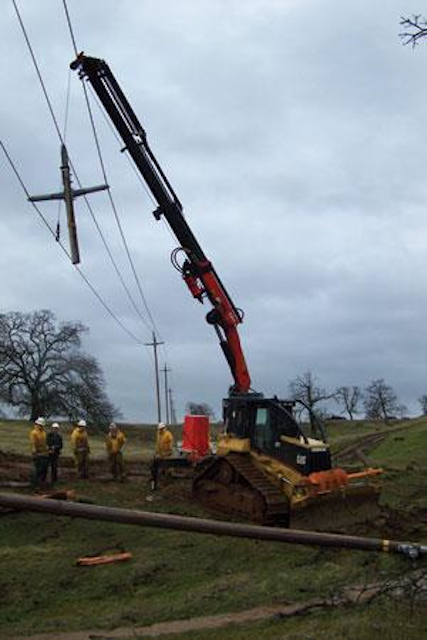 Click here to enlarge image
I learned one other interesting thing about the LineCat that I didn't know before and believe this to be very significant. The auger on this unit runs in a track on the boom so it can adjust from five feet away from the dozer to 21 feet away anywhere in an arc around the sides, and back and up to a 15-degree angle. Even though the motor to turn the auger has about the same torque as a derrick motor, operators claim they can take a full bite (completely sink the auger into the ground) and pull it up with all the spoil in one shot. Trying to determine the significance of this, I turned to Bo Steding who is a seasoned drill rig operator and currently the National Account Manager with one of the world's largest auger manufacturers, Jeffrey Machine, Inc. out of Birmingham, Alabama. Steding commented, "On a standard derrick truck I would never take a full bite with a 36-inch auger just simply for the fact you would not be able to retrieve it out of the hole. I had one operator at a trade show stick a 24-inch auger on a derrick truck and take such a deep bite - an 8-foot deep bite - and we actually had to dig that thing out. It took two Bobcats and a backhoe to dig it out. The lift capacity on a derrick truck is nowhere near that great." He went on to say that you could cut your drilling time at least in half if you could take a "full bite".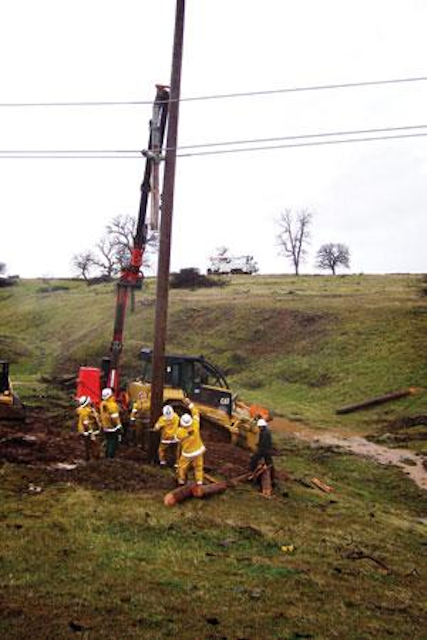 Click here to enlarge image
Russ Rylee had one final comment, "I think this is a piece of equipment for the future. As the word gets out and more and more people see it, I think they're going to start taking a hard look at it."
Update
This is the morning of February 7, 2008 and I just got off the telephone with Travis Terry from TVA. They just had a mass of storms rage through their area yesterday. I reached him on his cell phone where they were in the midst of getting everything restored. He said, "We used the LineCat on the pole jobs that were down and we had about nine different lines down in different places from Mississippi to Kentucky – Memphis to Nashville so it was widespread." He went on to say, "The LineCat worked great where we used it. It was a line that had one structure on it; we walked in there and fixed it and were out of there in a few hours. It cut the outage time by half a day. The LineCat is proving out to be everything you think it would be on storm damage. It's the most versatile piece of equipment you could have for pole work."
When Mother Nature unleashes her fury as it did in California in January, and the Midwest in early February, utility companies need all the help they can get.
About the Author: Bob Green is a freelance writer specializing in utility construction marketplace stories. He has been involved in the utility construction world since 1986.