TWISTARP: Making the Job Safer and Easier
The Safety Director of any utility corporation will tell you that finding new and better ways to reduce accidents and debilitating injuries to valued employees is a daunting task.
Mar 1st, 2008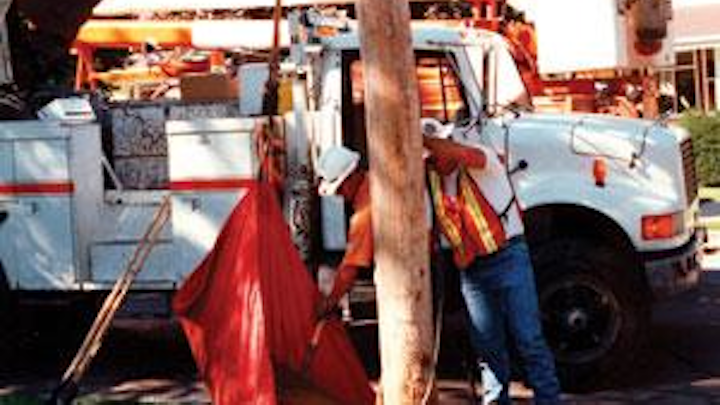 The Safety Director of any utility corporation will tell you that finding new and better ways to reduce accidents and debilitating injuries to valued employees is a daunting task. Every year utility workers are subject to lost time accidents with back injuries, sprains and strains due to the backbreaking work required setting poles and moving literally tons of soil and rock from one location to another. Thanks to an ingenious idea, not all aspects of utility work need be the physically exhausting labor of yesterday. Thousands of utility workers across the country are echoing the same opinion.
Designed specifically to reduce risk factors and make the job easier, Twistarp is a wide, flat lifting sling available in a variety of sizes. It is an inexpensive tool that reduces injuries by improving work position and eliminating the forces associated with physically demanding labor. The tarp, combined with a truck or backhoe, gets the job done quickly and safely with less physical effort, reducing exhaustion and employee injuries. Used correctly, Twistarp helps eliminate awkward work positions and high repetitive forces. Trips up and down ditches and slopes are reduced; shoveling dirt is a thing of the past.
The lo-tech, ergonomic design of Twistarp contradicts the versatility and reliability of the product. Because it is so versatile, utilities quickly recognized the financial savings in employee performance, lack of injuries, and resources. It was soon apparent that it was nearly impossible to count the ways Twistarp improved working conditions for employees and improved the bottom line for the company: Filling in around poles is easy, fast, and simple. When used as a dirt sling, Twistarp transports crushed rock, sand, dirt, wet cement, dig spoils, and oil-contaminated soil. The tarp keeps materials, tools, and personnel out of the weeds and the mud.
Click here to enlarge image
The tarps are used for terminating transformers, pedestals, and installing underground gas, telephone and other utilities because it keeps materials and tools clean and dry. Dirt can be transported with a Twistarp to a warm, dry place for replacement at another time with no more frozen or wet dirt to shovel. As a utility blanket, the tarp is used to cover material, tools and soil. It's convenient for use as a windbreak and sunshade.
The tarps all but eliminate hours of clean-up whether it's countryside or residential. A tarp keeps lawns and landscaping clean as well as driveways, sidewalks, streets, and right-of-ways. Respecting a valued customer's property is an important issue in today's deregulated utility industry.
An extremely good way to gauge the success and necessity of a product is to watch sales during vicious bouts of weather that sweep across the country causing massive utility outages. Damage often takes days and frequently weeks to repair in less than desirable working conditions. Twistarps literally flew off distributor's shelves during the recent storms that buried the Midwest under tons of ice and snow, taking out miles of utility poles and leaving customers without power for days and sometimes weeks. It wasn't the first time Twistarps were sent to utility companies by Overnight Air or Two Day Priority to ease the exhausting repair work. Utility workers report that tackling storm damage without a supply of Twistarps is tantamount to sending David to meet Golieth with one arm tied behind his back.
Click here to enlarge image
Due to demand, Wisman Enterprises has introduced a 10x10 Twistarp, adding to the already popular sizes of 6x6, 7x7, and 8x8 foot sizes. Constructed of 22-ounce polyvinyl fabric and super reinforced with a powerful network of webbing, Twistarps can hold and transport up to 1,600 pounds of material depending on the size used. The rated lifting capacity of a 6x6 is 700 pounds, a 7x7 is 1,100 pounds, an 8x8 is 1,400 pounds, and the new 10x10 is rated for 1,600 pounds. Physically the tarps are light weight making them easy to fold and handle. Respectively they weigh in at 9, 14, 19, and 23 pounds. The tarps are oil and fuel resistant and the materials used in construction are UV resistant. They clean up easily with soap and water and can quickly be repaired with HH66 cement. A Twistarp can be expected to last for years if not abused. Made in America, the tarps have a 90-day limited warranty.
Discovering new and better ways to protect employees from risk and injury is for most companies a challenge at best. With the introduction of Twistarp to the utility industry in 1998, the risk and injury factor dropped considerably for employees. A well-designed, wide, flat utility blanket has proven to be a bonus not only for workers but for utility companies as well. It is saving the cost of lost time accidents. Construction work is completed in less time allowing more work to be completed in a day. The bottom line is that Twistarp is proving to be an indispensable tool for all the right reasons.
Safety Endorsement from Alliant Energy Corporation:
Many employees in the field have been using a Twistarp to hold and move soil on the job. The Chief Line Technician from Mineral Point, Wisconsin found the tool to be so valuable that he submitted a safety suggestion to the Environmental, Health and Safety Department (EHS):
Click here to enlarge image
Shoveling dirt into an excavation area can cause strains to the back and shoulder. Twistarp makes it easy for employees to lift and move soil, reducing the risk of injury. In addition, employees can perform this task in less time and with less mess to clean up when the job is complete.
Energy Delivery Safety Quality and Communications Team immediately recognized the value of Roger Slama's submission. As a result, the team is encouraging all locations to use the tool for backfilling operations. The suggestion was considered one of the most valuable safety ideas in 2003.