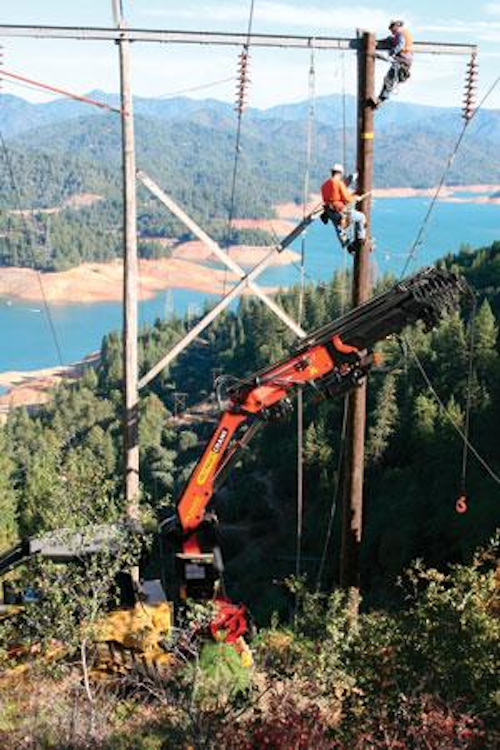 Four-mile transmission line project in a pristine area results in new developments
The Tennessee Valley Authority (TVA) had a four-mile transmission line project scheduled to be constructed through the Cherokee National Park and they ran into a problem. This article details what that problem was and how a new development in line construction machinery was used to solve their problem.
The project is in rugged, mountainous terrain. It's the same location where the 1972 movie Deliverance was filmed. This is a very pristine area and the forestry department wants to insure that it stays that way. Although they agreed to allow TVA to construct the new lines, the power company would be given very limited access. ANY damage to the land would have to be totally restored.
Due to the restricted access issues, the plans were to hand dig holes and have helicopters deliver the poles to the remote locations. The problem became apparent when the bids came back. Every quote was well over the amount budgeted for the project. The decision was made to pull the project back in-house to minimize cost.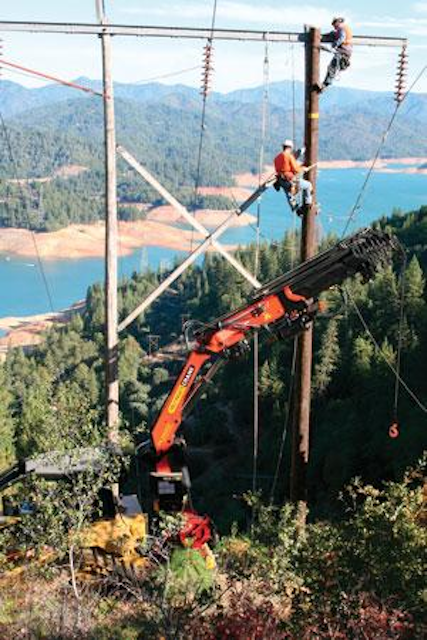 Click here to enlarge image
While trying to solve the dilemma, Bill King, the transmission line construction manager, suggested they might consider a new piece of equipment recently developed by a company in California. It was a hybrid machine that was a cross between a dozer, a crane, a bucket truck and a drilling rig. If it worked as well as the website claimed, it would provide everything needed to do the job themselves.
TVA contacted the company. It just so happened that LineCat, Inc. was planning to bring one of their new LineCat 527's to the 2007 ICUEE Expo, so they agreed to stop at a TVA jobsite along the way to give them a demo.
The test was to remove and replace a pole in a rough location. Quite often, especially where new poles are being set in rugged terrain, a number of pieces of equipment are required. A bulldozer is used to prepare the access road to accommodate rubber tired equipment. If the grade is too steep or it's in muddy, wet or snowy conditions, the additional equipment would have to be winched up by the dozer. Much of the equipment requires a level pad to work off of. Simply preparing the pad can eat up a day of labor. The LineCat can work effectively off of a 15-degree angle so pad preparation can often be totally eliminated.
According to TVA's Transmission Construction Foreman, Travis Terry, commenting about the demonstration, "When it was racked up on the truck, it didn't look too impressive but when they set it up and stretched the boom out and you see how that boom unfolds off of the back of a Cat, then you start to be amazed." Terry has been doing this type of work for the past 16 years. He's seen it take days to get everything prepared for a project like this. The LineCat's ability to quickly get to the location with all the equipment necessary for the change-out left a strong impression.
According to Nathan Bunting, the inventor of the LineCat, "We went in at about 10 or 11 in the am, and we were done and back on the lowboy, pole changed out, wires transferred, old pole removed and we were back on the lowboy by 2:00 pm." They went from there to the show where they got word that TVA had decided to buy the LineCat to use on their project."
I contacted Nathan Bunting in his office in California and asked him how he ever came up with such an idea. He responded: "We do a lot of support for utility companies - getting the structures opened up so that they can get equipment in and set poles. One winter we had a dozer and some miscellaneous equipment pulling these big trucks up and down muddy slopes. We busted a winch line that was hooked to one of their big line trucks . . . we lost the crew – they slid down the hill. Luckily nothing happened as bad as it could have happened. Everybody survived and there weren't any injuries. At that point I decided to build something a little safer. We've got the dozer there - why not have something adaptable with the dozer to complete the project from start to finish with one piece of equipment instead of four or five pieces of equipment. We also had to keep it compact. We didn't want a big crane sticking out over the top so we came up with the knuckle boom on the back of the dozer. Of course a regular dozer is not going to hold it so we went to the logging industry and looked at their Cats. They are more balanced and rated for it, so that's where we came up with the idea." Nathan has been a line construction contractor for 10 years.
Turning my attentions back to the Mid-West, I was curious to see how the LineCat was working out for the TVA project. I contacted Buddy Hamilton, one of the TVA heavy equipment operators (HEO) responsible for running the LineCat. I asked him what he thought and he said, "I find it to be a pretty impressive machine – it surprises you. The job we currently have it on . . . is one of the steepest jobs I've been on. We've had it in some pretty rough spots as far as setting poles and it did a very good job. We can set up to a 100-foot steel H2. One piece of equipment goes in and one piece of equipment comes out. It doesn't tear up the ground. If you walk straight in and straight out, all you have is your track marks."
In a conversation with the TVA Project Manager, David Goins, he stated, "It's got low ground pressure tracks on it so we can use it in swampy areas too. We have a crane that we use and we can't get it in this one area. It's too heavy and it will sink. This LineCat is light enough they can walk it into a lot of places they couldn't take any of the cranes. It's going to pan out, I believe, to be a great piece of equipment for us." Another feature he liked was the ability to remote control the equipment in dangerous areas. He commented, "The only time you have to have an operator inside the thing is when you're walking it and when you're preparing the pad. Once you get the thing set up with the outriggers out to where you're going to auger and you're going to set a pole, the operator gets out of it and he's got a remote control that he uses to do all of that." That's good for up to 400' away.
The one final question I had was if this was actually speeding up the project and if it was affecting the bottom line. For that I turned back to Travis Terry to which he gave a quick response: "Three quarters of total cost of the machine will be paid for on the money saved on this one four-mile project." He went on to say, "It's pretty amazing that you can put a boom on a dozer that has that much reach. You just don't expect any piece of equipment this versatile to have 80 feet of reach. When you kick the boom straight up it has pretty good capacity and it's still good for 6000 lbs with 80 feet of boom out there. It'll dig 22 feet away from the back of the machine which is great. We're in the national forest right now and we can't have any rubber-tired vehicles in there. We're actually pulling the poles in right behind it, walking in, digging a hole, setting poles and walking out - making one trip and basically tearing no ground up. It'll climb a 45 percent grade and you don't have to worry about building roads; it's a great machine environmentally because it has low ground pressure. The 30-foot tracks on our machine hardly leave a footprint in the ground. We just took it into a swampy area where you couldn't even walk without your feet sinking in. The LineCat just walked right in, did the job and walked right out without sinking."
Commenting on their progress Travis said, "We've set about 15 poles with it so far. We thought we were going to have to hand dig most of the holes because we couldn't get a rubber-tired vehicle in there. With the LineCat we are able to walk the machine in, dig the holes, set the poles and walk right back out. We were going to have to fly these poles in with a helicopter and we're using this instead of a helicopter. We're a good bit ahead of schedule."
Other uses? Travis' comments on storm damage repair – ". . . the first big storm we have, it will be a very very key piece of equipment when a tornado or ice storm hits. It's going to be a lifesaver; it's going to pay for itself in any big storm because we will be able to walk in, walk out. Any storm that hits, normally it's either a flood or its raining like crazy and it's muddy, it's wet or snowing and that's not going to bother the LineCat at all!"
So it looks like LineCat, Inc. has a hit on their hands. Their new machine appears to have solved many more problems than TVA had initially purchased the machine for. My contention has always been that the very best innovations come from the people working out in the field and this story solidifies that for me. It looks like Nathan's experience, his near tragedy and his willingness to make this available to others will create a much safer work environment for line crews that use the LineCat in rugged terrain. Kudos.
About the Author: Bob Green is a freelance writer specializing in utility construction marketplace stories. He has been involved in the utility construction world since 1986.