Vehicle docking station from Gamber-Johnson
Mobile computers: Gamber-Johnson announces a new vehicle docking station for the Getac B300 Laptop computer
Mar 23rd, 2015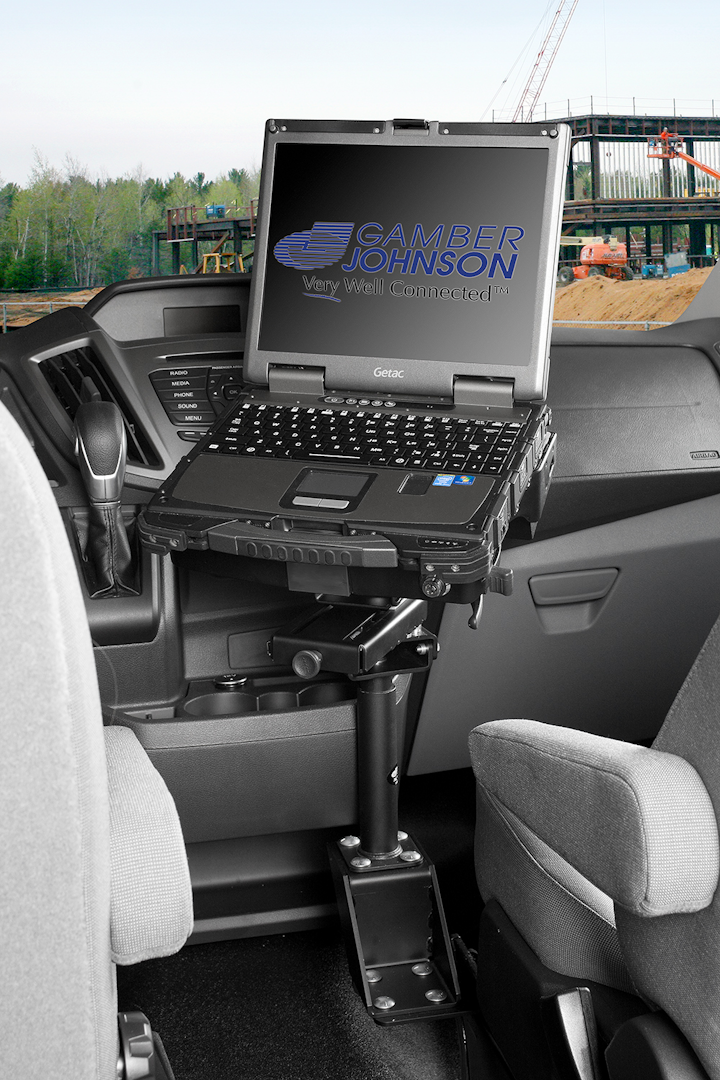 Tablet docking station: Gamber-Johnson, an ISO 9001:2008 certified manufacturer of rugged docking stations and vehicle mounting equipment announces a NEW Vehicle Docking Station designed for the Getac B300 ultra rugged notebook. Gamber-Johnson is currently taking orders and will start shipping the NEW Getac B300 Vehicle docking station at the end of March.

The New B300 vehicle docking station has a much smaller footprint that drastically improves the placement of the B300 in a vehicle cabin with limited space. The rear corners and back of the docking station are cut back so that the dock can be positioned closer to the instrument panel for better visibility of the mission control console radio console and better positioned for driver viewing.

The Getac B300 dock features brass locating pins, a floating dock connector, and a passenger-side docking handle for precise computer placement and easy docking activation; and an improved interlock button prevents the docking station from engaging with the computer in the event the computer is not properly mounted on the docking station. The dock also features front-facing l/O ports, an integrated cable strain relief system, power switch with LED light for optional by-pass capability, and a built-in power supply for easier and faster installation. A push-button keyed lock enables the laptop to be easily docked and undocked while keeping it secure.

The new Getac B300 vehicle docking station is designed for the rugged mobile environment and tested to MIL-STD-810G shock/vibration and crash tested to SAE J1455 Standards. The B300 dock attaches to any existing Gamber-Johnson Motion Attachment; Gamber-Johnson offers a full line of Vehicle Bases, Poles, Motion Attachments, and Console Boxes to complete any vehicle mounting system.

About Gamber-Johnson
In business since 1954, Gamber-Johnson is a market leader of rugged docking stations and vehicle mounts, and a member of the Leggett & Platt Commercial Vehicle Products (CVP) Group. Customers of all sizes – state and local governments, transportation, field service organizations, and mobile professionals – rely on Gamber-Johnson's vehicle mounting systems and docking stations on a daily basis and associate the Gamber-Johnson name and products with quality, safety and reliability. As a result, Gamber-Johnson vehicle mounting systems are installed in thousands of fleets worldwide.
For more information about Gamber-Johnson or other products, click here to go to Utility Products' Buyers Guide.