Skid steer loader line expanded
Utility vehicles: Terex updates its Generation 2 (GEN2) loader line with two new skid steer loader models — the R260S and the V350S.
Mar 13th, 2015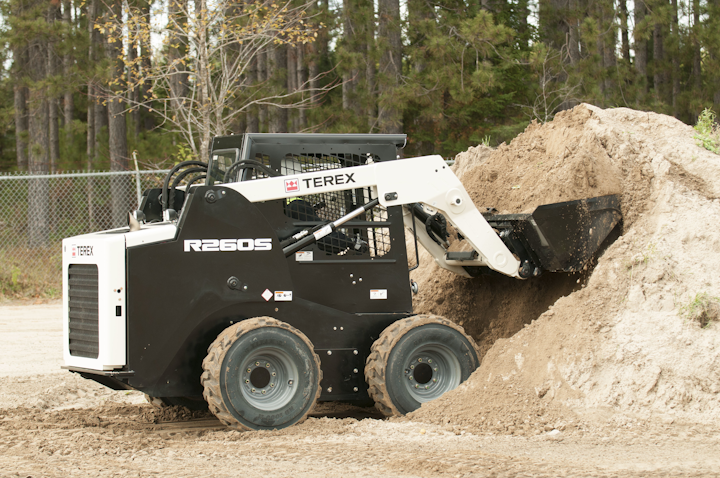 Construction equipment: Terex updates its Generation 2 (GEN2) loader line with two new skid steer loader models — the R260S and the V350S. The Terex® R260S radius lift path skid steer loader has a rated operating capacity of 2,600 lb, and the V350S is a vertical lift path skid steer loader with a rated operating capacity of 3,500 lb. Both models boast a Tier 4 Final 74-hp turbocharged diesel engine with variable flow hydraulics for powerful productivity and quick cycle times. Terex GEN2 loaders are specifically designed for rental stores and contractors working in site preparation, construction, landscaping, infrastructure development and demolition applications.
The Terex R260S model boasts a 5,200-lb tipping load, a 6,420-lb bucket breakout force, 125 in of lift height and 25 in of reach, enabling it to get loading, picking and carrying, grading, back dragging or snow removal jobs done faster and more efficiently. Skid steer loaders, like the R260S, engineered with a radial lift path — meaning the loader arms raise in an arc pattern — excel at digging and grading applications. Another benefit of the radial lift path configuration is visibility around the unit it provides to operators, especially when working around existing infrastructure, such as homes and in back yards.
The Terex V350S unit features a 7,000-lb tipping load, 5,050-lb bucket breakout force and 5,540-lb arm lifting force, achieving great for an all-around jobsite utilization because it can lift heavy and reach far. Vertical lift path units are designed for lift-and-carry applications, such as lifting pallets of heavy material, pipe, rebar, blocks and pavers. Vertical lift path units achieve outstanding results in production-loading applications due to their exceptional reach and lift height.
Both new GEN2 loaders offer 10.5 in of ground clearance and a 24° rear angle of departure. These features improve the machines' ability to traverse soft, uneven terrain, making the workday more productive and less frustrating. The power and breakout forces of the new Terex GEN2 R260S and V30S skid steer loaders contribute to unparalleled lift capability and pushing force, as well as these units' ability to handle heavier loads with faster cycle times than competitive brands. All of these features combined enable operators to get more work done in a day. And for increased versatility, the loader arms on these Terex GEN2 skid steer loaders are designed to easily accommodate over-the-tire steel tracks, including Loegering F- and Z-Series options. Loegering Versatile Track System® (VTS®), a complete rubber track undercarriage that bolts directly to a skid steer's standard hubs, is also an available option for Terex GEN2 skid steer loaders.
Terex GEN2 skid steer loaders, including the R260S and V350S models, are also engineered to increase the machine's durability and reliability in the field, which reduces the cost of ownership during the life of the loader. Mechanical-faced axle seals are standard in all Terex GEN2 skid steer loaders, preventing the migration of material such as dust, sand and debris and helping to combat unnecessary downtime and maintenance costs.
About Terex
Terex Corporation is a lifting and material handling solutions company reporting in five business segments: Aerial Work Platforms, Construction, Cranes, Material Handling & Port Solutions and Materials Processing. Terex manufactures a broad range of equipment serving customers in various industries, including the construction, infrastructure, manufacturing, shipping, transportation, refining, energy, utility, quarrying and mining industries. Terex offers financial products and services to assist in the acquisition of Terex equipment through Terex Financial Services.
For more information about Terex or other products, click here to go to Utility Products' Buyers Guide.