Utility supplies: Rotary screw air compressor
Utility equipment: Iowa Mold Tooling's IMT CAS80R rotary-screw air compressor offers 33 percent more air output.
Mar 4th, 2015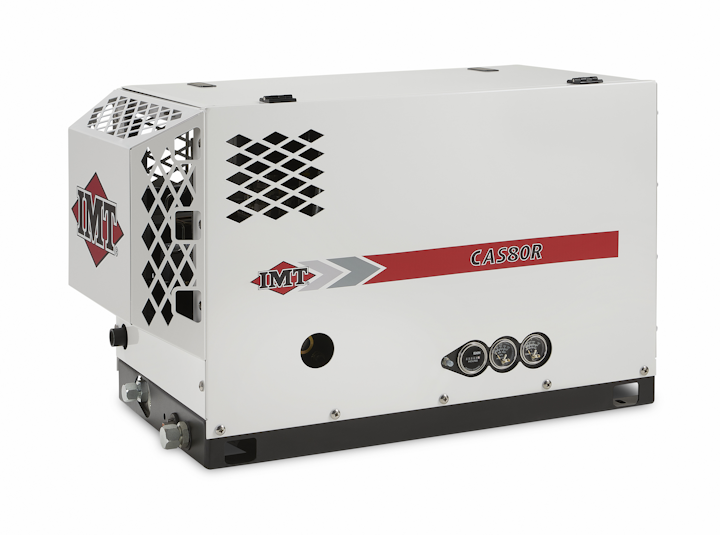 Air compressor: Iowa Mold Tooling Co. (IMT), an Oshkosh Corporation company, introduces the new IMT® CAS80R rotary screw air compressor at The Work Truck Show 2015. The show is being held in conjunction with the National Truck Equipment Association (NTEA) Convention March 4 – 6 in Indianapolis, Indiana.
The hydraulic-driven IMT CAS80R compressor offers 33 percent more air output than the previous model — up to 80 cfm at 150 psi (10.3 bar) — at a similar price point. Increased hydraulic cooling capabilities and an easy-to-set air pressure output give operators a greater range of machine operation. The IMT CAS80R compressor enables operators to run at higher cfm levels while at the same truck rpms currently used.
"We're excited to offer our customers the productivity benefits of increased air," said Terry Cook, product manager of commercial products at IMT. "The IMT CAS80R air compressor offers powerful and reliable performance for heavy-duty mobile applications. This unit is a perfect complement to our IMT Dominator® mechanics trucks and IMT SiteStar lube trucks."
The hydraulically driven, continuous-duty IMT CAS80R compressor is a single-stage, pressure-lubricated unit. The rotary screw model provides high-volume air for use in pneumatic tools (for example, jacks, saws and impact wrenches), tire service, sandblasting, painting, carbon-arc cutting and other compressed-air needs. The IMT CAS80R compressor features a hydraulic aftercooler that is integrated into the compressor design, minimizing weight and the physical footprint on top of the body sidepack. Assembled in the United States, the new compressor will be available to ship beginning in April 2015.
IMT offers a variety of reciprocating and rotary screw air compressors to meet customer needs. The reciprocating lineup ranges from 40 to 110 cfm, while the rotary screw offering ranges from 45 to 85 cfm.
About IMT
Iowa Mold Tooling Co., Inc., an Oshkosh Corporation [NYSE: OSK] company, began in 1961 as a business providing new tread designs for recapping tires. The company has grown to become the leading manufacturer and supplier of service vehicles, cranes, hydraulic loaders and air compressors for tire, mining, construction, material handling and utility markets around the world.
About Oshkosh Corporation
Oshkosh Corporation is a leading designer, manufacturer and marketer of a broad range of access equipment, commercial, fire & emergency, military and specialty vehicles and vehicle bodies. Oshkosh Corporation manufactures, distributes and services products under the brands of Oshkosh®, JLG®, Pierce®, McNeilus®, Jerr-Dan®, Frontline™, CON-E-CO®, London® and IMT®. Oshkosh products are valued worldwide by rental companies, concrete placement and refuse businesses, fire & emergency departments, municipal and airport services and defense forces, where high quality, superior performance, rugged reliability and long-term value are paramount.
®, ™ All brand names referred to in this news release are trademarks of Oshkosh Corporation or its subsidiary companies.
For more information about IMT or other products, click here to go to Utility Products' Buyers Guide.