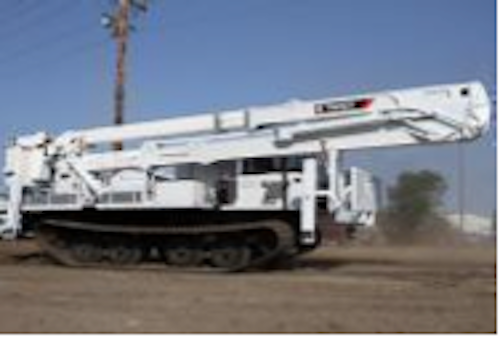 Utility line construction: Shawmut Equipment Company Inc., a full service lifting equipment distributor since 1957, is now offering utility equipment. Shawmut will offer the same dedication and commitment by providing the highest level of customer satisfaction through sales, rentals, parts and service of the new utility equipment. Starting in early 2015, Shawmut will have Terex TM Hi-Ranger Tracked Material Handling Buckets, Terex General Digger Derricks, Tracked National Cranes and Morooka Rubber Track Carriers in stock for sale, rental, or rental purchase. In addition to the new machines, popular utility equipment including National Boom Trucks, Grove Rough Terrain Cranes, Grove Yard Boss Industrial Cranes and Grove Hydraulic Crawler Cranes will continue to be available.
Terex TM Hi-Ranger Tracked Material Handling Buckets offer a variety of specialized options to adapt to different types of jobsites. There are three machines in the TM High Ranger series, including the TM85 with 87 ft working height, TM100 with 100 ft working height and TM125 with 125 ft working height. The equipment provides 168° of upper boom articulation and 90° of lower boom articulation. The innovative design enables long reach with a platform capacity of up to 800 lbs. The machine is equipped with control-plus 4-function single stick control at the platform.
The Terex General Series tracked Digger Derricks offer 100° of boom travel (+80 to -20) with dual lift cylinders. The General series ranges from 65 ft sheave height to 95 ft sheave height. The machine is equipped with full pressure hydraulic controls, open-center hydraulic system and continuous unrestricted rotation.
Tracked National Cranes range from 30 to 45 US ton with tip heights between 163 ft and 203 ft. National Crane offers durable equipment built for rigorous work schedules. The pilot operated hydraulic controllers allow for easy operation, the all steel crane cab with graphical LMI system is well insulated and grants high visibility and three position outriggers allow for a strong load chart. Gravity hung personnel baskets are available with cylinder brake lock for easy maneuverability and strong reach.
Many of these machines will be offered mounted on Prinoth Go-Tract carriers. The Prinoth carrier is a carefully developed sprocket-track system allowing for strong performance on all different terrains. The tracked carrier allows for a large payload, enabling choice of various attachments. Prinoth's tracked vehicles exert very low pressure on the ground and go places where wheeled vehicles sink.
Morooka Rubber Track Carriers, ranging in capacity from 5,000 lbs to 33,100 lbs, are equipped with hydrostatic transmission, allowing economical use of the engine's full power, and user friendly sing-hand control levers. The HST system completely eliminates the need for clutch and gear controls making the Morooka high maneuverable around the jobsite. The rubber tracks allow of a low bearing ground pressure, high performance movement and excellent traction. The unique undercarriage allows for a stable and smooth ride with less vibration.
Shawmut Equipment serves customers in the six states of New England, including Connecticut, Maine, Massachusetts, New Hampshire, Rhode Island and Vermont, as well as the Atlantic provinces of Canada, including New Brunswick, Nova Scotia, Prince Edward Island and Newfoundland. Shawmut's Service Department offers the most skilled and knowledgeable technicians based out of three state-of-the-art repair facilities that are fully equipped with diagnostic equipment to troubleshoot a situation quickly to reduce downtime. Shawmut's Parts Department has a large inventory of parts and representatives with the expertise to get the customer the parts they need quickly.

For more information about Shawmut Equipment or other products, click here to go to Utility Products' Buyers Guide.