Vegetation management: FTX250 Mulching Tractor
Line maintenance: Fecon's FTX250 SLGP Mulching Tractor is the choice for land clearing, right-of-way, and low land clearing professionals.
Mar 6th, 2015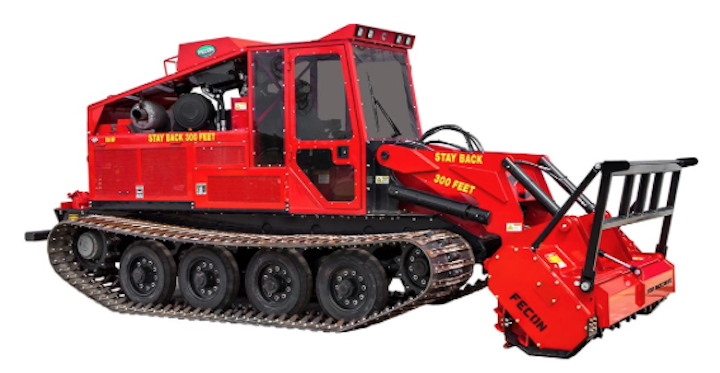 Utility vehicles: Fecon's FTX250 SLGP mulching tractor is the choice for the land clearing, right-of-way, and low land clearing professional. Purpose built from the ground up the FTX250 SLGP (Super Low Ground Pressure) is the strong tractor for the particularly difficult jobs. The tub frame design and the crosslink tracks with double bogie suspension make this machine the right choice for large work on soft swampy or less stable ground conditions.
• Tub Frame Design
• Flexible Track System
• Spacious Cab
• Large Access Doors
• Cleaning Access
The purpose built FTX250 is designed for particularly difficult applications. Its Super Low Ground Pressure feature allows this mulching carrier to go where the others cannot. Less ground disturbance, a lighter footprint and aggressive travel speeds get you in and out of difficult terrain, while maintaining high productivity. With the advantage of loader arms, low profile design, and the reliability of Cummins power, this Fecon tractor is in a class of its own.
The unique undercarriage provides excellent ride quality and contour following characteristics to keep the track on the ground and reduce bridging. Steel cross link tracks and raised sprockets give the approach angles and low ground pressure needed in soft ground applications. Service access through large engine bay doors reduces required maintenance time. The FTX250 lifting gear provides reach for large brush clearing and tree cutting. Storm and flood areas are no challenge for the tub style frame designed when operating in wet areas when there is no other way. With rugged design, and super low ground pressure, the FTX250 leads where others cannot follow and keeps you on top.
FTX250 STANDARD FEATURES:
• Steel Cross Link Track Design
• Pivoting Link Track Suspension
• Automatic Track Tension Adjustment
• Raised Sprockets Front & Rear
• Tub Style Frame Design
• Low Ground Pressure
• Low Ground Disturbance
• Low Profile Design
• Designed for Wet & Soft Applications
• Large Access Doors for Easy Service
• Loader Arm Lift to 11 at Rotor
• Front & Rear Work Lights
• 20,000 lb Winch with Remote Control
• Reversing Fan on Engine Radiator and Hydraulic Cooler
• On Board Air Compressor for Cleaning
• Rear View Camera Equipped
• Suspension Type Operators Seat
• Visual & Audible Warning System
• In Cab Tool Storage
• Track & Head View to Front & Sides
• BH120 or BH200 Bull Hog Capabilities
For more information about Fecon or other products, click here to go to Utility Products' Buyers Guide.