Vehicle accessory: Snowplows are simple to hook up
Utility equipment: Automatixx attachment system simplifies hookup on new line of SnowEx snowplows.
Mar 25th, 2015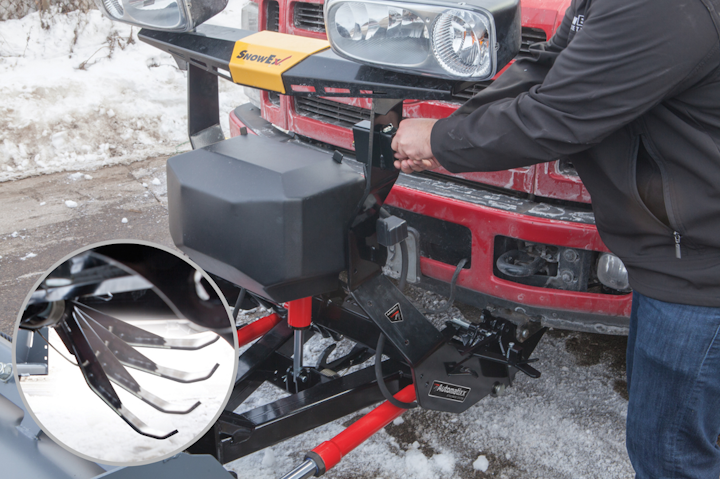 Vehicle accessories: SnowEx's Automatixx power-assisted attachment system is an exclusive new feature for simplified snowplow hookup. Standard on the new line of SnowEx truck-mounted plows, this system provides quick, easy plow attachment to help users spend less time setting up and more time plowing.
The Automatixx attachment system uses a simple process, which can be completed entirely from the driver's side of the vehicle. First, the plow's wiring harness must be plugged into the truck. Then, the operator activates the power-assist switches that automatically pull up the stand while attaching the plow. The final step is to engage a pin lever, which secures the plow on the truck, making it ready for operation.
The Automatixx attachment system is found on SnowEx POWER PLOW™, SPEEDWING™, Heavy-Duty, Regular-Duty and Light-Duty snowplow models. The system includes removable receiver brackets, which provide exceptional ground clearance when the plows are detached from the truck.
"This is just one example of innovation in the new line of SnowEx plows," said Michael Frank, SnowEx Product Marketing Manager. "The Automatixx attachment system helps save time in an industry where every minute counts."
SnowEx Snow and Ice Control Equipment is proud to be a part of Douglas Dynamics, North America's premier manufacturer of vehicle attachments and equipment and home to the most trusted brands in the industry. For more than 65 years, the Company has been innovating products that not only enable people to perform their jobs more efficiently and effectively, but also enable businesses to increase profitability.
For more information about SnowEx or other products, click here to go to Utility Products' Buyers Guide.