Work trucks
Utility vehicles: IMT introduces new distributor in Eastern Missouri, Southern Illinois. Kahn Truck Equipment offers IMT sales, service out of new St. Louis facility.
Mar 31st, 2015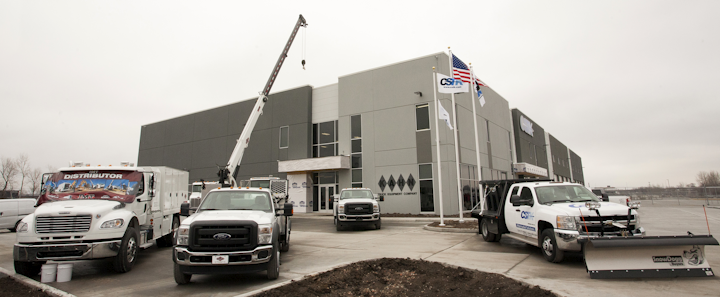 Utility trucks: Iowa Mold Tooling Co. Inc. (IMT), an Oshkosh Corporation company, announces the addition of Kahn Truck Equipment Company to its distributor network. Located in St. Louis, Missouri, Kahn Truck Equipment serves IMT customers in eastern Missouri and southern Illinois. The custom mechanics and service truck provider offers more than 20 years of experience in the truck industry.
Kahn Truck Equipment, founded in 1940, specializes in custom mechanics and service trucks for a multitude of markets, including construction, mining, railroad and heavy equipment dealers. The company now carries an extensive lineup of IMT products including IMT® Dominator® mechanics trucks, telescopic cranes, IMT Site Star® lube trucks and lube skids, air compressors and articulating cranes. Kahn Truck Equipment also provides IMT parts and service, with mobile field service available.
"We're excited to welcome Kahn Truck Equipment to our distributor network," IMT Director of Sales Tim Gerbus said. "Kahn Truck Equipment's focus on service vehicles, vast experience and commitment to customer success make the company an ideal partner for IMT. Working with Kahn Truck Equipment, our customers in the region will find the right equipment for their business and receive first-rate service after the sale."
Kahn Truck Equipment is an affiliate of CSTK Inc., a diversified distributor of transportation, construction and communications equipment and related services. In April 2015, Kahn Truck Equipment will relocate into CSTK's new $12 million St. Louis facility. The 16-acre, 56,000-square-foot facility is conveniently located on Carrie Avenue off of North Broadway at Interstate 70.
"We're proud to partner with IMT as we begin this exciting new era," said Michael Kahn, chief executive officer of Kahn Truck Equipment and CSTK. "We strive to provide our customers with the best equipment for their operations, and IMT products are known for their quality throughout the industries we serve. IMT also shares our dedication to excellent customer service and product support. It's a perfect fit."
About IMT
Iowa Mold Tooling Co., Inc., an Oshkosh Corporation [NYSE: OSK] company, began in 1961 as a business providing new tread designs for recapping tires. The company has grown to become the leading manufacturer and supplier of service vehicles, cranes, hydraulic loaders and air compressors for tire, mining, construction, material handling and utility markets around the world.
About Oshkosh Corporation
Oshkosh Corporation is a leading designer, manufacturer and marketer of a broad range of access equipment, commercial, fire & emergency, military and specialty vehicles and vehicle bodies. Oshkosh Corporation manufactures, distributes and services products under the brands of Oshkosh®, JLG®, Pierce®, McNeilus®, Jerr-Dan®, Frontline™, CON-E-CO®, London® and IMT®. Oshkosh products are valued worldwide by rental companies, concrete placement and refuse businesses, fire & emergency departments, municipal and airport services and defense forces, where high quality, superior performance, rugged reliability and long-term value are paramount.
®, ™ All brand names referred to in this news release are trademarks of Oshkosh Corporation or its subsidiary companies.
About CSTK
CSTK is a diversified transportation solutions provider serving transportation companies, fleets, owner operators, and other vehicle/heavy equipment users with innovative products, parts and services. CSTK's product lineup includes transport temperature control units, auxiliary power units, HVAC units, service bodies, snow plows, aerodynamic solutions, fleet management solutions, trailer/cargo door products, vehicle graphics, and replacement parts. CSTK products are manufactured by world and industry leading suppliers including Thermo King Corporation, Great Dane Trailers, Aurora Trailers, Red Dot, Espar, Blue Tree Systems, Strehl TrailerBlade, Meyer, Blizzard, Hiniker and Snow Dogg. CSTK also offers extensive repair and maintenance services.
CSTK, with corporate offices in Overland Park, Kansas, operates 12 locations throughout the Midwest and the East Coast. Its sister company, Velociti, offers global installation and deployment of technology.
About Kahn Truck Equipment
Kahn Truck Equipment Company (KahnTEC) is a premier custom truck body company in St. Louis, Missouri specializing in customized vehicle body design. Founded in 1940, KahnTEC offers a full line of truck build options to outfit vehicles for construction, mining, railroad, or other industries across the United States and Canada. Kahn Truck Equipment Company upgrades trucks with powerful components such as welders, compressors, cranes, onboard power, rail equipment, lube skids, and more. The KahnTEC exclusive Roughneck Mechanics truck body and Wildcat Service body has a reputation for being a dependable, sturdy, high-performance body for a variety of specializations. Kahn Truck Equipment is an affiliate of CSTK Inc., a diversified distributor of transportation, construction and communications equipment and related services.
For more information about IMT, KahnTEC or other products, click here to go to Utility Products' Buyers Guide.