Truck accessory: Snowplow line introduced
Safety equipment: SnowEx Snow and Ice Control Equipment launches complete line of snowplows
Mar 5th, 2015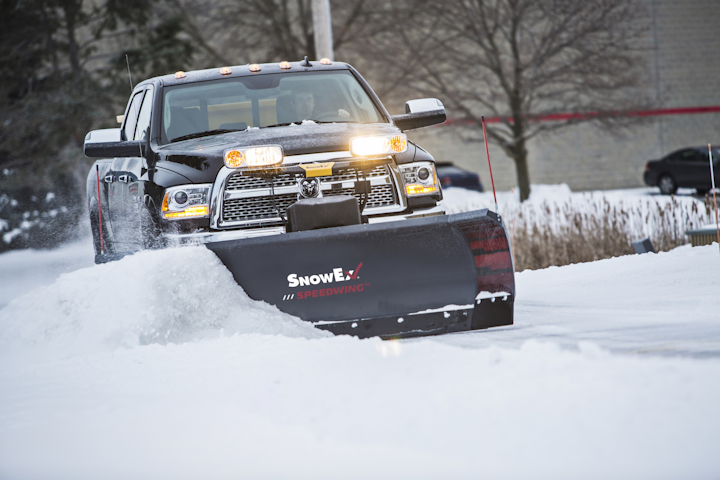 Safety products: SnowEx Snow and Ice Control Equipment introduces a comprehensive line of snowplows. The launch includes a total of 20 new snow control products designed to accommodate a variety of customers, from light-duty users to the most demanding snow and ice management professionals.
The snow control line includes POWER PLOW™, SPEEDWING™, Heavy-Duty, Regular-Duty, and Light-Duty models of hinged-blade and straight-blade snowplows, as well as UTV plows and POWER PUSHER™ box plows. The plows include multiple exclusive new technologies, such as the Automatixx™ attachment system, a power-assisted feature that involves a simple process for quick plow attachment.
For maximum durability, the plows offer high-strength, low alloy steel components and formed base channels designed with multiple angles to add torsional strength and prevent twisting under heavy loads. This unique combination of features leads to products that are much stronger, yet lighter than conventional steel plows, which are better suited for today's commercial trucks.
"SnowEx Snow and Ice Control Equipment has been recognized as a leader in ice control for many years, and our innovative new plow designs will position us as a leader in snow control, too," said Michael Frank, SnowEx Product Marketing Manager. "We started with a clean sheet of paper, gathering feedback from contractors and other experts in snow and ice management to develop a line of products unlike anything the industry has seen before. The results are multiple breakthroughs in plow technology."
POWER PLOW: Available in 8'10" to 11' widths, these hinged-blade models offer quick independent adjustment of the wings for maximum windrowing, scooping and cornering performance.
SPEEDWING: The wings of the SPEEDWING blade automatically adjust according to the angle of the plow. This model has a width of 8'7".
Heavy-Duty: With a 31" tall steel blade, the Heavy-Duty Series is a powerful straight-blade snowplow. It is available in widths ranging from 7'6" to 9'.
Regular-Duty: Available in 7'6" to 8' widths, Regular-Duty straight-blade plows are ideal for use with half-ton pickups.
Light-Duty: The Light-Duty Series is intended for lighter vehicles and smaller applications. These straight-blade plows are available in 6'8" and 7'2" widths.
POWER PUSHER: Offered in 8' and 10' widths, these box plows quickly and easily attach to skid steers for pushing large amounts of snow.
Many additional features are built into the plow line. For instance, truck plows come standard with hydraulic direct lift, POWERCOAT paint finish, SECURITY GUARD™ anti-theft system, FLEET FLEX electronics, STORM SEEKER™ headlamps and POWER GRIP™ hand-held controls. All models are backed by a two-year warranty and a worldwide dealer network.
SnowEx Snow and Ice Control Equipment is proud to be a part of Douglas Dynamics, North America's premier manufacturer of vehicle attachments and equipment and home to the most trusted brands in the industry. For more than 65 years, the Company has been innovating products that not only enable people to perform their jobs more efficiently and effectively, but also enable businesses to increase profitability.
For more information about SnowEx Snow and Ice Control Equipment or other products, click here to go to Utility Products' Buyers Guide.