Vehicle accessory: Two-piece solid aluminum towing system
Safety equipment: Ditch Hitch's Son of a Hitch towing system recovers stuck ATVs, quads, small vehicles -- prevents injury and fatalities.
Aug 5th, 2015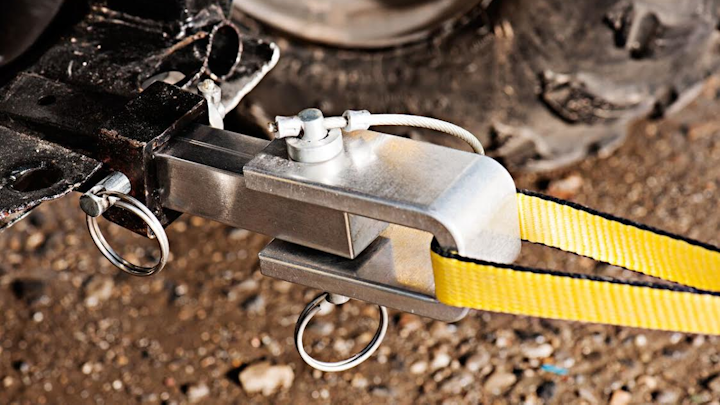 Safety products: Ditch Hitch announces the launch of the Son of a Hitch, a 2-piece solid aluminum towing system designed to safely recover ATVs, side by sides, and lighter vehicles that are stuck in the mud, snow, or other difficult situations with optimum safety. New users will enjoy the system's quick, 2-minute setup time and easy assembly. Son of a Hitch eliminates the use of chains, shackles, trailer balls, and other unsafe vehicle towing mechanisms by inserting the Son of a Hitch into the vehicle's frame mounted hitch located under the bumper. The system's two pieces of solid aluminum connect to the vehicle, eliminating the possibility of a piece snapping off and hitting the user, a frequent occurrence when recovering vehicles with conventional towing equipment. The system's towing strap allows vehicles to pull with a running start, which is often needed to free the stuck vehicle. The strap is secured by the Snap Trap, a secondary strap that holds the taught strap down if it snaps or breaks.
"Our original success with Ditch Hitch - the system we use to recover larger vehicles - showed us how effective and easy this tool was for people. Our customers asked us to create a smaller one for smaller vehicles. Now we can help even more people stay safe and in control, even when their toys get stuck." Vern Sparkes, Founder, Ditch Hitch
Stronger Than Ever
Ditch Hitch makes products that are engineered primarily for safety, meaning quality material quickly became a priority for the development of Son of Hitch. The two-piece system is built from a solid aluminum - 15% stronger than a steel configuration because of its ductility. The device swivels 180 degrees so users can pull vehicles from the side. The system is 99% corrosion resistant - the marine-grade aluminum is the same material used to build boats and ships, and will not rust.
Specs:
❏ Fits into 1.25" receiver
❏ System weighs 2.4 lbs
❏ 35,000 lb breaking strength
❏ Attaches in 2-5 minutes
❏ Pulls up to 8,000 lbs
For more information about Ditch Hitch or other products, click here to go to Utility Products' Buyers Guide.