Utility vehicles: Aerial lift van from STAHL
Commercial vehicles: STAHL to showcase new aerial lift van at ICUEE. Product fills void after discontinuation of Ford's Econoline van.
Aug 28th, 2015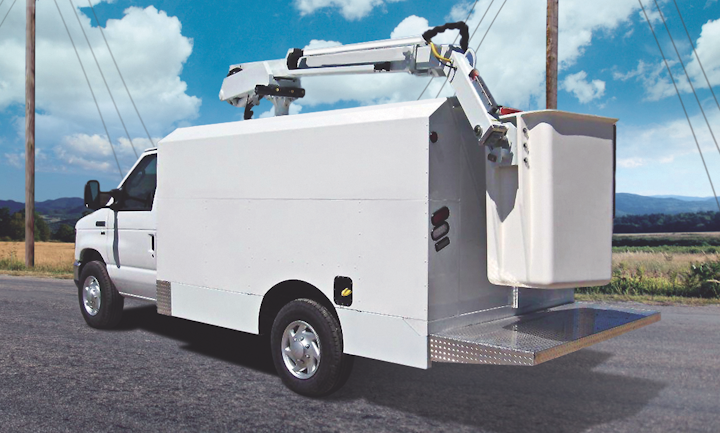 Utility vehicles: STAHL, a Scott Fetzer Company, has developed the Aerial Lift Van (ALV), a new service van body for the utility and telecommunications industry, which fills the void left by the discontinuation of the Ford Econoline (E-Series) van.

Because Ford's replacement for the E-Series, the Transit commercial van, will not support an aerial device within its current configurations, many telecom van customers have been forced to look at other less desirable vehicle options.

"The Transit's narrower chassis, lower GVWR and current suspension cannot accommodate an aerial lift," said Jeff Jerousek, STAHL's VP of Sales and Marketing. "This presented us with an opportunity to develop a solution that replaces the standard Ford E-Series Econoline van favored by utility and telecom fleets."

Ford is still producing the E-Series cut-away chassis that's used in STAHL's Utility Service Van (USV). A redesign of the USV body, which incorporates the telecom market's most desired van body features, allowed STAHL to develop the ALV, a patented service body to replace the standard E-Series Econoline van.

The new ALV will be featured in the STAHL booth at the International Construction & Utility Equipment Exposition (ICUEE) to be held Sept. 29 through Oct. 1 in Louisville, Ky.

Similar to the USV, the ALV offers built-in storage space and interior shelving unlike conventional cargo vans. The ALV also features STAHL's exclusive lock-bolt and welded hybrid construction, a single rear door and more cubic storage space than its predecessor. Options include: a side roll-up door, ladder rack and integrated boom rest among others. The ALV design utilizes a single rear wheel cutaway chassis and the added security of no side compartment doors.

STAHL has partnered exclusively with VERSALIFT/TIME and DURALIFT, along with their distributors, to bring the ALV to market.

"We're excited to develop the first aerial boom service body that effectively replaces the E-Series Econoline van," said Jerousek. "This is just another example of how STAHL responds to industry and customer needs with innovative, cost sensitive and durable solutions."
For more information about STAHL or other products, click here to go to Utility Products' Buyers Guide.