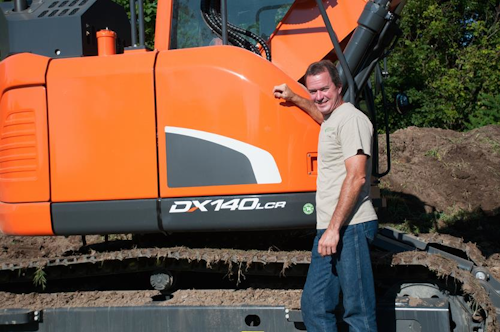 Construction equipment: Doosan Infracore Construction Equipment America has announced the winner of its 2015 "Win a One-Year Lease" contest. Richard Johnston, of Westville, Indiana, won a one-year lease of a Doosan DX140LCR-5 reduced tail swing crawler excavator.
Johnston, owner of Johnston Landscaping Maintenance Inc., owns and operates a Doosan DL250-3 wheel loader, which he purchased from Ronson Equipment in Westville. He uses it year-round for various bulk material handling, land-clearing projects and snow removal. Using the one-year lease on the DX140LCR-5, Johnston will be able expand his customer base by taking on a variety of bigger landscaping projects including digging trenches, moving rocks and clearing trees.
"This opens up a whole new venue of possibilities and will be the dream machine for me," Johnston says. "Confidence, quality and durability are all attributes we have with our Doosan DL250-3, so adding a DX140LCR-5 to our fleet will move us into a whole new world of capability."
Entrants were asked to answer the question "How can Doosan make your business stronger?," and entries were judged on the answer. Company officials said Johnston's entry was exactly the type of essay and personal story they were looking for.
"Johnston is a loyal Doosan customer who is looking to expand his landscaping business by using the right equipment," said Laura Ness Owens, Doosan North America director of communication. "The DX140LCR-5 is the perfect excavator to complement Johnston's expanding equipment fleet. We look forward to helping him be successful."
ABOUT DOOSAN INFRACORE CONSTRUCTION EQUIPMENT AMERICA
Doosan Infracore Construction Equipment America, headquartered in West Fargo, North Dakota, markets the Doosan brand of products that includes large excavators, wheel loaders and articulated dump trucks. With more than 160 heavy equipment dealer locations in North America, Doosan is known for an unmatched dedication to service and customer uptime, and durable, reliable products. Doosan is fast becoming a global force in heavy construction equipment. Doosan Infracore Construction Equipment America is a subsidiary of Doosan Infracore Bobcat Holdings Co., Ltd., a wholly owned subsidiary of Doosan Infracore Co., Ltd.
For more information about Doosan Infracore Construction Equipment America or other products, click here to go to Utility Products' Buyers Guide.